Out there was the last-ever Inca kingdom. And so I set out with a local guide and a mule-driver to trek to the lost city of Vilcabamba.
The Vilcabamba trek takes 5 days
First day, we hiked up the Collpaccasa Pass at 3690 metres.
There at the top and watching the snowy horizon – appear partly but mostly vanish (unlike views the day before at Vitcos).
We sat on this high pass of tussock, sheltered from freezing wind, and smoked sweet grass while looking to the path ahead. The way dipping thru another gorgeous green valley, huts and pastures, ravines and rivers, and always those peaks.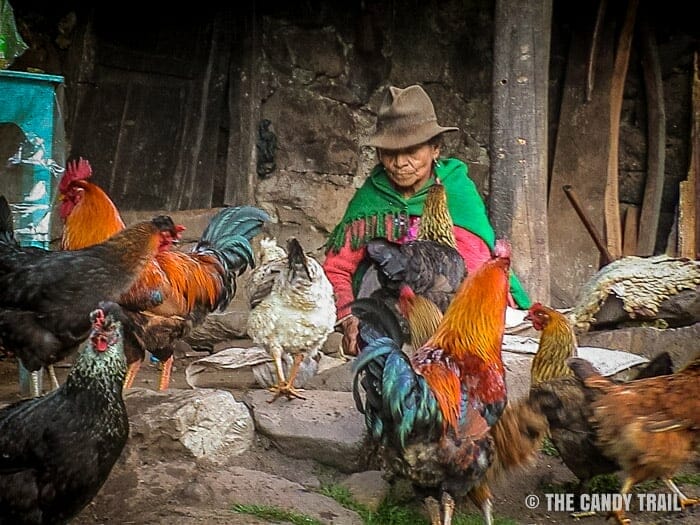 The second day of the Vilcabamba trek
I got drunk the second night. Well, in the afternoon.
It was pissing down (although it's winter – the dry season, here) so we sheltered in a shack on a hillside, with the grubby owner and my lads, drinking bottles of beer and white rum which we'd fastened onto the mule.
After drinks, the mule's load got 3 litres lighter. He also carried all our food, a tent, and packs strapped to his sides.
Taking a mule on the trek to Vilcabamba
The mule had that famed trait: "Stubborn as a Mule"
Whenever we encountered a waterfall or a river or a steam – which was often, we'd either cross the swing bridge or a narrow log-shaft of trunks, or jump rocks.
The mule couldn't cross the logged-plank crossings – and I admit that I had to crutch on all fours for the crossing of one wobbly one – so the mule needed be urged thru the rocky, rapid-rushing torrent, going steady, very slowly, balancing, then stopping in the middle, before being coaxed by stones from the mule-lad on this bank, only then it would wander across the river to the far side, and then stop when it found a suitable snack.
He'd many culinary delights.
Not just lush grass but juicy, crunchy sugar cane and bamboo and exotic forest stuff.
Then he was full of manic energy, feeling fresh every morning, and after each lunch break – wild, a little uncontrollable at first, raring to go like he was going to sprint the next 10 km uphill.
Nutrients, chemicals, drugs; they do strange things to us animals. Eagles soaring on invisible powers. Shrieking falcons in large, circling flocks. Cicadas ripping the dusk air around me.
---
Staying with locals on the Vilcabamba trek
Three young girls in tattered clothes prepared dinner that second night.
Boiled cassava, rice, fried eggs as it continued to rain (Their mum was away).
We stayed with locals – campesinos, traditional peasants – the entire journey, sleeping on – or above, on hammocks – the hard-dirt floors of their stone and later, wooden huts.
There were no hotels, no roads, no electricity on route to Vilcabamba.
---
We bought tropical fruits from isolated farmsteads as the trail descended into fertile rainforest gorges: yellow passion fruit, papaya, banana, pineapple.
And we purified all river/stream water for drinking.
Occasional mule trains laden with sacks – of corn, cocoa, coffee beans – passed us, as we stood aside on the banks of this narrow track on this ancient highway, their neck bells clanging, this caravan of a dozen beasts and a colourfully-clad peasant family heading for market (some days away).
I was amazed by the significance of where we walked – above the forgotten Inca forts of Tambo, situated on a razor-edge ridge – overlooking this ravine-path drop.
… Inca soldiers ready in ambush above, with large rolling stones and slingshot rocks. For for this was the exact route which the Conquistador expedition followed in 1572, on it way to destroying the independent rebel Inca state of Vilcabamba.
But what followed was the capture & later the execution of the last Inca (king), 40 years after the initial Spanish arrival in 1532. These actions finally ensured complete Spanish authority over Peru.
---
Third day on route to Vilcabamba was steep
The third day was solid up and down again, branching cloud forest, ravines with rivers raging.
Often we undulated the rainforest slopes, muddy, paths as streams and rock, then a track of dry scrub to shady plateau overlooking Espiritu Pampa ( the Plain of Spirits ). 
There a dark forest hiding the ruins of Vilcabamba, scene surrounded by mountains, valley pierced by biblical late afternoon light.
---
I explored the Inca ruins of Vilcabamba on the fourth day
Bright-red birds.
Jungle.
Stone terraces and main plaza were cleared. But mostly huge trees and greenery clung to the walls of ruined, stone-chunk structures.
Another joint and a second beer encouraged some – frantic but short-lived – machete clearance action.
Later, several bushes and small trees mutilated, a few fresh dings in the blade where I connected with stone, but no, no new ruins found, no lost statues nor no snakes spotted.
The ruins of Vilcabamba still feel like a lost city
No ticket office, no rubbish bins, no tourists.
No one.
I was alone – actually, that's not-quite true as we soon encountered a young American couple who we – me & Rogga, 31, my Quechua guide/cook/smoking partner & big band vocalist – shared a morning joint with for 20 minutes of shared-situation appreciating. The students studied history. Me, too, once. We related to our surrounds in deep appreciation.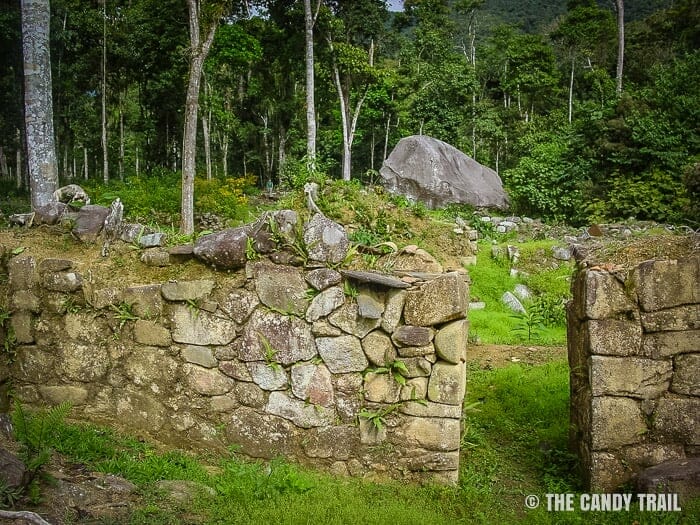 Truly a lost city, lost from tourism, that is until … they build a road or a helipad and by then I'll be able to return in my autopilot wheelchair, accompanied by a young, adorable nurse, and slug down cold ones from the nearby panoramic restaurant and reminisce about how it was …
---
The fifth day of the trek ended at Chuanquiri
Next day, I we hiked to the nearest road-linked town: Chuanquiri aka San Miguel.
It was demanding as the mule had returned the other way.
Now I carried my well-loaded daypack, all day, on a sweltering and undulating trail to finish the trek that evening, having hiked some 70-odd km in the last few days.
Stayed in this tranquil town of adobe houses set around a central field/plaza.
Sleeping on the floor of a simple restaurant.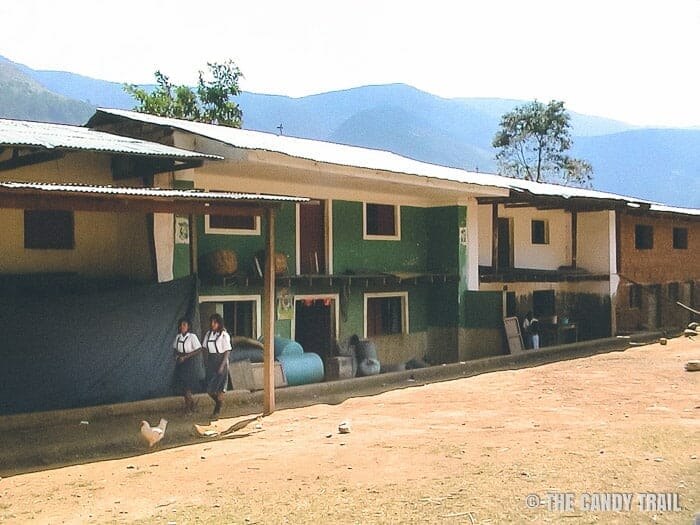 And drunk alotta beer, until the next transport out, in the back of a crowded truck, the next afternoon.
That bumped and banged to the lowland town of Kiteni.
And all evening more beer, and then the next day came a cramped speedy minibus following the wide river back to Quillabamba.
And eventually, my first shower in a week.
(Icy water on route meant that face and hand and foot washes were really about it. But in steamy Quillabamba, a cold shower was just fine).
---
Vilcabamba Trek – a crazy PS
When I returned to Cusco, the guesthouse owner said I needed to accompany him to the police station.
Apparently he'd reported me 'missing'.

After 3 weeks away from Cusco and having left my main backpack at his guesthouse and having said that I'd be away for a week hiking the Inca Trail to Machu Picchu. But plans changed. I continued hiking down the valley and thanks to luck and patience I got further than expected and achieved my Vilcabamba trip.

There was no problem at the station. I spent 15 minutes in the Homicide Section signing a form so that the police could verify that I was still alive.

Apparently, I am.
---
Travel Tips for the Vilcabamba Trek
I got a guide in the city of Quillabamba – by accident when his girlfriend approached me on the street.
Maybe there's a tour company now?
OR you could simply go to the trailhead village of Huancacalle (stay at the simple guesthouse there for more info) and ask around for a guide +/or mule driver.
Booking such an option in Cusco will be very expensive as it's not the usual group trip like the Inca Trail.
I can't recall exactly what I paid but it included the guide, mule and driver, staying with locals – camped out, on a floor or in a hammock, and simple meals. Should be relatively cheap – maybe $US 100 for the trip.
As for getting lost: Apart from directions when you meander into the valley an fields on Day One (you could ask a local); otherwise there's a track mostly but a guide would be best for getting accommodation and food and info.
Travels in Peru – 2002
---