Hi.
This advice applies to travel anywhere, but I focused these killer travel tips on beginners intending to backpack in Africa, Asia and Latin America.
---
Backpacking Advice 101
---
1. Be flexible.
Research info on the web or from a guidebook, but remember to go with the flow as journeys—the best ones—will always change, so don't plan too much ahead. Just have a basic outline of places to visit.
In 1989, this is how I hitchhiked to Iraq, a country that I had no intention of traveling to but was glad that I did.
2. ALWAYS negotiate a price first when using casual transportation.
Before using (an un-metered) taxi, a rickshaw or motorcycle-taxi, agree a price before starting out.
3. Buy quality footwear.
I limit myself to only two pairs of footwear: boots and hiking sandals – for backpacking and activities such as hiking, going out on the town and hanging at beaches.
4. Travel as light as possible.
A heavy backpack will be your worst enemy (don't even think about a suitcase). Best backpack sizes are around 40 liters – carry only essentials, for 6 months to 1 year.
But if you're a perpetual nomad – like no home or base and having everything with you 365 a year, then allow for a 55-liter main pack and a day pack.
NOTE: You can buy stuff on the road when needed. However, still bring vital items before you leave home if you require specialized medicine or photography items, etc.
> Backpacking 101 Tips: What to Take Traveling – The Essential Travel Gear List for Global Backpacking
5. NEVER ignore vaccinations.
Get all that are necessary.
AND travel insurance is good for your peace of mind.
6. Tame the bling.
Showing expensive stuff and cool clothes will make you a bigger target.
And while a serious camera kit is impossible to hide, exercise caution where you use it, and in some places just take a (cheaper) pocket camera for dodgy situations.
---
My Road-Tested Killer Travel Tips for Backpacking Around the World
---
7. Be friendly. Smile. Wave. Say 'Hi'.
No one likes grumpy or arrogant folks. Be warm. Greet people who meet your eye (but, of course, don't encourage touts or unwanted sexual advances).
8. Learn 'Hello' + 'Thank You' in the local language.
If you love languages, then dive in. But simply a few words, a smile and some miming is enough for most places (if basic English fails).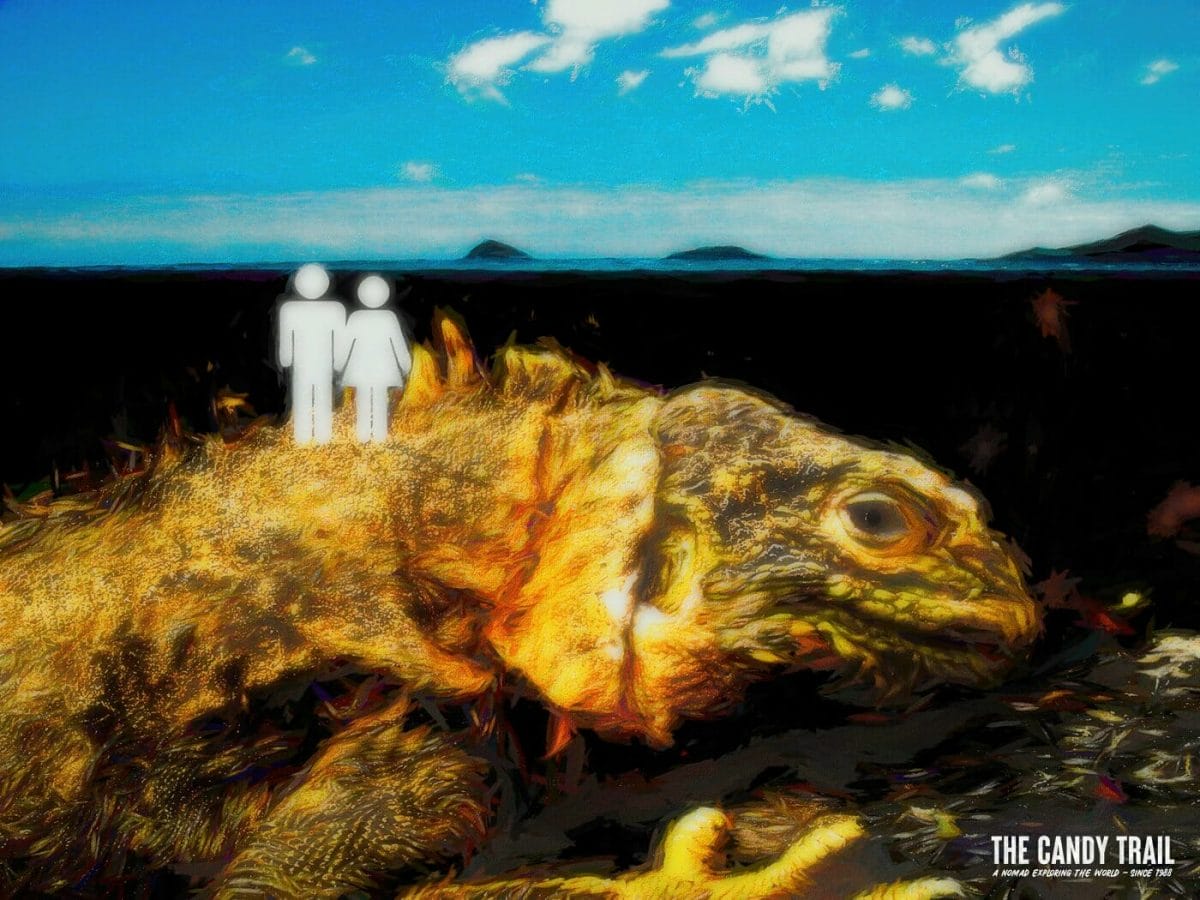 9. Money belts are useful … AND so is CASH.
But only if they're hidden, comfortable and not bulky.
They're ideal for carrying your passport, credit cards and cash while in transit (no pickpocket is that proficient when it's against your skin).
But in your daily walkabouts, it's best not to carry all your valuables with you in public; rather, leave them locked in your room in a locked bag.
For daily transactions, I carry a small amount of local currency in a plastic bag stuffed into a trouser front pocket.
Furthermore, have some hidden cash for emergencies (around $200 or/and also small $20 bundles in a shoe or backpack seam, etc.)
> READ MORE killer travel tips: ATM Card Security + Money Safety Travel Tips
10. Best to avoid drinking tap water.
Unless the water is purified or you're told it's okay.
Some travelers will say 'Don't buy bottled water to save the planet from plastics' well fine; but sometimes there's no other source of safe water in remote areas. Best to carry a small water purification kit.
Likewise, raw salads washed in tap water can make you sick; stick to cooked veg and peeled fruits (true in India).
11. Street food is YUMMY, cheap, and essential to the travel experience.
Just choose carefully.
Busy means tasty and fresh. But all the same, you may get an upset stomach simply from a change of diet. In all my travels, eating street food has rarely caused an issue.
(Do watch eggs, as I found out in Bolivia needing a sudden shit-stop at night in the freezing Altiplano!)
12. TRUST: Never—no matter how convincing—ever get involved in get-rich-quick schemes.
They are always scams, and you'll lose money.
Trusting people: If you feel uncertain, trust your institution and get away from the situation.
> READ my crazy story + travel tips to avoid being: Drugged, Abducted + Robbed in Russia.
13. Ear-plugs are your best friend.
I'm a light sleeper. Snorers and inconsiderate people are a fact of life, especially in hostels! And along with an eye-mask, these will save your sleep—and thus, your sanity!
14. Keep digital assets + valuables in a daypack / carry-on bag when in transit.
You want everything important in one place for fast action situations. Have your computer, smartphone, camera, tissue paper, vital medicines, and copies of docs at hand and in sight—ALWAYS.
15. Toilet tissue is another faithful friend – always some in your pocket – 24/7.
Most public toilets in the Developing World—if they exist – are dreadful. And never expect tissue.
It's always in my trouser pocket (hot or cold weather, there's some ready). You don't want it only in your jacket—a habit you'll regret when crouched in the tropics!
16. A sarong is EVERYTHING!
I've been using a sarong since 1990 when traveling in India introduced me to their local version of a sarong and living in them 24/7 as a young 'hippie' traveler.
Sarong's serve many purposes, including the primary one as a quick beach, shower + bedroom body wrap.
But function as a scarf in the cold and a sun cover in the heat. Or wrap it around your face in dusty deserts.
They're also a light towel that dries quickly.
And, if you encounter dirty bed sheets, cover them with a sarong.
17. Carry a combo padlock + wire
Often you need to use your own lock at cheap hotel rooms in Africa + SE Asia, just make it's a combination code lock so as not to worry about losing keys.
Another co-accessory is a long steel wire with lock to secure your bags to racks on overnight bus and train journeys, or even to attach to furniture when you leave your hotel room.
---
Bonus TRAVEL TIP = Encouragement
Don't worry about 'what might happen'.

… unless it happens – which most-often, it won't.

So, relax and ENJOY your travels.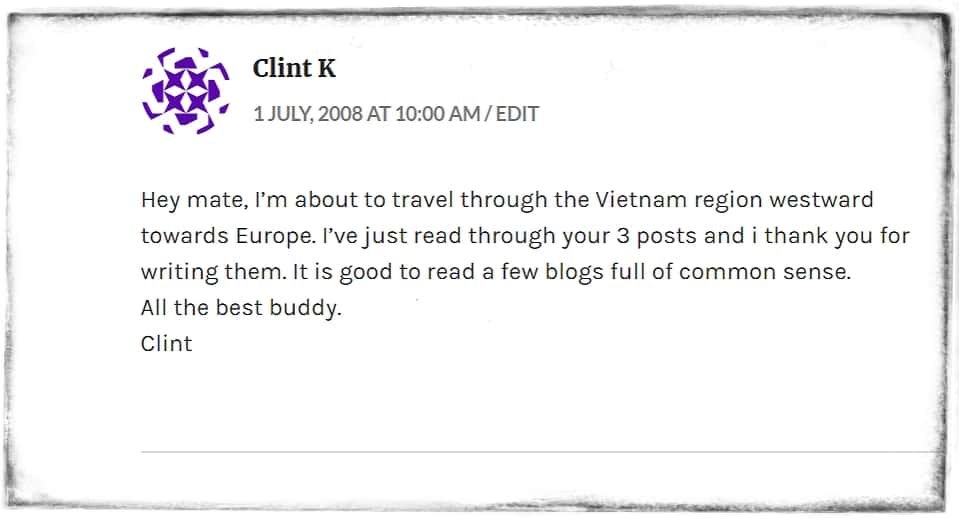 Going to INDIA? – Read my India Travel Advice