Four male officials wearing face masks approach our van – we know there'll be a problem.
For 10 days, we've been van camping on a deserted, broken road facing out above Lake Erhai, looking to the distant shore of snowy mountains and below, the ancient city of Dali.
But now, this blissful panorama is over.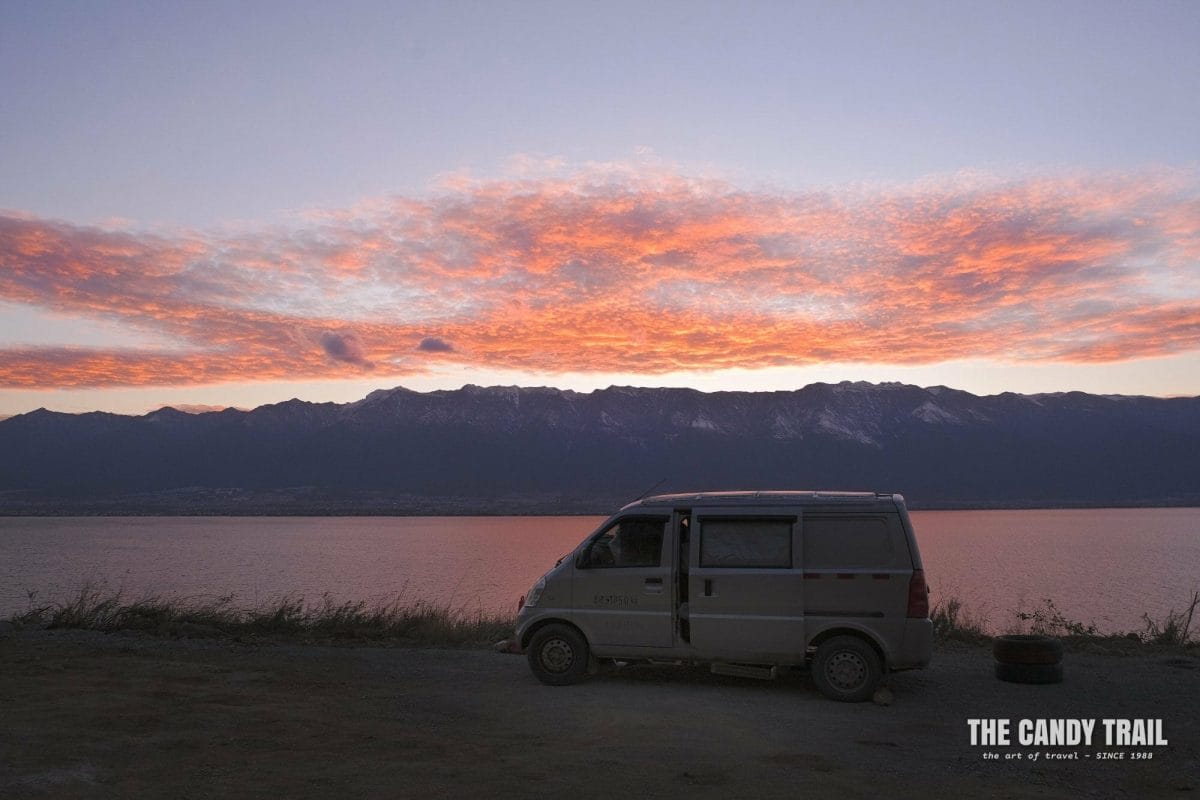 They tell us we have to leave. Now.
The Coronavirus has come to the area.
All out-of-province people (meaning those not from Yunnan) will have to return home or go to a quarantine center. They informed Wei of the address where we will move.
It's directly across from the lake.

The officials watch as we pack up our gear and drive away.
They wave. They're friendly but firm; just doing their job.
At the entrance to the hillside village a roadblock stops our van. The male villagers are unsure what to do.
We are strangers, yet we are leaving their village. Who are we? What are we doing? You can feel their suspicion.
Wei explains in Chinese and they phone the village chief (who must have been one of the men we dealt with earlier).
They waved us thru to the main road around the lake as they stopped another car enterin.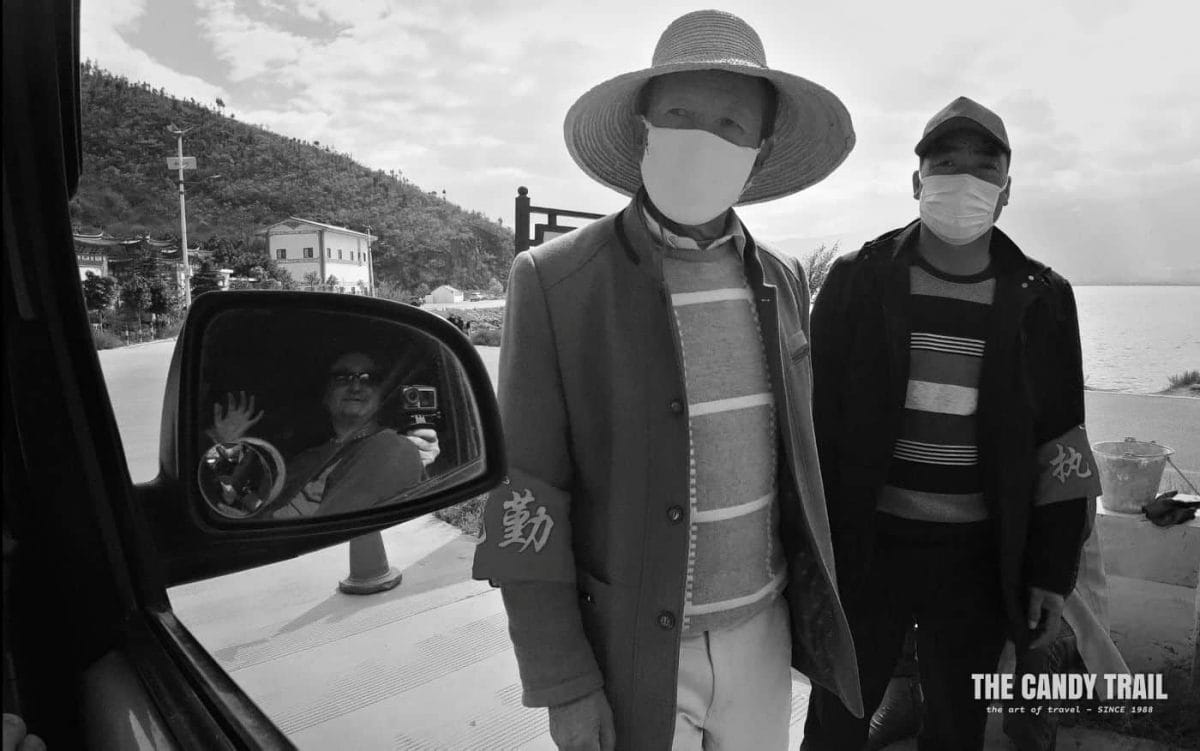 The lakeside 4- lane road is deserted.
Usually, Chinese tourists are out on mass and posing with the lake + mountain vistas, some sporting fancy hire cars. It's over-baked, Instagram-able narcissism usually, especially during this holiday period. Now, barely a soul along the lake.
We knew a deadly Coronavirus was sweeping China – it had been news for weeks. But suddenly, with the surge of people crossing China for the Lunar New Year, the scare and spread had begun.
We had slipped thru the round-ups of outsiders as they were monitored and temperatures measured.
All tourists from Wuhan – and all of Hubei Province – have been isolated in a specially designated hotel in Dali.
But visitors from other provinces, like us, have been allocated a different government hotel.
The drive around the lake shore to our assigned hotel was quiet.
Busy streets are now effortless to navigate. Pedestrians and cyclists guarded by face masks. Even motorists wear them.
---
Van Camping and Quarantined in Coronavirus China
---
As I write this, Wei is getting her temperature checked – but this time by visiting doctors. I'm next. Second time today (it happens daily by hotel security). Both doctors are cloaked + masked, but friendly, professional and courtesy).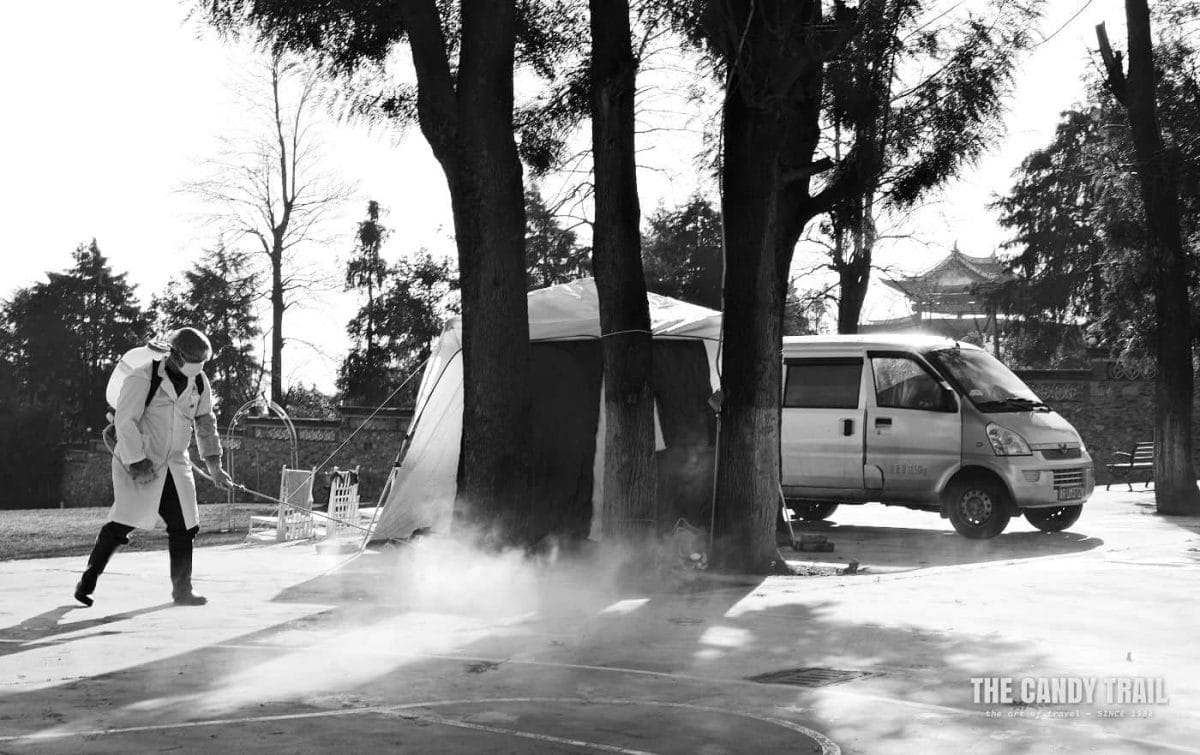 Unlike the attitude when we arrived at the hotel compound yesterday.
The security guard, who checked our temperatures, was unwelcoming. Unsure of what to do with us.
But the friendly receptionist said we could park our van, and camp away from the main building for some tranquility.
She was aware of this new government directive that wants people to stay put and be accounted for.
Shops, cafes, bars, MacDonalds, etc are closed in Dali – a popular tourist sight famous for its ancient city.
Streets are quiet, and I assume, now, cities across China are ghostly – in order to keep people isolated inside their homes so to contain the spread of the virus.
---
Coronavirus Precautions Across China
---
The Internet tells me cities in Hubei Province and its capital city Wuhan, at the epicenter of the virus, are in lock-down, and with no transportation operating. That special flights have evacuated foreigners out of Wuhan.
And many public events have been cancelled, and tourist centers are closed across China this public holiday.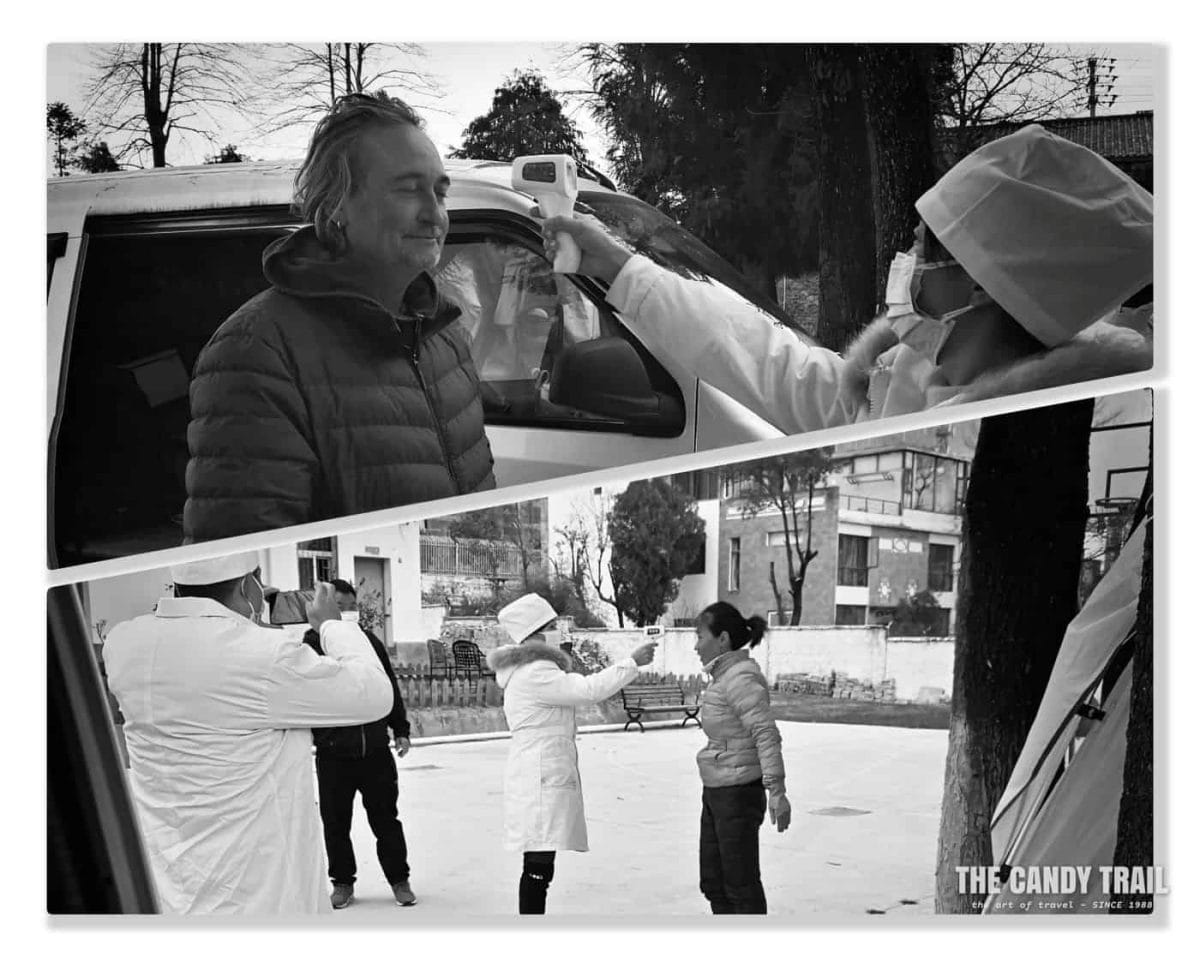 And many provinces have closed highway-access to their cities.
Village announcements, via loudspeakers, urge people not to gather. And even to postpone marriages during this festive season, which is akin to Xmas + New Year in the West.
Experts say that the real effectiveness of this country-wide lock-down and the virus spread with be known within the next 10 days.
So with this nationwide containment and closures, village roadblocks and climate of fear, it looks like we have nowhere to go – but stay here.
Also, according to doctors, it's the safest place to be – people are checked here, and they spray the grounds daily.
Furthermore, we have a quiet place, with access to toilets and water (and our freezer is stocked with steak and we have many other fresh foods, and along with sunny days and electricity from our solar panels, we can wait it out … No choice, really).
---
The Coronavirus Outbreak Going Forward
---
Now over 200 dead, and 10,000 infected (are the official figures but other sources say 100,000 infected).
However, it seems most people recover from the illness and that mostly the elderly die, and those with existing medical conditions.
Here in Dali, people seem relaxed, but very aware, at this stage of the outbreak.
And despite the quiet streets, a supermarket nearby retains an air of normality.
Wei tells me: Messages from local government – via social media – inform people that food stocks are good, so please don't create panic by stockpiling.
Furthermore, they encourage you to stay inside: "This is how you can best serve your country".
And also to "Stay strong. We will beat this virus."
So what's next?
Only time will tell the full story.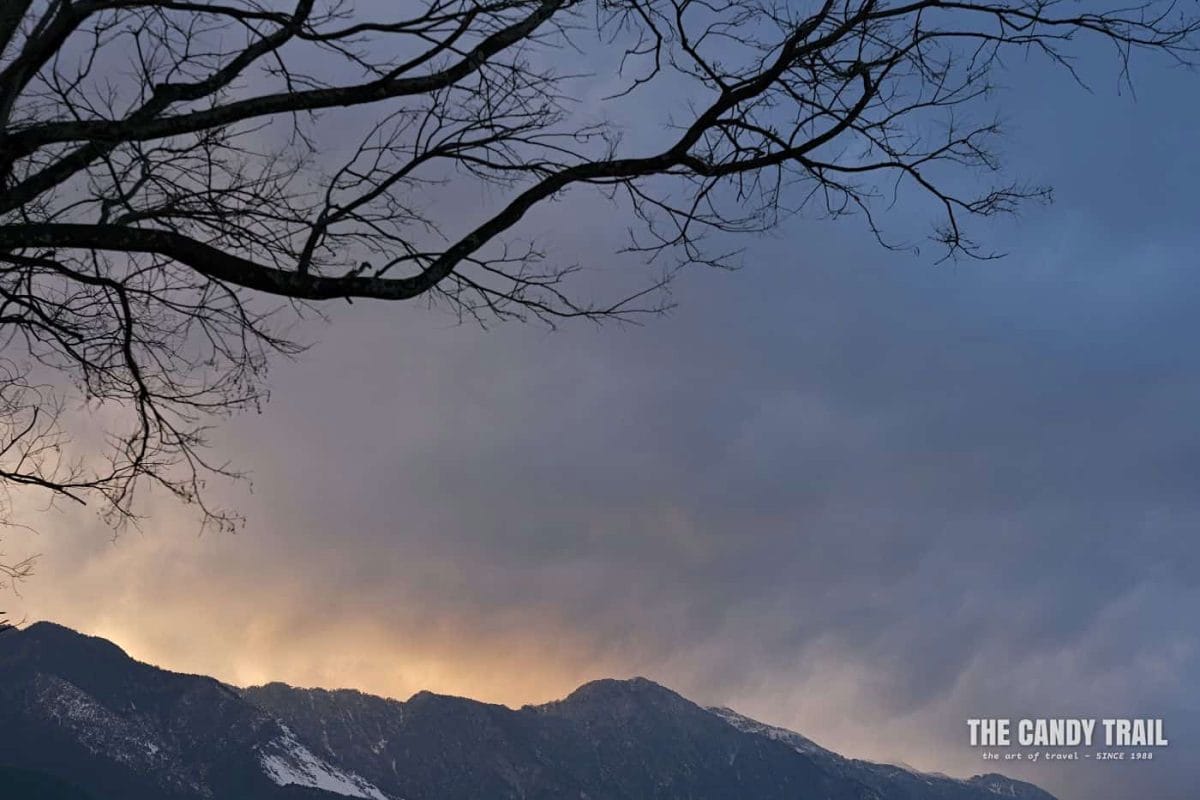 ---
POSTSCRIPT: 26 March. We stayed in quarantine for 1 month but have been on the road in Yunnan for some weeks since.
Meantime, the world gets crazy. Borders closed, flights canceled, panic buying, stay-at-home orders. Global infections have hit 400,000+ and 20,000 are dead. Now Europe is the Covid-19 epicenter as China returns to normal (with 3000+ casualties). Watch-out USA, India, Africa …
Travels in China – 2020