The bus broke down, so we hitchhiked to Sa Huynh.
Next day on a beach, ours alone for kilometres of white sand, hemmed by rounded, green peninsulas somewhere in Central Vietnam.
With several big BGI beer bottles crammed into a bucket of ice, the two of us slouched on deckchairs under a brightly banded beach umbrella – casting a warm psychedelic glow as we smoked grass, listening to Thomas' tape-deck screaming – Soul Asylum, Marley, Ministry, Pearl Jam, Cat Stevens, Nirvana across our hot Nam afternoon.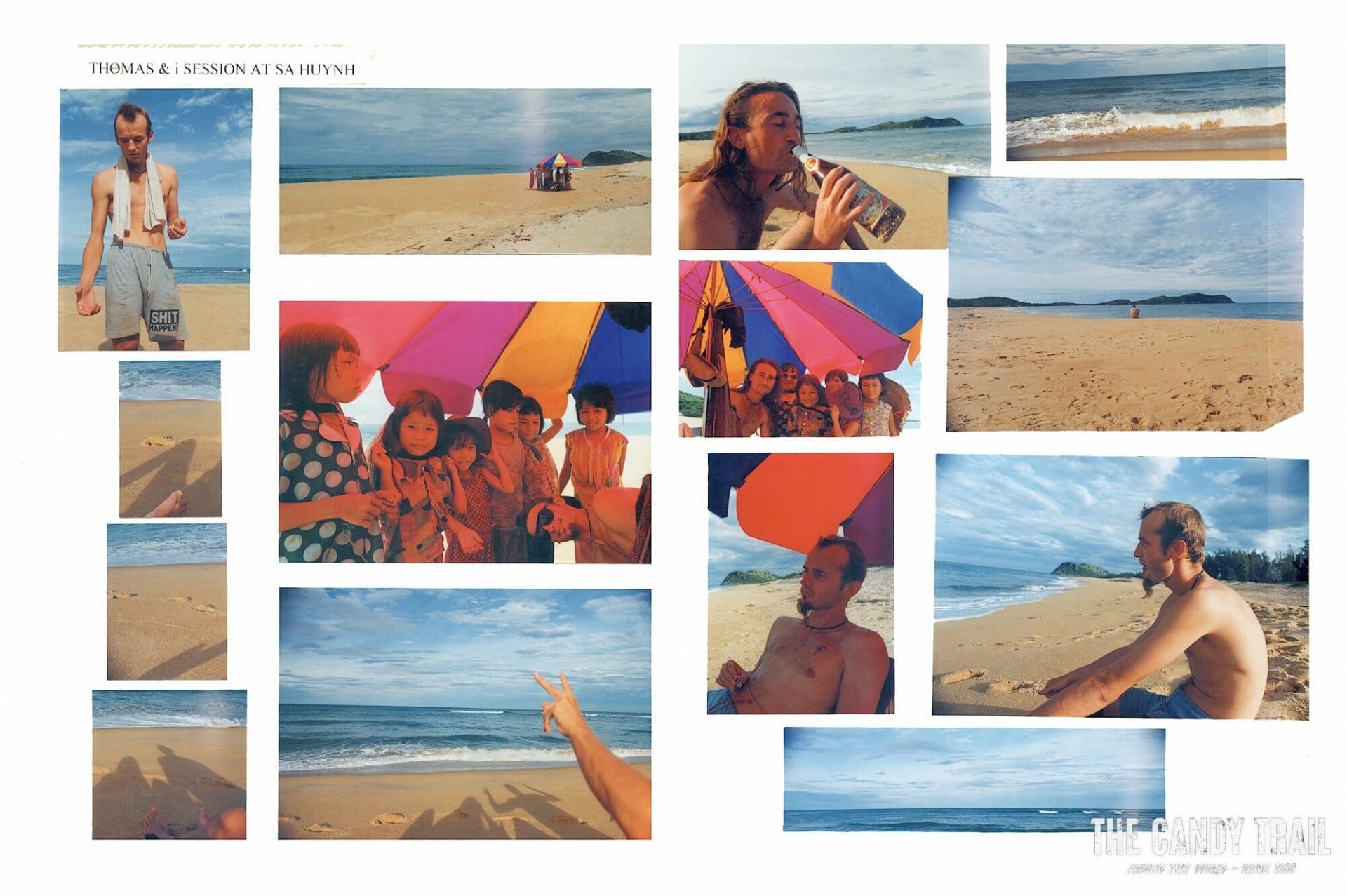 The perfect f*ckin' summer.
The beach umbrella casts a warm glow over our pale, pissed bodies.
Toes tucked in the sand, waves frothing 20 meters from our feet, eyes shaded by dark glasses and beaming inanely, gazing at the sea-sky-sun… WASTED.
---
Sa Huynh Beach entertains us
---
Remembering the purple dusk light and lots of young Vietnamese boys and girls crowding round us and acting like a circus.
A cheeky 12-year-old is the ringleader.
Small boys juggling tantrums, others clowning around.
Girls riding boys like high-wire chicks on Jumbo the Elephant.
Human cannonballs tossing themselves across the sand as the sun sets and the kids stare, laugh, stand, sit, watch Thomas and me in our sunset-daze as the clouds display a Ferris-wheel of flames.
Remembering grilled fish and a final beer at Sa Huynh.
Then around 10 back in our cabin and about to crash-out, when a young Vietnamese woman popped her head thru the window and asked, "Massage?"
Thomas stayed in the room with one while another lead me to the beach.
On a sheet spread under pine trees, waves crashing into the quiet night, the 'massage' soon swirled into sex.
Travels in Vietnam – 1994