The rains have subsided, and the rooster is silent.
A little boy aged five is in my room talking to me in chirpy Indonesian like he thinks I understand. Words like knee-noo-car-cool as he gestures to the fluffy toy dog.
Neighbors and visiting family wander into the house to see the balway – the white visitor – for communal life is the way here in Sarong in the province of West Papua in outermost Indonesia.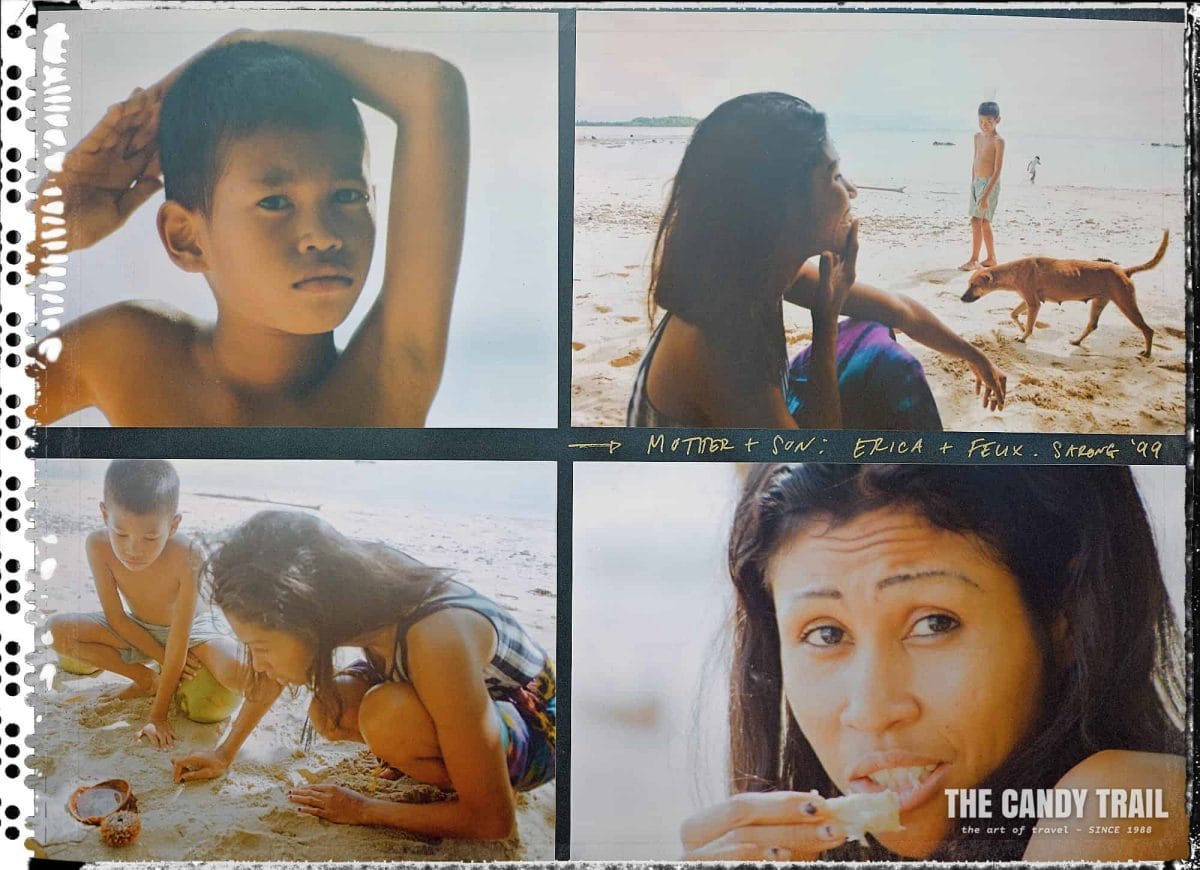 On the porch outside, young girls sing melodic Melanesian-church songs accompanied by an acoustic guitar. Erica's sister directs the songs.
Please sing again ladies – so pleasing are your happy, sincere voices.
---
Had a tasty lunch of grilled fish.
The uncle – bearded, eagle tattoos on neck, wooden bracelets, baseball cap, belly-bulging t-shirt, dark-wizened face—descaled the fish, and then wrapped them in banana leaves to bake over the fire (all cooking facilities are simple and outside).
Also ate other fish but smaller and seasoned with herb soup, with rice and two kinds of green salad – the shapes and colors resembled a jungle (one leaf apparently, is a prevention against malaria).
Dinner was similar, with Erica cooking fish dishes spiced with a chili-cabbage salad on a mountain of steamed rice.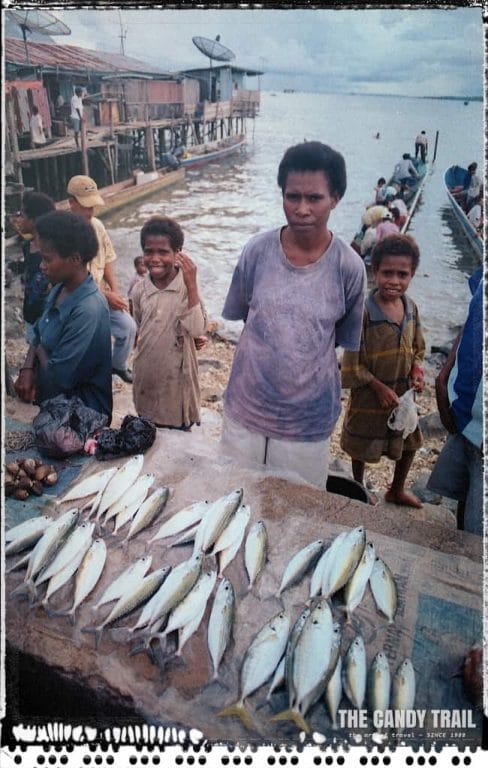 Rained hard again last night.
Our supply of fresh water runs off the gutter into a 44-gallon drum below.
The pump had stopped – which is our usual water source, simply a hose running in from the dirt yard—banana palms, hen pens and roaming chicks, frogs—in from somewhere comes our water each day, running into the bathroom: a concrete shell, pale-blue tiled walls and sit-down flush-toilet – broken, an open fresh-water tank from which we scoop out to wash ourselves, clean teeth or flush the WC… The water received is brown but clears once the murk settles to the bottom. It's our water for the next two days.
Drawing-long on a joint, with Erica out at the market, the room is quiet.
Only spoons scraping tin plates in the kitchen—beyond my flapping, curtained-door, fan chugging.
And on my Sony Discman, plays Ali Toure Farka.
(= An Islamic – American-Blues-like – folk singer from Mali; music I first encountered on my 25th birthday in 1991 while waiting for passengers to fill a bush taxi on the streets of a town in Niger, West Africa).
---
Sarong in West Papua Reminds Me of West Africa
---
Toyota mini-vans serve this sprawling town of shanty and shops as both taxis and buses.
The unpainted, browned iron-sheet of many houses. The lush green of the tropics.
The darker-skinned, facial features of the people are no longer Asian.
The heat and the wet.
Life in Sarong is Relaxed
A dog growls outside, a mouse runs along the floor, a child talks peacefully with another in the kitchen.
A rooster's crowing—why?
Strangely, there's seems to be no bird life around here—not even the ubiquitous sparrows.
Techno playing loud in the front room, young kids dancing. When I watch them, eyes turned from the washing girls out the back to the dancing girls out the front, them twisting, they laugh hysterically when they catch me watching them.
On our porch, two girls sell red fruit they're collected somewhere, for 300 rupiah each.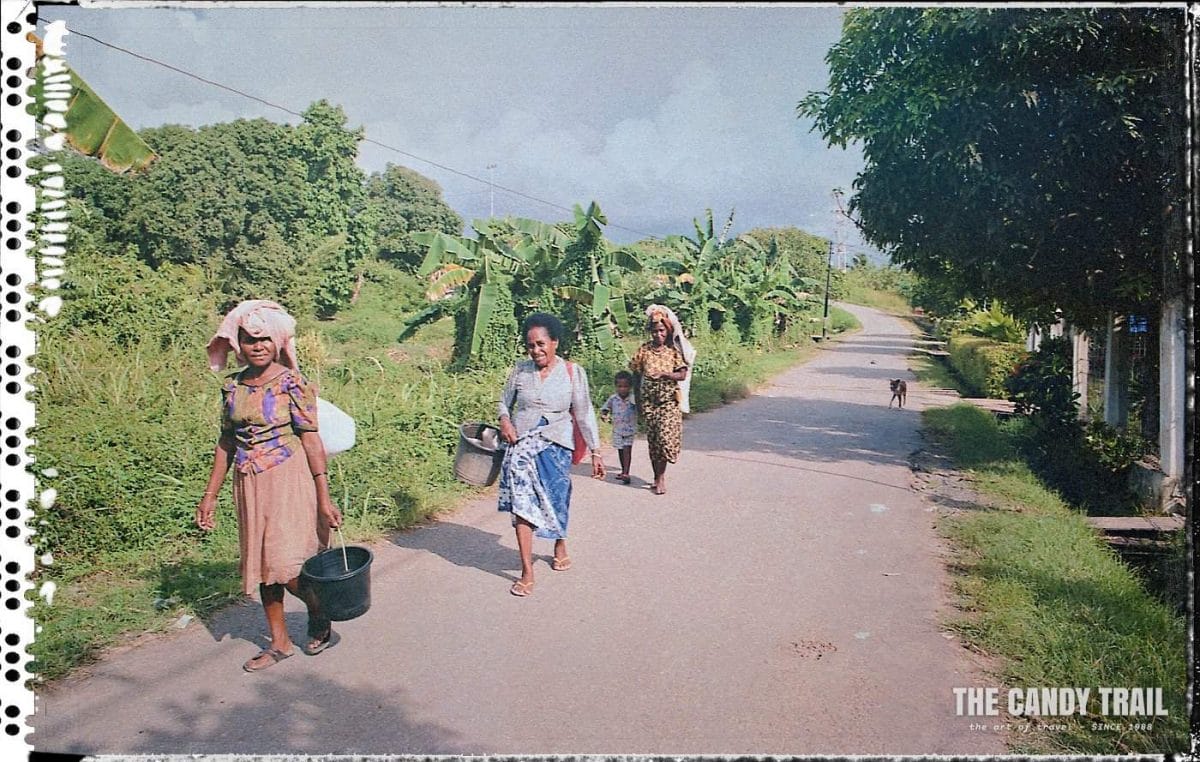 Erica and Starlet are in the backyard, washing, soaping, scrubbing by hand, where Lukey, Erica's brother, stirs a massive cauldron of rice.
Nearby, in the cupboard, next to pots, a black and white cat sleeps—annoyed at being splashed as pots and plates are being washed.
Oddly, it's techno music that pervades across this quiet cluster of houses.
---
Life at Sarong Beach
---
Went to visit other family: Erica's grandparents live on the beach of Sarong.
So we took a yellow taxi-van, me and Erica, Lukey, 27, and Erica's 11-year-old son, Felix, and her sister's three daughters Ekie—9, Rosa—12, Starlet—15.
And there's a stunning vista of deserted sand shaded by palms.
The tin shack and simple homes on this beach face nearby islands, outrigger canoes – sailing, paddling in shallow, turquoise waters.
Lazy dogs, hungry for coconut scraps.
Trails of red ants under the tree shade.
Crabs scuttling into holes in the hot white sand.
Erica's grandmother is bent over with a walking stick. Her weathered face expresses delight at reggae techno playing—loud–-very loud. She must be deaf.
In a few days, we will move to this beach house and stay awhile.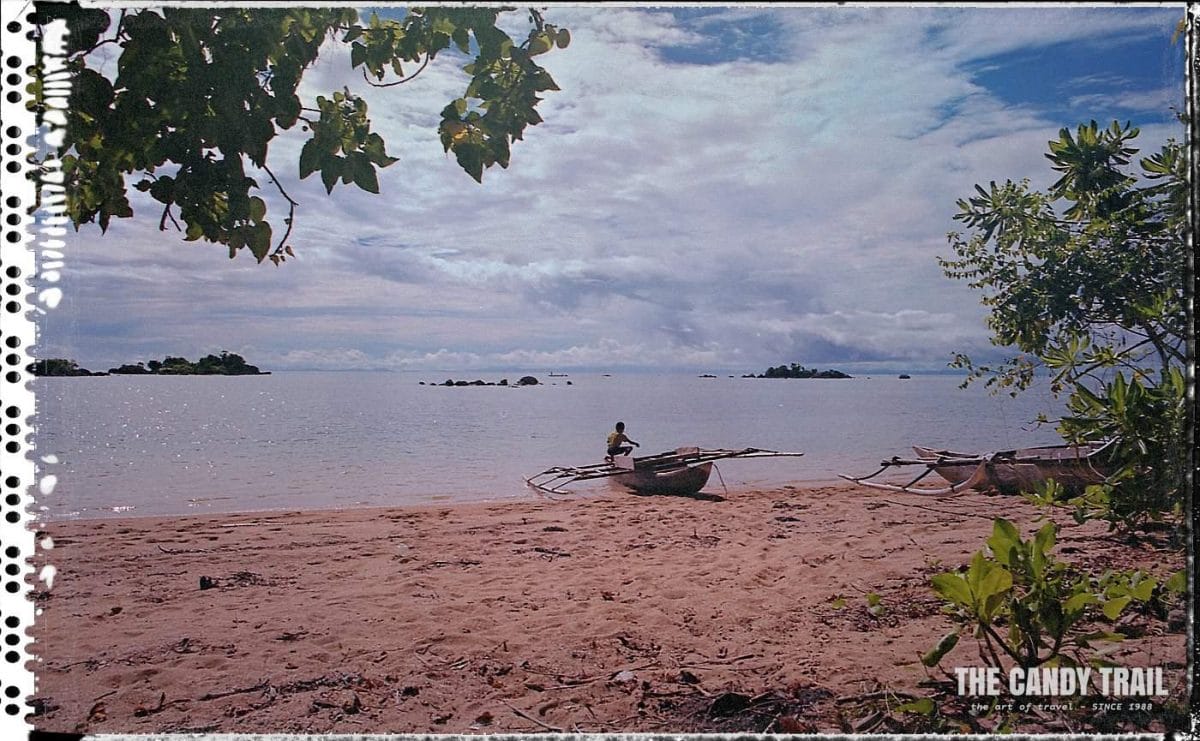 Elkie collects scores of various small fish. Tiny goldfish, yellow black-striped, crayfish, crabs, blue ones – maybe 10 varieties – to make an aquarium.
Later, she cried, howled back home at night when all the fish had died (and the howling interrupted our sex—an intense session gripping towards mutual orgasm but ultimately a child crying isn't sexy and so we stopped, opened the door to attend to the sad, young face as Erica's sister and husband were out).
The boys clambered up high to cut coconuts and then, with a machete, sliced them open for all to consume the milk and fruit.
Today Erica's son, Felix, finds a balloon under our bed and attempts to blow it up but can't. He asks Erica to help. She's shocked—a used condom; she says, it's not a balloon. "What is it, ma?" Says "something for adults"—as she throws it in the rubbish box.
All the kids have refused to go to school for the second day running. Threats from Pa came to nothing.
Felix plays dominoes with another boy, slapping down the cards. Rosa deep-fries something outside—I hear the hiss of the oil in the wok.
The children all seem to be hungry or are they bored? All scraps eaten. What rare-food-treats I buy is secreted away from the fridge—cheese slices by slice, day by day, an open tin of fruit spoonful by spoonful. I don't mind, but I wonder what they usually eat?
Every second day Erica and I have gone to the market for fruit and veg and to the supermarket for a few luxury goods—biscuits, batteries, tinned sausages, chocolate milk.
And everyday Erica has cooked – and thru my money I have fed the kids better than they would usually eat, like a grilled fish with many veggie dishes. But today, Felix was content to eat plain rice.
Yesterday, Lukey was frying bananas for everyone.
I introduced them to fried, canned-crap-mush-sausages in bread with ketchup; that went down well.
---
Life After Sarong – What's the Future Hold for Me?
---
Erica's sister's son is in Jakarta awaiting an eye operation and tomorrow, Christine leaves for Jakarta to have chemotherapy on a small cancerous tumor near her shoulder. Their medical expenses seem high.
But then again, their house is so basic—the poorest here in the street.
This dirt lane surrounded by grassland and tree, and what they own is so slight that maybe this is a simple reflection: These people are poor; drained by medical bills.
So far, I've supported every rupiah that Erica has spent over the last 3 weeks—about 4.4 million in the 15 days since Jakarta.
Her brother, Lukey, is broke and bored here. But nice guy.
Nice family.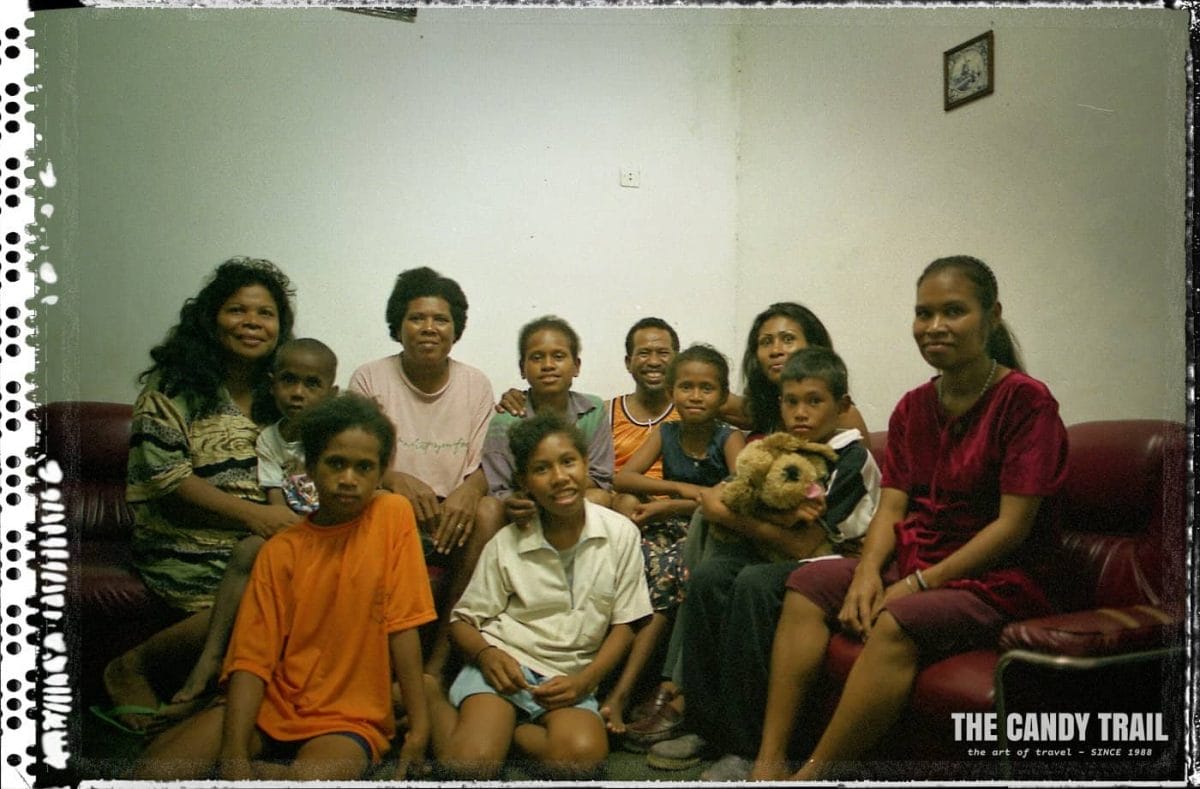 But wonder where I'm going?
Way south within West Papua to Maruake—Lukey and Erica have gone to check boat-departure details on the next stage of this crazy blind journey.

Going towards a bottomless pit to be broke or a love & business opportunity or just to experience life cos I get bored easy and need to keep moving?
I had a good life in Jakarta, although the work was dull and the emotional loneliness of a new woman every week was depressing.
But I found love and adventure in Erica, and some of the wildest sex ever.
Also, an enjoyable family experience on a tropical island away from any trappings I'd enjoyed in Jakarta, except grass—which bought from JKT.
And beer – which is twice the price here because of freight charges – but still I must drink it.
And so here into the unknown of West Papua, outermost Indonesia—will this work out?
Or waste my time and my money and get me in trouble?
Or will it take us further into the world… together?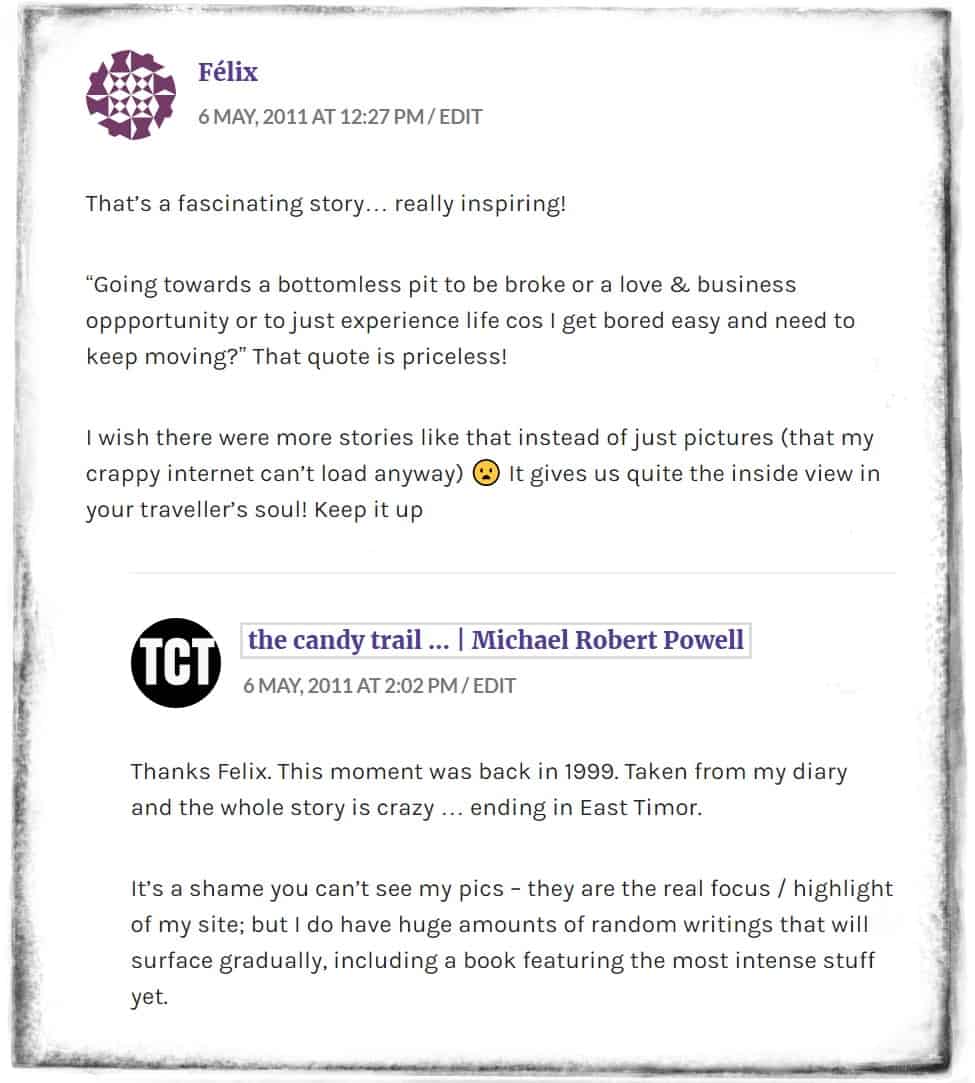 Travels in Indonesia – 1999