If you're traveling around the world for 6 months or 2 years, you'll find that you'll need more travel gear to cover a range of climates and geography.
NOTE: If you're heading to Paris with suitcases intent on luxury and glamour, this post isn't for you.
For many years, I was a global nomad – a backpacker without a base that lived out of his backpack 365 days year after year, and this advice was first published in 2008 – now updated in 2021.
My perpetual struggle as a long term backpacker was how to carry what I needed but still keep my pack at a reasonable weight (8-15 kg).
When I could, I'd leave stuff behind to pick up later. Say if I was headed to Africa and returning to Asia, then hiking sandals + sleeping sheet would suffice over boots and a 4-season sleeping bag.
Then again, when in South America for nearly 2 years, I had a heavier backpack as I alternated between the Andes and the tropics.
Finally, beyond the need for various clothes, if you're into photography, well, camera gear and a laptop dumps on the kilos.
---
So, what to take backpacking?
---
A GLOBAL TRAVEL GEAR LIST – Table of Contents:
---
What documents to take for traveling the world
---
PASSPORT: Make sure your passport has plenty of empty pages and a long life as any passport with less than 6 months until expiry will be refused visas by most embassies.
Emergency cash in a mix of US Dollars and Euros* hidden away from your main money-belt. Have small dominations of 5, 10 + 20 notes that are easy to get out. (And some $1 notes for Africa).
Have your cash wrapped in plastic cling-film in 50 + 100 notes to keep it safe from rain, humidity and sweat.
Furthermore, make sure every note you get is crisp and clean (or money changers + banks will refuse them).
NOTE: Bigger dominations get better exchange rates.
* Euros are better in former French West + Central Africa.
Credit cards for global ATM access to travel funds. Make sure cards have ATM pin numbers before you leave home. Get two cards, one stashed for emergencies.
> CLICK HERE for more Money Safety Travel Tips
Vaccination booklet – get all jabs necessary; a Yellow Fever certificate will be checked at a number of African borders.
Passport photos x20 (some embassies in Africa – used to – take 4, but usually only 1 or 2 is typical)
Insurance for both medical cover and personal effects.
Copies of all ID + vital documents on paper and also in your email + cloud.
Use a small, comfortable MONEY BELT under your trousers against your skin (for hiding ATM credit cards, $US cash + passport). I wear mine on the side, and not at the front.
---
Grab my 25 Essentials – QUICK CHECK List as a PDF
---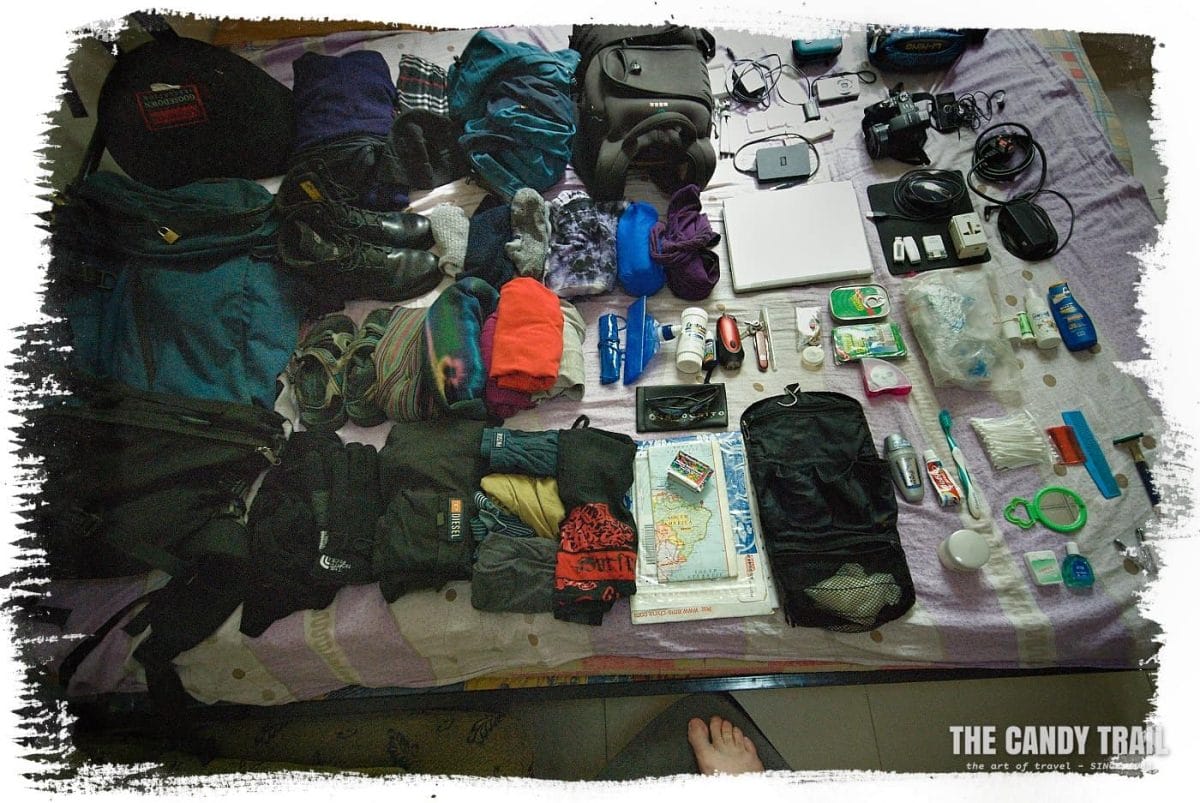 ---
Essential Backpacking Travel Kit
---
These are what I take, but I may drop a few – depending on the type of trip.
This list will be subjective to individual needs and the purpose and duration of each trip, so pick what works for you.
flashlight (headlamps are best for being hands-free)
sunglasses (the sun is brutal in many countries)
sun-block SFP-50 + lip balm
Swiss Army Knife (for opening beer bottles, tinned food, wine, wilderness survival)
2-liter collapsible water pouch + water purification filter / pills (never know when you're forced to drink dirty water)
compass (don't reply on an app needing power)
books + apps + maps (on smartphone)
cup + spoon & larger stainless-steel cup with water heating element (for boiled eggs, tea, coffee, instant noodles or packet soup. Basically easy, cheap + quick eating in your room.)
zip-lock plastic bags (to waterproof + compartmentalize things for quick, easy searching and keeping small items from getting lost.)
earplugs (too often there's noisy sh*t somewhere)
insect repentant (in the tropics to avoid Malaria + Dengue Fever and an itchy night's sleep. ALSO: carry a mosquito net.)
sleeping sheet and / or 4-season sleeping bag ('Down' bags can squeeze up tiny and weigh about 1kg)
needle + thread (when ya rip your trousers)
candle + lighter (for prolonged black-outs)
dry sacks (to keep your camera + other electronics dry)
photo of family (to show curious locals you're hanging with, usually with families over a meal)
wash basin plug + string for clothes-line (to wash clothes as plugs are often missing. I usually pay a local for laundry)
maker pen with paper (for writing hitchhiking destination signs)
inflatable neck pillow (for sleeping on night buses)
padlock (a code one, not key, for locking your room, which is typical for cheap hotels in SE Asia + Africa). ALSO: a combo lock with long steel wire to secure your backpack to racks on trains + overnight buses.
---
Travel Clothing for 4 Seasons of Global Backpacking
---
Now, this is where it gets messy.
Clothing can really add kilos and bulk to your backpack just for the sake of being prepared.
BUT remember: What you don't have can always be bought on the road, rather than have a load of clothes that sit unused – and unloved, when you curse at the strain on your shoulders.
---
Clothing for Traveling in Hot Countries
---
sarong = ESSENTIAL for beach, shower + bedroom wrap-around. Or as a towel, sun head-cover or even another layer as a cold-spell scarf.)
2 – trousers = lightweight, quick-drying with zip-off legs (OK for swimming).
(In the cold, wear thermal leggings* beneath trousers, which creates a pocket of warm-air insulation.)
3 – t-shirts (the most reliable travel wear)
1 – shirt (something exotic, casual + colorful for 'going out')
4 – underwear (in extreme humidity – don't wear them)
floppy sun hat or cap
hiking sandals (replaces boots + shower flip-flops.)
ALWAYS CARRY a set of sudden cold weather gear—even in Africa + SE Asia: Merino wool shirt + *leggings + Merino beanie + light fleece jacket + 2 pairs of socks.
plastic rain poncho (for monsoonal downpours to keep your pack dry. Also, for hitchhiking in temperate climates to be used as a groundsheet for sleeping rough.)
When I hitchhiked across Europe in 1990 on route to India, sleeping out in vineyards, beside train tracks, in parks, a thin foam sleeping mat served the purpose of bed with sleeping bag. But afterwards I gave it away in India as it gets too bulky to justify carrying, unless used often.
---
If traveling in the COLD you must also have: waterproof hiking boots, gloves, scarf, extra socks, warm trousers, thick fleece + a breathable waterproof jacket.
3-6 pairs of socks (best to have 2 layers in extreme cold; one thin set beneath a thick pair).
small quick-drying towel
---
Camera + Digital Gear for Backpacking
---
Again, this will be subjective to individual needs. Really, it's the main reason my travel kit can be heavy.
Over the years, I've taken everything traveling from Nikon film SLRs + DSLR cameras + lenses to compact zooms by Canon, Panasonic + Sony, and now to my present kit of a M3/4 Fujifilm X-T30 + lenses; along with a DJI action camera + Mavic Mini drone. (Luckily, I don't lug this stuff around too much now as I'm traveling in a van (since 2019).
And don't even get me started on all the laptops I've had since my first back in 1994!
You don't need to be told – but I'll repeat this anyway – your smartphone is the BEST OPTION for travel mobility and it ticks all the tech boxes.
✔ camera, videos, apps for everything, read books, take notes, surf the web, alarm clock, audio player, calculator, compass, translator, maps, etc.
Having said that, a dedicated camera – a compact, M3/4 or Full Frame – has its own benefits. But adds weight and accessories such SD cards, extra batteries, USB charger, etc.
And in recent years, it seems a drone is part of the travel photography kit. If backpacking, I recommend taking the DJI Mavic Mini @ 250g (+ 2 extra batteries + controller will be around 1.5kg of additional weight).
Last, a lightweight laptop or tablet makes editing much easier than on a phone, but again will add 1.5-2kg of weight to the journey.
And remember, always backup your precious travel memories on an external drive +/or in the cloud.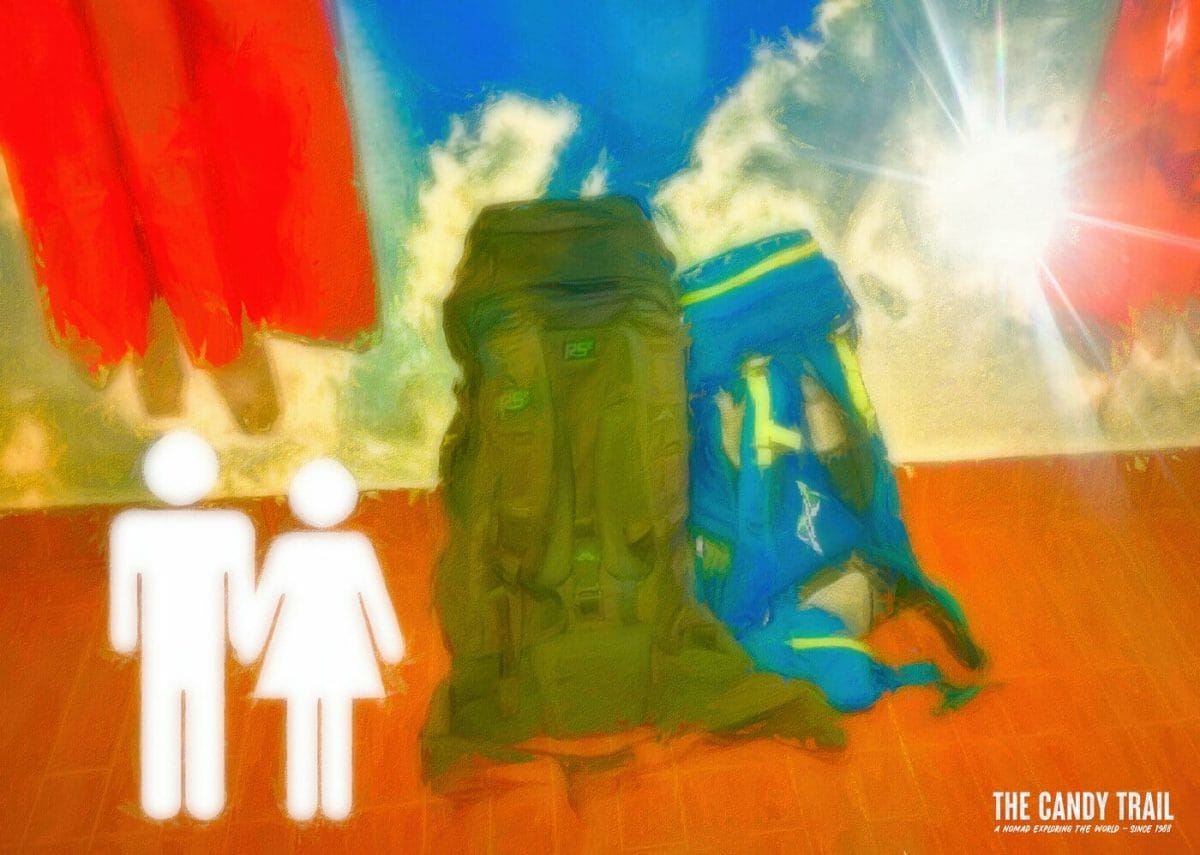 ---
Medicines for a Global Backpacking Trip
---
While not an exhaustive list, have at least most of this.
Paracetamol = get rid of headaches and hangovers!
antihistamine (if prone to allergies)
Imodium = a life saver for stopping the flow of unwanted sh*t!
Malarone = post-exposure anti-malarial pills (it's impractical over all these years for me to take daily tablets to prevent Malaria.)
flu tablets + throat lozenges
antiseptic, plasters, bandage, tape, safety pin, butterfly stitches
condoms = you know you wanna explore the world safely?
eye-drops = dry, itchy eyes mean you can't enjoy the sights
multivitamins = helps a poor or imbalanced diet that's sometimes unavoidable.
antibiotics (maybe take a general one) but often you'll find a specialized A/B locally, like I did in Yemen & Morocco, when I had a hellish tooth/gum infection.
NOTE: If you need specialized medicine, bring it with you from home.
AND along with this small first-aid kit, I also have a stash of items in my daypack – for immediate access anytime.
---
Vital Toiletries for Backpack Traveling
---
Again, we all have different needs – but watch out this stuff can get heavy, so keep bottles and packets small.
And remember, most of this stuff is easily available worldwide, if you're not fussy about brands.
shampoo
soap (can also be used as shaving cream)
toothbrush, paste + floss – flossing can really save some dental issues.
nail clippers – long dirty nails aren't cool for eating food with your fingers when invited to a communal meal (for example in India + the Muslim world).
deodorant – you don't want to repel the opposite sex, do you?
comb – bald? Bonus: Your backpack just got lighter!
razor + blades + tiny mirror (+ shaving cream)
cotton buds – remove that ear wax to fully enjoy Spotify.
toilet tissue – is your best friend. Have small bundles everywhere! Especially in trouser pockets.
moisturizer – vital in dry climates (your exposed heels in sandals will agonize in Sudan during summer).
For women – tampons or pads
---
What to put in a Daypack?
---
A small secondary bag is an essential part of your backpacking travel gear.
Your daily essentials and valuables, such as camera, phone, digital gear, sunglasses, medicines, TISSUE, etc, should be always in your daypack.
DON'T EVER GET LAZY AND USE YOUR DAYPACK TO LOOSELY STASH YOUR PASSPORT, CASH OR CARDS – that's your money-belt/s role. Otherwise, you'll lost them to thief.
Daypacks are also necessary for city walkabouts, hikes and side trips – when you want to store your main pack in trusted hotel storage and travel light for a few days or a week or a month.
I did this in Jordan in 1989 when I hitchhiked into Iraq (and later returned to Jordan 3 weeks later). Another time was an Amazon circuit in Bolivia. And there's been many other examples.
Another use is to keep your valuables together and with you when your main backpack has been flung onto the bus roof storage (common in SE Asia + India).
Or is locked away in the trunk of a city taxi.
But this taxi situation should be avoided – especially if you've paid to have it to yourself (rather than a shared taxi) as there'll be plenty of room for two bags and it's now easy to get-out and leave if a problem arises.
My daypack is a rugged 20 liter that can be attached to my main backpack with a clip-chain; carried in front of me, but hanging off to one side when moving on foot.
---
What type of backpack is best?
---
The best backpack sizes range from 30 to 55 liters.
Much bigger, and you'll be too heavy and bulky.
And also, it'll be a real effort to squeeze in and out of public buses and trains.
Side-zipping – and importantly, LOCKABLE – travel backpacks are superior to the top-loading trekking-style backpacks simply for their greater ease of access and preventive security.
EXTRA SECURITY TIP: In addition, I use a combination-lock and wire to fasten my backpack to a bed strut or inside a cupboard, etc, when staying at accommodation and also my daypack – with digital stuff, when not in use will be locked inside my main pack.
---
How to Organize Your Backpack + Travel Gear Efficiently
---
Have your backpack organized, so it flows easy, or get frustrated every time you can't access something easily.
Needless to say, but have stuff that you will use often be easily accessible at the top of your backpack or in an outer zip pocket.
Like a poncho for a sudden downpour. Or a guidebook, map, phone when arriving in a new city or grabbing a flashlight in a black-out.
All the contents of your backpack should be compartmentalized – in plastic transparent bags for easy identification and access, fast packing and extra waterproofing.
Assuming it's warm weather now and I'm wearing a t-shirt, trousers + hiking sandals but I'm traveling to a range of climates, my 6 or 7 bags will be grouped something like this:
1. TOP POCKET OF MY PACK: toiletries pouch, earplugs, repellent, sunblock, towel
2. SIDE POCKET: flashlight, maps, padlocks + cable (if not in use)
3. TOP INTERIOR OF MY PACK – fleece jacket.
4. MIDDLE – Bits: first aid, cup + spoon + coffee, (collapsible) water bottle, steel mug + heating element, survival items tin, needle + thread, etc. (And sometimes my laptop + accessories in a protected pouch).
5. MIDDLE: Everyday clothing: spare t-shirts, undies, sarong, trousers, sleeping sheet.
6. BOTTOM: Cold weather clothes: thermal top + leggings, rain jacket, socks, beanie, sleeping bag.
7. VERY BOTTOM: Boots (sometimes best further up to lessen pack weight at bottom; test for yourself.)
Some people like packing cubes, but they're expensive and the foam reduces space. Other travelers prefer compression bags. Up to you.
ALSO: Wrap and pad clothing around fragile stuff – like if a laptop is amid your backpack -and make sure mosquito repellent is isolated in an extra plastic bag to avoid leakage + contamination.
Finally, if you're camping, trekking, mountaineering, kayaking, then off course you'll require more gear.
But for global backpacking travel – staying in paid or hosted accommodation, taking trains, planes + buses, sightseeing + partying, this covers most of what you'll need to take traveling (and what you don't have for certain activities, well, you can always hire gear at the destination).
ENJOY your trip !!!
> BUT READ THIS FIRST: 17 Killer Travel Tips From 30 Years of Backpacking the World