On the edge of the Sahara in Algeria, five ancient fortified villages in the M'zab Valley preserve a unique Islamic culture lasting over 1000 years.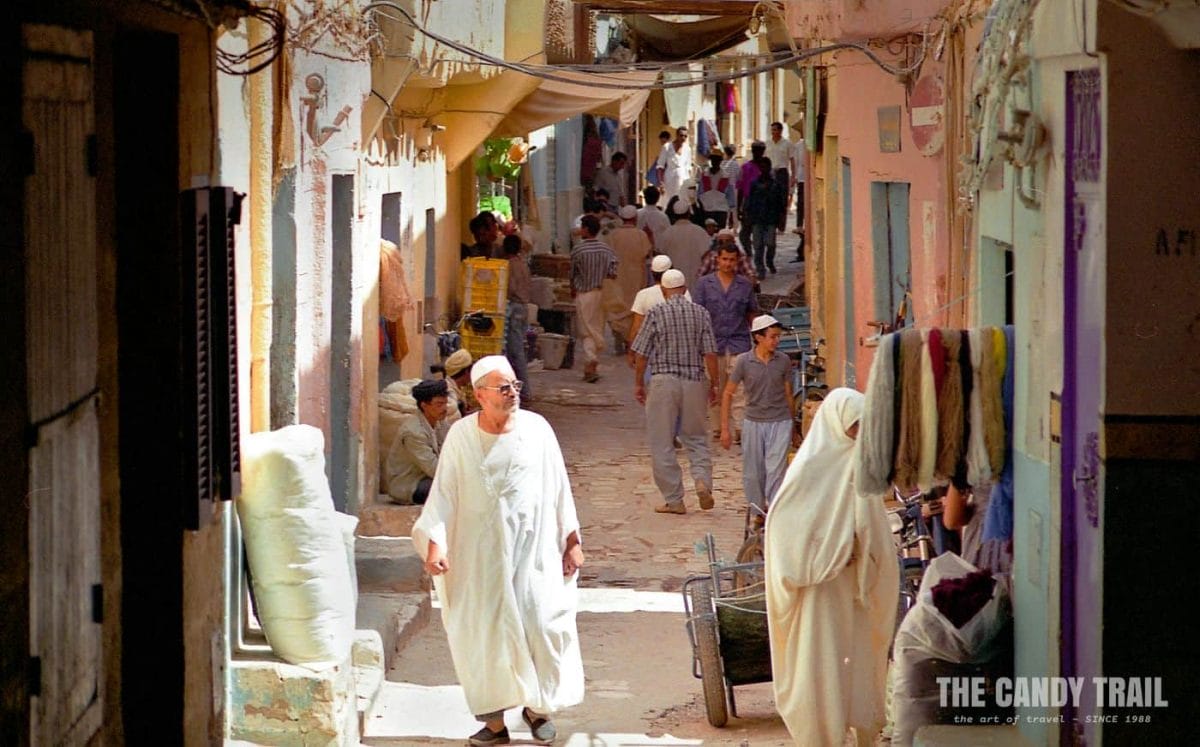 The Mozabities – the valley's inhabitants – adhere to the beliefs of an orthodox Muslim sect, and for centuries this desert isolation has preserved their Ibadi Islamic traditions.
They still speak their own language (Tumzabt) and belong to a nomadic group of the Berber Tribe that settled the region in the 11 AD.
---
The M'zab Valley comprises 5 walled towns built between the 11th and 14th centuries
---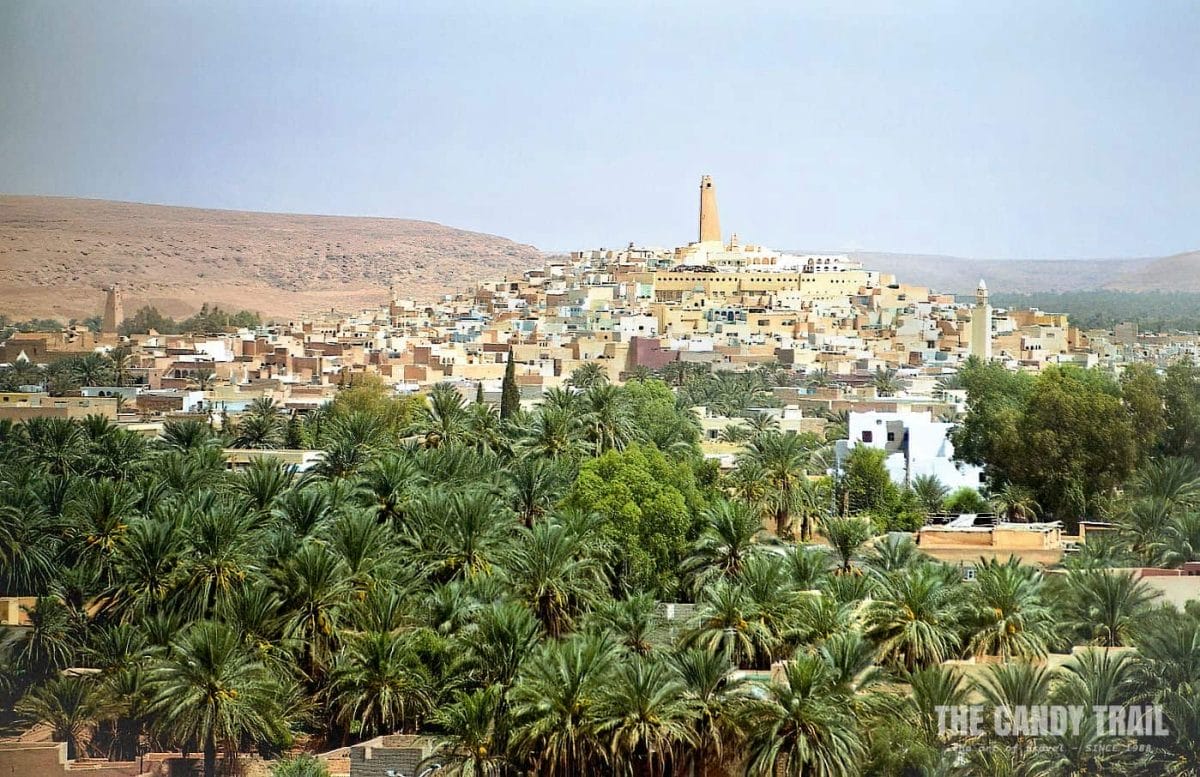 ---
Today, a population of 360,000 lives in the M'zab Valley.
---
The town of El-Atteuf is the oldest, founded in 1012.
Other M'zab settlements are Melika and Bounoura, and the holy city of Beni-Isguen.
Ghardaia is the biggest town and hub of commerce.
Surrounded by desert and enduring years without rain, the Ibadis have relied on aquifers for water deep below the Sahara. And along with a palm oasis of over 100,000 trees, this has been the key to survival.
A religious council regulates these precious resources, enforcing strict rules on water use and protecting date palms (cutting down trees is illegal).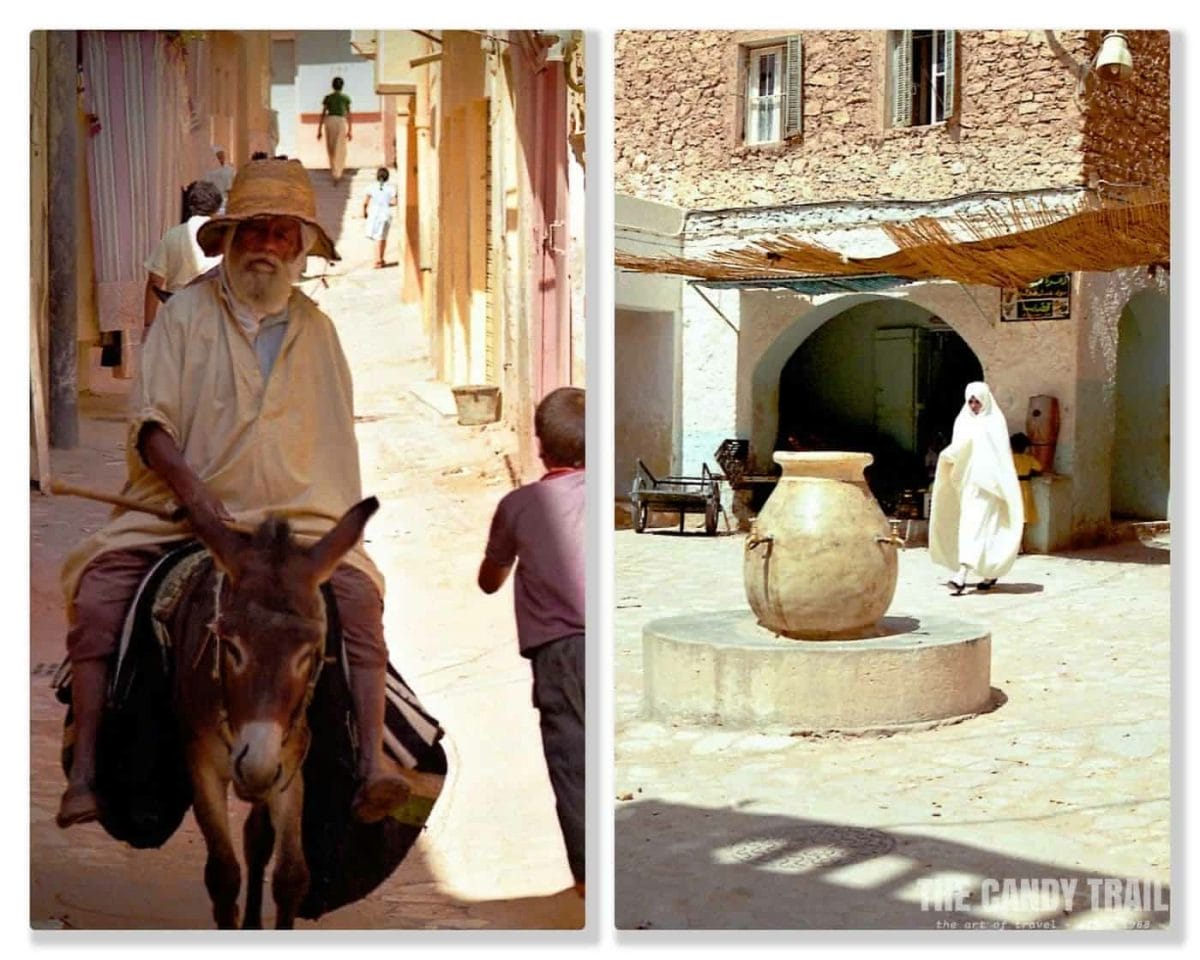 ---
Beni-Isgen is the M'zab Valley's holy city
---
Beni-Isgen has strict rules for living – and the visiting.
As a foreigner, I could only visit during certain hours and had to be accompanied by a local guide. (1)
The guide also checked the alleys – for people, before allowing me to take photos.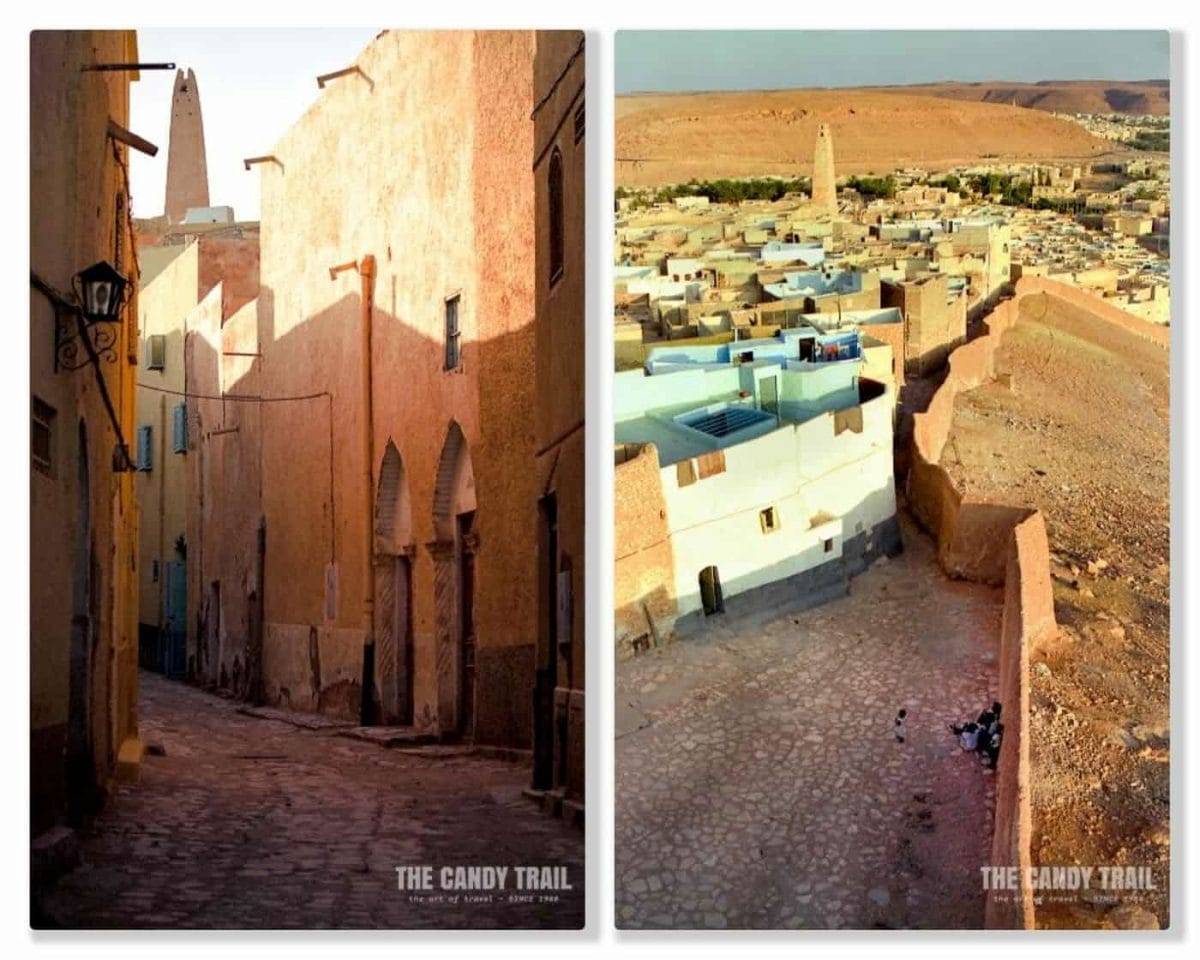 Alleys of dust-yellow walls broken by arched doorways and above, small barred windows with blue shutters.
In the shady, narrow, cobbled lanes, it's quiet. Stone quiet. Stuck in a Medieval-non-mechanical silence.
Beni-Isgen has no cafes, restaurants or hotels.
And they forbid smoking within its old walls.
At 5 p.m a small market is held in the town square (no shops or souvenir stalls here) where robed men in white skull-caps gather to trade, but mostly it's just a place for neighbours to relax and talk.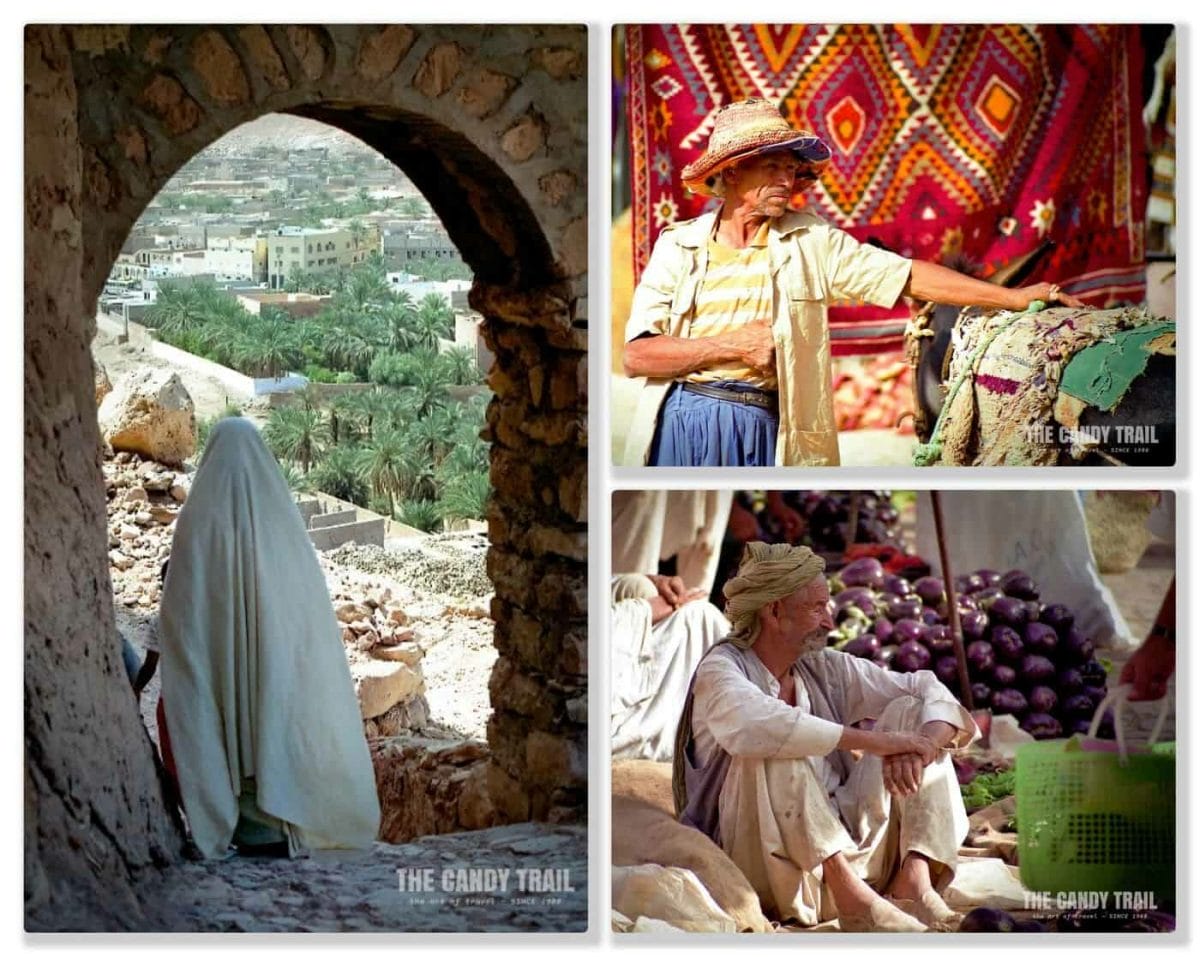 ---
Mozabite women are cloaked in white
---
From head to heel and drawn across the face, often allowing only one eye to show.
Some young M'zab men told me they called them "Phantoms".
They cannot marry outsiders.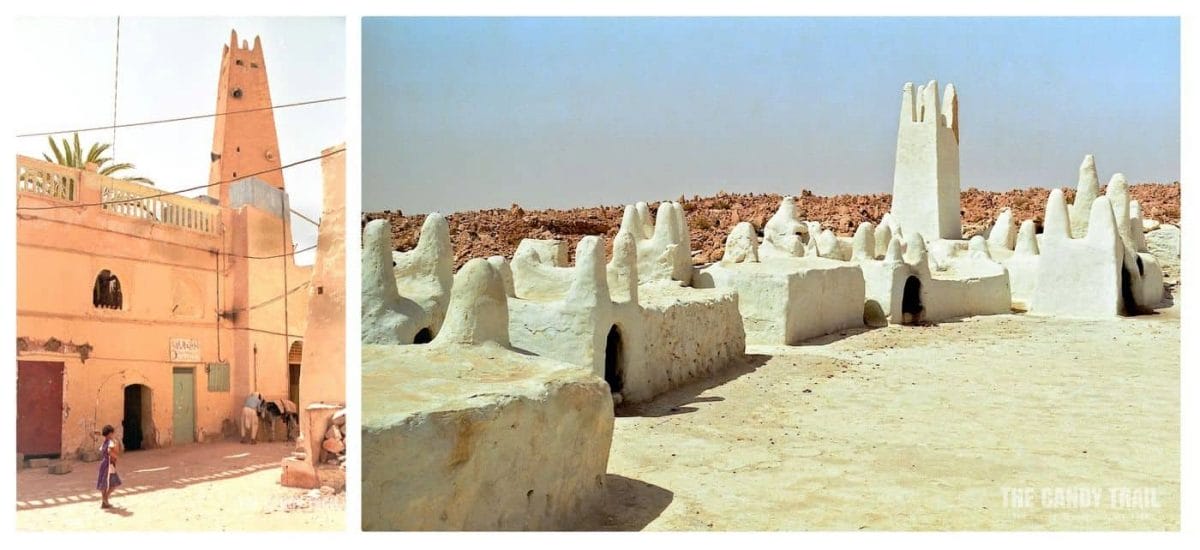 ---
NOTES from the road – 1991:
As we wind 
down 
into 
the valley,
a pastel picture fills the oasis 
and above the palms, 
on hills
stepped slopes of square
yellow 
white
blue 
houses.
A mosque crowns each town
like a king.
And above everything
points a lone minaret,
its tower tapering towards Allah.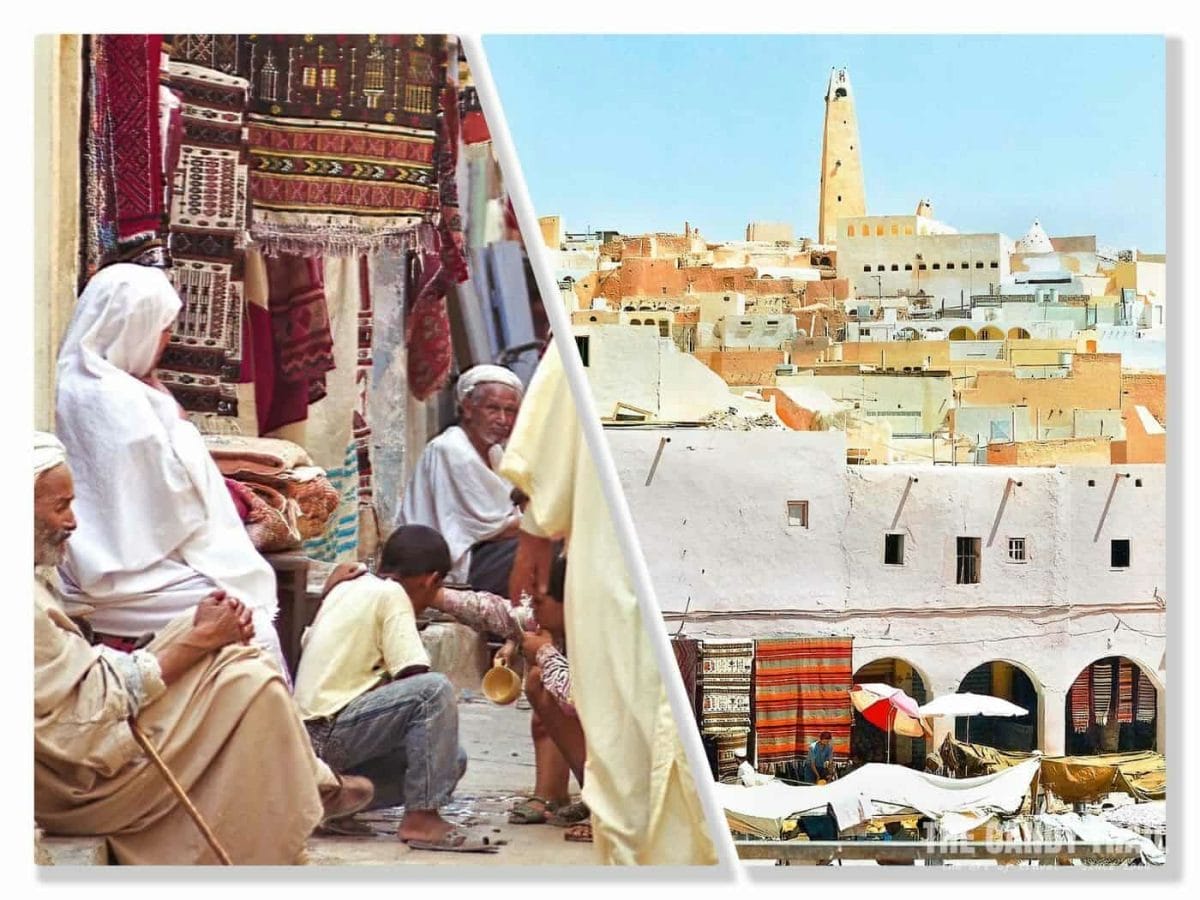 ---
Leaving the M'zab valley, I try hitchhiking (2) south on an unshaded desert road.
Sweat drips. My water-bottle leaks.
A deranged boy pulls at my pack-straps, then unzips a pocket.
I tell him: "No". A man shoos him off with stones.
The urchin screeches and shouts, scurrying away like an annoyed hyena.
I watch him now in the distance, tight-roping the bridge railing as a police car slows beside the disturbed desert jackal.
NOTES:
(1) Things change and have gotten stricter to avoid a "Saharan Disneyland", according to a recent BBC article stating that visitors – foreigners and also Algerians – must now be accompanied by a local guide in order to enter all M'zab towns (not just Beni-Isgen). In the historic town centers, selfies are banned; likewise the use of phones and, off course, wearing immodest clothing. And photographing the local people remains mostly off-limits.
(2) My visit to M'zab was part of a longer journey of hitchhiking across the entire Sahara Desert – north to south, from El Oued in Algeria to Zinder in Niger in 1991.
Travels in Algeria – 1991