Every day I encountered him on the main street, a guy touting tours would exclaim: "You're still here!"
Yeah.
I was elated to be back in Gondar (having first visited in 1994).
And at 2120 meters, the cool highland climate soothed after a blazing month of traveling in a Sudanese summer.
An even greater gift – maybe, was the availability of alcohol.
Cold beer in copious amounts.
Boozy nights spent in seedy bars merged happily with a casual exploration of castle ruins and lazing around; I enjoyed Gondar and stayed for over 2 weeks.
---
History of Gondar – Ethiopia
---
The castles and palaces of Gondar originate from the 17th and 18th centuries when the Ethiopian royal court established their capital here – before this Medieval tradition was one of roaming nomadic capitals (basically, setting up tents).
It's thought that in 1696, Emperor Fasiladas settled on Gondar for its strategic location and fertile surrounding lands.
Caravans trading from Sudan and the Red Sea converged on and dispersed from the area.
Legend states they built Gondar in a place chosen by God, who pointed it out to Fasilidas when he'd followed a buffalo there on a hunt.
These stone-built castles of Gondar are unique in Ethiopia.
For the first time, they used arches, vaulted construction and lime.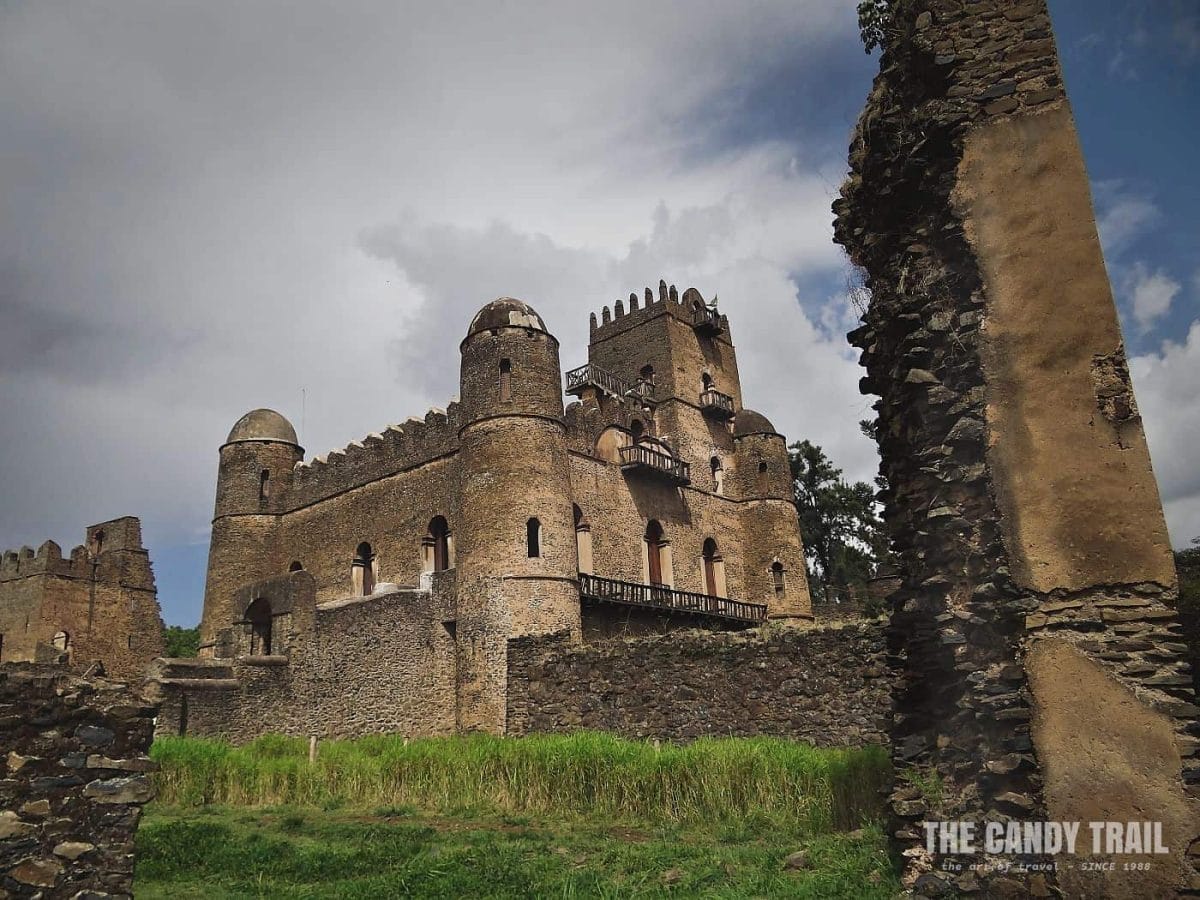 But how?
Well, we know Portugal had been expanding empire along the Swahili Coast of East Africa, and so they sent some Jesuit missionaries to Ethiopia, who then converted Gondar's emperor to Catholicism (which caused some trouble; another story).
With these Portuguese influencers came artisans from colonies in India, who introduced new building materials and methods.
And although the Jesuits left, the Indian tradesmen remained to continue shaping Gondar's castles and palaces.
Gondar remained the capital of Ethiopia until 1864.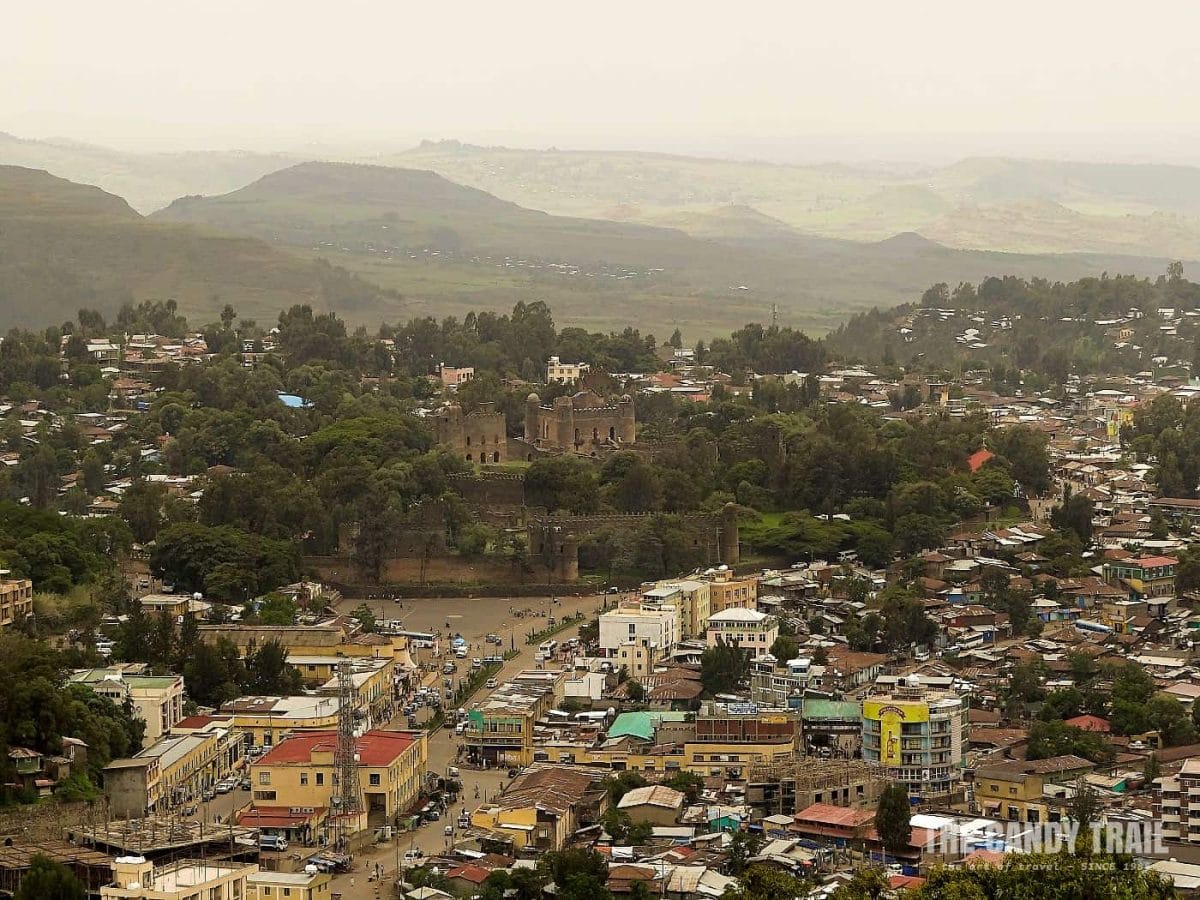 ---
Touring the Royal Enclosure of Ethiopia's Gondar castles
---
The Royal Enclosure – a 900-meter-wall – contains castles that dominate the center of Gondar.
Constructed in the 17th century, the 'Fasil Ghebbia' and was the project of Emperor Fasilidas, and within its walls are most of the castles, churches, and palaces of Gondar's past grandeur.
The oldest building is Enqualal Gemb – aka the "Egg Castle" because of the egg-shaped dome roof.
This is the most famous image of Gondar's castles.
Perched at the top of this castle is the prayer room, offering 360-vistas of the surrounding city and hills.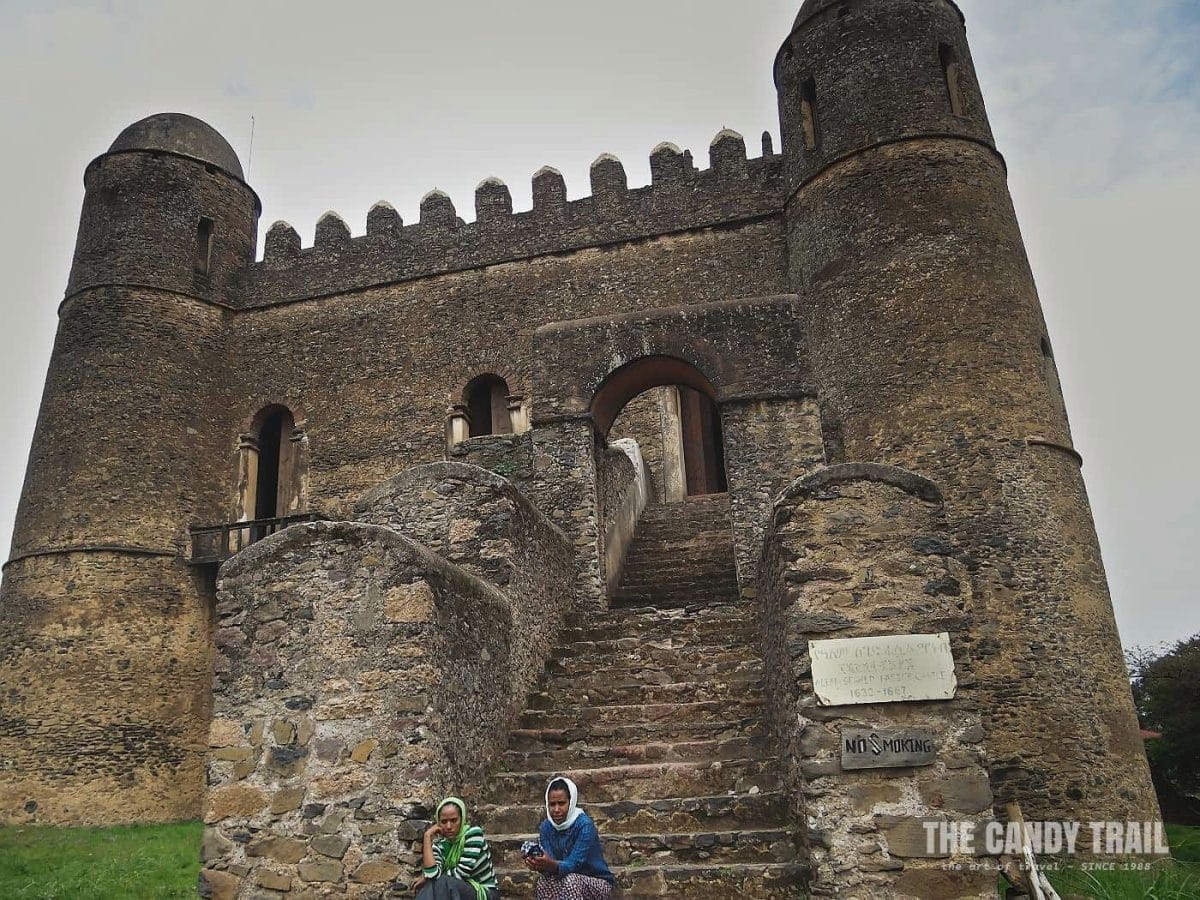 They built the Palace of Iyasu during the reign of Iysau I, from 1682 to 1706, and he's considered the greatest ruler of the era.
"Iyasu Palace is renowned for its saddle shape and unusual vaulted ceilings, and was once adorned with shimmering Venetian glassware and gold-plated ivory artwork."
SOURCE: https://www.brilliant-ethiopia.com/fasil-ghebbi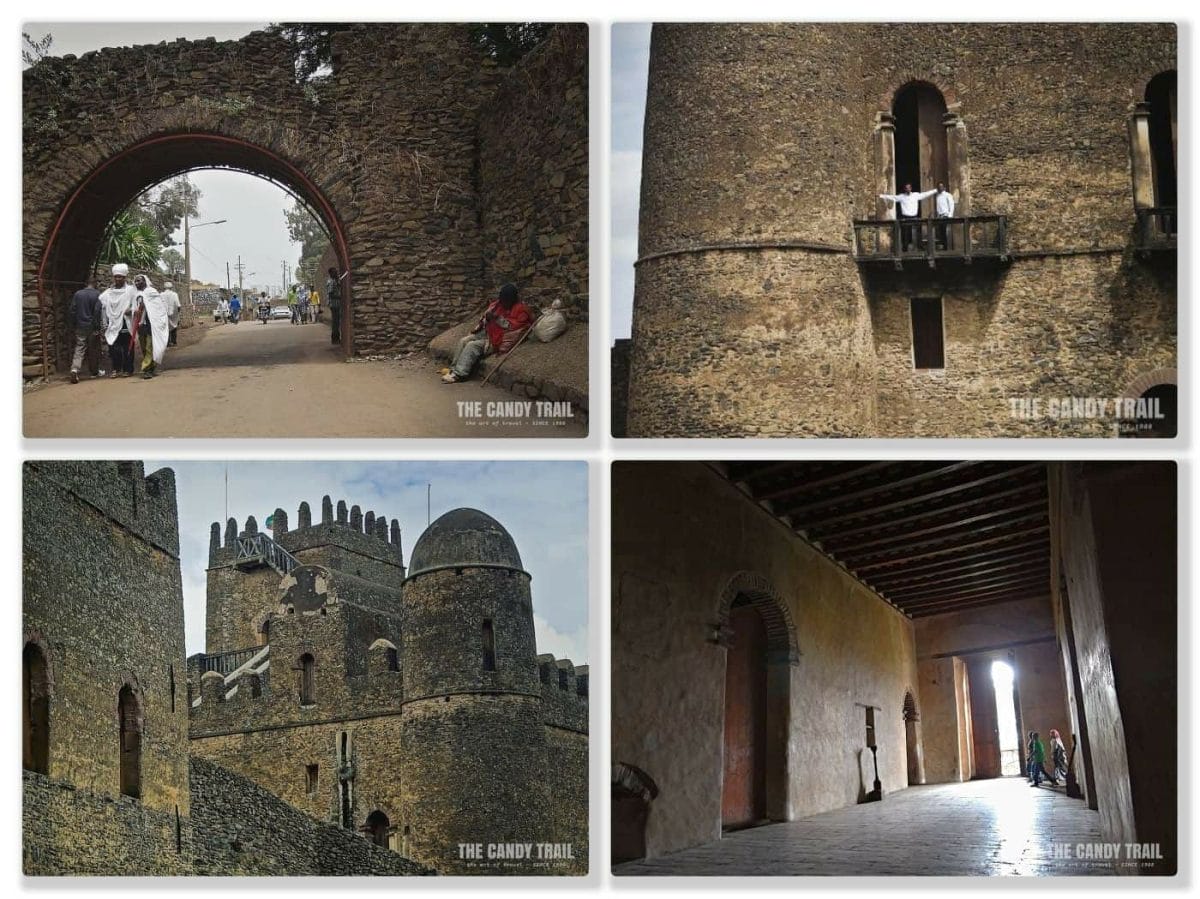 However, an earthquake in 1704 caused damage and later a British bombing mission (against the Fascist Italian forces in WWII) reduced it to hollow walls.
Other notable structures inside Gondar's Royal Enclosure are the Banquet Hall + Granary; Dawit's Hall; Mentewab's Castle + Atatami Mikael.
---
Admission information for Gondar Castle compound
---
Opening hours: Every day, 8:30 – 17:30
Admission price: Around $10
Duration of visit: 1 – 2 hours
---
Washing in Fasiladas' Bath (if you can)
---
It's a big bath.
Sufficient for a more than a few friends.
On this day, it's serene.
The roots of ancient trees (like some temples in Cambodia) strangle the castle walls of the enclosure.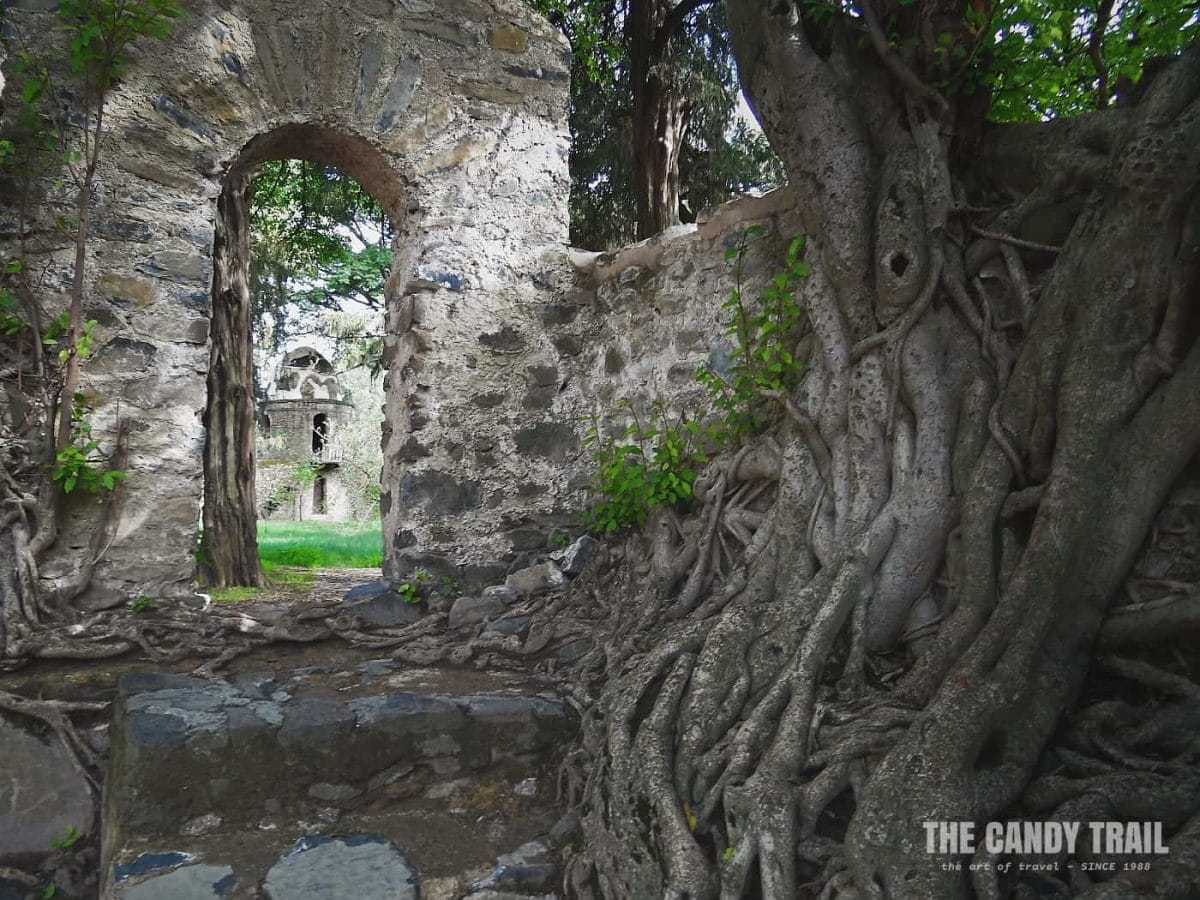 The best to visit is at Timkat on 19th January – if you want to witness it 'alive' with thousands of pilgrims exuding religious zeal.
For this is one of Ethiopia's most sacred sites and on this day water fills the bath, symbolizing Christ's baptism in the River Jordan.

[ I was upfront at Timkat aka the Epiphany ceremony in Asmara in Eritrea in 1995. Intense. Definitely check it out! ]
---
Visiting the Debre Birhan Selassie Church
---
Debre Birhan Selassie is the only church in Gondar that escaped destruction from the invading Sudanese Mahdists in the late 19th century.
Saved – apparently, by a swarm of bees!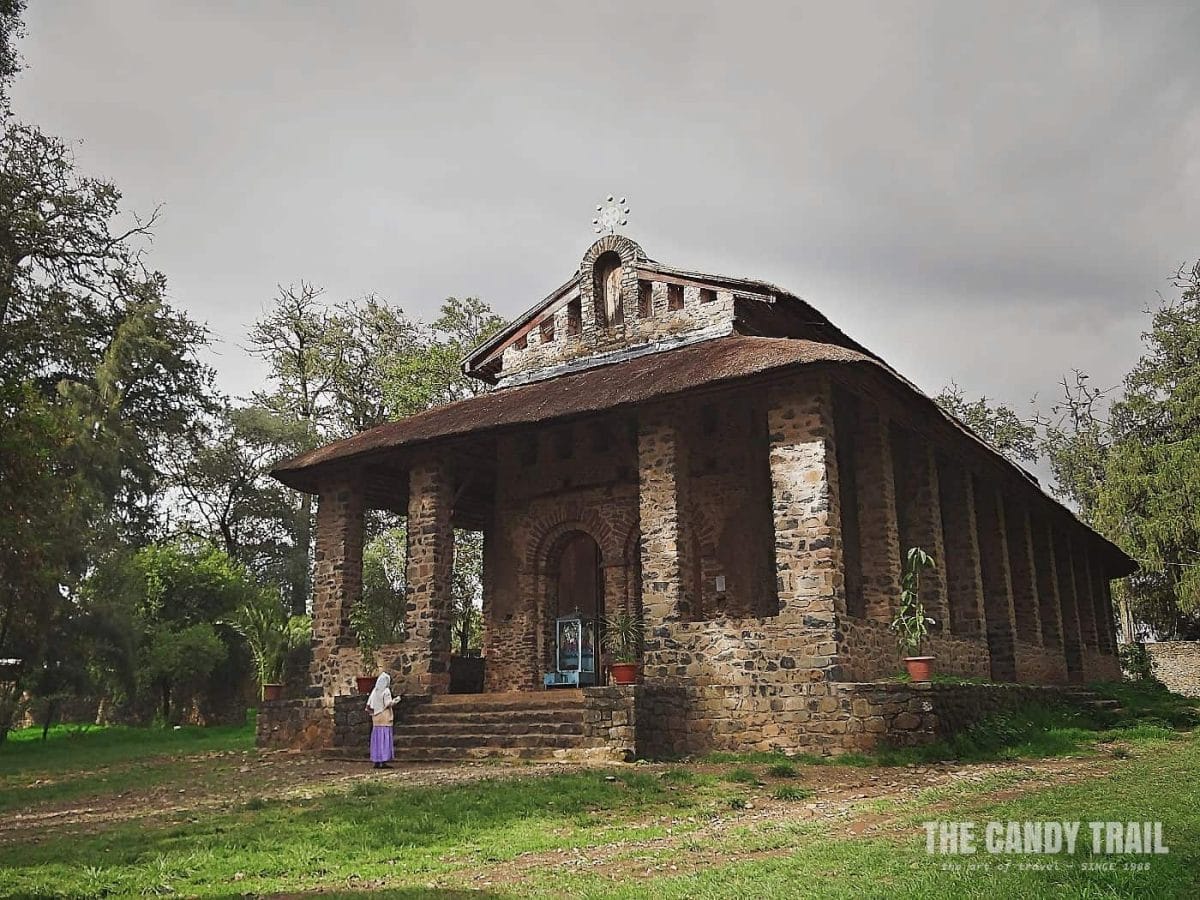 Like much of old Gondar, they founded the church in the 1690s; famous for its interior murals (see photos below).
RULES OF ENTRY to Debra Birhan Selassie (as stated outside) – all which seemed normal until I read the last rule:
Flashlight, chewing gum, wearing shoe or cape is forbidden
Only the first section of the church is allowed to visit
The West gate is reserved for men and the South-West Gate for female.
If you have a scarf, is all advisable to put over your head for ladies
As per the church's rule you are advised not to go inside if you were slept with your spouse yesterday and during menstruation period for ladies.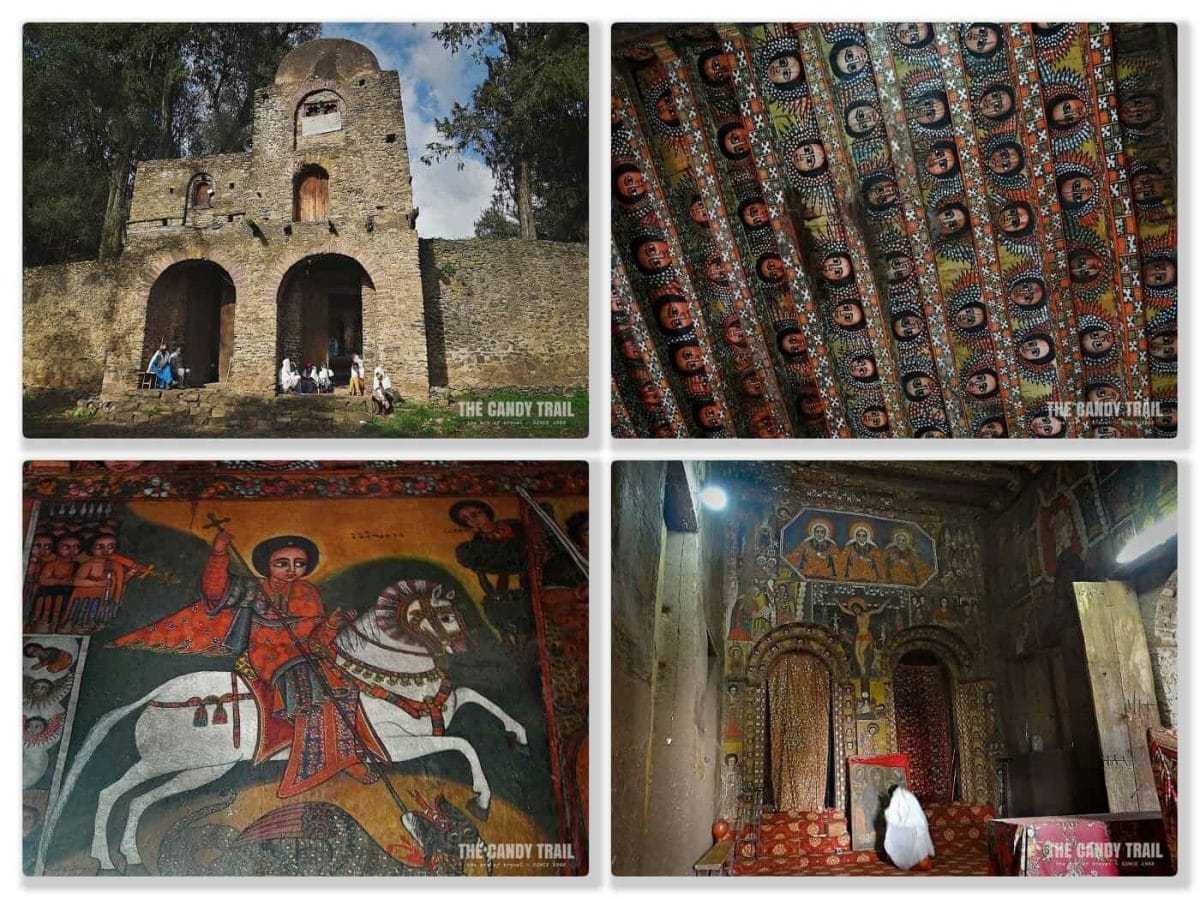 ---
Exploring the hill-top ruins at Kusquam Maryam
---
These ruins have great vibes and views.
This palace was the out-of-town residence of Queen Mentewab (a lady renown for her beauty; as her name translates).

It was here that the 18th century Scottish explorer James Bruce spent several "sociable" months awaiting permission to visit the Blue Nile Falls and the source of the Nile River at Lake Tana.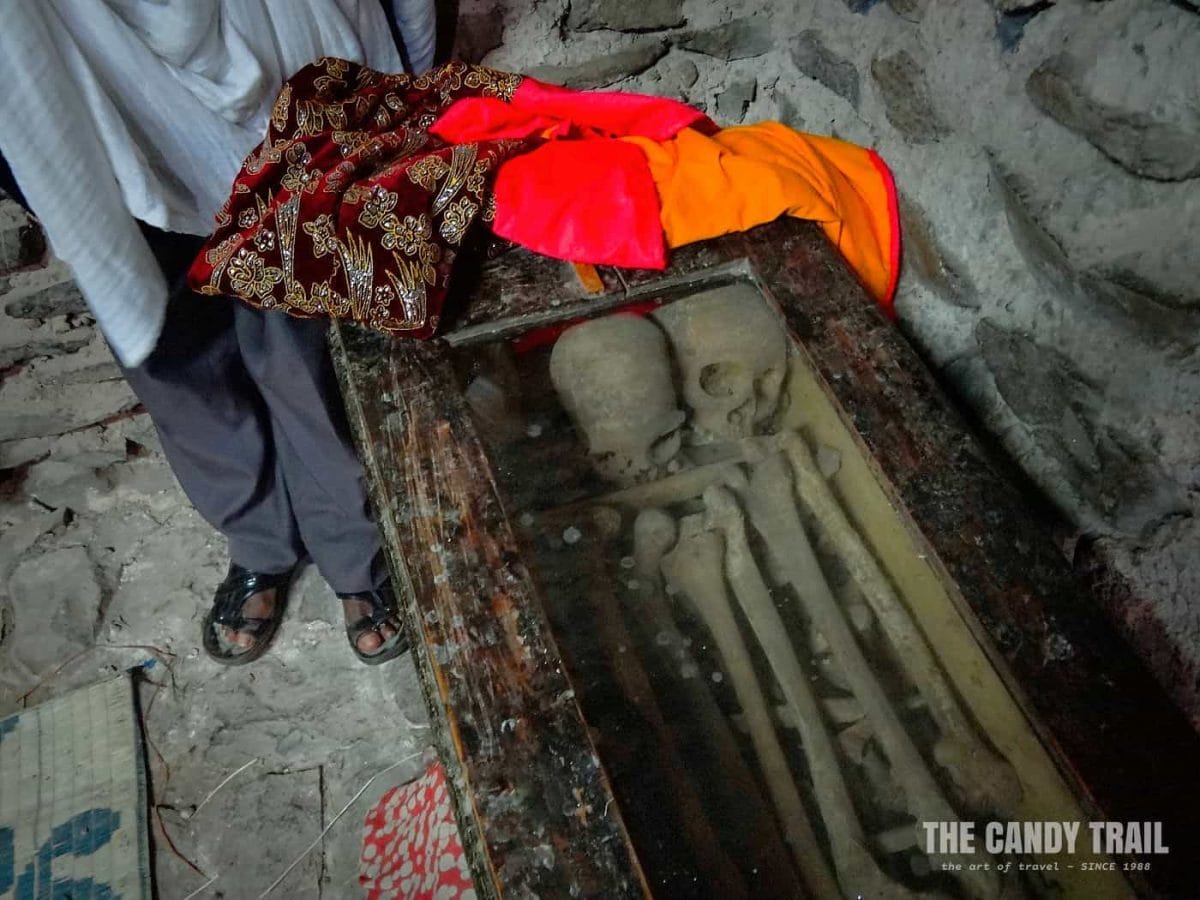 Today, there's a monastery inside, and a settlement of simple conical-roofed huts below the castle walls where students of religion live.
Getting there is best by tuk-tuk as it's about 5 km away, and walk back downhill to Gondar.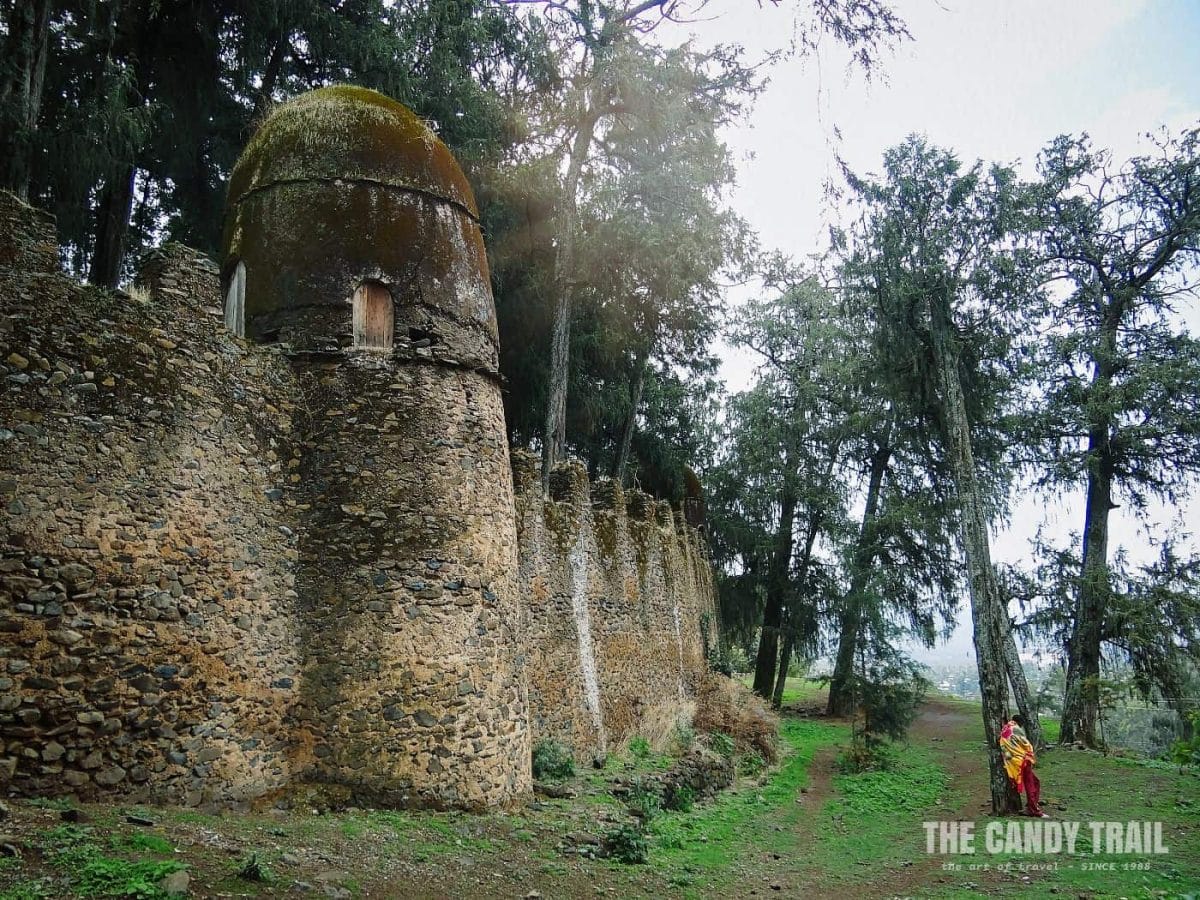 ---
Wandering around Gondar
---
Gondar is safe.
Some days, I wandered aimlessly for hours.
Amid busy markets and excited shouts, invited inside for coffee by women, endlessly photographing smiling kids playing in the streets.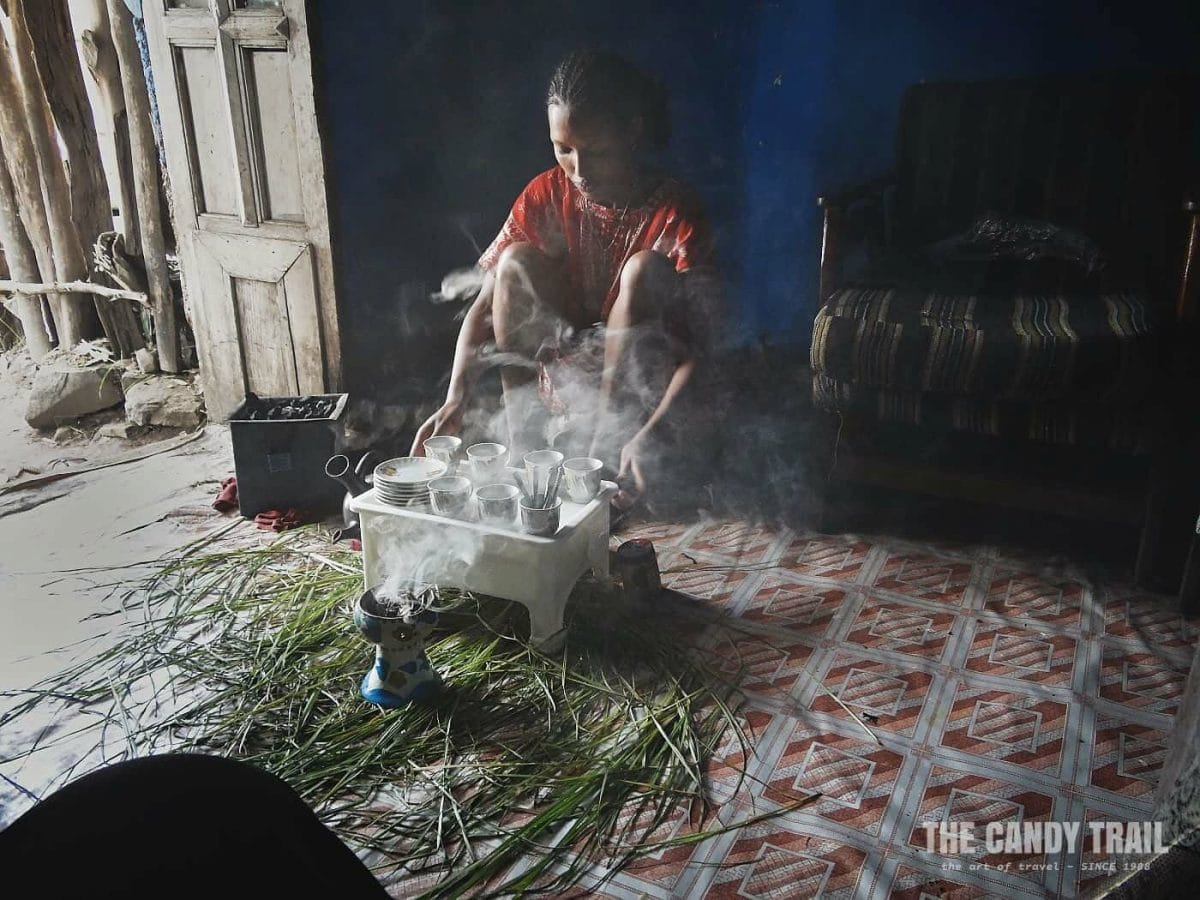 Travels in Ethiopia- 2013