When I first waved back to him, I was cautious. Too many strangers in Dakar had ulterior motives, and this guy seemed to be another.
But this was Goree Island – 3 km offshore of Dakar.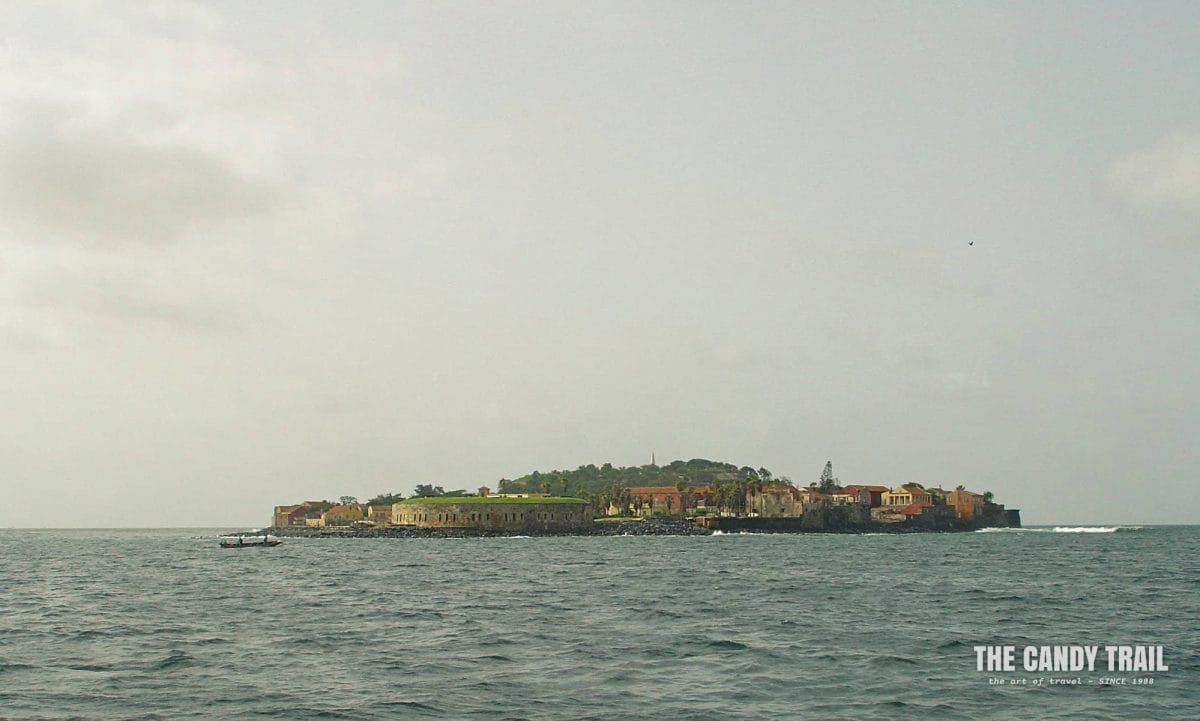 And so, I approached this half-naked, dread-locked guy with interest and also with my radar-on as he welcomed me into his home.
---
Baye Fall Living on Goree island
---
He lived in a fortress complex that was first occupied by the Dutch, then French, then English, and then finally the French again.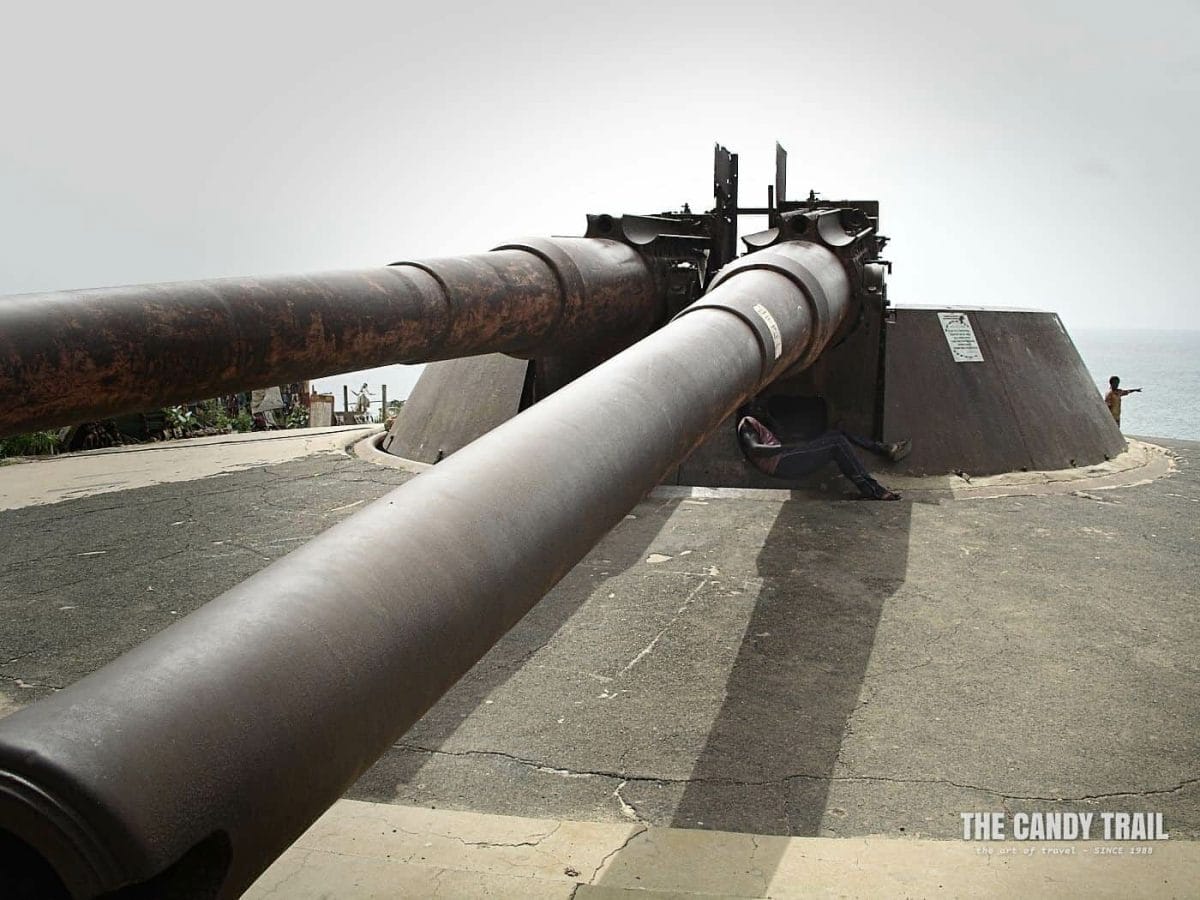 During this colonial lust-fest, Europe was ravaging Africa, setting up bases to swallow up gold, ivory & slaves.
The bunker complex Douaba lived in dated from the 1920s and they used it during Vichy France's cooperation with Nazi Germany.
Such was Goree island—tangled, brutalized by history, including a pretty colonial port town that was the departure point – the point of no return, for slaves.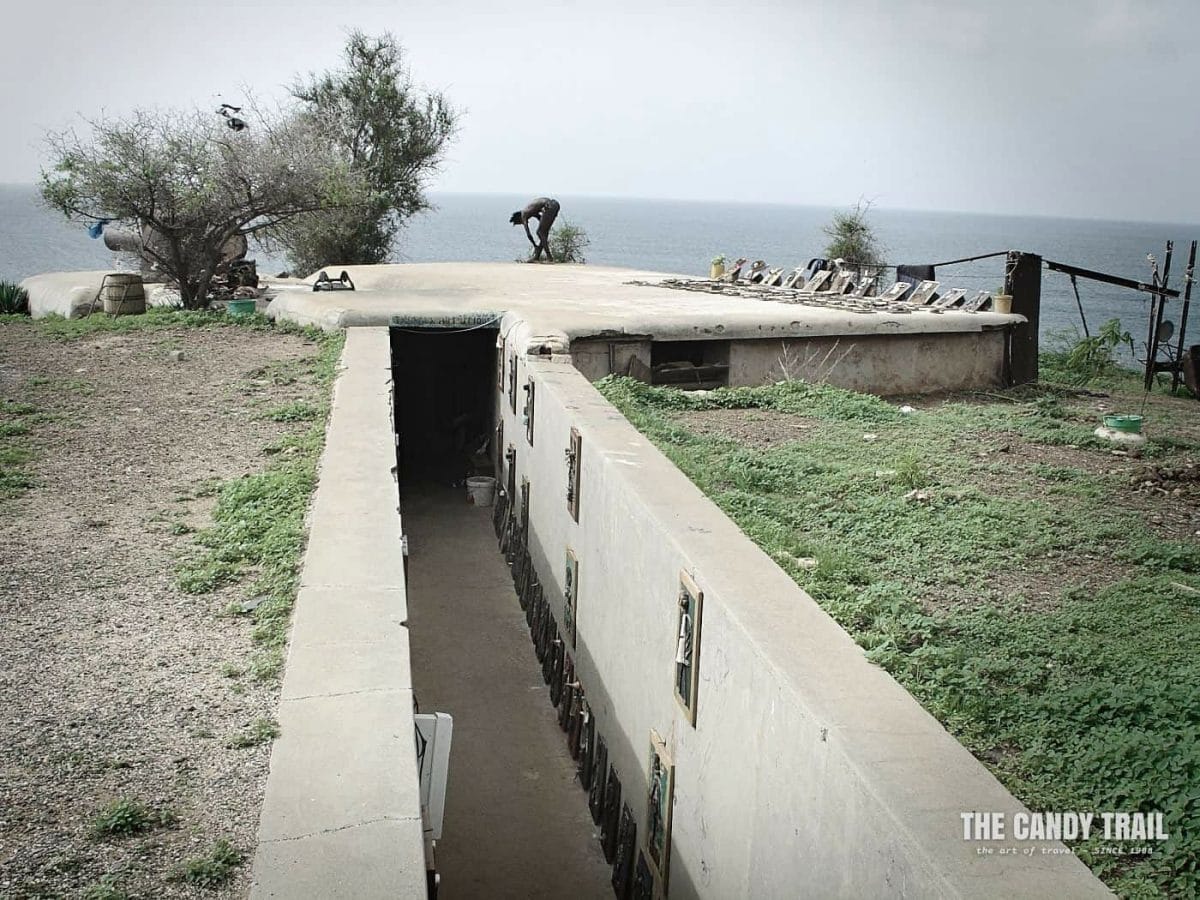 Along the long open tunnel entrance, Douaba had stuck sculptures—junk that had been washed ashore. Pegs, scandals, wire, bottles, clothes, cellphone cases, cans stuck on a painted board.
And as we entered the bunker, we took the main door of thick steel. Another door to the right. This was the observation turret for the mighty guns in the emplacement nearby.
His room was small, overwhelming concrete. But cool from the heat.
Hanging clothes, a bed, another on the floor with mosquito net, alongside water containers. Graffiti and posters and wooden carvings on walls. The bunker's gun-slit covered where it looked to the ocean and let in a breeze.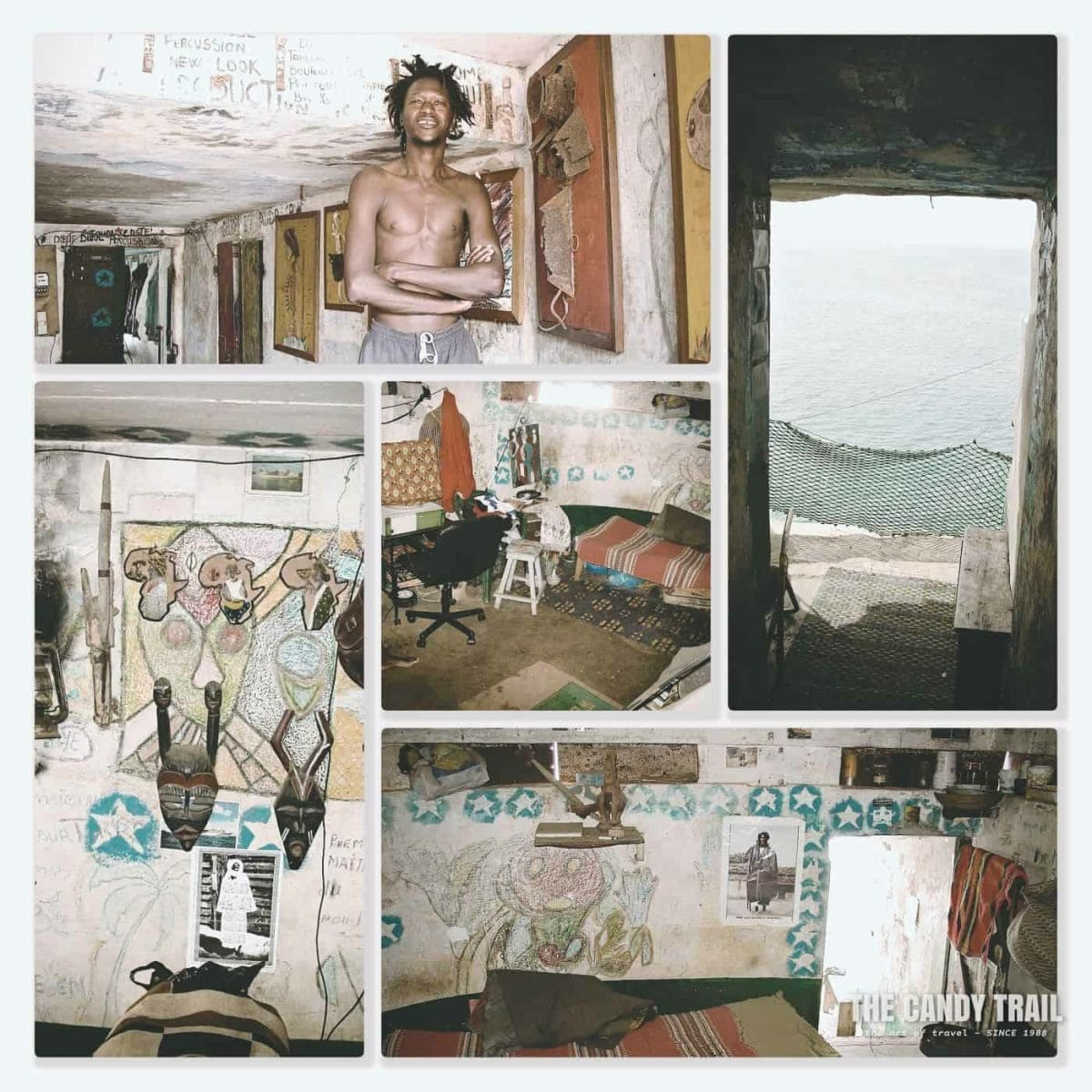 Basic and simple as it was, it was the coolest houses/places to live, I've seen in years.
Out thru a door was a balcony—a concrete hole. A drop to the cliffs and the swell of the sea, a tiny ledge with a slumped deckchair and rope net to stop you tumbling. There we talked, the wide ocean empty, about ourselves and our visions.
We had similar outlooks on life and connected immediately.
---
Daouda Diabate is a Baye Fall Musician
---
VIDEO: My favourite song by DAOUDA DIABATE AND TOUBAMBA – Les Titans
---
Baye Fall Culture in Senegal
---
A Baye Fall is one who follows the teachings of Cheikh Amadou Bamba, the 19th century Muslim Sufi leader of Senegal, and also the teaching of his most famous disciple, Cheikh Ibra Fall.
Across the country, their images are everywhere, like graffiti. Like some cool spiritual rappers stenciled with a spray-can, these two veiled men, one in white, the other in black, can be seen on buses and store signs.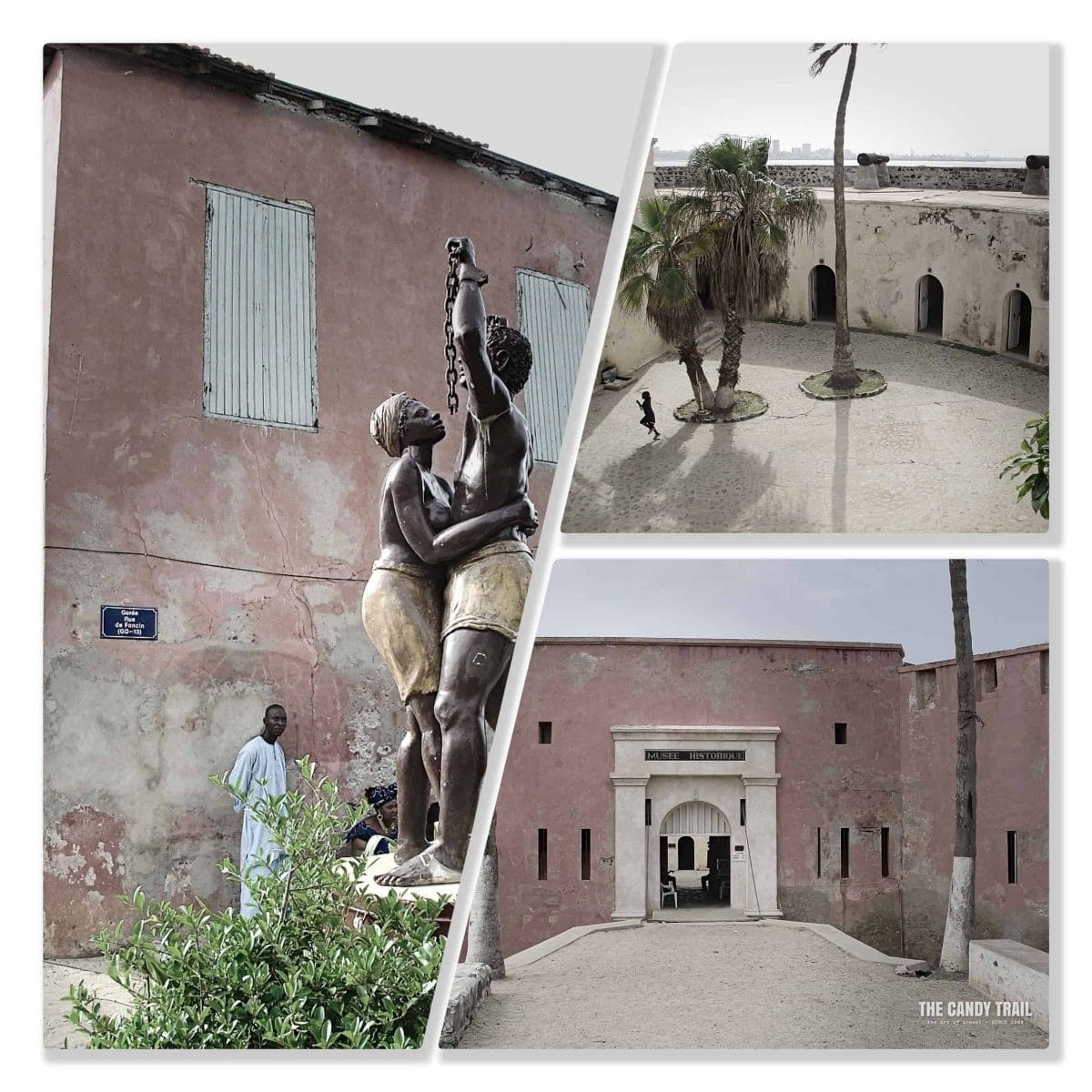 For these Muslim holy men—despite having been dead sometime, their brotherhoods dominate the spiritual, political and economic circles of Senegal today.
(I later visited the holy city of Touba and the tomb of Amadou Bamba. Today, his direct-descendant lives as one of Senegal's foremost links between the people and God.)
---
VIDEO of DAOUDA DIABATE AND TOUBAMBA – La Negation
---
Daouda said he could stay free in this bunker, as were other artists across the far point of the island, where many fortifications existed.
The government allowed it and so there was quite a rustic, bohemian grouping within the "Castel of Goree".
After I'd bought a copy of his CD—TouBamba—Un Jour Nouveau (A New Day), which he'd played as we chatted overlooking the ocean, I said goodbye.
Later, I encountered other artists living under the actual gun emplacement.
But I met Daouda again—now dressed — and I invited him to a café for lunch.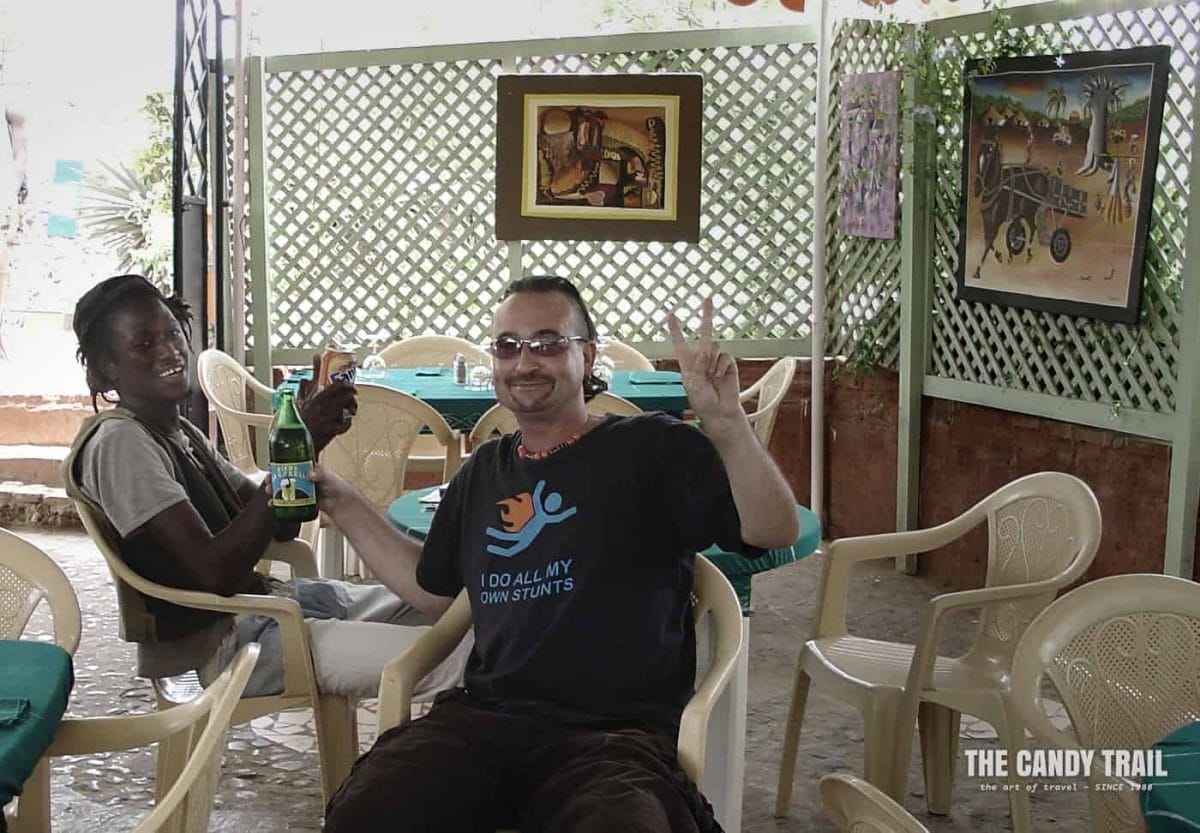 He was only into Fanta; I drank beer.
Eating pizza, we talked about the beauty of the simple life and the traps of the modern consumerist life.
And of travel, being such a great teacher.
At 17, he's now 32, Daouda had traveled across much of West Africa—like in Mali, Guinea-Bissau, etc.
He'd worked in a hotel for 7 years and spoke excellent English and, of course, he spoke French and Mandinka (hailing from the south of Senegal in the lush Casamance region).
Our visions of the striving artist were shared.
He'd once had a wealthy black American woman wanting to take him away, as did other did local groupie-beauties; but no, he stayed here on Goree.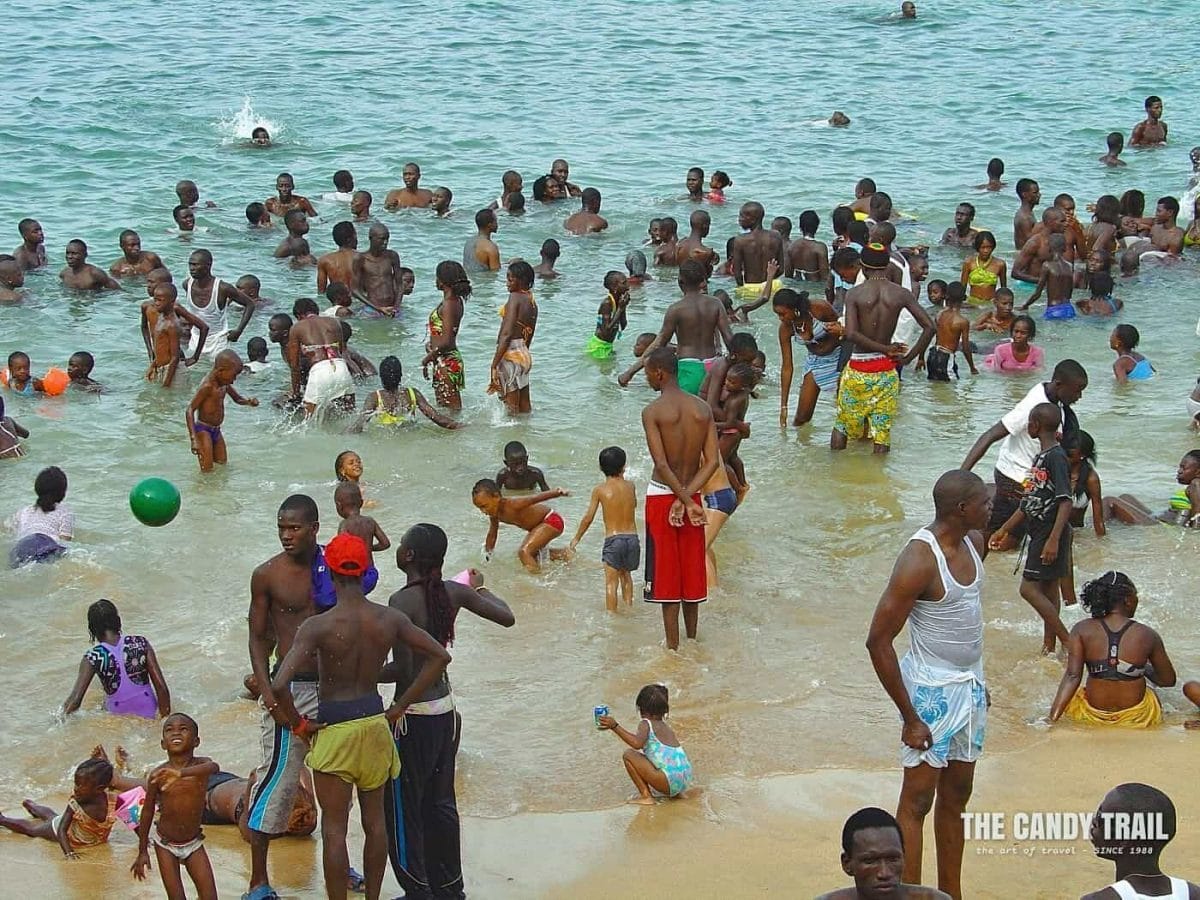 And while he went to the Dakar to play gigs with his 7 piece band, of which he is the leader / the singer / songwriter, he found that the city life did nothing for him.
For Daouda, it was all about being an artist in the right environment, amid nature, and living a true, simple, sincere life.
Every time I said something deep—yes, I'm capable of occasional profound thoughts (after a few drinks), he replied, "Thank you".
Our understanding was intense.
We were brother artists living for our art, and the universe allowed us to meet this day for one of my most inspiring days of this 6 month West African journey.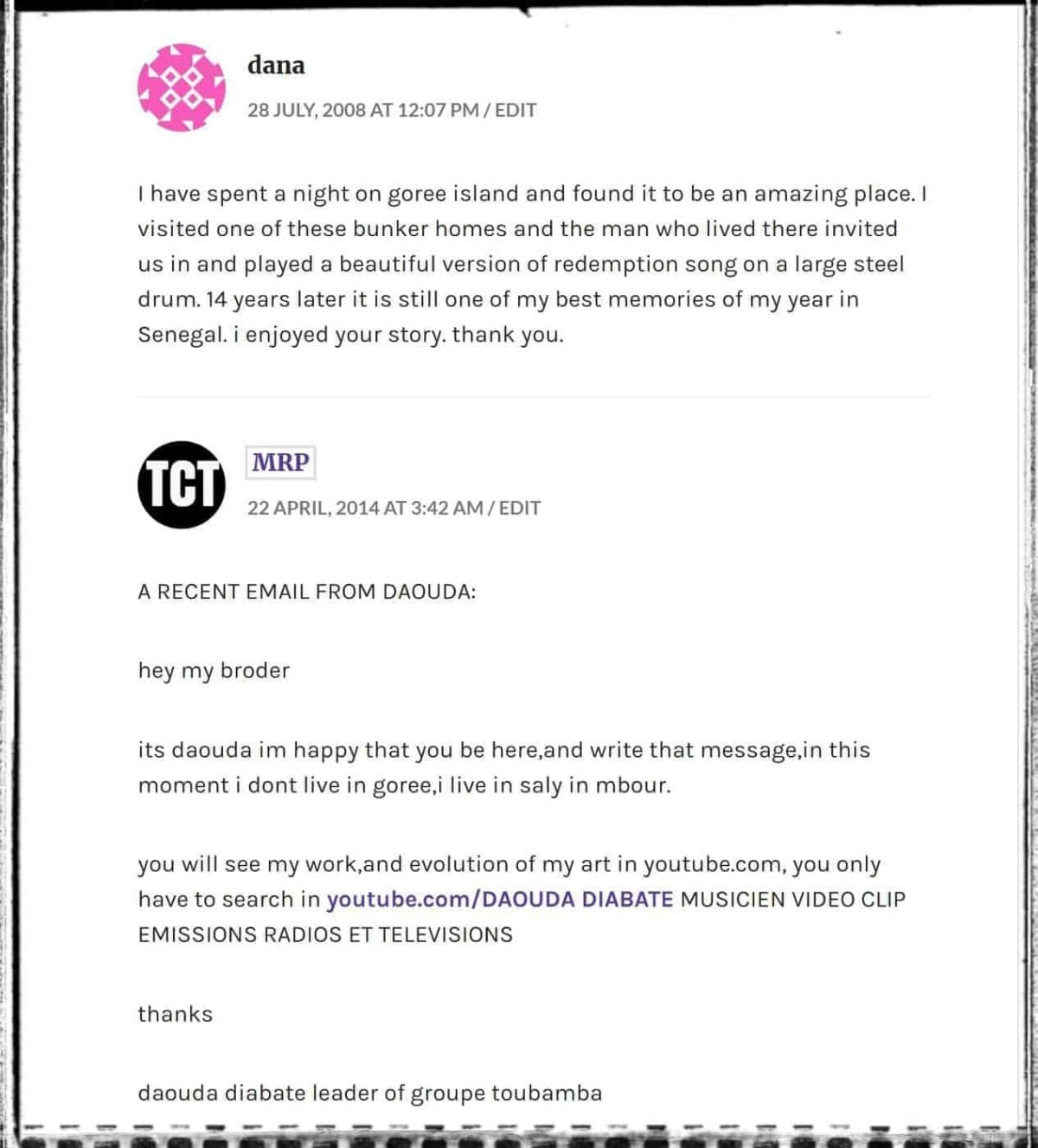 Travels in Senegal – 2007