AUTHOR'S NOTE: I was fortunate to work – and travel – for the United Nations in East Timor during 2000-2002. I worked with the Language & Training Unit attached to the Peace-Keeping Forces (PKF). What follows is a – lightly edited – letter to family in New Zealand sent in November 2000 while living in the mountains of Ainaro. Grab a cup of coffee. It's a long read covering my experiences amid a concise slice of East Timorese history.
A single bulb glows over a wooden table, and the kitchen is smoky.
Yanti, the teenage daughter, is washing dishes.
A small white and brown puppy on hind legs tries to f*ck a hairy gray piglet; that often wanders inside – but gets chased out. (It seems to think it's a member of the family.)
Outside, its fat, mud-caked mother is tied up and periodically squeals in the most horrendous manner.
The kitchen consists of a few plastic chairs, bottles of cooking oil and water and spices, and a gas burner with wok, sits amid the bare concrete walls and floor, the empty window frames patched with old roof iron.
Kids from neighboring houses wander in and out and say: "Bo-tar-de"—Good Afternoon.
Smoke from a fire wafts inside to my eyes, for the other half of the kitchen is on a floor of dirt within a bamboo and iron-sheet shelter, outside. In this outer area is a rack with plates and pots and cutlery, where water streams along a shallow ditch, overflowing from leaking pipes.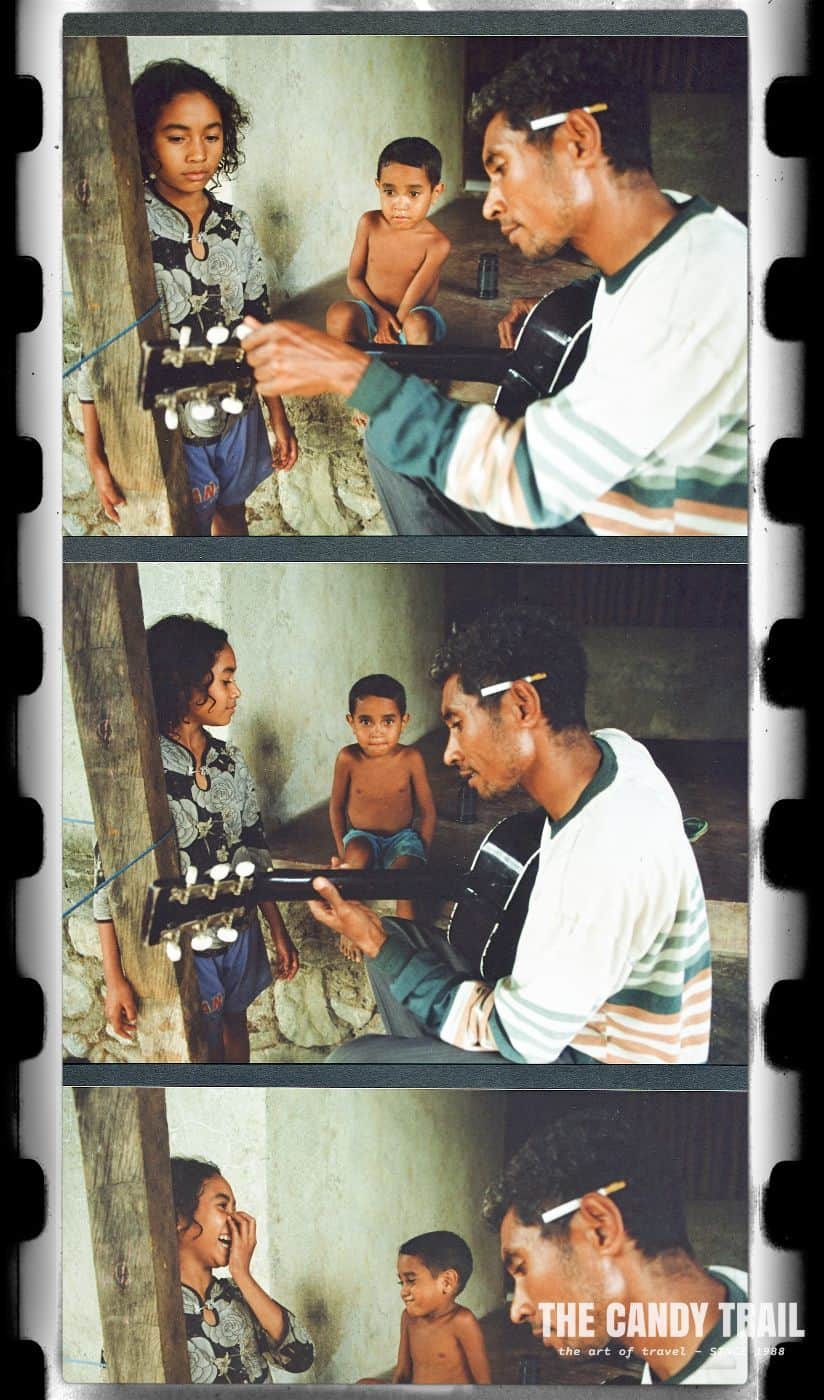 Young Johnny, aged 3, sits on the concrete floor awaiting lunch; his younger sister, Jana, cries hungrily.
Mother-pig is screaming again, as has the puppy—a high-pitched yelp! But calm returns as soon as the chaos has erupted.
My lunch has arrived.
Today, I have it very good: chunks of fried buffalo, with steamed white rice and a spicy, tomato and onion mix, fried potatoes, and a small salad of onion, tomato, lettuce. Washed down with Coke.
Sometimes there's very little food choice at the market and so my hosts, a young Timorese family—Adriano & Carmelita—parents my age, haven't much to offer apart from fried rice or noodles or soup or a veg curry, sometimes supplemented with canned tuna.
Sometimes I eat freshly slaughtered, fried chicken (the other day, I watched as 7-and-13-year-old daughters cut the hen's throat then plucked and cooked it, as their mum wasn't feeling well).
Mostly, I eat rice with-something for lunch and dinner.
For breakfast it's strong black – local – coffee and a bread roll, with my no-refrigeration-needed-processed Aussie cheese bought in Dili, which is a treat.
---
Life is basic in Ainaro and across East Timor
---
Entertainment and socializing—as we know it – is virtually non-existent, while female intimacy is zero.
(The Catholic East Timorese women are often beautiful but always untouchable—unless you want to face marriage or a riot of angry machete-welding threats. UN policy officially banned UN international staff from such liaisons and offenders can face dismissal; although, in practice there have been some indiscretions by international staff).
For company each evening, I listen to my short-wave radio to the BBC, or listen to music on my portable player or read a book. Sometimes muck around with the kids, or drink beer with my host family and their friends.
Mosquitoes and moths and slug-like leeches and spiders and mice and cockroaches are the only visitors to my room (once another uninvited guest, the puppy, took a shit on the floor as I was reading by candlelight).
I sleep on my inflatable rubber mattress under a blanket under a mosquito dome on the floor of a dark, concrete-box room, with an iron sheet ceiling/roof, a single wooden-shutter—no glass—window looking out to the veranda.
At night, candles are essential during frequent power cuts, and also function as small heaters to fight off the damp when the rains continue too long. Leaks in the iron-roof hit the floor, collecting in puddles outside my bedroom door.
I wash and shit in an outside shed—the mandi: washing room—scooping water over my body and also to flush the squat toilet (- where I had to kill a small brown scorpion the other day).
The kids are laughing as I let out a series of Coke-induced burps. We make animal noises and roar with silliness.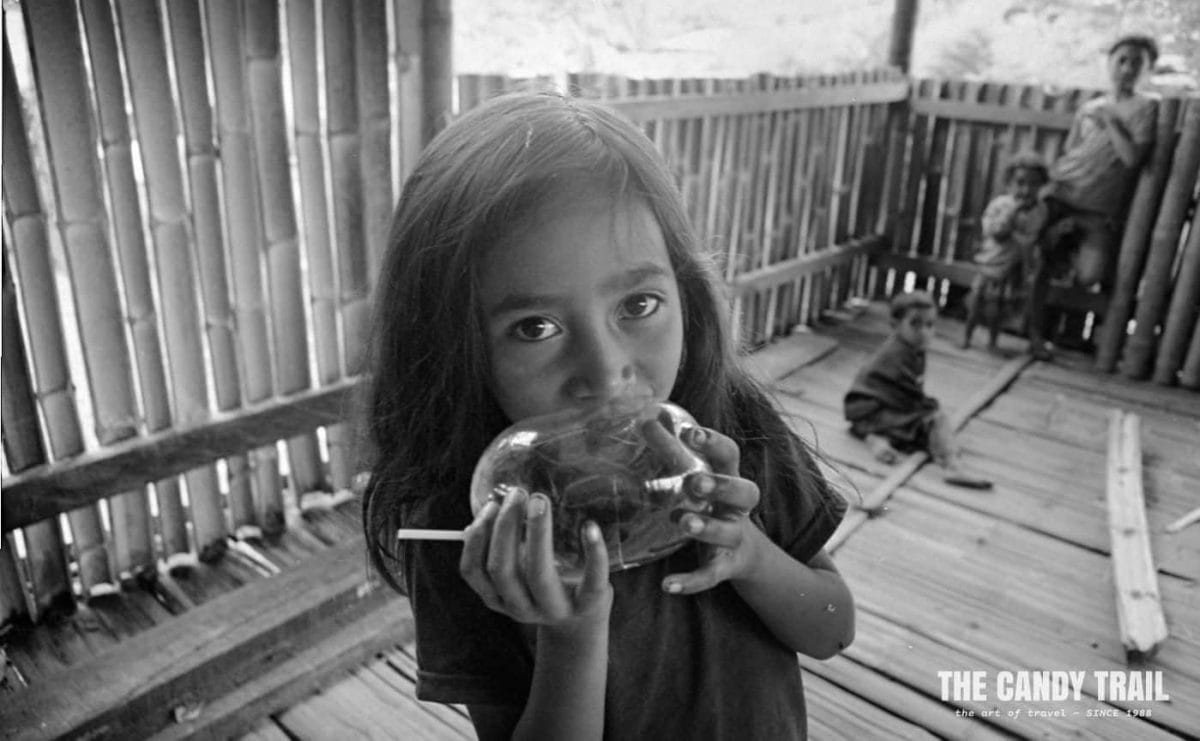 Natalia, freshly shampooed long dark hair, aged 7, blows bubble gum.
Johnny walks around with a joker face, then pouts his lips and sucks in his cheeks and wiggles his puckered lips. We call him Johnny Ikan (= Ikan means fish.)
Jana laughs a funny baby giggle.
Last night, we jumped around on the veranda beneath the solitary dangling bulb as hundreds of La-loo—fat, flying insects—swarmed around the light.
We were knocking them down; me waving my T-shirt about, getting dozens of La-loo into a tub of water to drown as we collected more to fry up. They tasted squashy and fatty.
Watching them play or playing with the kids is a constant amusement.
Mostly, they are cheerful.
The homemade toys they make and the way they entertain themselves – with nothing, is really amazing.
So where am I?
---
Ainaro: in the south-central mountains of East Timor
---
From the capital – Dili, it's a 100 km drive or 3 or 4 hours, traveling through awesome mountains on sometimes broken, always winding roads, overlooking huge ravines and passing traditional villages.
Ainaro's weather is mostly warm / cool—but not cold, hot with a light breeze in the mid-day, wet, misty, a touch humid and usually raining heavily most afternoons (the wet season has begun).

I enjoy walking the kilometer back and forth from my temporary home to the UNTAET office, admiring the blue sky morning and surrounding mountains—clad with grass, forest and rock.
Across this silence floats the hum of cicadas and birds and distant roosters.
I pass a boy leading a horse.
Church bells, sometimes, are chiming.
Always the cheerful calls of "Hello Mister!" or "How are you?" or "Where are you going?" from kids greeting me every morning, and again, every afternoon.
The scenery here is a hybrid of past places visited.
The shape and clusters of the large spacious trees recall the rain forests of southern Cameroon.
While they evoke the highlands of central Vietnam, with afternoon mists clouding around the old Catholic church, with its tall towers and pitched roof.
Behind the church rises a picture of the Scottish highlands, circling mountains of cliffs and craggy, odd-shaped peaks and humps.
Upon the gentle slopes beyond town, villages climb amid rice paddies and ravines with rushing rivers, reminding me of the Himalayan foothills, say, in India or Nepal.
The town of Ainaro still shows signs of last year's destruction and violence—when 95% of the town was destroyed by militias.
However, there's been much rebuilding since—new iron-zinc-sheet roofs on simple concrete-block homes or plastic sheet on huts, wooden boards covering empty window frames.
Tin-shack kiosks that sell limited goods.
But still there remain rows of burnt-out concrete shells or twisted iron upon bare foundations, fresh weeds sprouting amid the ruins.
Regular electricity supply continues to be a problem. Some nights there's nothing; other evenings just a few hours of power, between 6.30 to10 pm.
(Generators power the UNTAET (United Nations Transitional Authority in East Timor) office, the UN CivPol—civilian police—station, and the Portuguese UN PKF: Peace-Keeping Force – military base here in Ainaro.)
In last year's violence, my students lost most of their belongings—TVs, motorbikes, houses, everything; and some lost family members and friends.
They are now rebuilding shattered lives.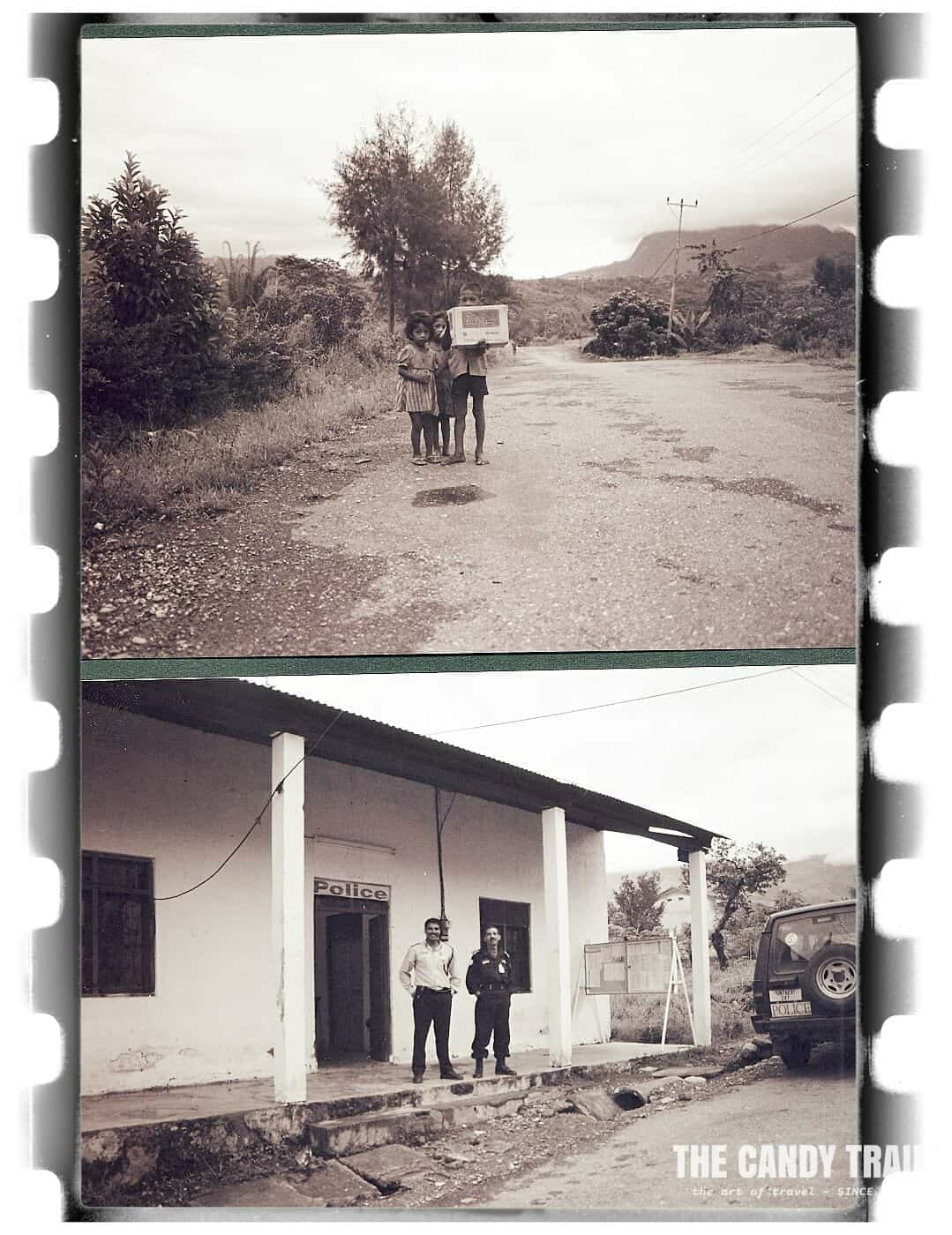 ---
I teach two English classes Monday to Friday for the UN Timorese staff
---
The one in the morning is intermediate level and comprises of translators and interpreters for CivPol and UNMOs (United Nations Military Observers) and also UNTAET staff. There are 13 in this class.
In the afternoon, the Beginner class is much bigger and we can't fit them all into the small meeting room at the UNTAET building, so we use a broken building across the road.
It has no windows, no doors, but it has a concrete roof remaining, which doesn't leak, as it's always raining about class time: 4 to 5.30 pm.
Unfortunately, it's also a local toilet for kids, and so the stench of fresh urine or shit can sometimes prevail.
The class has no chairs nor tables, but at class-time students carry over office chairs and a portable white-board, to return them to the office each day, often in the rain.
Yet, the students are keen and are fun to teach.
The afternoon class has 33 students, aged 22 to 45.
Most are UNTAET: security, drivers, cleaners, electricians, water supply engineers, mechanics, admin & office workers of various fields—health, education, land & property, agriculture, etc.
For UNTAET is presently rebuilding the country and attempting to train thousands of Timorese to be ready for self-government mid-2002, when UNTAET leaves and the first-ever free elections will take place in East Timor.
However, there is concern that this UN mission, the first of its kind where the UN takes over as a temporary government to build a new civil service, all within 2 years, will be only partially successful.
Control of the country will soon be back in Timorese hands—for the first time in 500 years.
There are questions being asked already about what may happen with the elections—fighting between the main political parties with the old, pre-1975 rivalries returning… we'll see. Hope not, for the sake of a new East Timor. (1)
---
East Timor – A Brutal Recent History
---
It's only one half—the eastern half—of a small mountainous island wedged between Asia & the Pacific.
The faces of the Timorese reflect Melanesia—mostly Pacific-Island-looking, but often blended with Indonesian—Javanese or Chinese or Portuguese blood, for Portugal controlled East Timor over for 400 years, that was, before the Indonesian Army invaded East Timor in 1975 to counter the communist threat.
Suppression of Timorese culture.
Repression of basic human rights and a forced Indonesianization of East Timor began under Indonesian occupation.
They transplanted immigrants here from overcrowded Java, given the best land and jobs at the expense of the locals.
There were decades of brutal Indonesian military campaigns during the 1970s & 80s, which devastated populations but failed to wipe-out the East Timorese resistance.
But by the early '90s, isolated from the support of the outside world and with the Indonesians finally capturing Xanana Gusmao, the leader of Falintil—the guerrilla army, Timorese resistance steadily decreased. (Xanana will probably become East Timor's first elected President next year.) (2)
During the Indonesian occupation of 1975 – 1999, about 200,000 East Timorese—a ¼ of the population – were killed; often blatant massacres and wipe-spread torture and policies which led to the mass starvation of civilians during the early years of occupation.
On the other hand, the Indonesians spent a ton of money in East Timor, making it a model province (colony). They built good roads. In fact, they built all the infrastructure: bridges, electricity and water supply, modern buildings and communications; provided schools, TV, wealth, and jobs.
Indonesia gave Timor all the things that the Portuguese had not (when the Portuguese fled in 1975 there was only 1 km of paved road in the entire country, that being outside the Governor's Palace in Dili).
It's fair to say that many Timorese, particularly the younger generations, were influenced by the Indonesian presence: the 'progress' towards modernity, the economic growth, some had been to universities in Java and most liked Indonesian pop music and TV, etc.
Not all Timorese are anti-Indonesian, only hard feelings against the Indonesian military and the most brutal members of the local militias.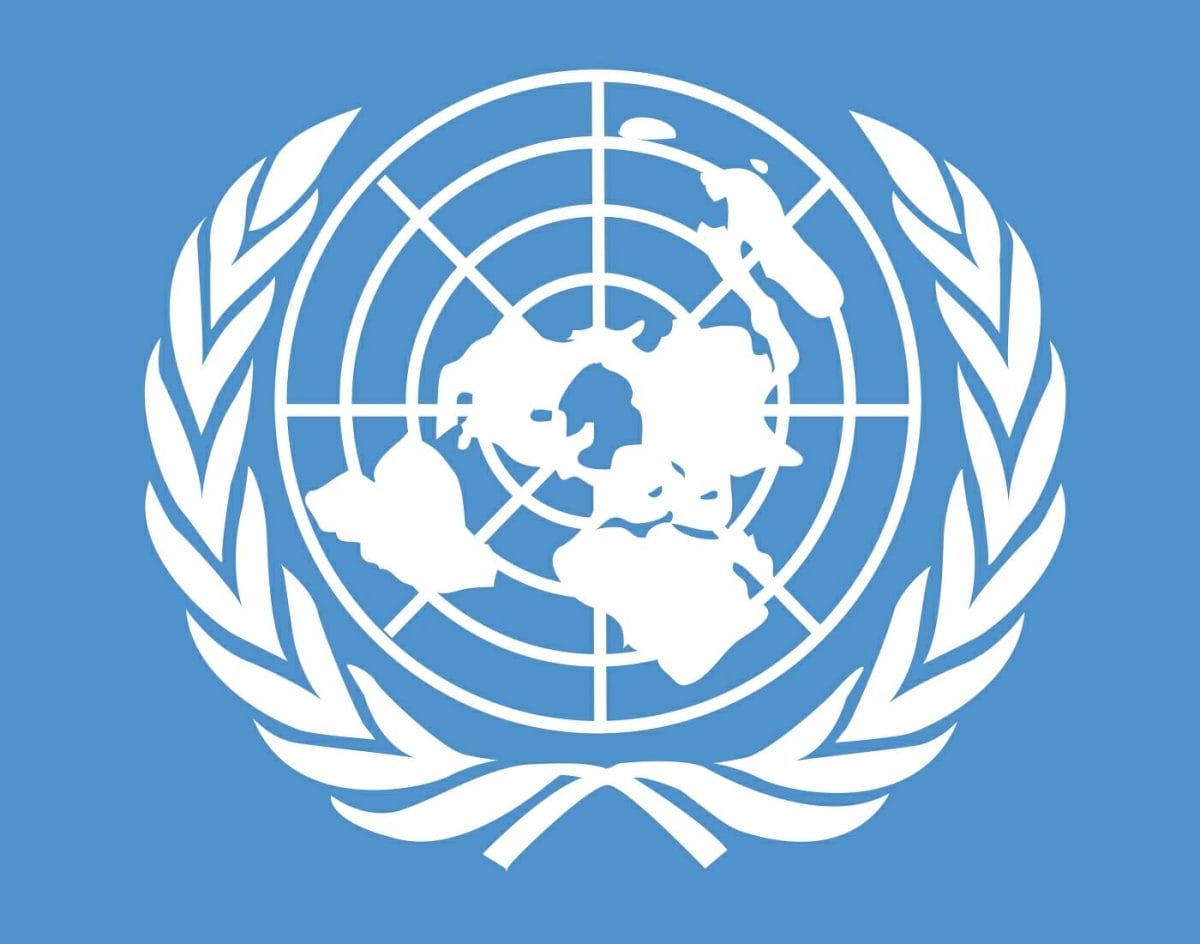 The East Timorese are a very forgiving people.
Following the fall in 1998 of the military dictator, Sukharto, the new Indonesian government, offered the Timorese a chance for independence.
A referendum – the popular consultation, as it was called—was organized and supervised by UNAMET—United Nations Assistance Mission in East Timor, for September 1999.
In the months leading up to the referendum there was much violence and intimidation against the population by militias—armed gangs of pro-Indonesian Timorese and Indonesian civilians who were organized by the Indonesian military to scare people into voting for Autonomy, which would've meant East Timor would remain part of Indonesia.
Despite the threats and violence, East Timorese turned out to vote in their masses (some in isolated villages walking for days to get to an UNAMET polling station).
The vote for independence was overwhelming.
---
Following the Independence vote, waves of violence swept East Timor
---
Without protection, they evacuated UNAMET staff to Darwin, while the militia—and some elements of the Indonesian army—burnt down entire towns and looted belongings, from TVs to the iron-roofing from houses.
The militias, sympathetic to the Indonesian cause, some paid, some under the influence of drugs and drink, committed many atrocities including raping and torturing women, hacking to death nuns and children with machetes.
There were two large massacres of entire congregations within churches in Suai and Liquica.
Numbers are uncertain, but the bodies found number around 1000+ and many remain missing.
And they forced two hundred thousand people to flee across the border into West Timor (INDONESIA); where 100,000 remain as refugees today (mostly ex-Indonesian migrants and militia members).
While their homes were destroyed, village and towns people hid in the mountains—for a month, with little food; before a military force—INTERFET: International Forces for East Timor, led by Australia, approved by the UN and Indonesia, entered a completely devastated East Timor to restore calm.
In most towns and cities across the country, the damage was 95% complete.
A war zone.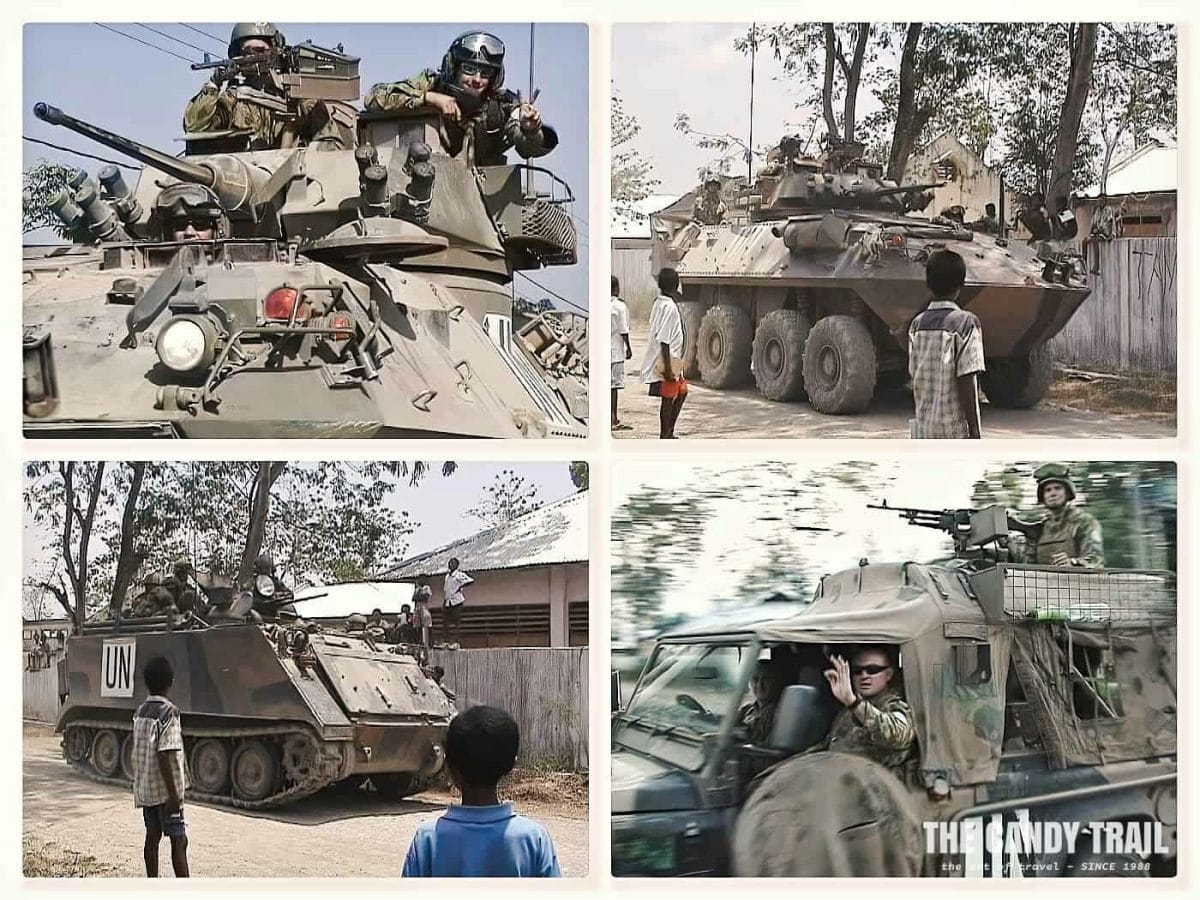 This was the Indonesian military's revenge on the Timorese vote for separation and independence: to destroy all that they had given East Timor.
Since first arriving in East Timor during January of this year, as a traveler / escapee from Indonesia (a crazy story for another time), things have changed a lot.
But nothing changed in the first few months.
Now reconstruction and commercial activity is happening, particularly in Dili, where there's has been rapid changes over the past 6 months, while much slower in the regions, such as Ainaro.
As you've probably concluded after reading this letter, my East Timor experience has been varied: interesting as a UN employee, fulfilling as a traveler, rewarding as a teacher.
I've been living among the people, attending birthdays, funerals, weddings, religious and official ceremonies.
I've met many friendly folks from dozens of countries worldwide—UN international civilian staff, police and military.
I've traveled across mountains and along rugged, lonely coasts by helicopter, plane and 4WD.
Made some serious money and suffered malaria and had the odd dose of the shits.
Was sometimes lonely or bored, but more often this country and its proud, friendly people intoxicated me.
---
Had an awesome party this past Sunday in Ainaro
---
My students organized it, and I financed it.
The female students and family spent half the day cooking at our place, over fires, beef sate sticks, rice, noodles, etc. Great food.
Meantime, the male students got chairs from all over town and firewood and helped skewer the pork sate.
There were my 40+ students and friends and my Timorese family and neighbors and kids and some UN international staff and police and the commander and officers of the UN PKF—Portuguese paratroopers; cool guys—who bought a big sound system.
Wild dancing to techno, and toasting a speech or two, guitar sing-songs.
I was given 5 thais—traditional woven shawls, by students and family.
About 80 people attended and extras later on, partied from 4pm to 1am.
We drank 20 dozen cans of beer—240 cans (bought from the UN military), 70 coca colas, 30 litres of mineral water, 6 bottles of whiskey and 1 bottle of tequila—which, we did as shooters around the dance floor around midnight, during the most manic disco moments.
Sad to have left today, Timorese family and friends came out to see me off at the helicopter.
FOOTNOTES: (1) A reactionary insurgency did happen later after independence but was short-lived. (2) He did, in fact, become East Timor's first President; reprising a version of Nelson Mandela's heroic role.
These photographs are from film scans. Unfortunately, many are yet to be scanned and remain in my Mother's attic in NZ. One day, this post will get an image update.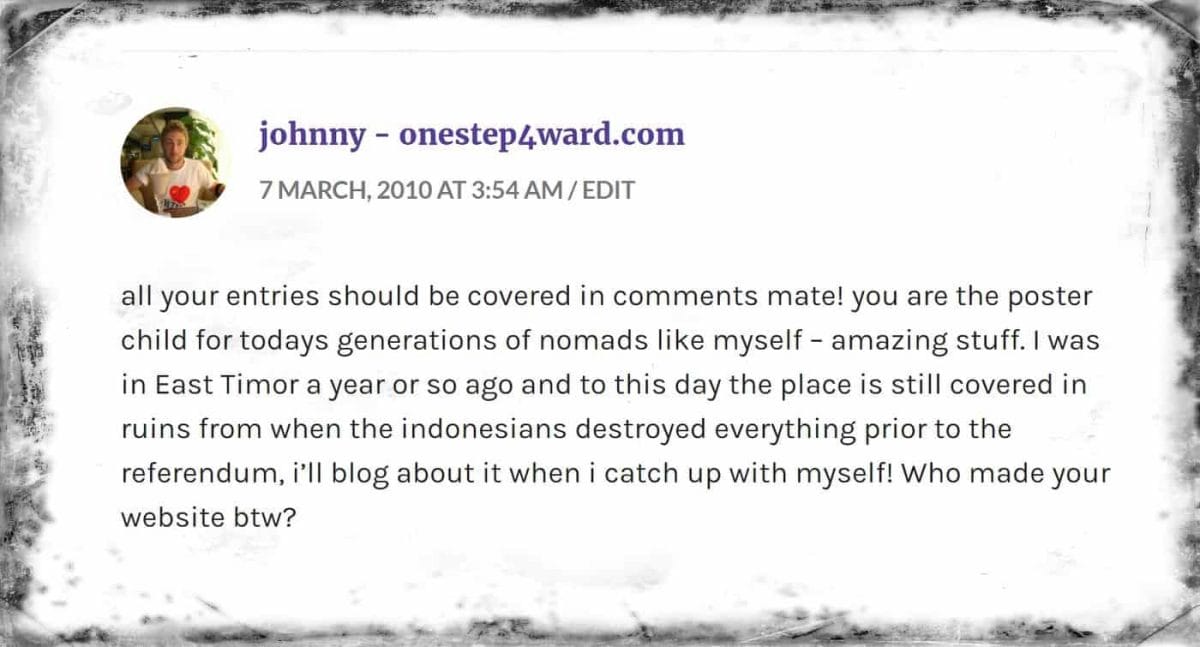 Travels in East Timor – 2000