An ancient city lured us – but the isolation seized us. So after van-camping at mud wall ruins, we drove the next morning towards the horizon of ragged cliffs.
VIDEO: Travels in Gansu in Tibetan Ganjia
---

---
Tibetan Ganjia – Monastery & the Living Goddess
---
That second day, we halted in a Tibetan monastery village.
And later on another hillside, we met a friendly monk at the temple of the Living Goddess, who showed us around – however, no photos allowed.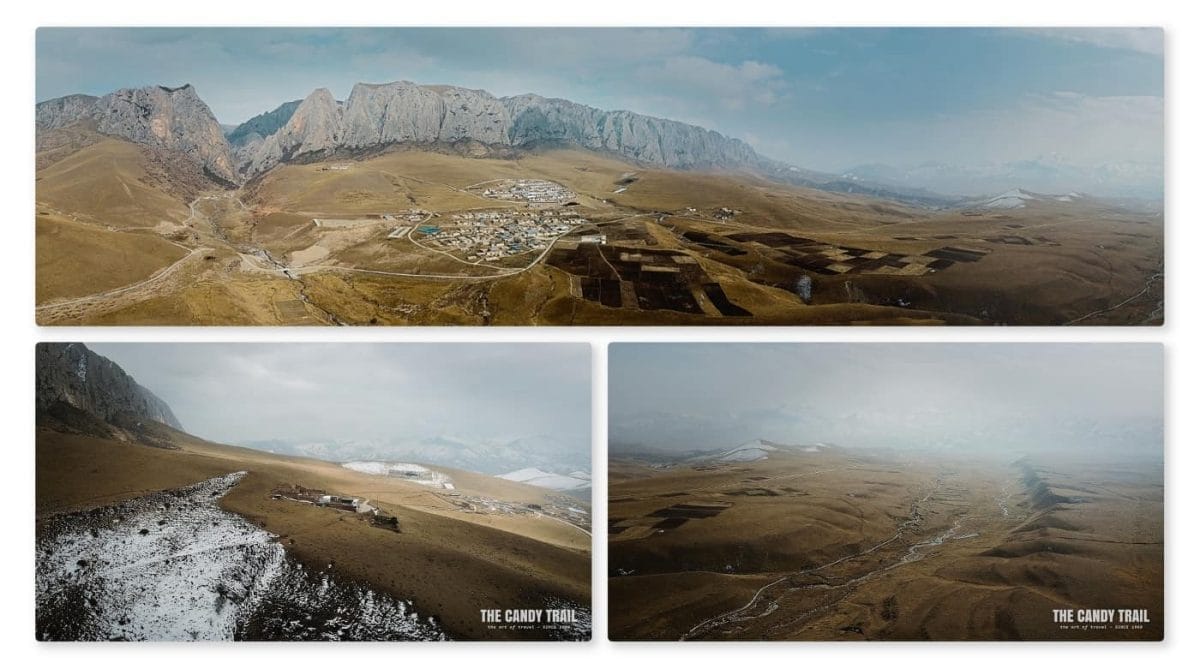 When I asked of the Goddesses' whereabouts – via Wei in Mandarin – he replied she'd died 9 years ago but that her reincarnation was due to appear next year.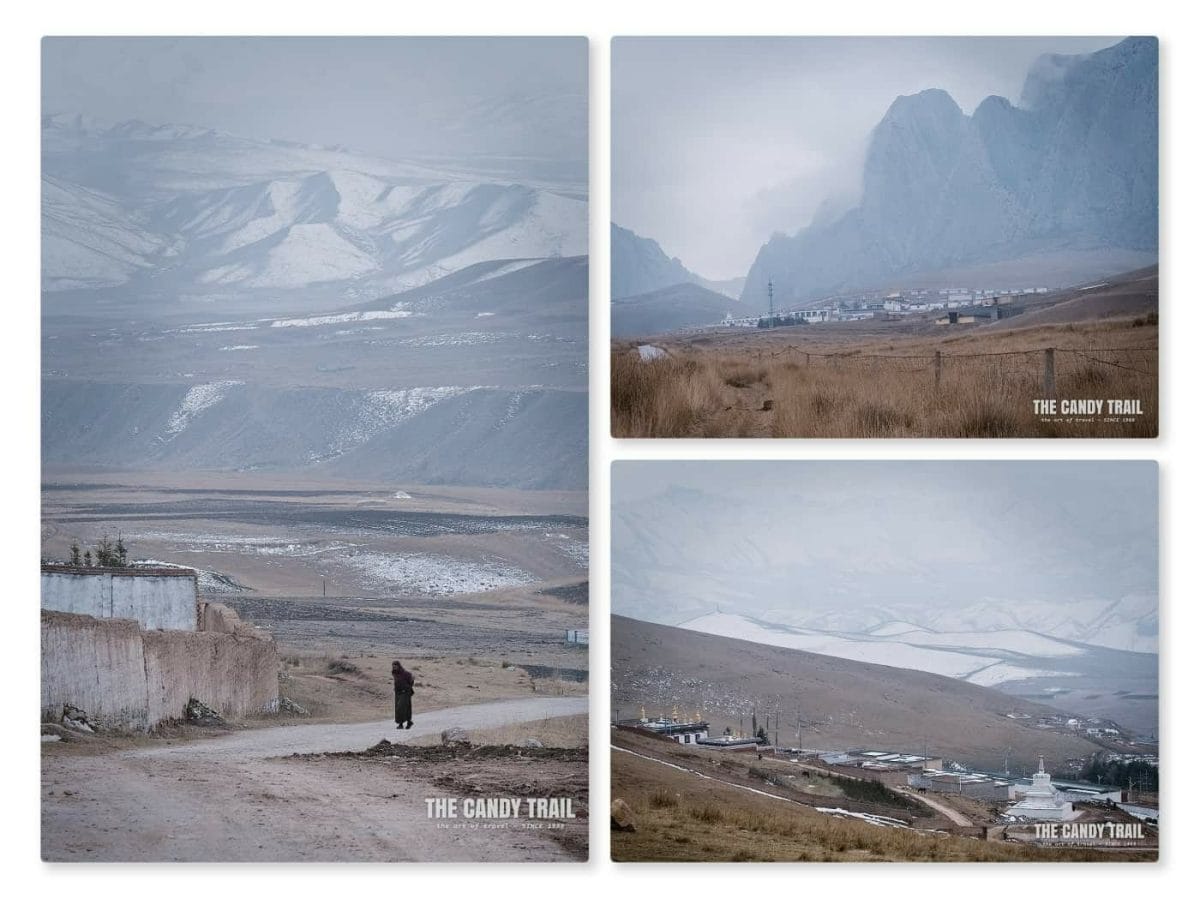 At the lower monastery, a baby goat besotted with Wei kept running after her and bleating.(*1) Meantime, the other goats watched, and wondered what the fuss was about.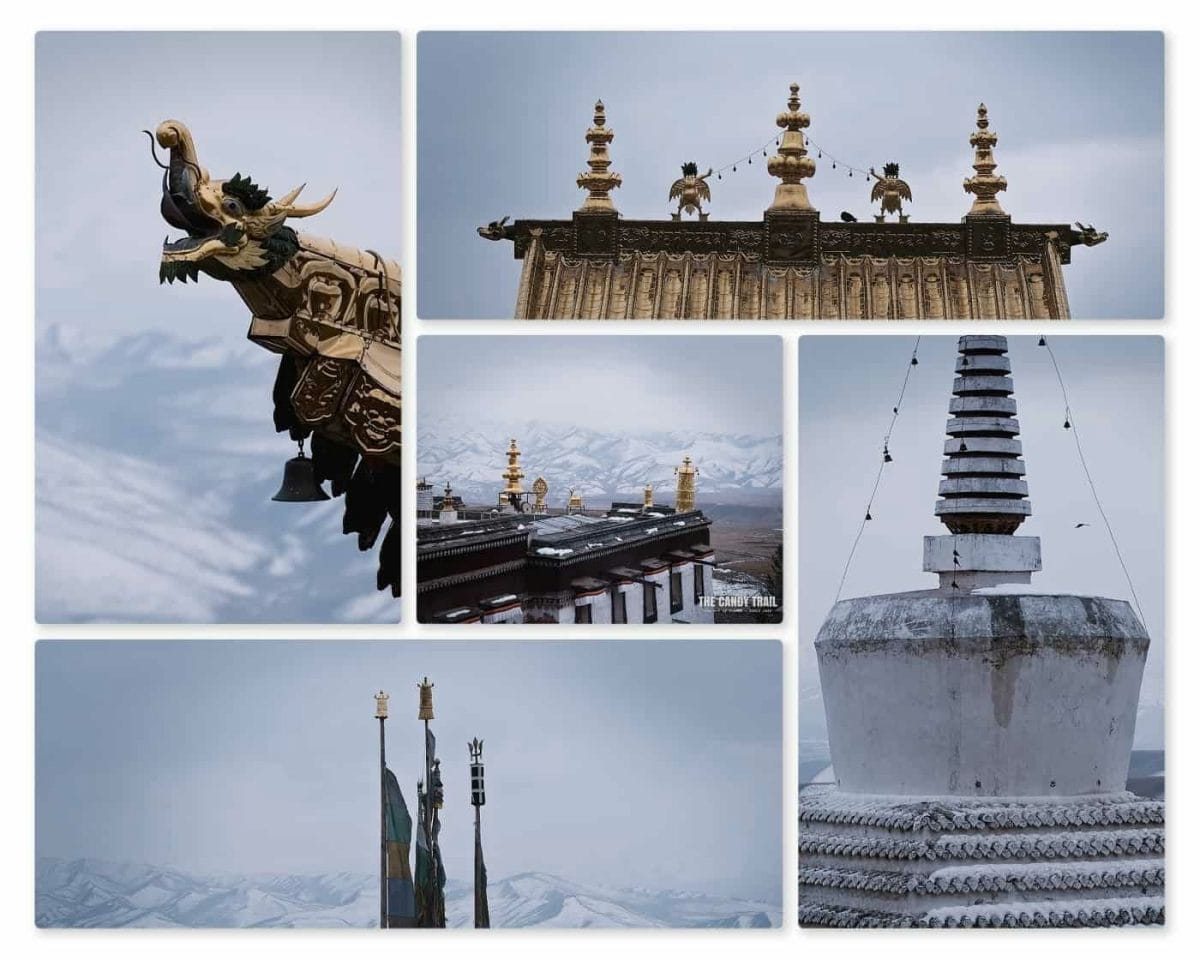 On another hillside, vultures gathered around the carcass of a baby yak; fighting and prancing around the feast.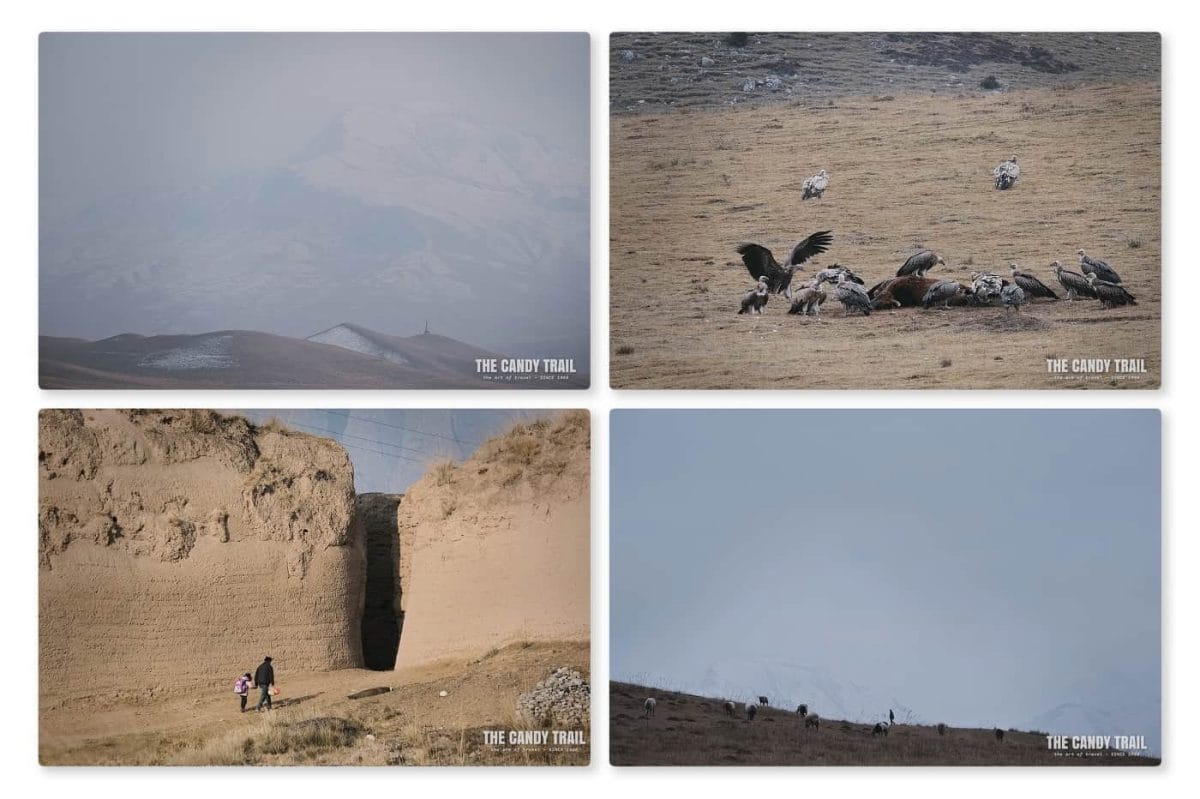 That second afternoon and evening, we spent in a river valley in a grassland of long-horned sheep, overshadowed by those humps of the ragged horizon – now hiding a sacred cave (which we'd explore tomorrow).

---
Baishiya Karst Cave
---
Hell, not what we expected. Sacred cave or not, it was a mission into an abyss known as the Baishiya Karst Cave ( 白石崖溶洞 ).
But it's also home to the earliest hominin fossil ever found on the Tibetan Plateau, (found by a monk in 1982) proving that humanity arrived in this high-altitude, low-oxygen environment around 160,000 years ago.
Today, the cave remains a place of meditation for monks and Tibetan reverence and, according to legend, Baishiya Cave is over 50 km long – reaching to Qinghai Province.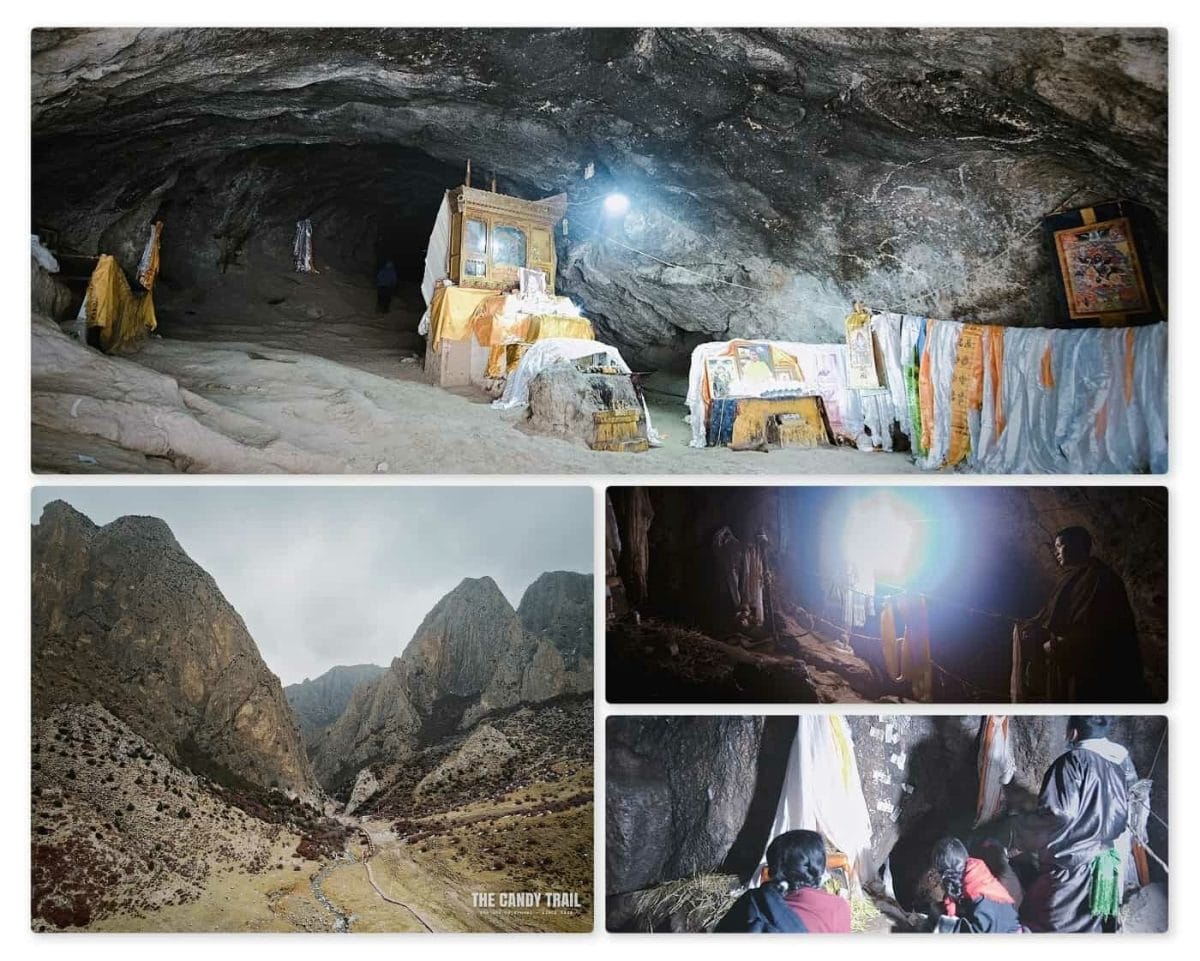 Anyway, ancient and sacred or not, I didn't go in much deeper than 100 meters – pictures above – before it descended into tiny darkness (not wanting to trash my hand-held DSLR camera – no bag with me; I wasn't prepared).
Didn't even have my head lamp. Duh!
Wei went further. Holding her iPhone as a torch and stuffing my action camera into her jacket, she accompanied a Tibetan family, baby tied and shrieking on mother's back. They went deeper.
And I could still hear the baby crying …
They came out 30-40 minutes later, exasperated, all with muddy shoes and trousers. The elderly Tibetan chief lay gasping and mad, nearly dead – like having a heart-attack as two young male members of family consoled him .
Wei said it wasn't worth it, despite a monk explaining what this or that rock formation – may have – resembled. (*2)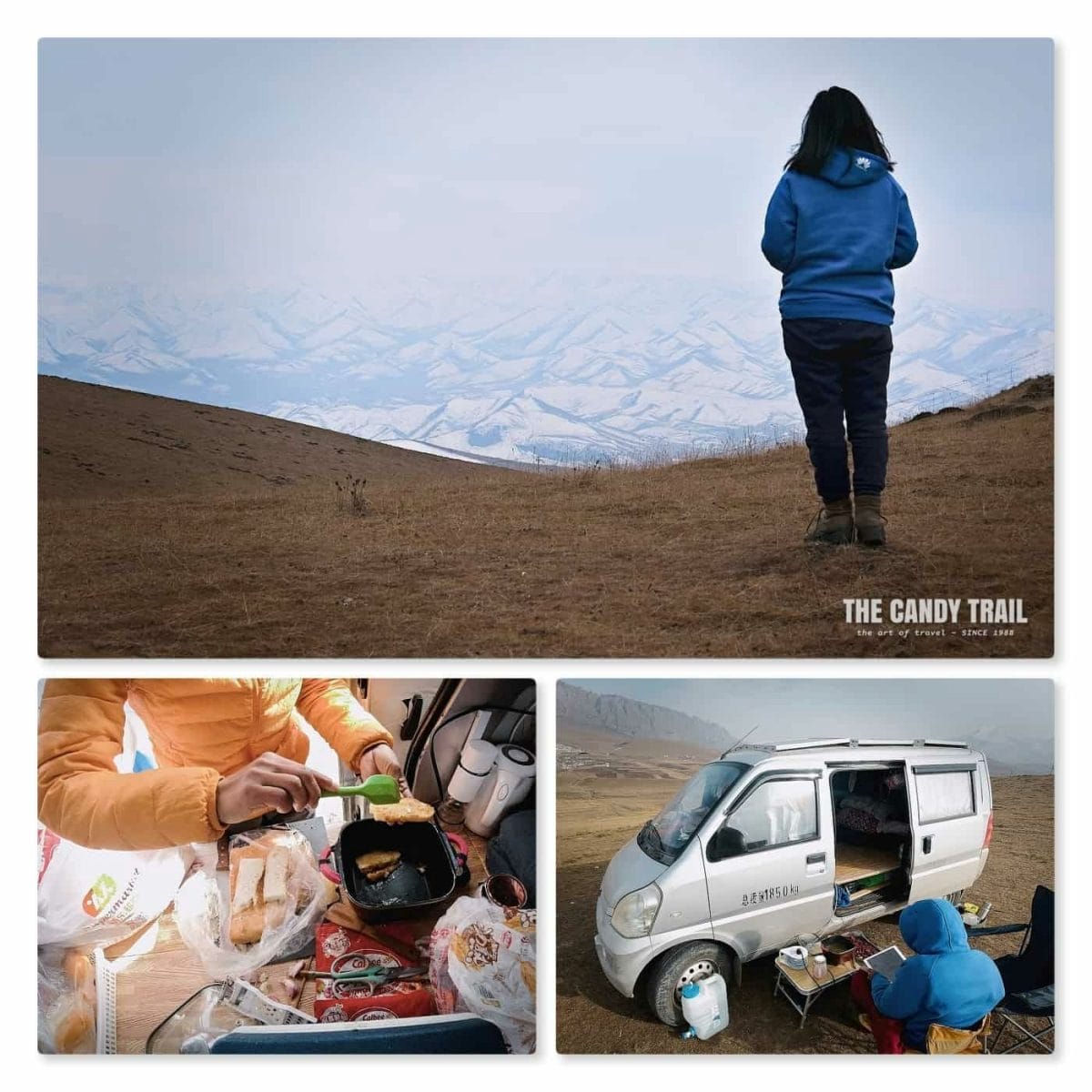 Notes:
(*1) – Documented on a video she posted on Chinese social media. (The goat had colored ribbons tied to it; apparently it was gifted from a villager to the monastery. Now, it was to be untouched – not eaten, to be allowed to live a long and happy life.)
(*2) – Likewise a video on Chinese SM.
Travels in China – 2020