It has to be said that I'm no diver, not even a snorkeler, barely a swimmer.
I can probably swim 100 meters maximum – maybe further, if I downed a 6 pack – of beer – before entering the water.
Simply, I like the waves and to paddle about at a (tropical) beach. But that's usually about it.
Yet when special places require it, I'll grab a mask and flippers and just go for it!
Special places like – the alluring Blue Hole at Dahab on the Red Sea coast of Egypt.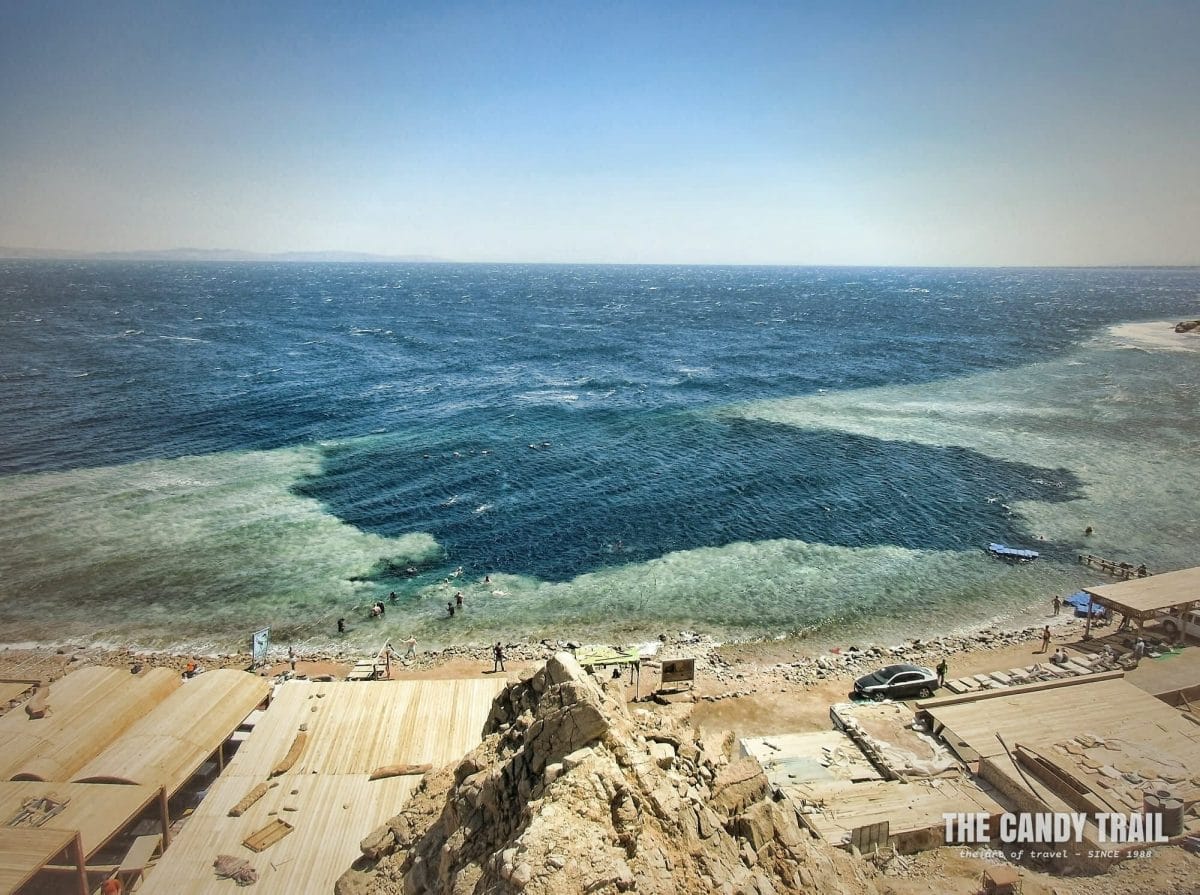 ---
How deep is the Dahab Blue Hole?
To quote Wikipedia: "The Blue Hole is a submarine sinkhole (a kind of cave) around 130 meters deep. There is a shallow opening around 6 meters deep, known as 'the saddle'—opening out to the sea, and a 26 meter long tunnel, known as the arch. The hole itself and the surrounding area have an abundance of coral and reef fish."
---
At the Blue Hole beach, it was gusty.
Wind threw waves crashing. Being a poor swimmer, I wore a life vest for floatation – which was great, as I snorkeled around the sheer cliff of the Blue Hole.
Amazing !!!
Crossing the center of the hole—it's not a dark void, but a soothing blanket of brilliant bright blue with beams of light.
It seemed more like floating towards a heavenly sky than looking towards the depths of a dark ocean. Very calming.

Quite the opposite of what I expected.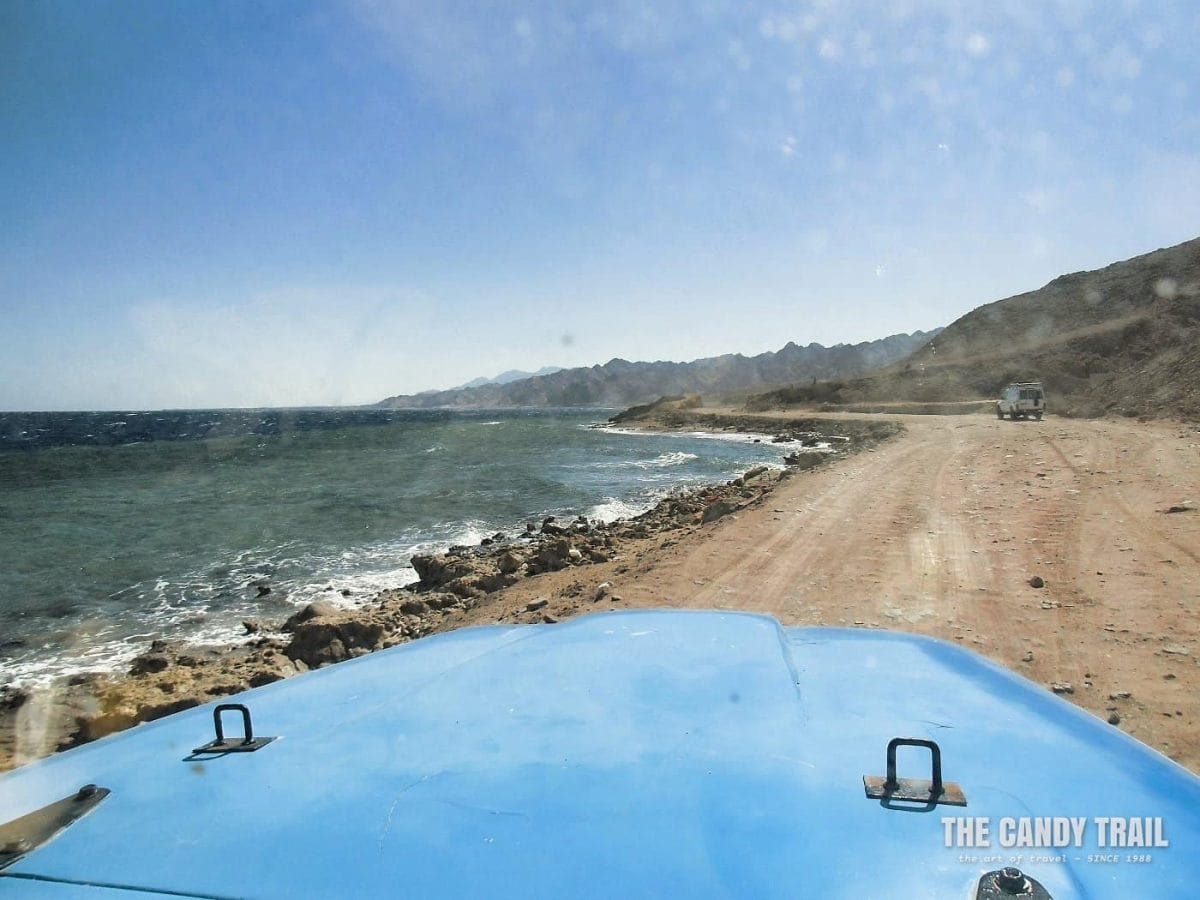 SNORKELING TIP: For the best sighting of coral and fish, head to the far side of the saddle, at the open sea.
Below me, sometimes I could see divers. They exhaled air bubbles – zipping up to like crazed jellyfish.
Flipping along, floating, staring down at the wall of sea flower colors and schools of striped fish.
Surreal. Calm.
---
Danger + Deaths at the Dahab Blue Hole
If you're a diver – RESPECT the Blue Hole.
The Blue Hole is notorious for the number of diving fatalities which have occurred there, earning it the sobriquet "World's Most Dangerous Dive Site" and the nickname "The Diver's Cemetery". (Local divers think up to 200 diving fatalities; Egyptian authorities play down the statistics at around 40, since records began.)
Floating on the surface, there are no serious worries.
Beyond being blown-away by strong winds today, my life vest saves me the puff and panic of the strong currents.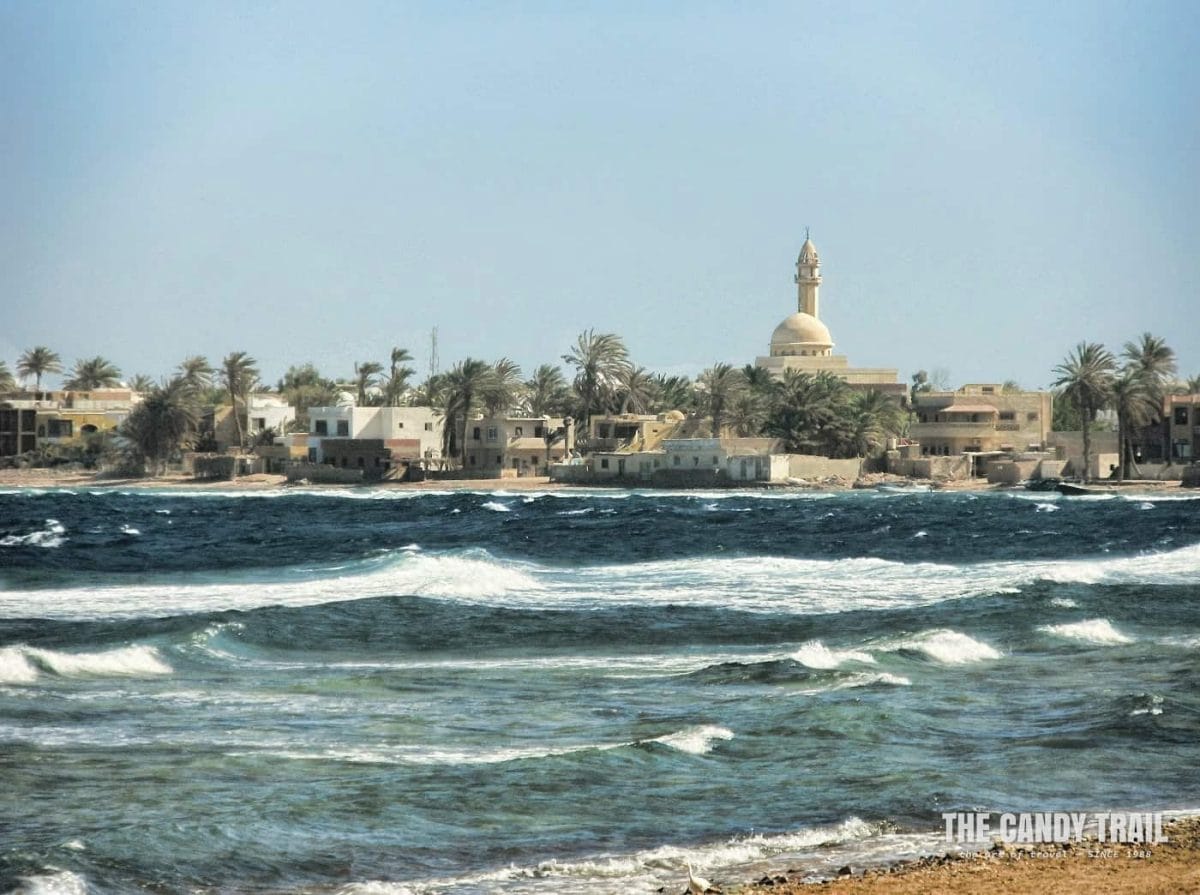 From experiences of snorkeling in the Caribbean around Belize and at the Galapagos Islands in the Pacific Ocean, I found water always entered my mask.
A COMMON PROBLEM when snorkeling is male facial hair – it breaks the vacuum seal between your mask and face and fills your eyes with saltwater.
Today, for the first time since growing my goatee beard in Kenya in 1994, I shaved it clean off for snorkeling the Blue Hole.
Solved.
(Some say, use Vaseline to seal it but I wanted a 100% guarantee of hassle-free snorkeling).
Done. Visibility perfect. No sea-water eyes!
I regard the Blue Hole experience as my best day of snorkeling, ever.
[ PS: My goatee will be back within days; hate this soft, bare-chin—feels like a baby's butt cheeks. Not a good look. ]
---
Advice for Snorkeling the Dahab Blue Hole
---
GETTING THERE: Easy. Any hotel or agency can arrange this. More people per vehicle is cheaper. Go early morning.
COSTS: It will cost you less than $US10, including mask, snorkel, flippers.
An arranged restaurant will look after your gear / valuables and prove safe and charge no extra fees. However, don't tempt fate by taking passport and credit cards, etc.
If you want a wet-suit top (can be chilly winds) or a life-vest, it's about $4 extra.
TIP: If you're a poor swimmer and the sea is rough, use a life-vest for an amazing stress-free paddle.
FOOD + DRINKS: Available (but no beer!)
OTHER TIPS: Wear a t-shirt and apply tons of sunblock—baking hot, even in April.
Yet, I got sunburnt on my forehead.
So watch the scraping-off-effect of your sunblock when pulling-up your mask (which I did a lot, just to float about and wonder at sea and sky).
Travels in Egypt – 2013