It won't stop raining… a relentless torrent has flooded subways, streets, and a few of our classrooms here at the Seoul English Village in Korea.
Maybe the worst has passed.
But this is summer, when Korea gets its yearly quota of rain in a few months—or in this case in a few days of raging, surging monsoon, preceded by showers with gaps of sun, hot sweaty humidity amid broken umbrellas and trees—ripped by winds as a typhoon passed across the Korean peninsula this week.
It's Sunday afternoon and I watch the constant rain from my 3rd-floor room out the balcony-sliding door window.
Happy sparrows dart about snatching moths and other insects from sheltered railings and roof overhangs.
In view, rivers of rain rage down the neat brick-work paths to the fountain square beneath the clock-tower.
I wish I had a bottle of red wine handy. But I don't—and won't, as I can't be bothered dressing and going out into the storm.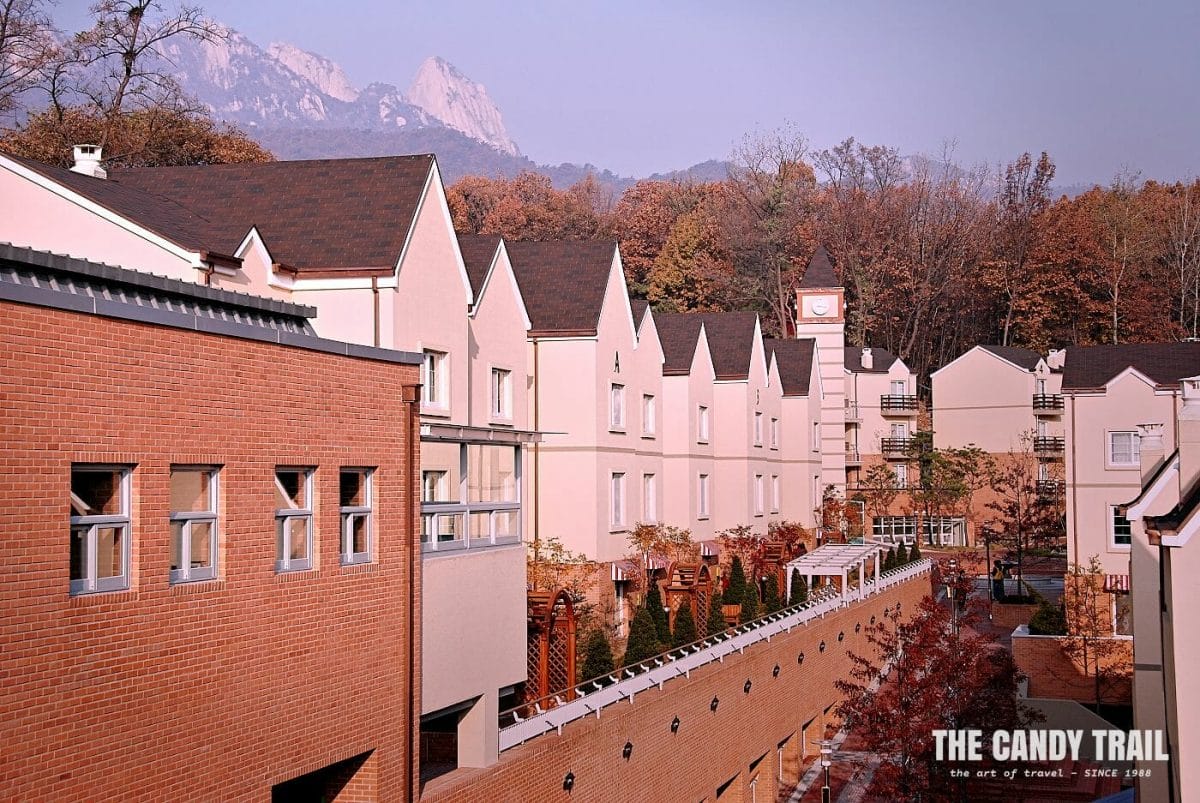 ---
I've been in Seoul English Village around 3.5 weeks
---
And yes, it's okay. But strange to have a conditioned routine and be part of a system again (after my UN gig in East Timor and then not working for 4 years; was traveling South America, Antarctica, India, Europe, Yemen, Cambodia, etc).
The dress code is casual.
I still wear my earrings, have my head sides shaven-no.1 with my long single dreadlock, like a Chinese Manchu.
The kids—this MTV generation—love it and I get a lot of compliments daily.
But I suspect some of the straighter, older Korean staff disapprove of my look (although they would never openly say so).
I think I've nearly settled in.
Like I've gotten functioning again with my 'English-teaching-straighter-acting-me' software installed in my head.
And so far, so good.
Only a few glitches.
---
Socializing and parties at SEV
---
Two company-paid ones that extended into crazed nights on the town with other teachers—Korean & international.
One of the first nights I managed to somehow separate from our group – god knows where. But I met some locals and ended up at a huge electronica dance club, drinking soju – Korean rice vodka. Then I got a taxi across the city – like London-sized – intending to get home before getting out, lost and drunk, wandering into a police station early morning for them to phone my school to get directions from the 24-hour SEV security office so they could then give me a lift home.
Wow, the rain is easing.
But within seconds of writing it's gotten heavy again.
Anyway, about this English village.
It's a pet project of the Mayor of Seoul and he's had the facilities built double-quick time in 6 months, instead of 12.
Leasing the teaching requirements to YBM, who are Korea's largest English teaching corporation, and they are my employer.
The village has only just been completed and there's still work to be done, like the common laundry room and teacher's social room to be finished and swimming pool to be filled—although I believe the rains have seen to that.
Basically, the idea of this place is to recreate a campus like the West—complete with Westerners—so the students feel like they've gone overseas – and to save parents' money in sending them overseas, they've brought a western world to Korea.

The effect is a little comical – like a toy town.
I'm expecting Noddy & Big Ears to make an appearance on some drunken evening.
There's about 30 foreign teachers living on campus and about 15 Korean English-speaking teachers, who commute, plus many Korean admin, security, cleaning, and cooking staff.
---
Accommodation & food at Seoul English Village
---
As foreigners—mostly Americans & Canadians—we each get a brand-spanking-new studio apartment with a bathroom and balcony
Plus the obvious stuff: bed, table & chair, wardrobe, drawers, TV, A/C, heating, simple kitchen with sink, cupboards, fridge, cooker.
And a paid cell phone, free broadband Internet in-room, and all utility bills paid.
Also within the village, in separate dorm blocks, stay students. Usually a week. But there are also day groups and so a large café serves all—including us teachers 3 FREE meals a day.
However, while Korean food is tasty, a café serving 400+ students a day means the bulk food ranges from quite okay to seriously fucking bland, depending the daily menu.
For example: rice & spicy, pickled cabbage (Kimchi) for breakfast is a disaster; fine for lunch or dinner.
Luckily, there's a 7-11 store in the village.
All up SEV, Seoul English Village, is a pretty and comfortable place surrounded by trees and surrounded by humped granite peaks on the edge of the Bukhansan National Park in the north of Seoul.
It's just a bus ride or 20-minute walk to the nearest subway and into the sprawling modern city.
---
Crazy friendships at SEV
---
I've made friends mostly with many crazy Midwest Americans (and a few Canadians, a Kiwi or two, and an Aussie; it's like a mad family) who like to party.
And our 3rd-floor porch landing on building "Arctic"—teachers blocks are named after oceans; student blocks after continents—has become the location of "Club Arctic".
Within the first week, a warning was issued to us about "the rules".
Breaching of contract regarding visible alcohol and partying.
But it was more about an overzealous, dumb-ass manager than any rules broken. And the issue soon blew away.
Especially so when I pointed out in a teacher's meeting that we were far away from the students. That "we were drinking from nondescript vessels"—mugs, with no alcohol bottles exposed—and that only with the benefit of adult psychology—not kids—would anyone perceive what were actually doing.
Our spot, the covered area outside my room, is where the 'keen' teachers meet before hitting a night on the town.
David, 32, from Utah, ex-TV News cameraman turned teacher-having-too-much-fun-in-Thailand.
He lives behind me in the Arctic block and is keen on partying.
Even thou he broke his foot the first weekend before starting work here when he was climbing the mountains behind us—read steep monster hiking trails. He twisted his foot, slid off—nearly to his death. But didn't. And was lifted out by helicopter cradle and is now on crutches in plaster.
This is the kind of dedicated characters we have drinking here at Club Arctic.
My fellow international teachers are a mixed crew of pleasant straights and chancing crazies, all looking for a new direction in life.
Most are mid-20s to early 30s and have a degree, while a few have some ESL experience.
I am among the oldest and one of the few that are experienced.
However, experience isn't necessary.
But it makes the job much easier.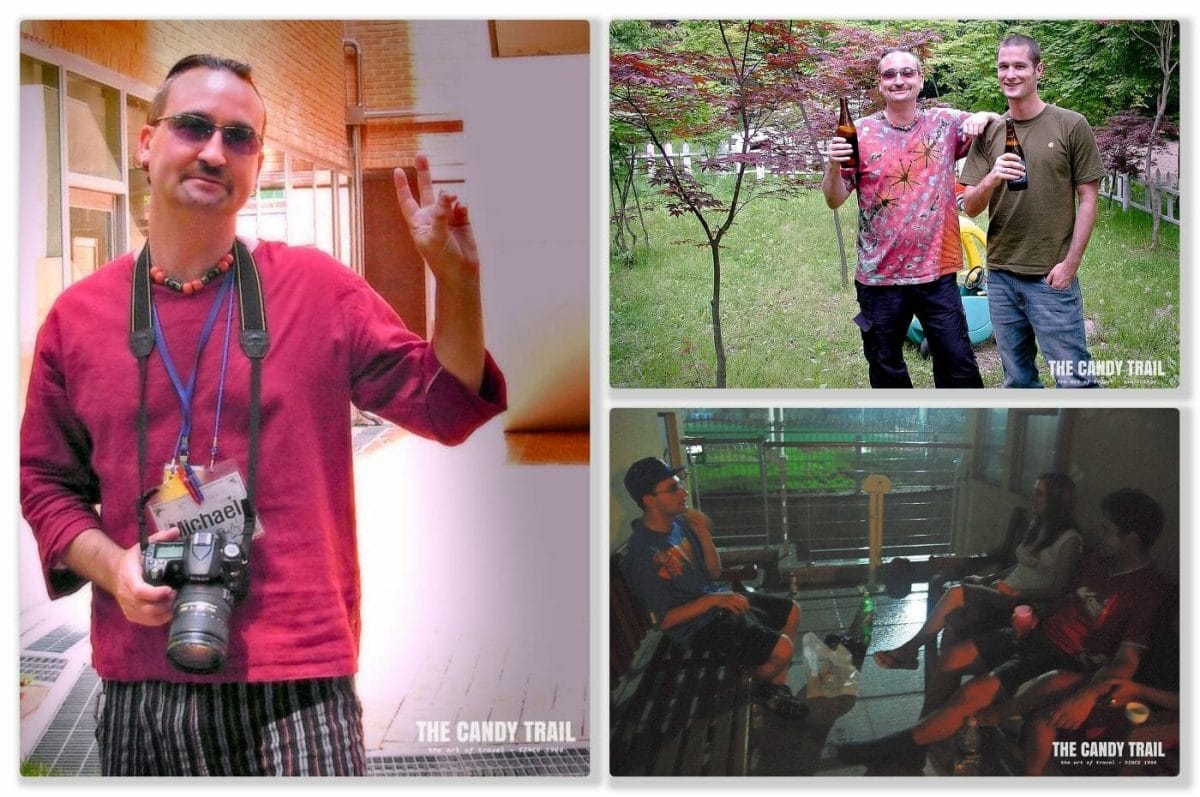 ---
English teaching routine at SEV
---
This school is not about formalities of dress, grammar or conventional English teaching but about using situational English in role-plays, conversations, fun and games in purpose-built classrooms that are kitted out in societal themes.
But truly, it's largely about kiddie chaos and a corporation making money – yet the village is novel and the kids enjoy it.
What 13-year-old wouldn't want a week away from their parents hanging out with their mates?
And as for us, we get paid to fool around at crowd control.
There's been a lot of craziness.
A girl decks a boy with a punch to the nuts.
You're poised to teach a class of English-speaking 13-year-olds and suddenly find you've got twelve 4-year-old kids without a lick of English; so, I drop the planned lesson, get out the crayons and paper and start speaking Arabic.
It rains so much it floods out the office block and the Korean administrator is a shrieking headless chicken, running round with a bucket and shovel.
The opening ceremony with the mayor and officials and TV coverage, with teams of 100s of workmen the night before going 24 hours to complete the project for the opening, then after the dignitaries have gone, they spent 2 weeks making day & night noise—deconstructing; ripping up asphalt roads and brick pavements and laying drains that were never done.
It's all about face here. Even if the face is false.
Teachers are contracted to teach 23.5 hours per week.
This includes game classes, orientation, sports, and other muck-around activities.
There's no prep needed, and often the lesson plan is modified by myself on the fly for the 45 minute lessons.
But it can be tiring, as you would expect from kids.
But fun, easy work.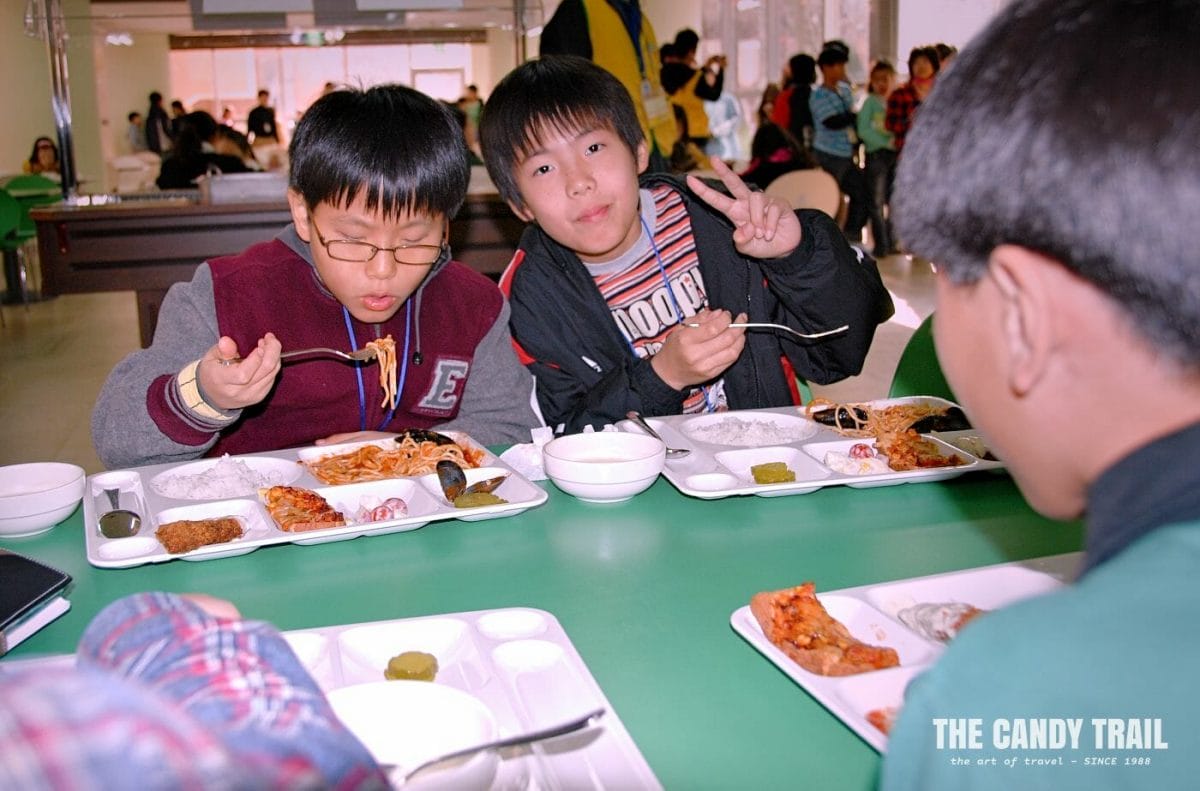 There are 53 (mostly situational) classrooms on the SEV campus:
A large airport Immigration Hall – complete with passports stamped and teachers dressed as officials.
Restaurant. Clothes Store. Grocery. Bank. Hair Salon. Post Office.
Police Station. Medical Center.
Transportation Station – catching a bus, taxi, the subway.
Fire Station (crazy with kids crawling thru flaming house; giant computer game).
Airplane Cabin Interior.
TV Talk Show Studio & Weather Forecast Studio.
Hotel. Library. Newspaper Room.
Dance class. Art class. Computer Class – Digital Photography Class. Science Lab; Cooking Class (making chocolate cakes); Music Class.
Magic Class. Movie Theater (with popcorn eating in class!).
Mini-Olympics Gym. Mini Golf. Nature Trail Hiking.
Family Home-Stay (with sofas & TV & board games).
Pool Classes – both Swimming and Snooker.
Sony PlayStation and Chess Classes.
I did Art Class last week—many spilled paint pots and chaos, but fun.
This week is Telephone Class: calls practiced in bold-red English boxes with students dialing each other on 911 emergency calls.
I understand that I'm in a giant play school, and that SEV is simply kiddie surrealism without drugs
Travels in Korea – 2006