Rostov Veliky is my kind of love affair – beautiful, strange and unknown.
A crown of domed churches and castle towers on a calm lake under rainy summer skies radiating wonder.
And so tranquil and ignored by mass tourism.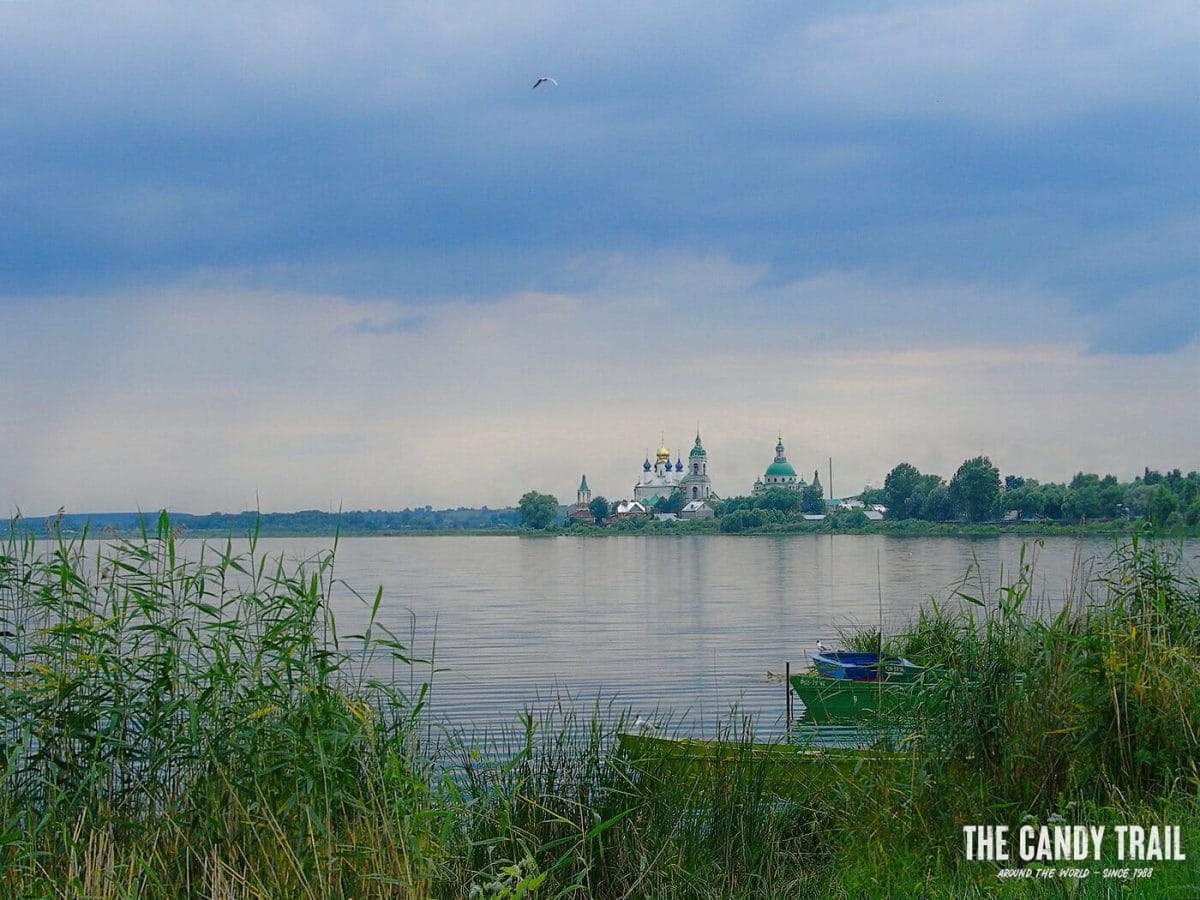 ---
The Cathedral of Assumption and its massive bells
---
In the middle of Rostov is the oldest church, the Assumption Cathedral, which was wooden until it burned down in 1060.
The exact date of the current cathedral is unknown, just that was built in the mid-16th century, yet parts of the lower walls date to the 12th century.

In the 17th century came the block of bell-towers and these bells are famous across Russia as some of the largest in the country.
And each bell has a unique name.
The largest bell is Sysoy, named after the city's founding father and it weighs 32,000 kg!
Within the Assumption Cathedral is the final resting place of Saint Leontius of Rostov's incorrupt body. 1*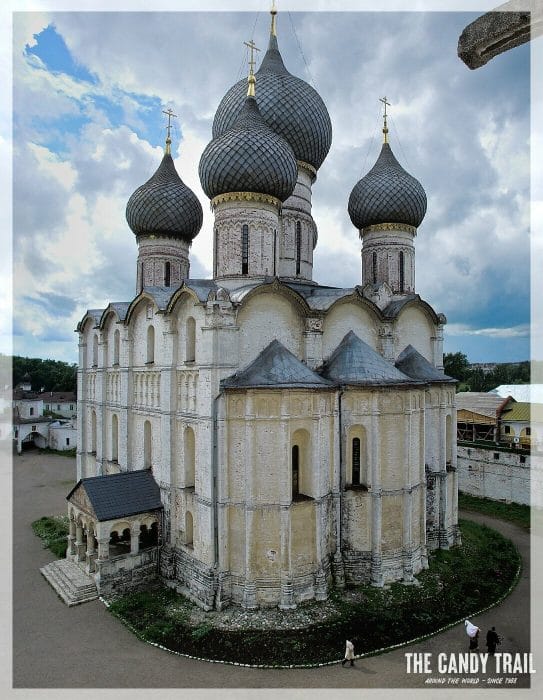 ---
Brief history of Rostov Veliky
---
Rostov the Great is one of the Golden Ring towns outside of Moscow and is 202 kilometers from the capital.
By 862 AD, Rostov was an important settlement that became the capital of Vladimir-Suzdal, one of Rus' most prominent principalities of the 10th century.
Later, it came under Tatar rule for two centuries and then integrated into the Grand Duchy of Moscow in 1474.
Over time, Rostov became a major religious center and by the late 17th century, they'd built the citadel of churches that impresses today.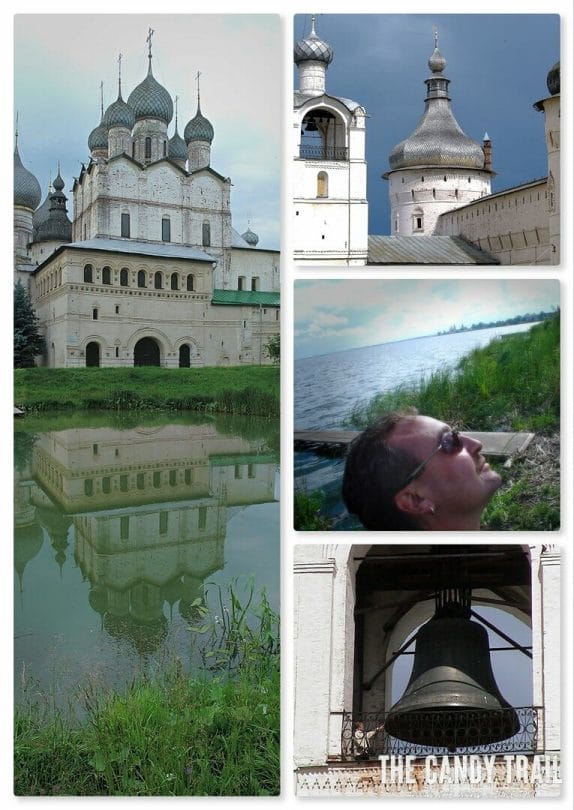 ---
Staying in the Rostov Kremlin
---
I stayed 2 nights at the church inn within the kremlin of Rostov Veliky.
The quiet, spiritual ambience and fantastical architecture cast a spell on me, gazing at these towers and churches with onion dome roofs, priests and worshippers gliding around serenely.
It was such a calming, blissful buzz after my long Trans-Siberian trip from Beijing and after the frightening insanity of being drugged and robbed in Russia some weeks earlier.

On the second afternoon, I wandered the lake shore and the citadel, drinking a bottle of red wine, stopping beside the kremlin pond – its churches reflected in the still water, crows and other birds yakking above me, flying from dome to dome as church bells sang.
Meantime, a cat coasted around my legs, hungry for salami, bread and cheese.
Of course, I fed it.
Everything was harmonious and at peace.
I brought a tiny trinket, a traditional handicraft of enamel painting on metal. Of course, it depicted an onion-domed church amid towers.
Memories of Rostov Veliky will always shine.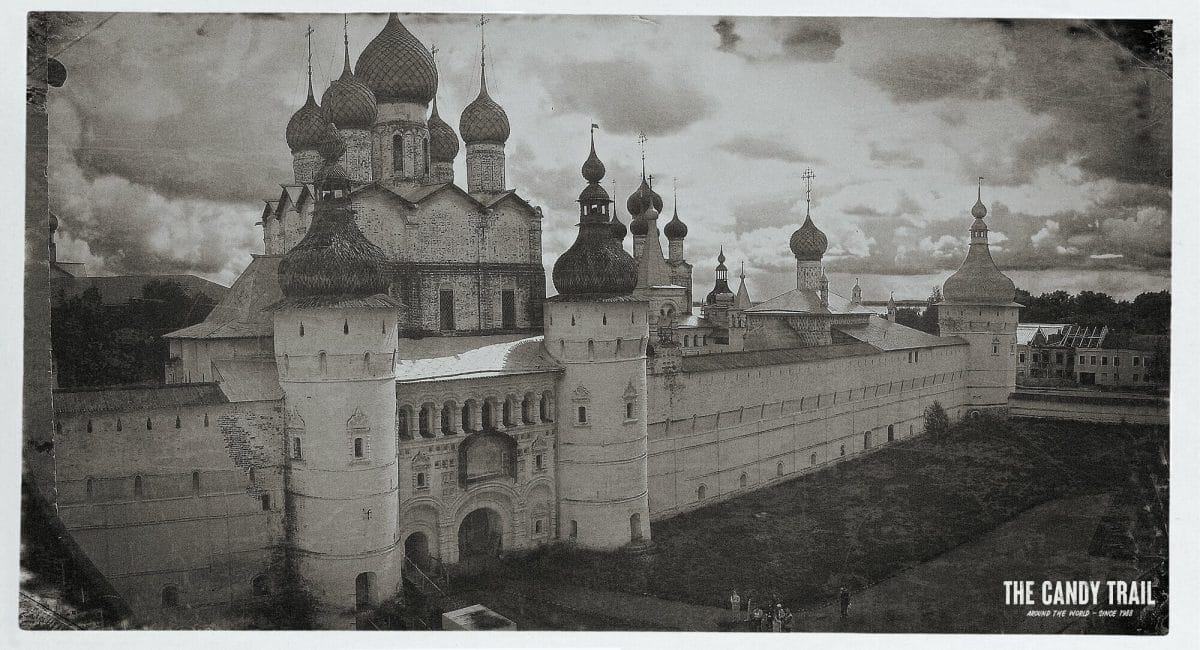 #1 FOOTNOTE: Incorruptibility is a Catholic and Eastern Orthodox belief that divine intervention allows some human bodies to completely or partially avoid the normal process of decomposition after death as a sign of their holiness (Wikipedia).
Travels in Russia – 2005