READ THIS FIRST: Car Launch Party ( Valli Promotion #1 )
---
Being invited to the car launch party had been a strange surprise but the follow up offer to take a road trip across China for 3 months in their new car was a really big deal, for us.
We are NOT social media stars, not influencers.
And, we're certainly not young (we're middle-aged).
Yet, we get this offer.
Why?
Maybe they saw a potential. Something unique.
It's certainly not about numbers as Wei's following on her video channel (which translates as "small cute van") amounts to a modest 10,000 fans.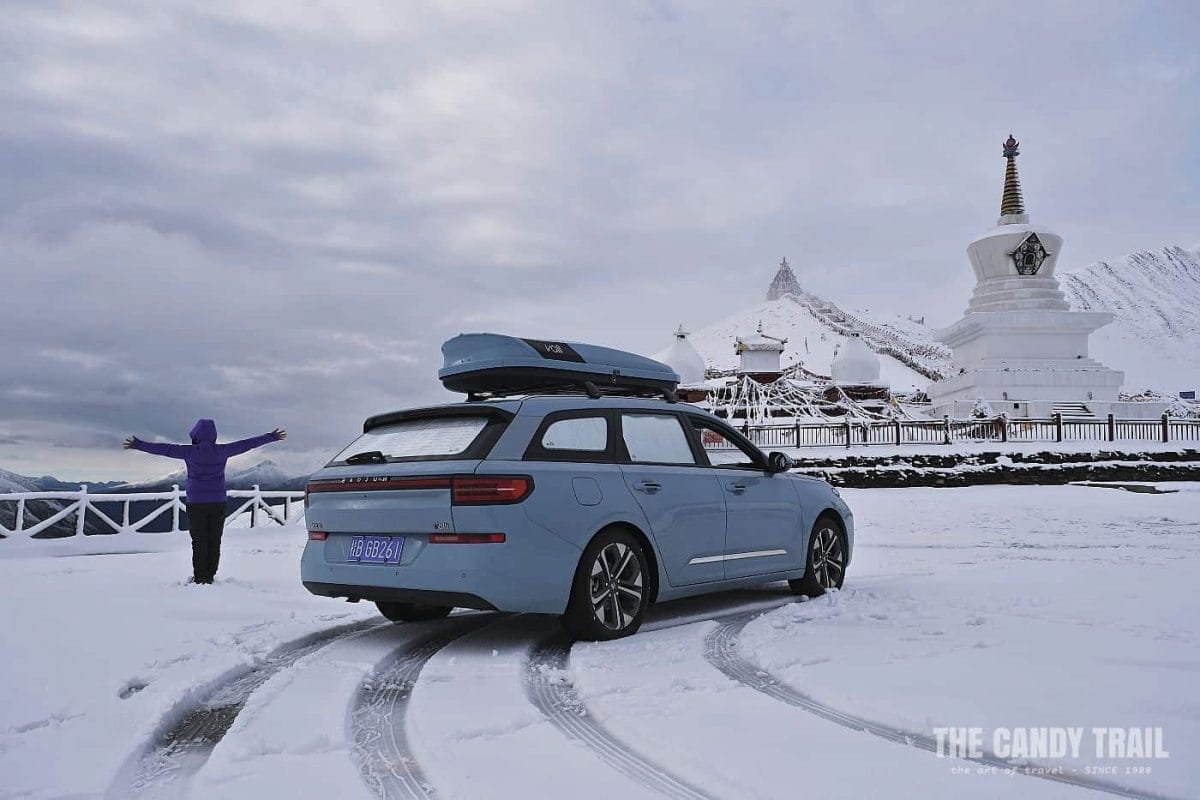 However, her video views are often well-beyond her follower numbers, and for her such a small legion of fans, the likes and comments – thus engagement, is high as a percentage.
So I suppose in the West, she may qualify as a 'micro-influencer'.
Additionally and more importantly, the company executives like her videos.
What she says and how she presents, including stats, analysis and info not typical of other influencers and certainly not typical of other woman on the road.
I suppose being the daughter of an engineer and the fact that she's proved rather good at van interior design and its construction has also reinforced a practical DIY van life spirit and shines thru in her media efforts.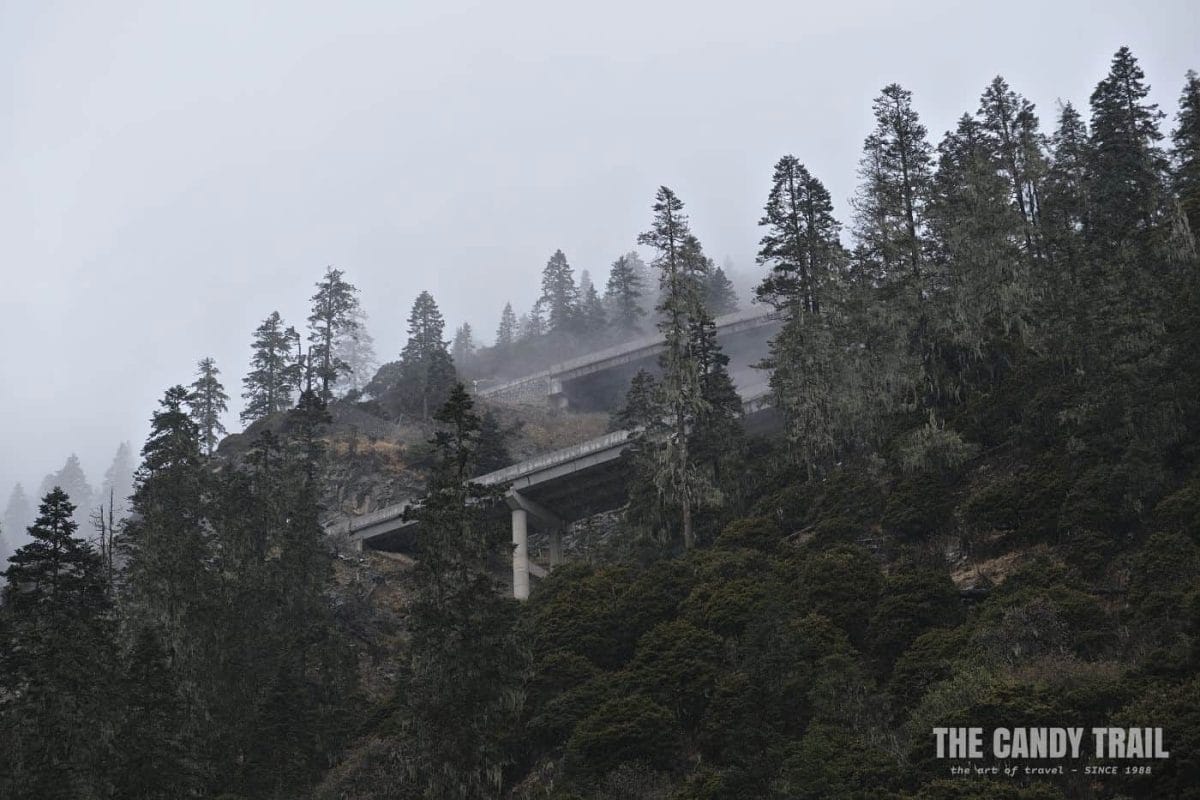 ---
Valli Car Promotion Offer
---
Along with the use of a car for 3 months to explore anywhere within China, the company is also providing a fee for travel expenses (petrol, food, sight tickets, etc).
This is a decent amount which will be paid after the creation of 50 travel videos (with the proviso of featuring the car in roughly 10% of each video).
Basically, their offer will give us a great road trip across Tibet.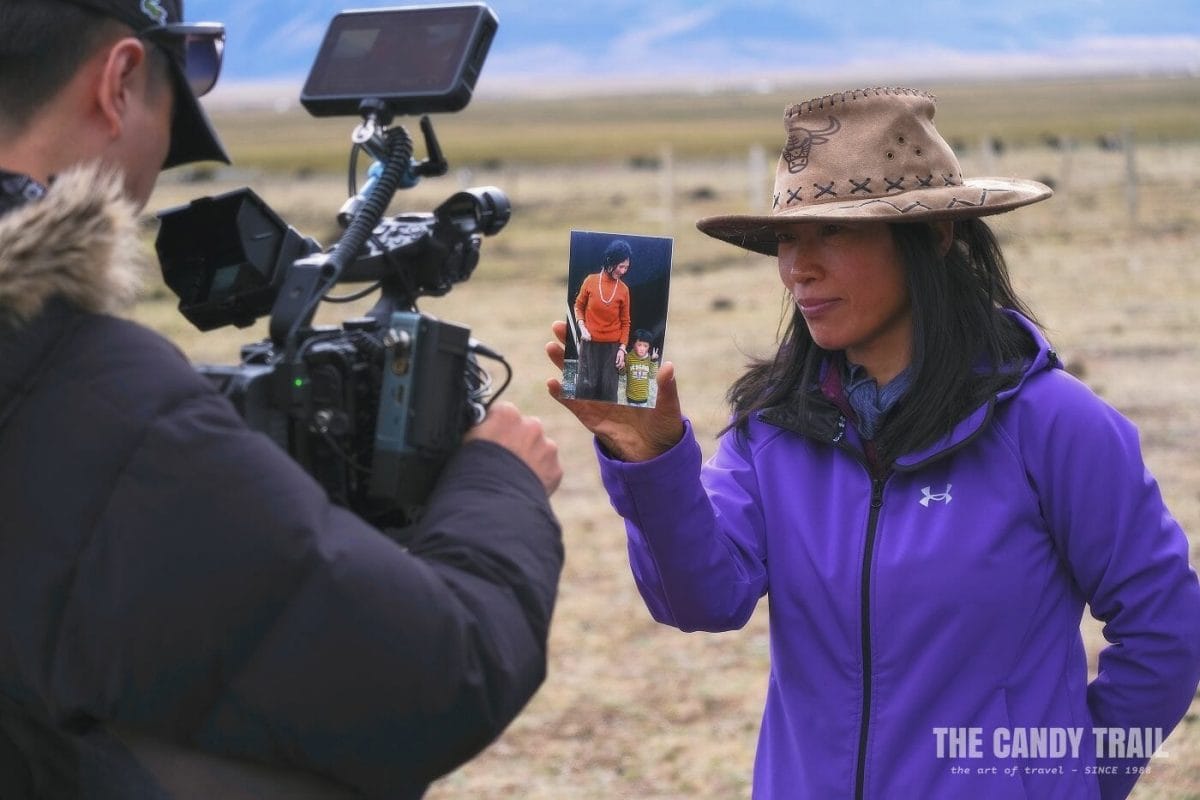 ---
Our Promotional Plan Traveling Tibet
---
Tibet was decided upon as it'd been Wei's dream to travel there.
Finally.
I agreed it was a great destination.
Unfortunately, I won't be going.
WTF? Why?
Foreigners, since 2008, have only been allowed to travel to Tibet within a guided tour group.
It's very expensive – and pointless as an old school backpacker who loves to explore at random – so, no thanks. And not possible as a self-drive trip, anyway.
BESIDES, I've already traveled freely around Tibet for a month back in 1994, including hitchhiking across the Tibetan Plateau and onto Kathmandu in Nepal. Was an epic trip!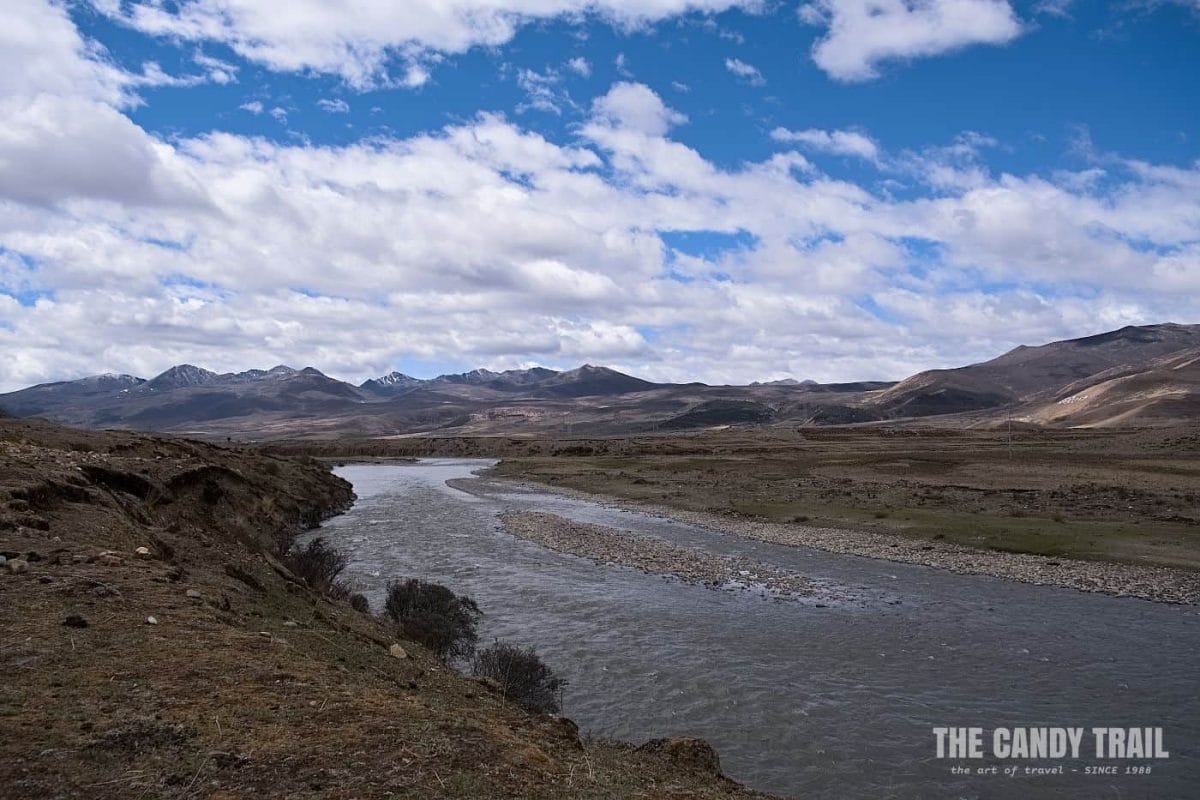 ---
Wei will travel and I'll sit round
---
I'll stay at a friend's RV camp on the outskirts of Chengdu (capital of Sichuan Province) in our "small cute van" (with access to water, electricity, showers, toilet and shops and local market is just a short walk away).
While we did discuss other destinations that I can freely travel in China, another consideration is that the car is a hatchback with a small sleeping or living area; not great for 2 people (not without a tent and extras) and the Valli is really designed for urban folks for small getaways, not for a couple living a long term travel life.
This Valli promotional offer is Wei's baby. It's only because of her, not me, that it landed in our laps.
So I stand back and let her choose and plan as she pleases.
---
Delayed – then rushed
---
The arrival of the car takes a month (much longer than planned).
When it arrives it's missing the sleeping frame and mattress. Luckily, we get a wooden frame made up at the RV camp by the mechanics and grab a mattress from our van. Problem solved.
The other issue is we need to assemble the roof-top storage box. It's bit of head-scratching but it all comes together.
Stuff to take is packed and travel supplies that have been pre-bought online and delivered during the waiting around are organized.
A serious practicality is to install a lithium battery linked to the engine, temporarily, which is an all-in-one case with battery, converter, USB and other sockets) to supply power for devices and cooking. (Again, this is done with help of our friend, Michael, who has a number of RV campsites and is also an electrical engineer who designs and manufactures high-tech batteries and solar power systems.)
AND THEN all of this car promotional preparation has to be done within 24 hours as we must depart.
Yes, we.
Both of us.
---
New Plan: followed by a film crew
---
I traveled with Wei for a handful of days into the mountains of Tibetan Sichuan as the company had suddenly decided it wanted to film the car – and us, yeah, they also wanted me present.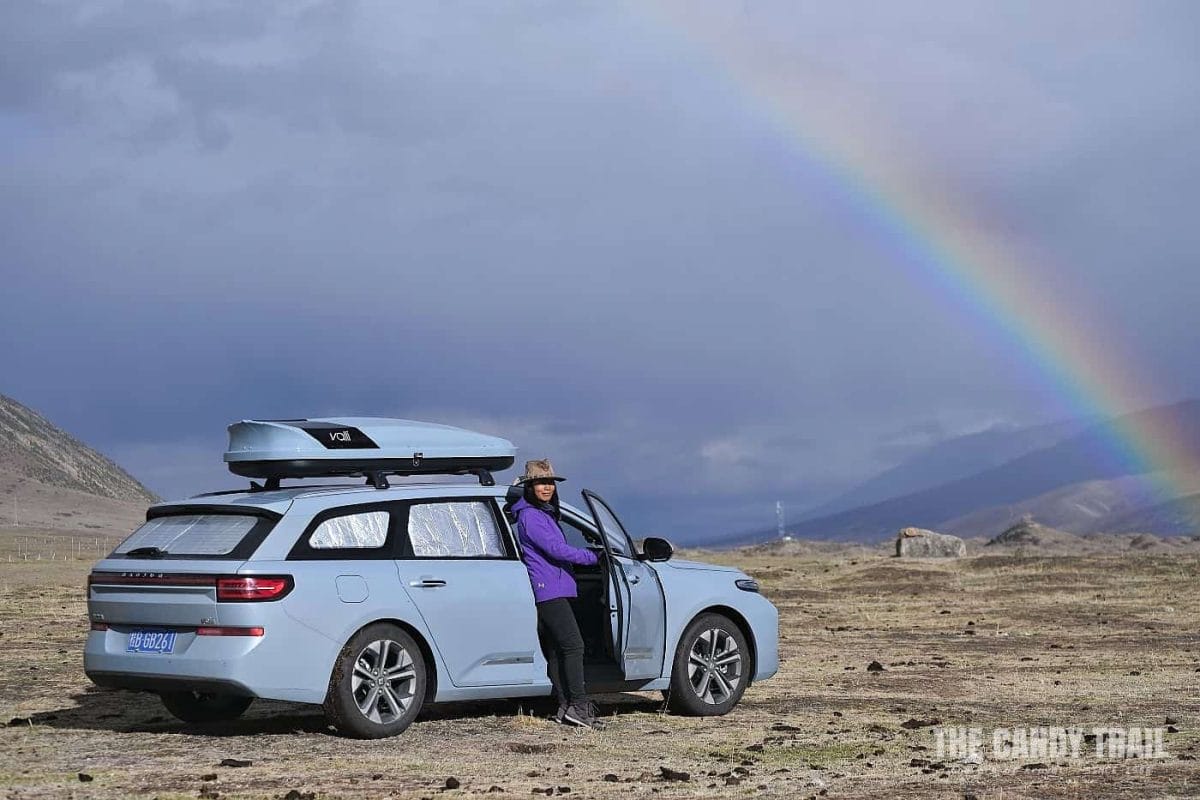 So after all the preparations and the battery installed we drove out of Chengdu in the late afternoon rain needing to meet the film director in Litang the following day.
It was a tight schedule.
A mountainous 10 hour journey lay ahead of us, which we broke with an overnight stay stopping around midnight, sleeping in the car amid a gorge that was clogged with parked freight trucks.
Next morning, we set off early but got wedged amid a convoy of Chinese army trucks. I waved to soldiers; they waved back.
By early afternoon, we were driving the tranquil streets of Tibetan Litang – one of the highest cities in the world, sitting at 4100 meters (20 hours earlier having left Chengdu, located at a mere 500 meters above sea level).
We checked into the same hotel as the film crew.
Met with the young director and producer – the only female in the team. She was inhaling from an oxygen bottle, suffering from the sudden jump in attitude (as they'd flown in that morning from Shanghai).
Filming began the following day after breakfast.
The film crew followed us for 2 days.
It was a youthful team of still photographers, film cinematographers, drone camera operators, a director, producer and their agency boss, all bundled in 2 vehicles driven by local Tibetan fixers.
All up, a team of 10 was making of a documentary / long-form advertisement about us traveling in a (Wuling) Baojun Valli car.
It was weird.
Never been 'a star' before.
Did I like it?
So so. Not really me.
However, Wei could play the part and enjoyed doing so.

Across the first day of filming it was a series of stop-start-repeat until they got their shots.
Driving along mountain valley roads – DJI drones waiting or following the car, actions coordinated with walkie-talkies as we drive or wait to film roads empty of other cars.
Other locations were beside a river near yaks and distant mountains as Wei and I sat in camp chairs, me drinking beers.
They filmed us hiking sparse grasslands with backpacks.
Talking to Tibetan nomads.
Relaxing and cooking in the early evening, car-camping the night amid wilderness at 4200 meters.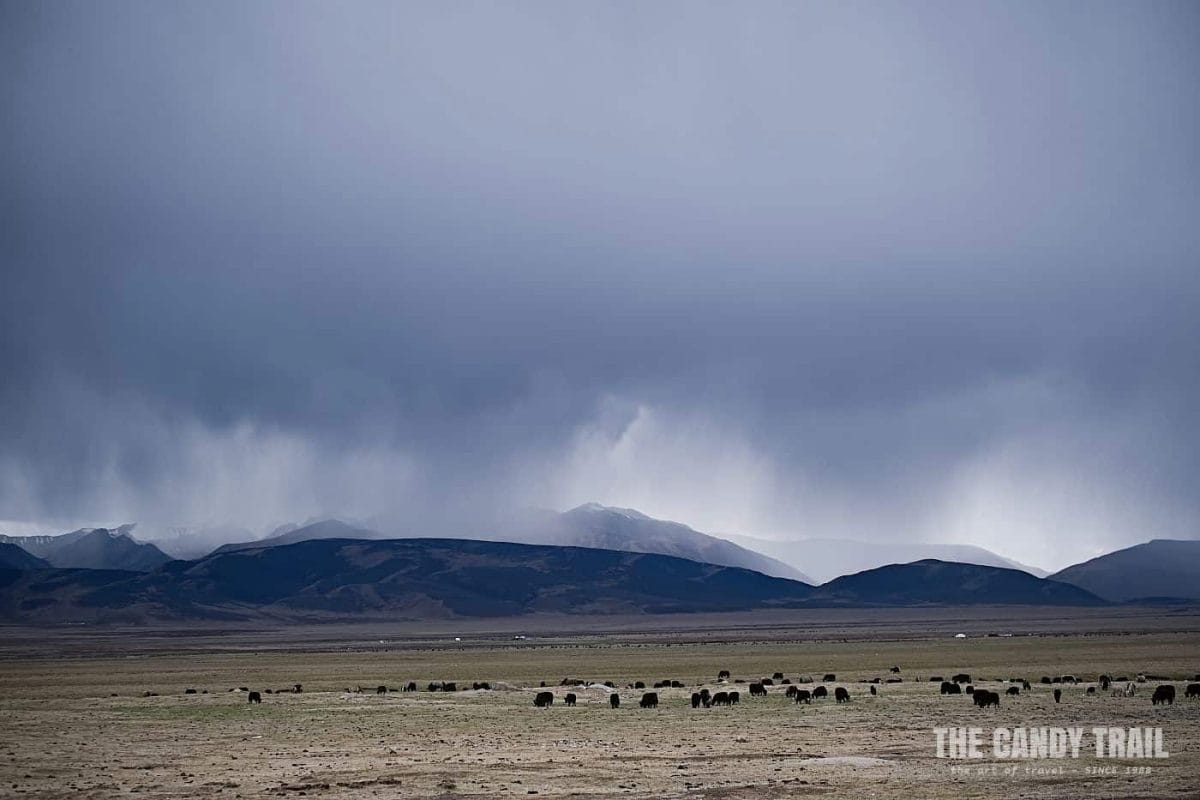 Second day was an early start – as we'd told the director we'd stay here the night – and he loved the idea of getting back early to shoot sunrise and us waking.
The crew were less keen.
Dark. Cold. Many of them still inhaling oxygen bottles.
I'd slept badly.
Fell claustrophobic in the back of the small car space; it didn't help that I'd had a bottle of red wine and was now getting issues with altitude and the constant need for a pee.
After the early filming, the director – seeing everyone exhausted – said there'd be a break until 3pm. Back to the hotel and sleep for all.
Come afternoon we were at a busy Tibetan temple, where Wei was filmed mingling and exploring.
Following this it was onto the main Tibetan monastery of Litang and filming at a viewpoint for sunset.
(BELOW, but only shows 180 degrees of this panorama, of which the small city of Litang was below, on the opposite side of this other view).

The day wound down in a festive mood at a Tibetan hotpot restaurant, the shoot successful, loads of beer was consumed into the evening – with heartfelt toasts, handshakes and intense good-byes.
The film crew were a wonderful bunch of creative young people.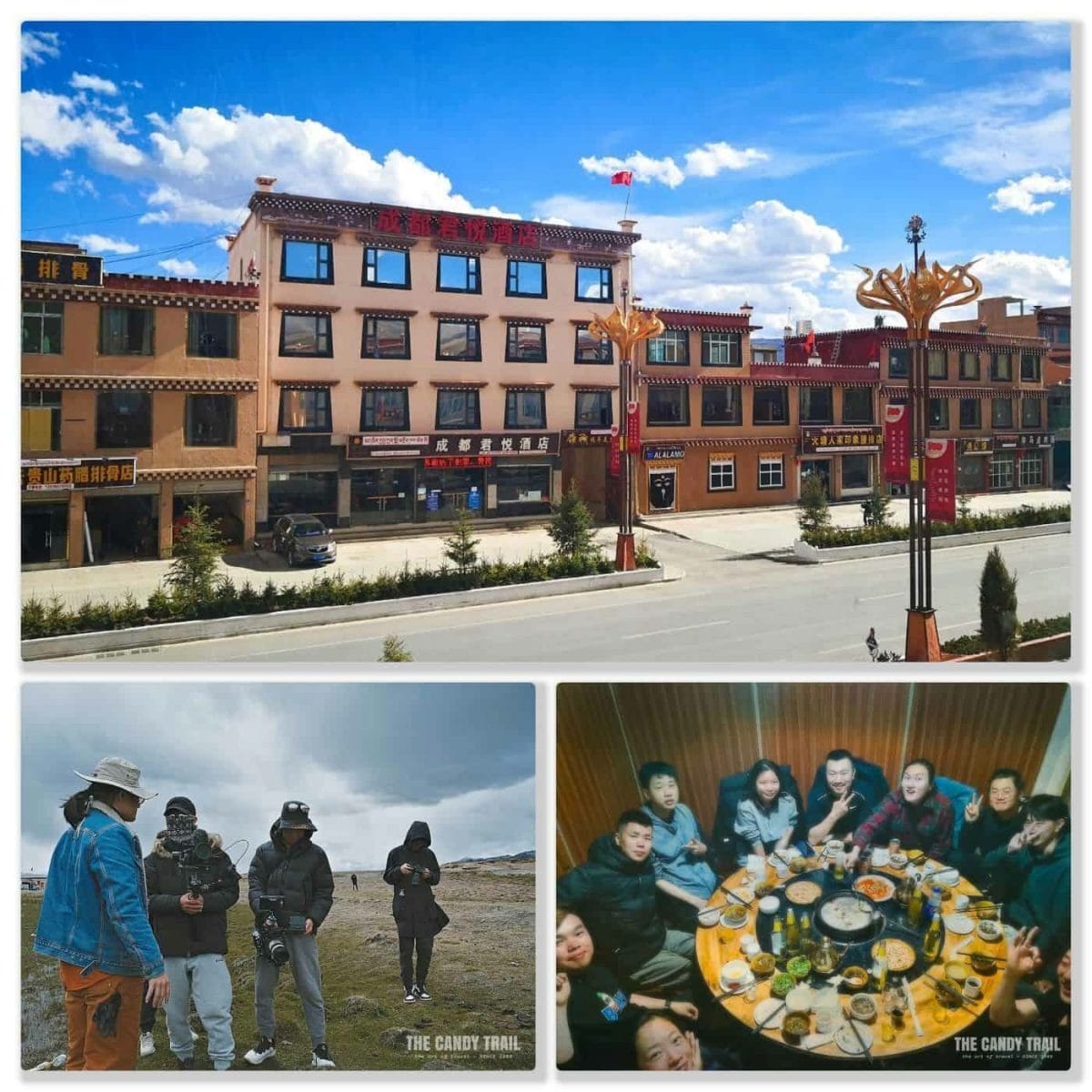 The following day, Wei and I lazed around our hotel room, too exhausted by the last few days of fast flowing highs to bother with much beyond food and sleep.
The next day is no fun.
My early morning departure is teary-eyed.
Wei takes me to the bus station, from where I begin the 10-hour journey back to Chengdu, with an additional 2 hours crossing the city by subway, returning to our van at the campsite.
Meanwhile, Wei, once over the deep-blues of our separation, begins her road trip – heading nervously but excited towards Tibet, opening herself to the new adventure of her first-ever solo journey.
And so for the next 9 weeks, she'll travel alone and wide-eyed across the desolate Tibetan Plateau.
NOTE: Tibet AKA the restricted Chinese province of TAR (Tibetan Autonomous Region) is actually only a fraction of the Tibetan cultural spread for many distinct groups reside in the neighboring – open to foreigners without restriction – provinces of Yunnan, Sichuan, Gansu, Xinjiang and Qinghai and are on, or surround the Tibetan Plateau (places which average 3000+ meters in altitude, some of which, we've visited in our van together).
---
Another Valli promotion
---
NEWSFLASH:
Wei tells me via phone that in five days (it later becomes 10 days due to a postponement) we can reunite, if we want.
Sure, why not?
This follow-up Valli car promotion will be in Hainan Island.
We'll be flown – me from Chengdu; her from Lhasa – to meet on "China's Hawaii" for a TV-Internet live-streamed show on a tropical beach.
Wei will be onstage (with some big celebs).
But my role will be behind the scenes, drinking beer. (Ahh, the benefits of not speaking Chinese.)
So another paid getaway while my wife works ?
Fine. 😁
Travels in China – 2021