The De-Militarized Zone is a 4 kilometer-wide no-man's-land of wilderness, slicing the Korean peninsula in half.
Guarding this split are landmines, surveillance cameras, watchtowers and barbed wire.
And while the DMZ must not hold any serious weaponry, enormous armies and killing machines await easily within reach. Yeah, the DMZ is perpetually the tensest border on the planet.

Getting there, I took a USO tour from Seoul.
It's the only option to travel into the JSA or the Joint Security Area at Panmunjom, inside the DMZ.
Both sides administer this area, where views of the North are clear and where the tensions are only metres away.
My visit to the DMZ occurred a week after North Korea's first-ever nuclear test, and our guide explained this 'heightened tension' to us.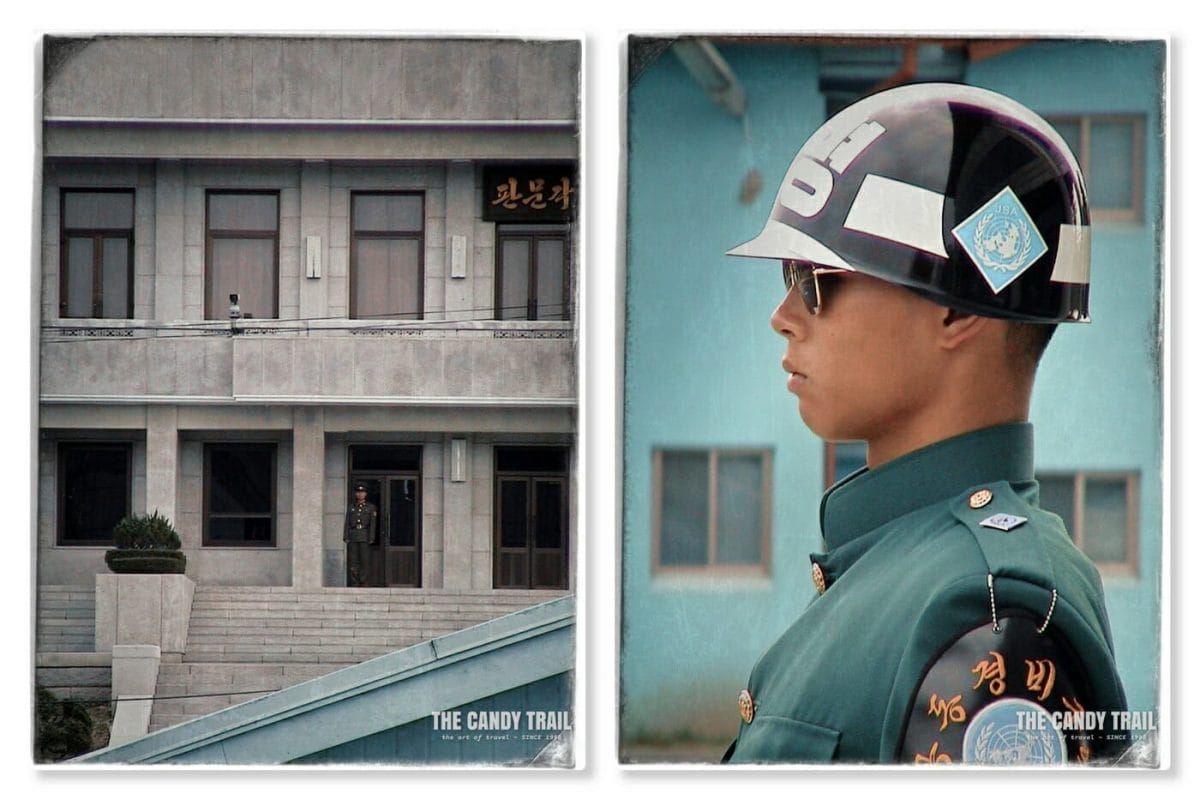 They created the DMZ after the Korean War
A ceasefire happened in 1953, yet there's never been a permanent peace agreement signed.
Over the years, many hostile acts have erupted, mostly started by the North.
Despite the ongoing aggravation, reunification of the peninsula is a stated goal of both Koreas.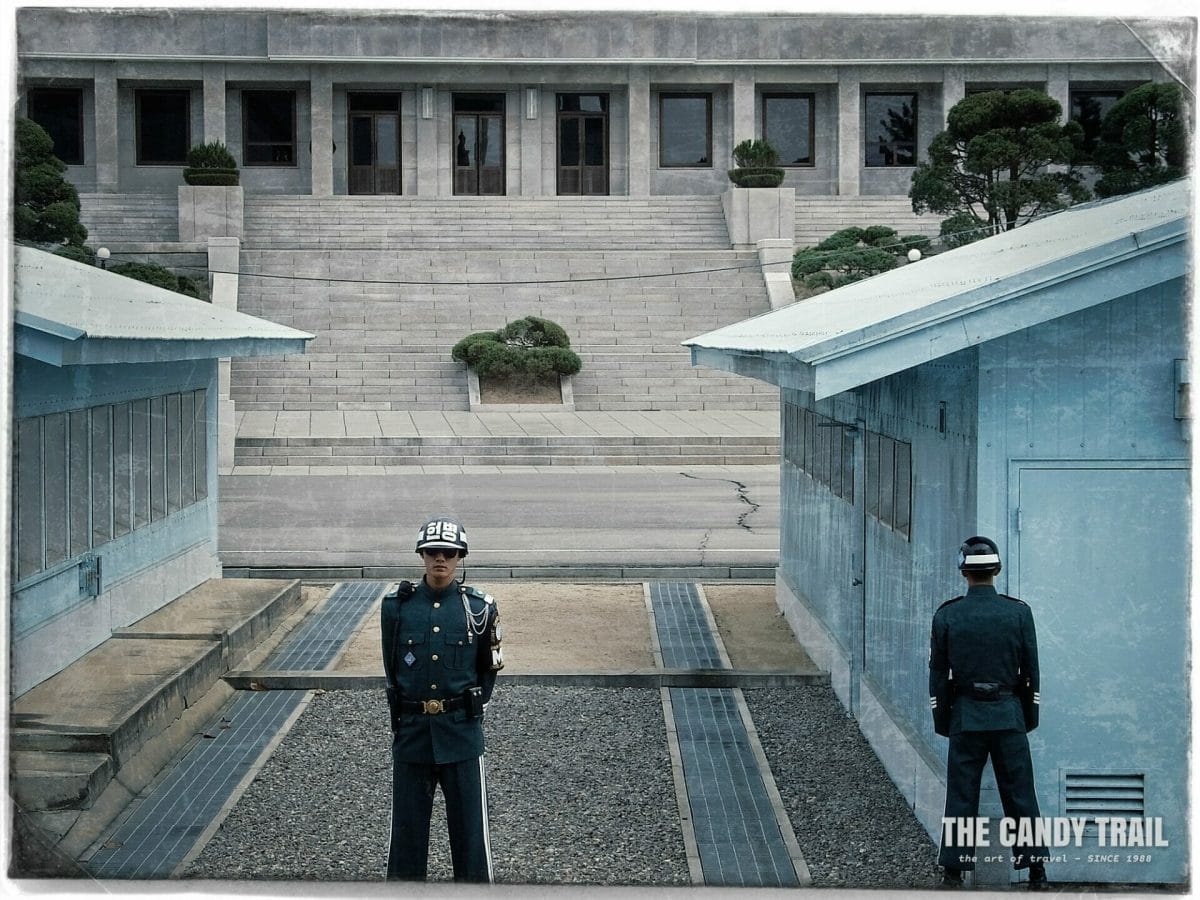 Inside the JSA Meeting Room, the US army guide told us if we sat on the official chairs, we would be "physically removed."
Likewise, if we dashed across to the North, he or the ROK guards would stop us.
So "don't embarrass yourselves," were his warning words.
But like, would anyone in this group really defect to the North?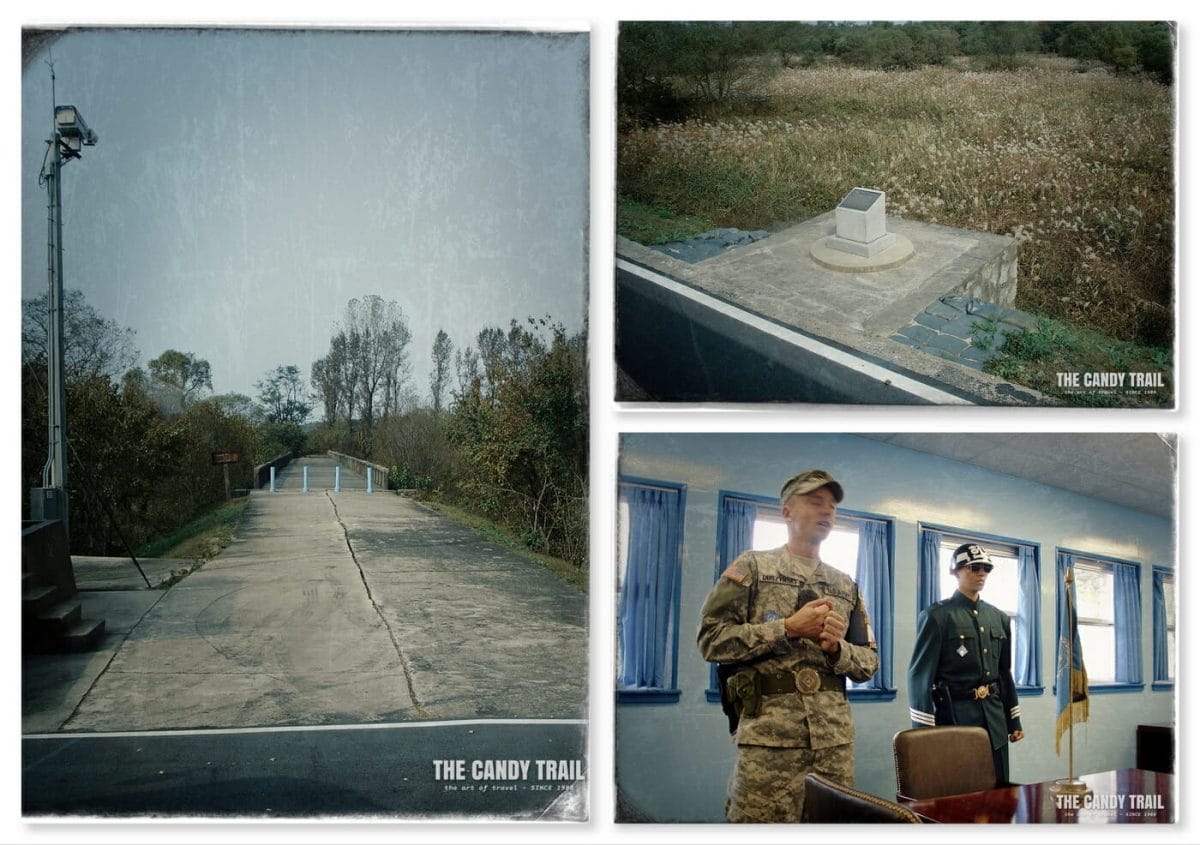 Back in the 1970s – during the Cold War – North Korea had prepared tunnels thru solid rock to attack Seoul (inspired by successful Viet-Cong tactics).
These tunnels were discovered and never used.
The North had painted the walls with coal, claiming the tunnels were for mining. But science proved this false.
According to military assessments, it's thought one tunnel could've surged 30,000 troops and artillery towards Seoul within an hour of hostilities.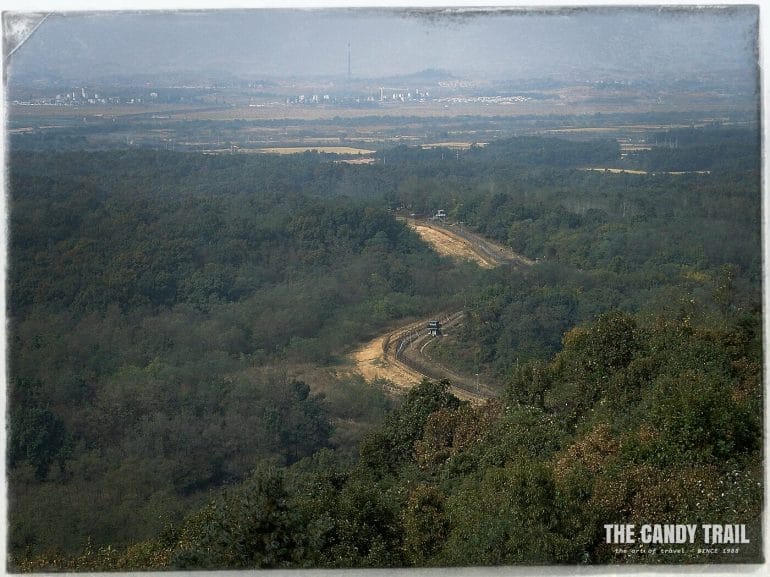 The USO Tour limits DMZ visitors to 100 per visit
However, you can't just stroll around or point your camera anywhere.
In fact, very little walking in the DMZ is allowed.
An army jeep escorted the tour buses from the JSA to other points of interest, including an observation point, where we marveled at a vista of North Korea (below).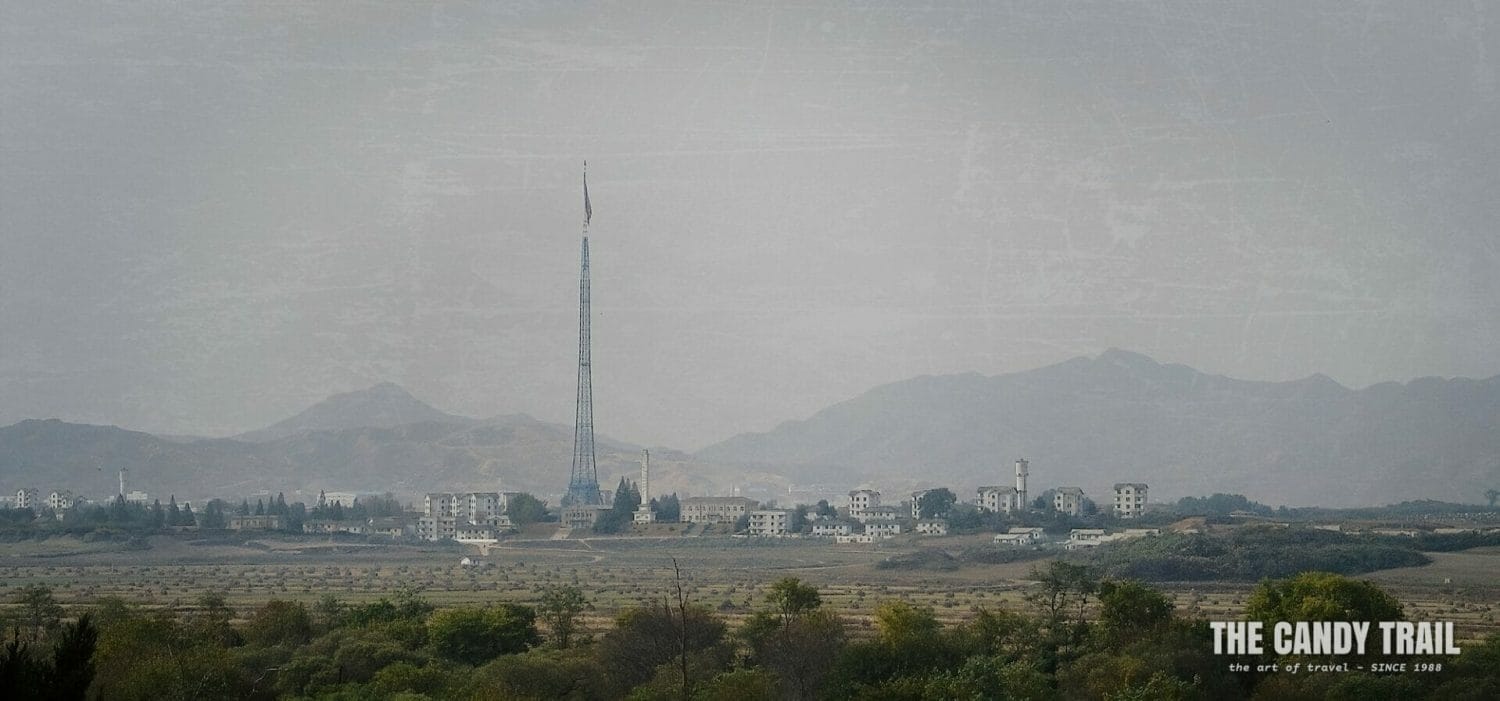 Note: the giant flag pole – 160 metres tall to out-do the South village flag-pole at 100 metres high; the North's flag – flying visible when a good wind catches it – is 30 metres long and one of the world's biggest and needs to be replaced every 3 months, because of wear and tear, according to the guide.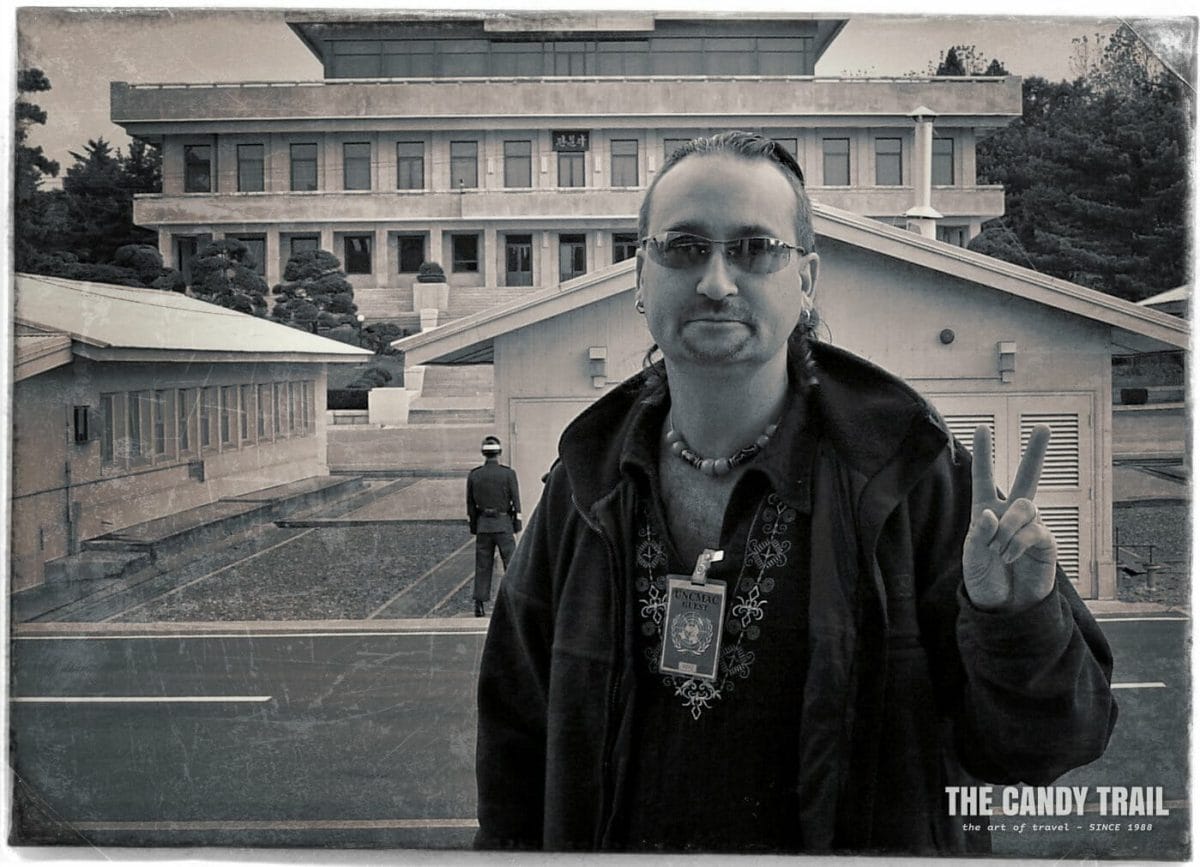 POSTSCRIPT: In 2017, I visited the DMZ from North Korea. On the roof terrace of that stern concrete building, I looked over to where I posed this shot in South Korea in 2006.