Soldier with an AK47 got in. This will not be a normal taxi ride.
My escort across Somaliland, and the driver and I, passed the desert journey listening to music and chewing qat, a mild but legal narcotic.
Our destination was an isolated site of prehistoric cave art.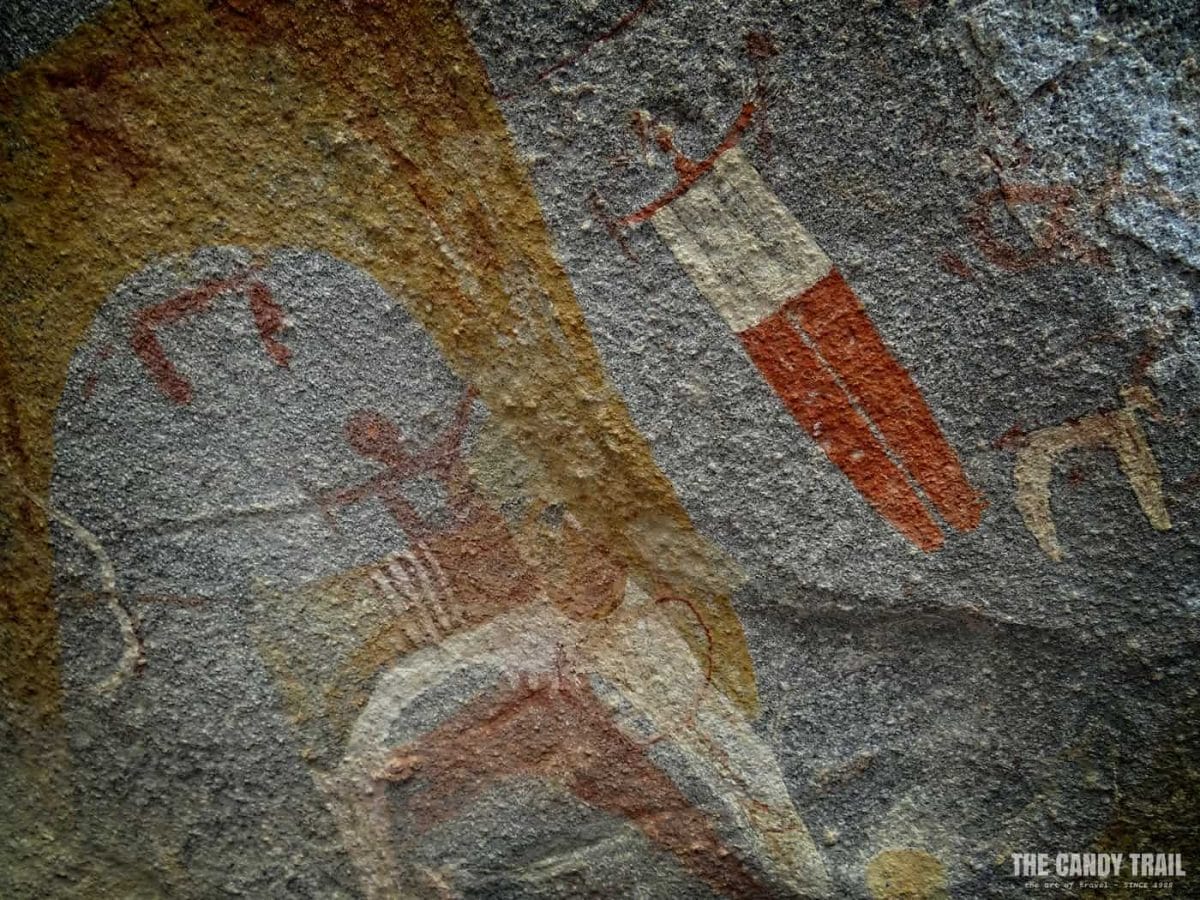 Recently discovered in 2002 by French archaeologists, Laas Geel has become one of the world's greatest prehistoric art sites.
And it's open to the public.
These cave paintings are in stunning condition – particularly since they're exposed to the air; colors remain vivid.
Yet, the rock art paintings of Laas Geel date back to the Neolithic era, some 5000 years ago.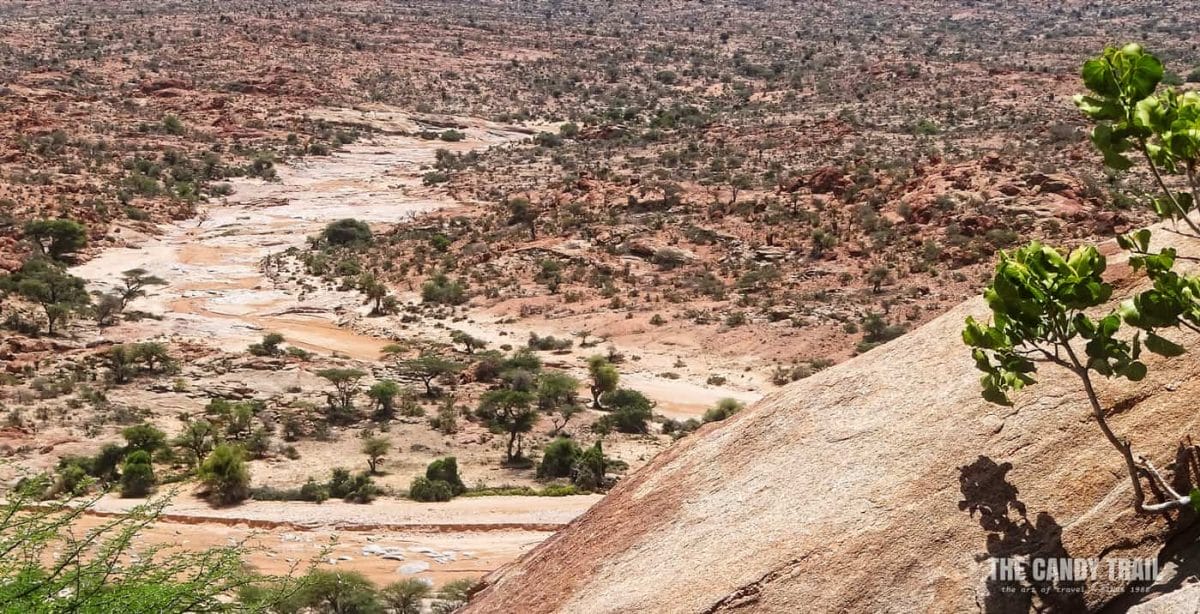 Laas Geel in Somali, means "Camels Waterhole", and is named after two rivers below the caves that once merged (but have since run dry) as desert surrounds the granite humps sheltering this ancient cave art.
There are 20 caves at Laas Geel
And the most important cave (number 1) has about 350 images across rock ceilings and walls.
A surreal mural swirl of simple figures.
Humans, goats, cows, antelopes, giraffes, dogs – painted in red, yellow, ochre and white.
Getting to the Laas Geel Cave Paintings
Laas Geel is only 50 km from Hargeisa – but you must hire a chartered taxi with an armed escort from the SPU (Special Protection Unit).
The taxi and escort costs $US 100 organized at the Oriental Hotel.
You also need a permit from the Ministry of Tourism @ $25 each person, which later you give to the guard at Laas Geel.
If you can find other travelers to share costs, then do it.
However, I went to Laas Geel alone.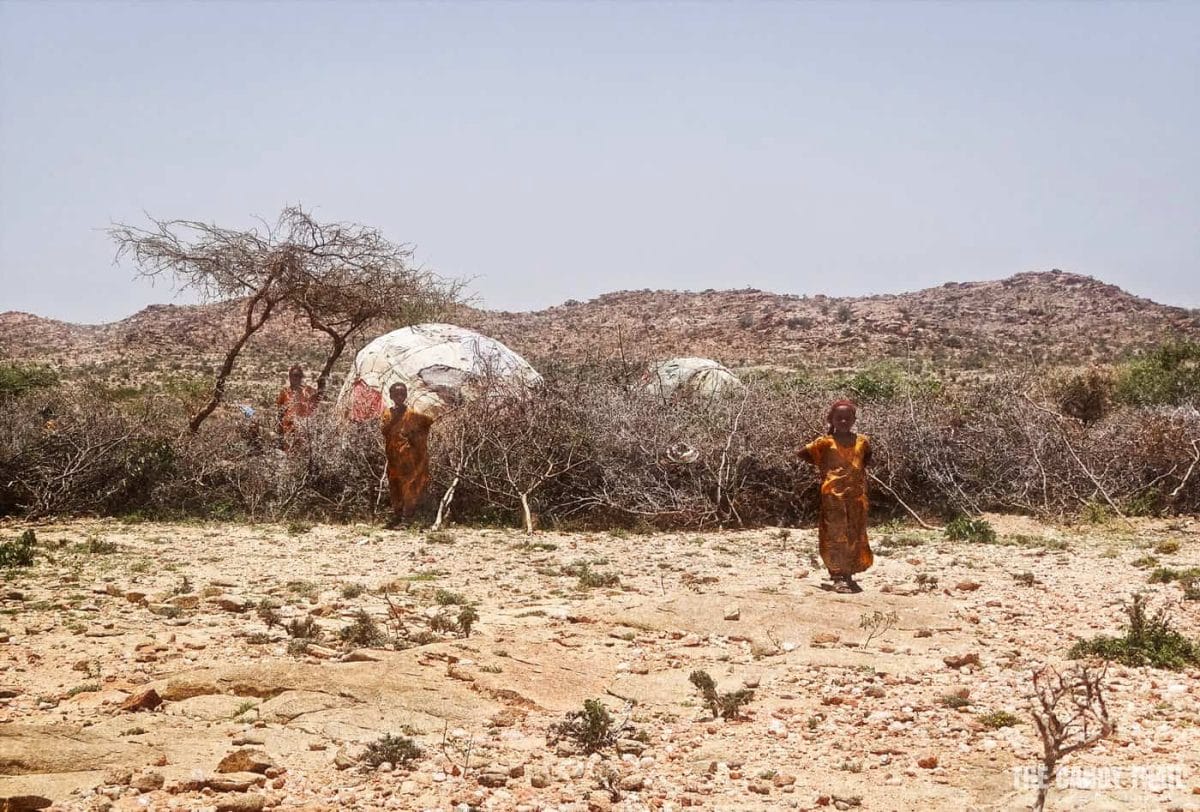 ---
Visiting Laas Geel + Traveling to Berbera
You will probably have the site to yourself.
It's amid a desert and it's hot – so take water and snacks.
If backpacking in Somaliland then do this: After Laas Geel, travel onwards to Berbera to the Red Sea coast (rather than returning to Hargeisa) to avoid doubling taxi fees, SPU costs, etc.
But remember to arrange all this beforehand as public transport is difficult to get. Or even use – and you'll get grief at checkpoints by doing so (at least I did).