Sh*t !!!
He'd locked the keys inside his truck – parked at the gate, which the guard had just unlocked, and now, it blocked access between Iran and Pakistan.
Defining the frontier, high mesh and barbed-wire ran to distant barren hills. Cramped against the fence, Afghan refugees survived in dusty, iron-sheet canvas squalor.
Earlier, the German guy had offered me a lift.
But now, with the truck stuck, it seemed I'd be taking the train to Quetta.
(Quetta is the capital of Baluchistan – the empty desert region of western Pakistan bordered by Iran in the west, Afghanistan to the north, the Arabian Sea in the south, and in the east Sindh province of central Pakistan.)
Planning for this, I'd rushed to make the once-a-week train as I didn't fancy waiting around for the next departure. Or traveling on an old infrequent bus.
So I strolled through the gate into Pakistan – around the truck, still blocking it.
Other vehicles couldn't pass.
Fortunately, there were none waiting this early in the morning.
I greeted the Pakistani police.
They were friendly, smiling, asking questions as they waited at the customs hut.
Surrounded by these Indian-looking men (in black uniforms and black berets with red insignia), I felt elated to have reached the mighty subcontinent.
Historically, I'd now entered India.
But politically 'Hindustan', or land of the Hindus, was still 1500 km east.
Yet for the last 2 days, darker-skinned people had been prevalent in Iran as I'd neared Pakistan. Back in Kerman, I'd given a woman – begging with child – 1000 rials. However, this brought another woman with child, screeching and shrieking.

And this episode got me wondering about the poverty I would encounter in India: What would I do when everyone wanted money?
Stamped into Pakistan, I wandered back into the glaring sun.
Then the money changers rushed – shouting and arguing for my attention.
"Change! Change!"
"Dollar. You 'ave dollar?"
"Iran rial, I change."
"Good rate, I give best."
"No, mister, do not listen to this man–"
"–How much, you say?"
"I give more!"
I changed the last of my Iranian rials for Pakistani rupees.
Meanwhile, the truck remained stuck in Iran, and the German still swore.
Confused Iranian guards ran round with wire and other objects that might open the
door.
The German trucker pulled at the rubber lining the window.
I offered my army knife and suggested: "Smash the window with a rock."
But he wouldn't hear of it.
Eventually, he stripped the rubber, opened the small triangular door window, then pushed his arm through and unlocked the door.
YEAH. I had a lift – again!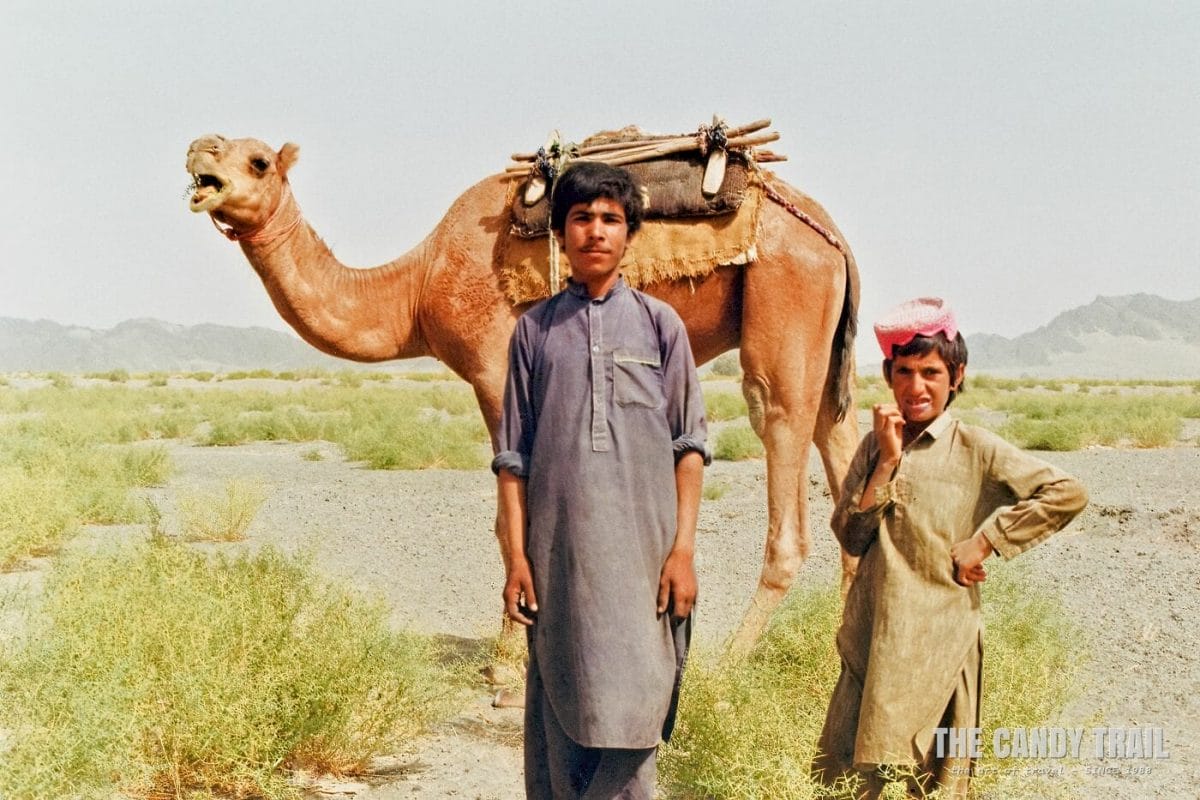 The border guards were impressed, and I suspect, relieved to have the gate clear as other vehicles had now arrived.
We drove past the immigration shack to the customs building round the corner and stopped. They inspected my pack. Then with passports checked and stamped again, the official followed us the to truck.
During the next hour, customs checked the truck's contents with the descriptions on the carnet, while scores of dust-coated cars.
(Ex-Kuwaiti like I'd seen at the Turkish / Iranian border arrived, fleeing the approaching US-Iraq conflict that would soon evict Saddam from Kuwait).
A Mercedes came strapped onto the roof of an old bus, while returning guest-workers and their families waited for clearance. Customs took a while.
Killing time by doing essential preparations for the long drive across the desert, young adults and children gathered with jerry cans and plastic bottles on the soaked soil round the water pump. One guy washed dust and grime from his arms, face and feet. Another scrubbed his sandals; others cleaned windscreens and checked tires.
A happy vibe bounced around the vehicle park. It said: We're relieved to have reached home.
I watched the activity while the customs man inspected the truck. First, everything inside the rear living-unit. One stove. Two fridges. Three spare wheels. A second engine, tool box. And then, inside the driver's cab.
This Mercedes freight truck was green and the rear cargo-hold a dark-blue, with a flower painted around a solitary porthole. A black panther – like those kitsch 1970s posters: sparkling eyes, mouth open and stalking – gazed from above the cabin roof.
The driver, Kris, said he'd painted both pictures.
He was a solid guy who waddled, rather than walk.
Being very top-heavy, like a bodybuilder who'd neglected his lower half; his muscles were obvious in his faded black singlet.
He looked like someone I'd met before: shaggy brown hair touching his lower neck, blue eyes, sharp nose, whiskery face and mustache.
Kris said the first 160 km of road was a trail of tire-grooved dust. Old tracks, piled stones and the skeletons of buses kept us on route.
Otherwise, it was the perfect place to get lost.
---
Crossing the desert of Baluchistan
---
Imagine a flat and empty landscape halved into two colors: dust-gray sand and stones – like rough sandpaper, and pale-blue sky.
Driving this desolate stretch heading east, we crossed paths with six Baluchi tribesmen going north, camels laden with blankets and sacks.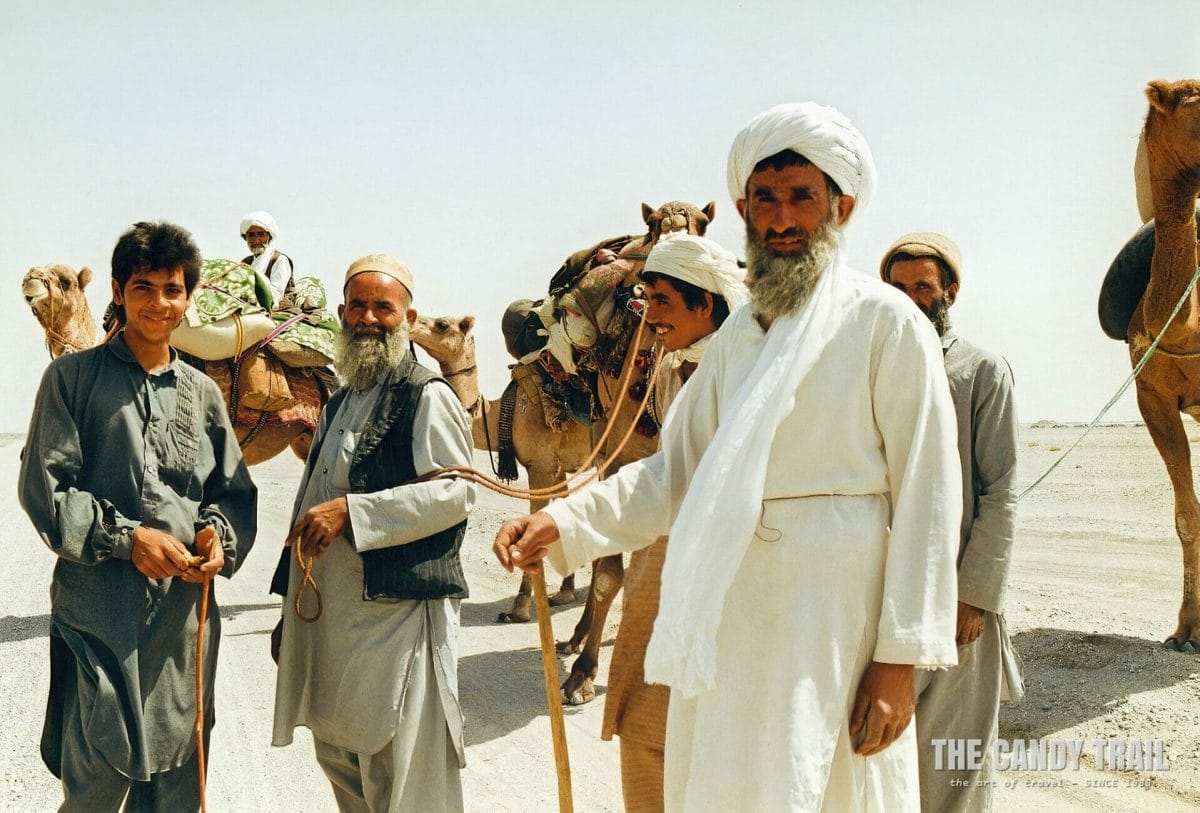 We stopped. They stopped.
The bearded leader resembled a biblical prophet, dressed in clean white robes and in a turban with flowing tail, holding a sturdy wooden staff.
We smiled, shook hands, and exchanged greetings. "Salaam Akeikum" [ 'Peace be upon you.' ]
After a snapshot or two and bewildered stares – us and them, we departed and I wondered: Where on earth they could head in such emptiness; so much space, so much sky.
Our truck sent dust whirling.
But the trail wasn't good, and more often the pace was slow – hitting ruts and holes.
Kris had driven this route before; now his fourth time.
And his last.
"I'm sick of it. Too much hassle and it is too lonely. When I saw you, I was very glad to see another foreigner – zat is why I ask if you want the ride."
I asked Kris about the hassles involved with driving from Germany to Nepal.
He replied, "The police always stop me in Iran. Zey see a European truck and zey search for a long time and are always wanting things. I am sick of zis…"
In Germany, Kris (a mechanic), and friends brought old trucks, loading them with second-hand appliances and setting them up as campers – to avoid customs restrictions.
Later, they sold the lot in Kathmandu.
But it had been Kris who'd done all the traveling.
"Once," he said, "a friend took the truck across Turkey but when he reached the Iran border, zey turn him back. So I had to fly from Germany to drive the truck for him."
"Did he have a visa?"
"Yes. He had a visa from the embassy in Germany."
"Why was he turned back then?"
"Zey gave no reason. But there was a diplomatic problem at the time between Germany and Iran, maybe zis was the reason. It did not matter anyhow, zey let me in. But I think it was because I had been to Iran before."
The day by mid-morning we'd reached the asphalt. But it was pocked with holes, weaving as the landscape became rugged.
It was a weird, startling desert scene of yellow grass leading to a range of razor mountains – serrated ridges curling the land like dragon's tails.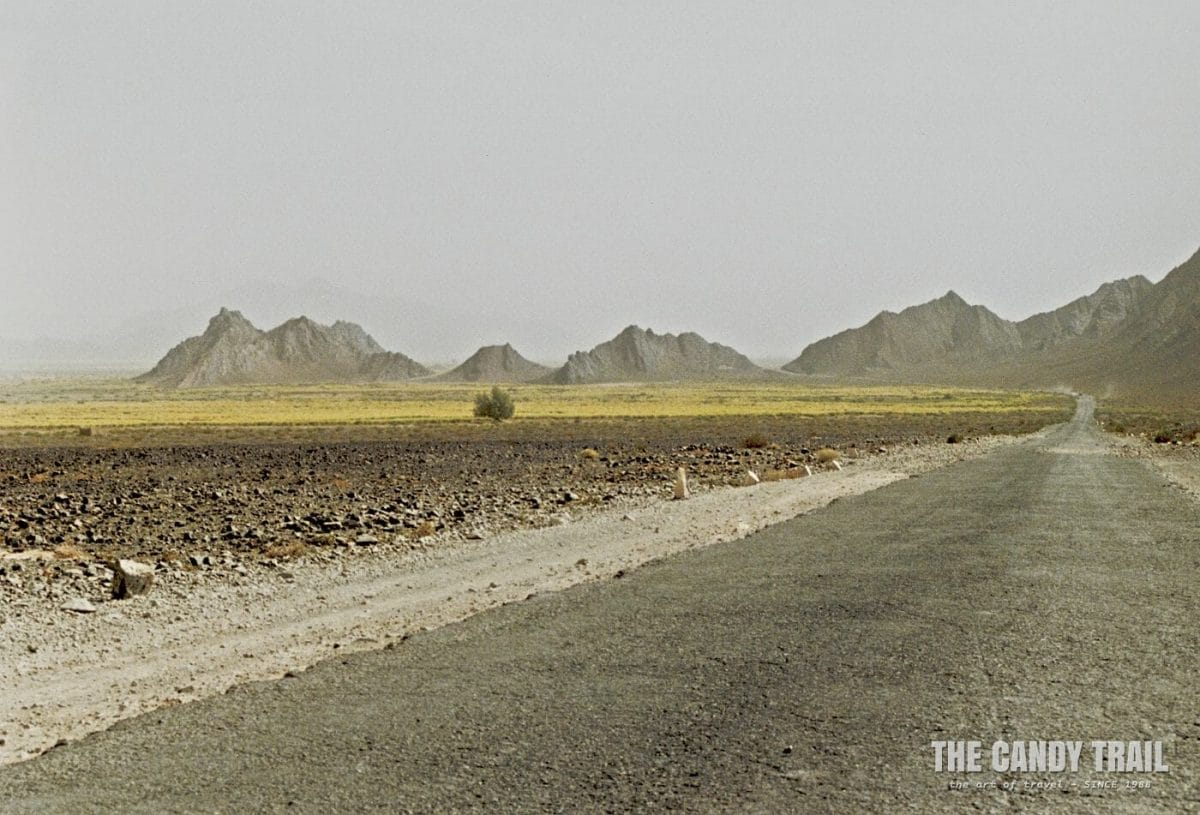 The road passed between two spikes and beyond the nearest ridges; they misted the distant peaks in haze.
Later, in a panorama of gravel and barren sand-swamped hills, we stopped alongside two camels, two boys watching over them. One about ten and the other in his early teens, both dressed in dejembas (knee-length shirt; with loose trousers).
Kris gave them some stickers, demonstrating what they were by peeling one and fastening it to the windscreen.
They invited us for chai, pointing to a mud-and-stone flat-roofed house nestled
against a hill. Kris declined.
The road was empty.
But we encountered the odd Kuwaiti car or Pakistani truck.
The trucks were gypsy caravans – cabins built of wood with ornate panels and tassels around the windscreen and doors. Bright, intensely decorated Allah praises, murals and motifs ran around the high wagon cargo holds. Fairy lights, metallic stickers and chains clung from bumpers and tail-boards.
Signs were painted on the back: "Please use horn".
And like some warning, they thundered past us – we never overtook them.
They drove fast and crazy.
After several battles, it was always us who pulled over to let them pass. We stopped either for trucks or to stretch, or to refill our water-bottles from the rear tank.
Driving into Dalbandin around dusk, we halted for chai (tea).
At the tea stall, we met a teacher.
He showed us to a basic restaurant where they served mutton curry with rice – or the reality, sticky bits with spicy soup and bones. Anyway, it seemed like a meal after two days of biscuits.
Before leaving, I went to the toilet – an outhouse, my lighter revealed where to step.
Of course, the long-drop reeked of something horrible, but at least turds didn't cover the dirt. Around the pit, hundreds of cockroaches -2 inches long – scuttled for cover as I squatted.
Before we departed Dalbandin, the teacher reappeared with a lump of charas (hashish).
After two hours, we turned off the road, careful not to park where the sand was too soft.
Without papers, Kris carefully loosened and emptied a cigarette, mixing tobacco with pinches of charas before repacking the cylinder.
Lying in sleeping bags on the truck's roof (accessible by a skylight), we smoked, gazing at a silent sky of a million stars.
But half-way through the first joint – someone shouting nearby!
Suddenly looking down at an armed soldier walking around the truck. He asked what we were doing?
"Just parked for the night."
He said, OK and bid us good night.
Not until morning did we realize – in this vastness, there stood a police post across the road.
Last night, it'd been invisible.
---
Stuck in the desert sands of Baluchistan
---
Now, despite Kris having checked the ground last night, we were now stuck in the sand.
Our rear wheels spun and dug deeper. He revved-harder, we sank further. After scooping sand from the tires and placing some wood beneath the rubber, we tried again. Jolted forward, the wooden plank snapped.
Sand swallowed the axle.
Kris told me he'd nearly lost a truck in the sand before – it seemed we were to repeat the lesson.
Fortunately, a guy from the police station offered help and within minutes, we had seven men with a spade and lengths of wood.
They dug us out.
We thanked them as Kris gave out Western cigarettes and matches (which he carried as gifts).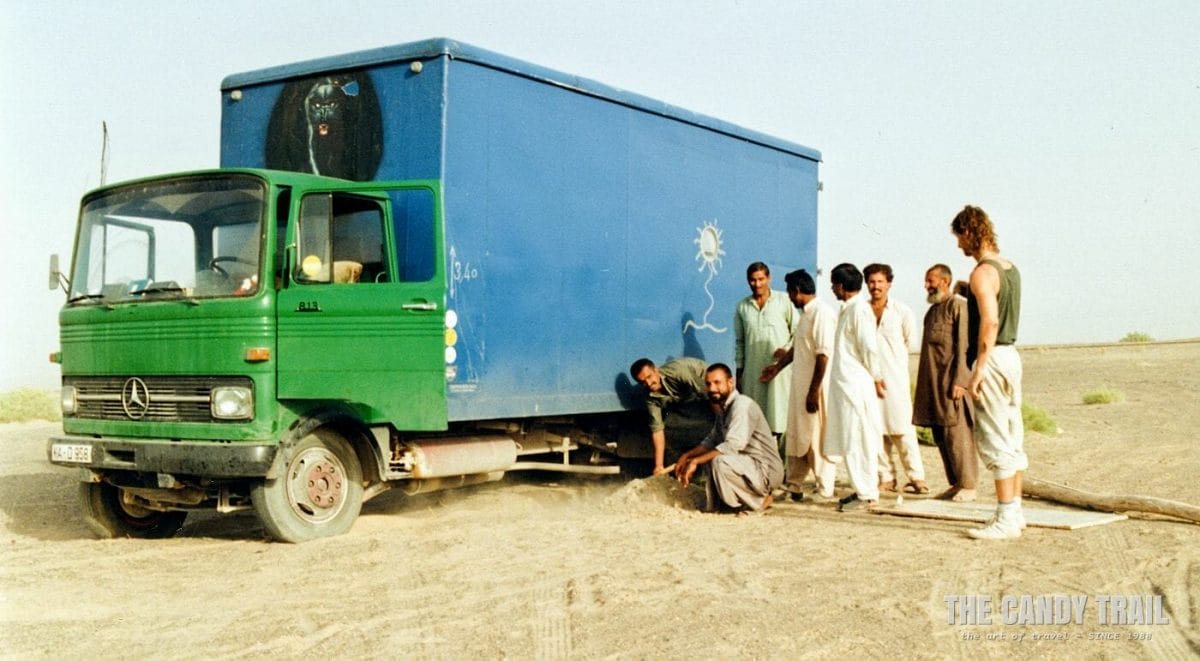 For hours, we coiled across rugged hills, climbing towards Quetta.
Mountains are devoid of trees.
Twisting around the corner, then a crashed bus.
On its side on the rocky slope, punched through the roadside stone wall; stuck.
We followed a river between cliffs of wave-thrashed rock. Further, a wide floodplain and hills.
Throughout the journey, it was desolate and barren in a wild, stunning way that howled at me: You're miles from the world you were born into! That addictive travel vibe adventure, that freedom of the road at its greatest.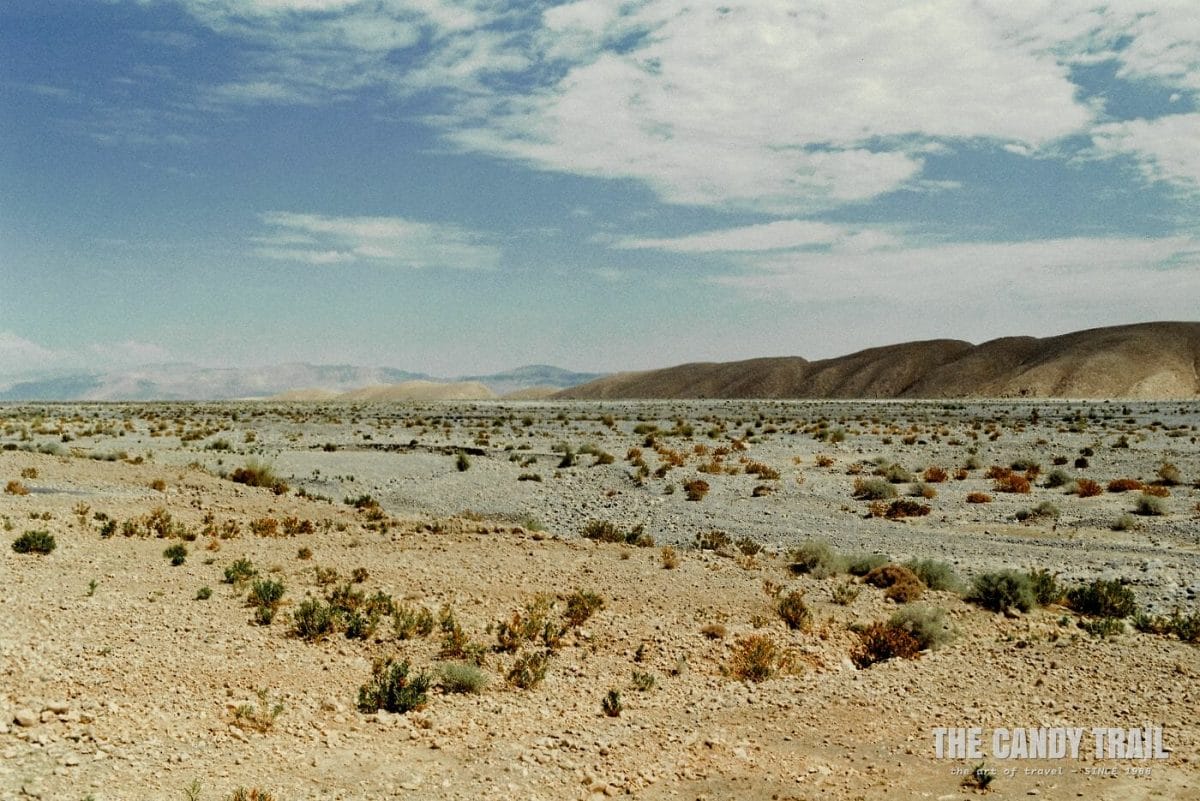 The only sights of humanity were glimpses of bridges and rail tracks, sometimes following the road, other times tunneling into cliffs.
Above the tunnels perched small stone forts – evidence of troubled times faced by the Brits in this wild corner of the empire.
---
Nuski offers a touch of civilization to the desert
---
In Nushki (I think it was this place, only one of three towns on route to Quetta), trees and lush vegetation appeared amid rundown buildings.
Nuskhi was drying out.
We'd missed a downpour. Large puddles, muddy water around houses, shops and cigarette stalls swamped the roadside, causing donkey-carts to circle round.
When we stopped at a tea stall, a crowd of 40 or 50 males gathered to look at us and to admire the truck.
After traveling 620 km – in 3 days – across Baluchistan, we entered Quetta in the afternoon.
The main street was chaotic with cars, trucks, buses, swerving bicycles, coughing rickshaws; but I was appreciating a bustling city again.
And like a photo that I'd already pictured, like a scene I'd already visualized, after traveling all the way overland from London, now my goal – India, finally seemed within reach.
Travels in Pakistan – 1990