Mountains and solitude.
If ever you'd scream: "This is the highlight of my trip!"
Then this is it.
I drew this conclusion from the fact I was amid spectacular nature—alone.
And that, if there'd been crowds of tourists, the vibe wouldn't have been so pleasing.
VIDEO (2 minutes): Get inspired – Hiking from Valbona to Theth
---
Another wow factor was the genuine friendliness and curiosity of locals (which was true of Albania).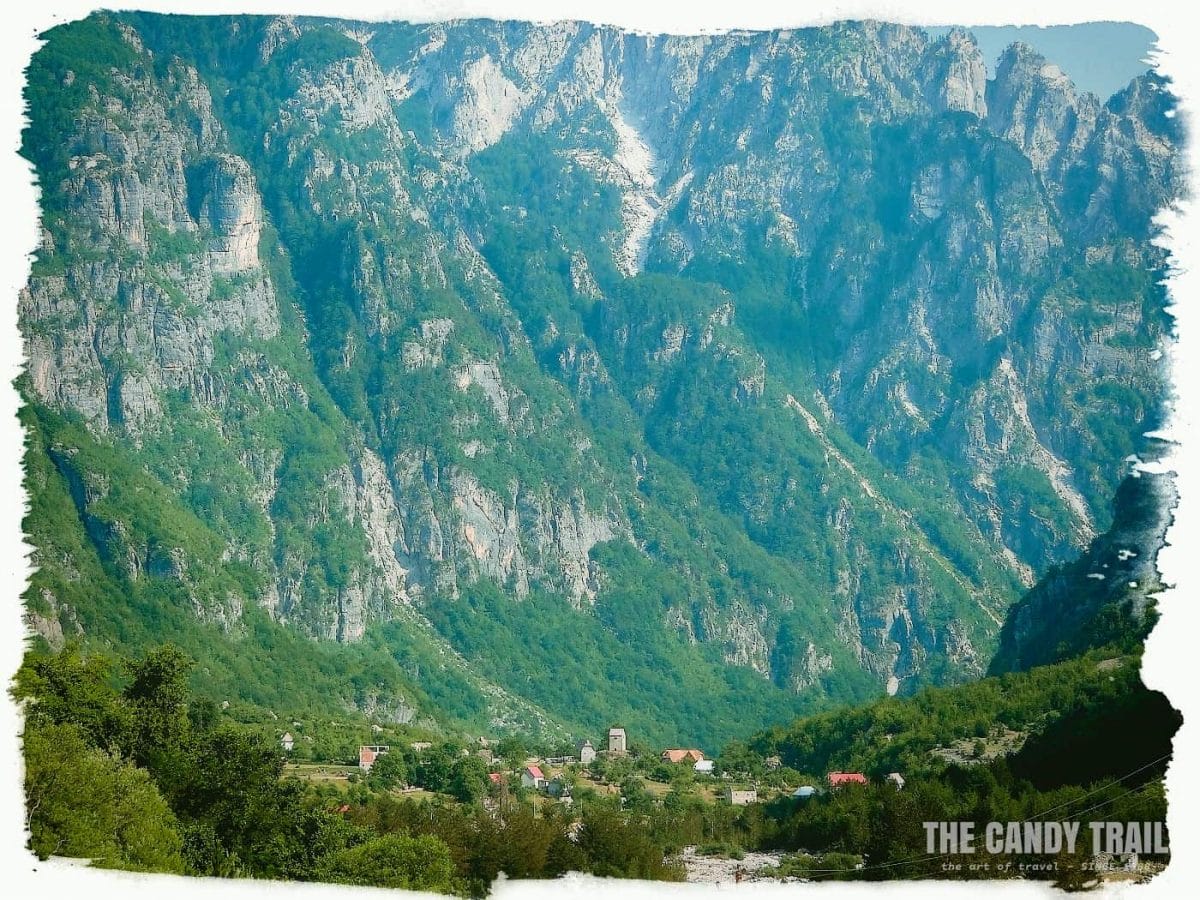 So unaffected by mass tourism, for now.
Was hard to believe that this was Europe in the 21st century, more like a remoter part of the world.
---
Valbona to Theth – Hiking Advice
CONTENTS:
Getting to Valbona from Shkodra, via Lake Koman
---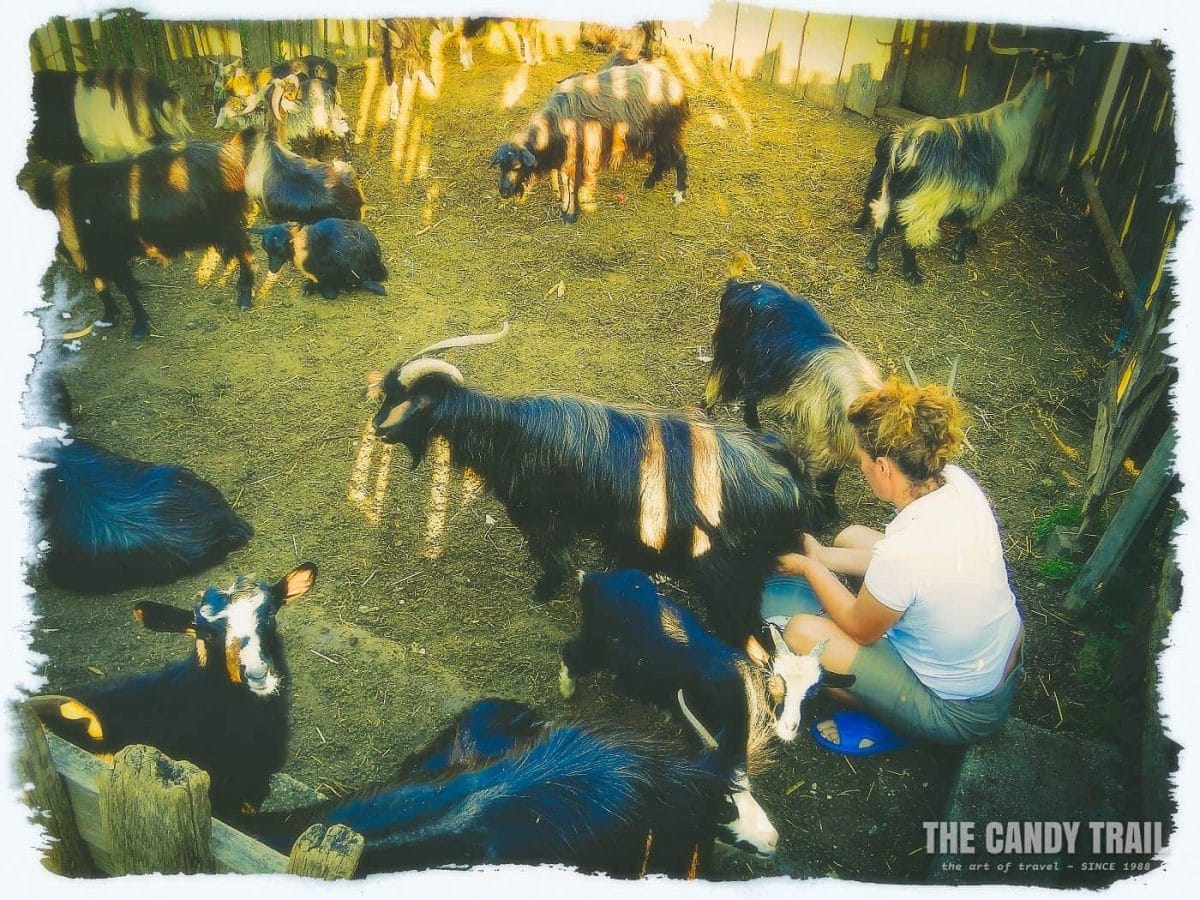 First the obvious: Leave unnecessary stuff like laptop and extra clothes in a locked backpack at a guesthouse in Shkodra (since you'll return there).
Only take hiking essentials for this short circuit (of a few days).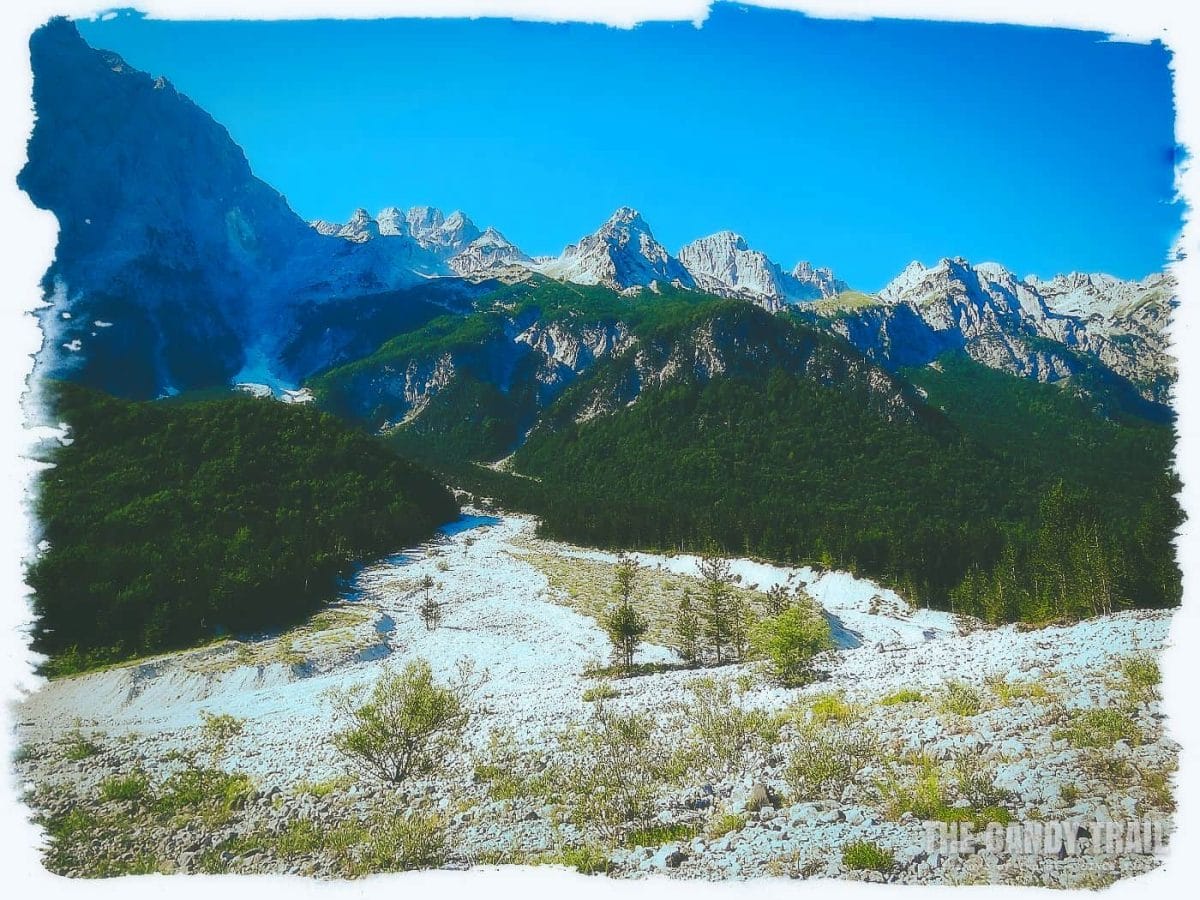 ---
HOW TO GET to Valbona from Shkodra
---
> Shkodra – Lake Koman – Valbona – Theth – Shkodra
This circuit takes a minimum of 3 days.
A few more would be better, if you want to do other hikes or hang-out.

From Shkodra, there's a daily mini-bus from the central bus stop at 7am to Lake Koman.
However, for a few more euros and total convenience, take the Mario Moller tour (1) which includes all transport @ 15 euros. They'll pick you up at your accommodation around 9 AM and drop you ready for the 12.00 boat departure.
Crossing Lake Koman by public ferry takes 2 hours. (1)
The scenery resembles the fjord landscape of southern Chile – so enjoy cold beer and snacks on deck.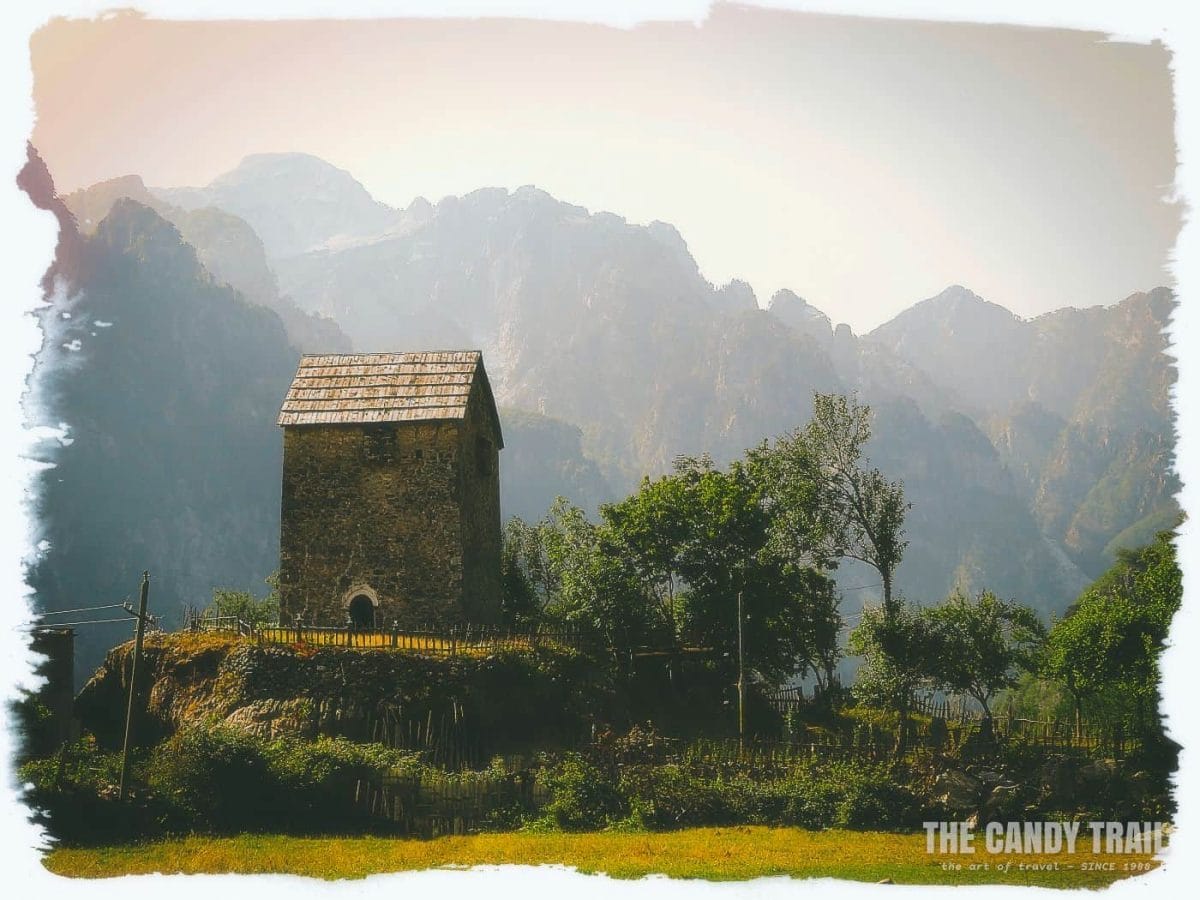 On the other side of Lake Koman, vehicles * await passengers for Valbona, dropping you at your accommodation (useful, since guesthouses are spread over 9 km of valley).
This entire journey will see you arrive late afternoon in Valbona.
You can also start this mountainous circuit from Theth. But the only way to travel between Valbona and Theth is via the hiking trail.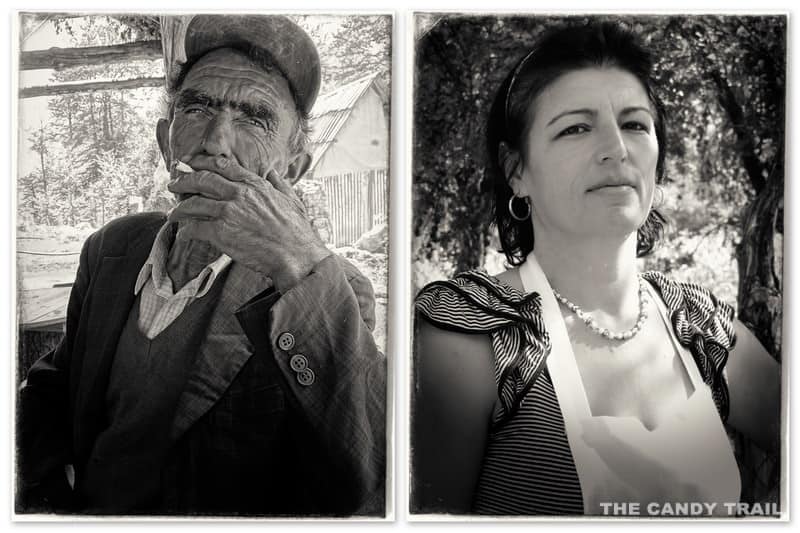 Leaving Theth, you're restricted to one mini-bus leaving at 13:00.
But if you ask around, you might get a 4WD shared-taxi with locals, leaving around 10:00-11:00.
This taxi option is faster than the 4 hour mini-bus trip to Shkodra.
---
WHERE TO STAY in Valbona and Theth
---
VALBONA: Up to you.
Depends on your budget: 10 – 50+ euros for a room or camping.
I stayed at Jezerca for 10 euros.
It's a good backpacker option. Decent rooms and bathrooms in a traditional Albanian country house. They have a decent restaurant with fresh fish caught from the stream – as you watch.
AND it's only 3 km to the Theth hike trailhead.
Jezerca mobile: +355 673093406
THETH: I can't recall the name of my guesthouse. (But you could ask for the woman in the photo above. It was clean and homely, located beside the river in central Theth, and cost 20 euros a room. Meals are extra.)
Theth is more developed than Valbona and has more accommodation choices.
In both villages, there are no proper shops.
But now – update from a friend who did this in 2021, there are now kiosks and cafes in Theth.); yet, could be best to bring your favorite items from Shkodra (like a bottle of something alcoholic).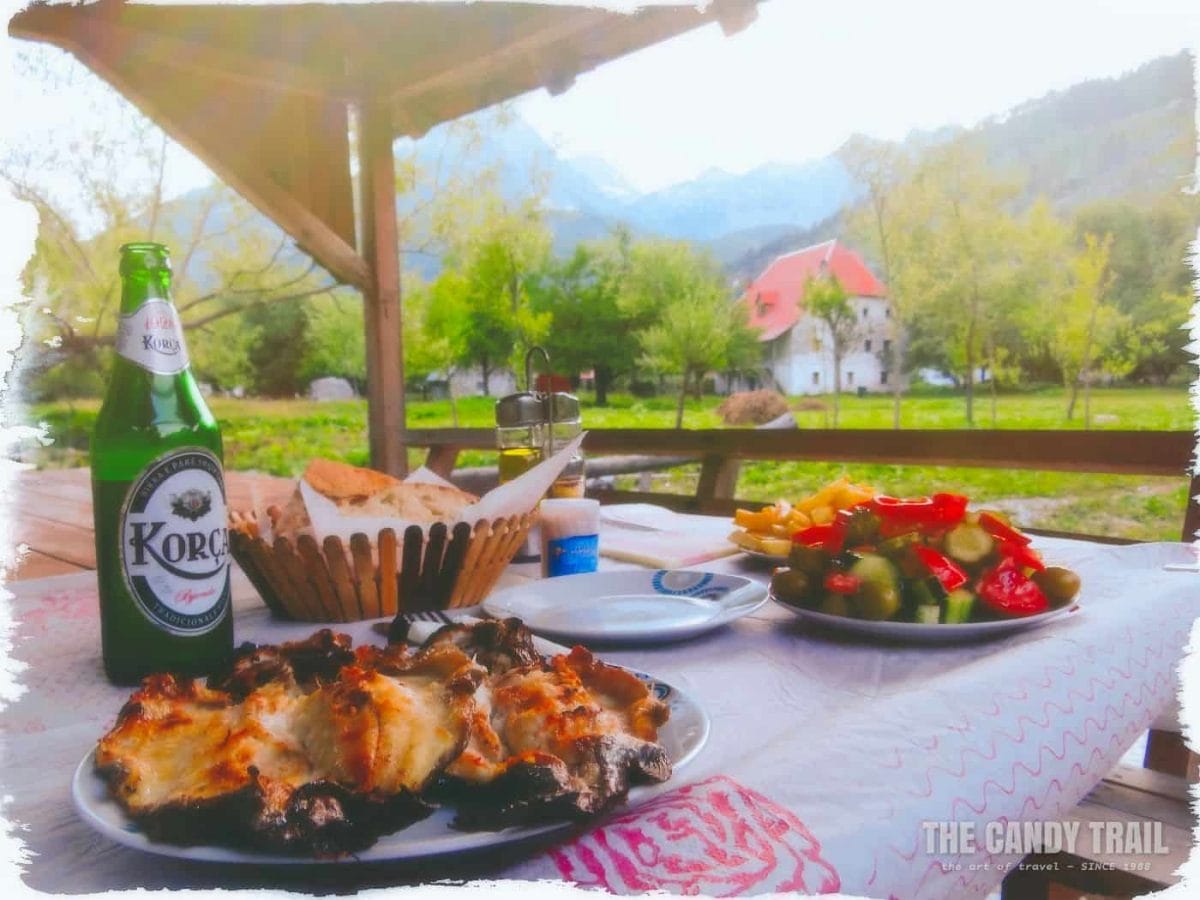 ---
Difficulty of the Valbona to Theth hike
---
The hiking trail distance is about 17 km from Valbona village to Theth (from my guesthouse).
Most people say the hike takes 6-7 hours.
However, it's a NOT a difficult hike.
Rather easy, actually.
But the hike is tiring – if your pack is heavy (I carried water and snacks and a bottle of red wine).
So, if you're prone to being a couch potato … slow down.
Remember, it's not a race. It's about the scenery.
I hiked slower.
And enjoyed picnics amid tranquil panoramas on a fine summer's day.
And yeah, plenty of photo opportunities.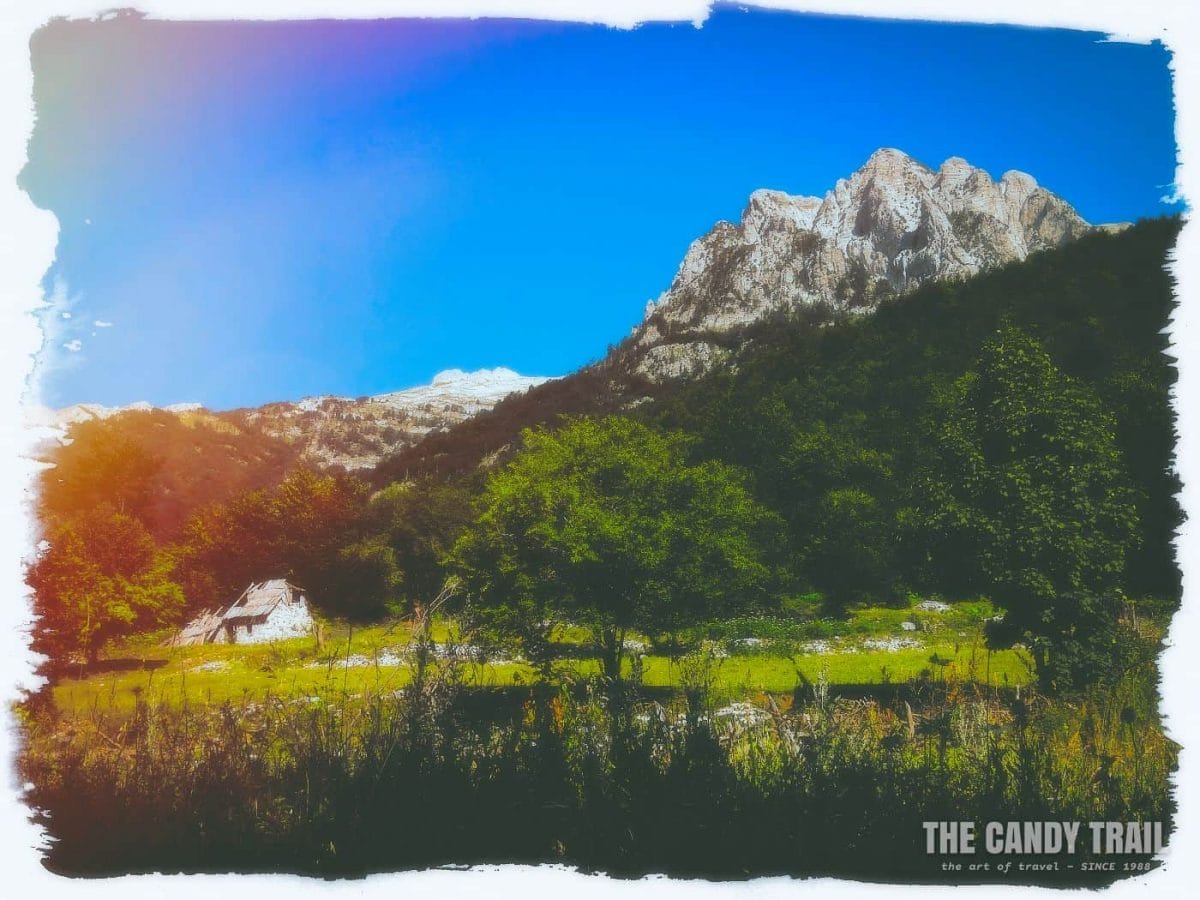 ---
Hiking the Valbona to Theth route – and much of Albania's Accursed Mountains – is NOT possible during winter.
---
Summer is hot, so set off early.
Yet, much of the hike is amid shaded forest.
Especially so after the Valbona Pass, at 1812 meters, when going down towards Theth.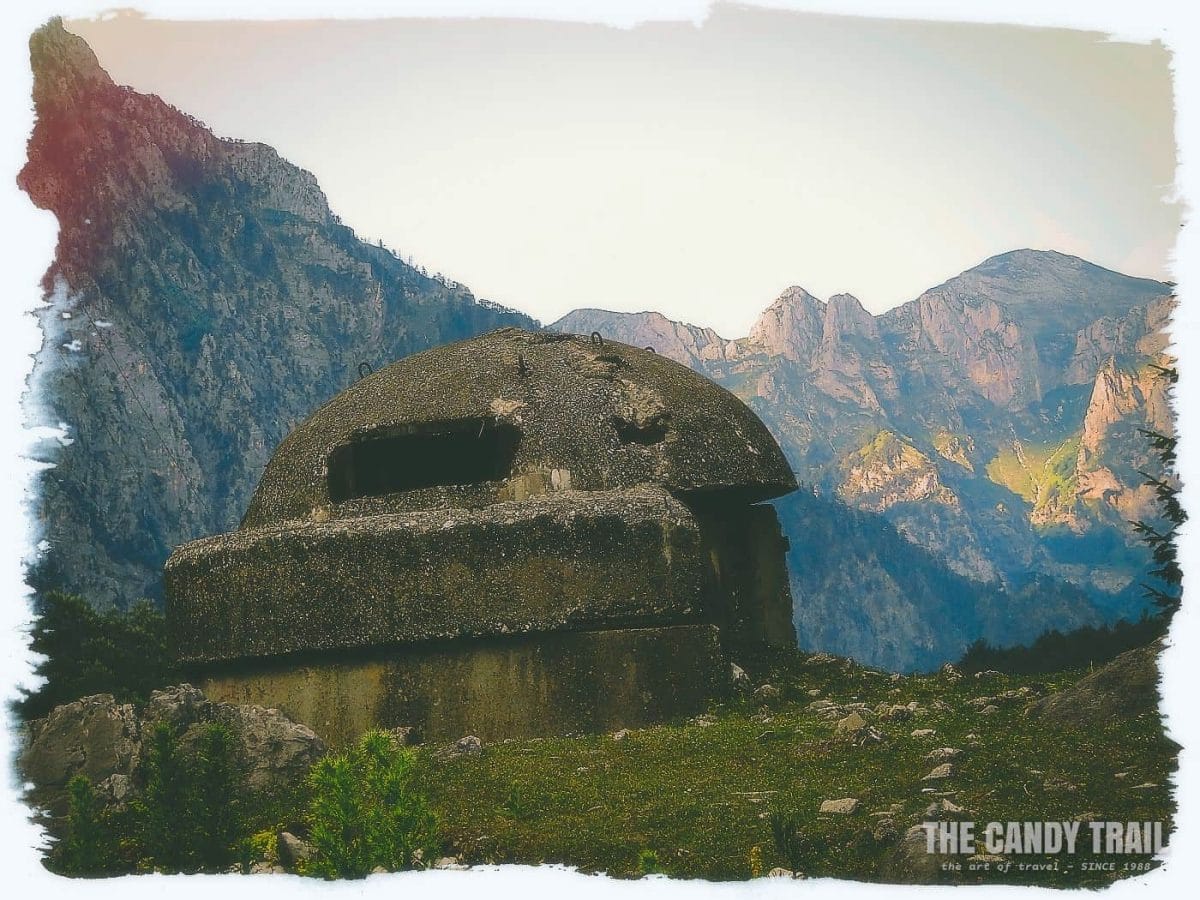 You can get water easily on route. I drank water straight from streams, without purification.
Take at least 1.5 liters to start and top up when you can.
---
Directions for the Valbona to Theth hiking trail
---
Red and white stripes on rocks and trees mark the trail.
BUT not so much when leaving from Valbona.
From Valbona, walk up the asphalt road to the forest trail-head and follow the wide river and head to the village of Ragam. From there, the trail markings get better as you follow a decent track up to the Valbona mountain pass and then it's all downhill following an obvious forest path to the deep valley where you'll cross a river and see Theth.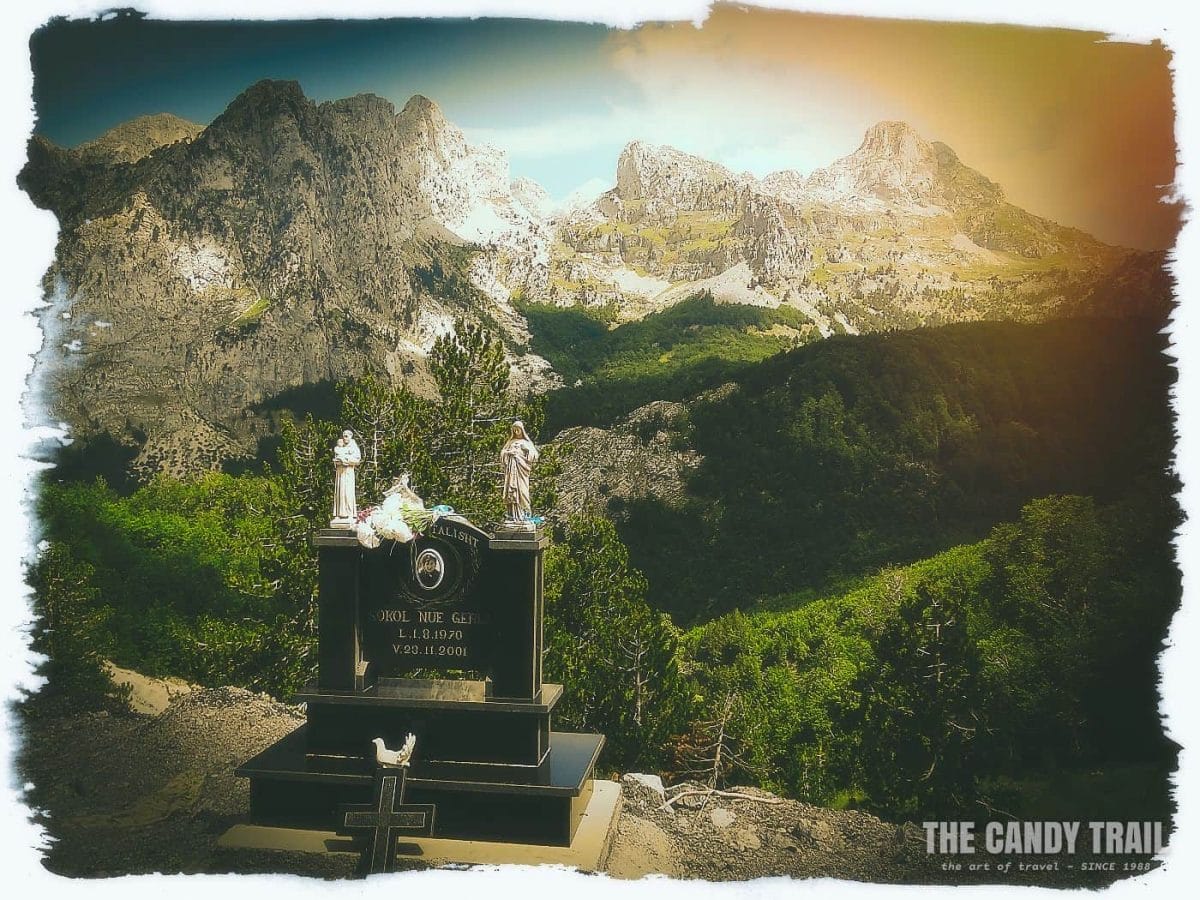 ---
WHAT TO TAKE on the hike
---
Wear boots.
I wore hiking sandals – but not the best, especially loose scree.
Obviously a backpack, or day-pack with camera, sunblock, a few snacks and survival essentials.
Even on a hot summer's day, carry a light fleece and a waterproof jacket, for unexpected downpours and sudden chill.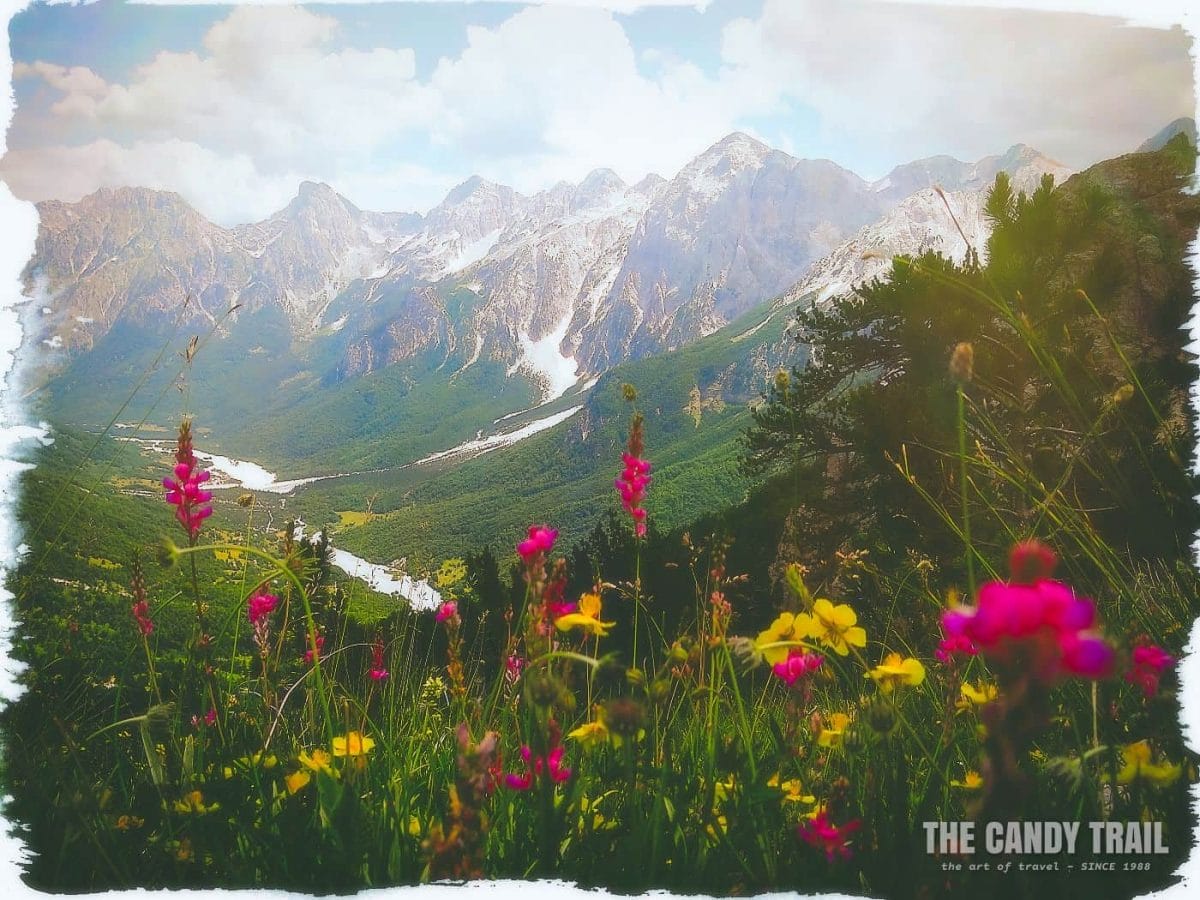 Travels in Albania – 2015 (updated 2022)