I assume you know the story? The one where God gives Moses THE RULES on a mountain.
That those 10 commandments paved the way for Judaism, Christianity, and Islam.
Well, apparently, it all happened here – over 3000 years ago.
And, the local Arabic name for Mount Sinai is Gebel Musa, which means "Mount of Moses".

In 330 AD, a chapel was built around Moses' burning bush below Mount Sinai.
Later Roman emperor Justinian added the monastery fortifications in the 6th century and built the basilica and further additions across the ages forms today's Monastery of Saint Katherine.

---
Travel Advice for Hiking Mount Sinai
---
GETTING THERE: Most people—tourists and pilgrims—rush to Mount Sinai on a group tour (from Dahab or Sharm el-Sheikh). And the late-night hike to watch sunrise is very popular.
But to my mind, it's nasty. Noisy. Impersonal. Hundreds of people!
They sleep a few hours on mattresses rented by Bedouin, watch the red glow, then scuttle down for Saint Katherine's Monastery (morning-only opening from 9 am to 12 noon; closed Sundays) and then bus madly elsewhere.
Much fewer people go up during the afternoon – you can watch sunset, alone.

I went against the grain.
I climbed Mount Sinai in the morning – in the heat, straight up the steep rock-hewn Steps of Repentance. Not easy.
But there's shade—rocky crags and caves—to stop, rest, get your breath back and gape at the stupendous views.
So, take it gently.
---
Hiking Mount Sinai Takes About 3 hours
---
Rest often. Enjoy the views and TOTAL TRANQUILITY.
I was alone all day.
If you want to reach the summit of Mount Sinai easier—take the gentler, meandering Camel Trail up to the meeting point at Elijah's Basin (a spring pond) where the steep direct path meets up. Then the climb is only the final 750 steps to the summit.
---
Travel essentials for the Mount Sinai hike
---
TAKE WATER and snacks (but you can buy from Bedouin kiosks towards to the top, at inflated prices. Likewise, they sell coffee, tea, instant noodles, chocolate bars and other drinks).
TAKE a sunhat. USE sunblock.
Take warm clothes, flashlight. If staying overnight, take a sleeping bag (or rent a blanket from a Bedouin).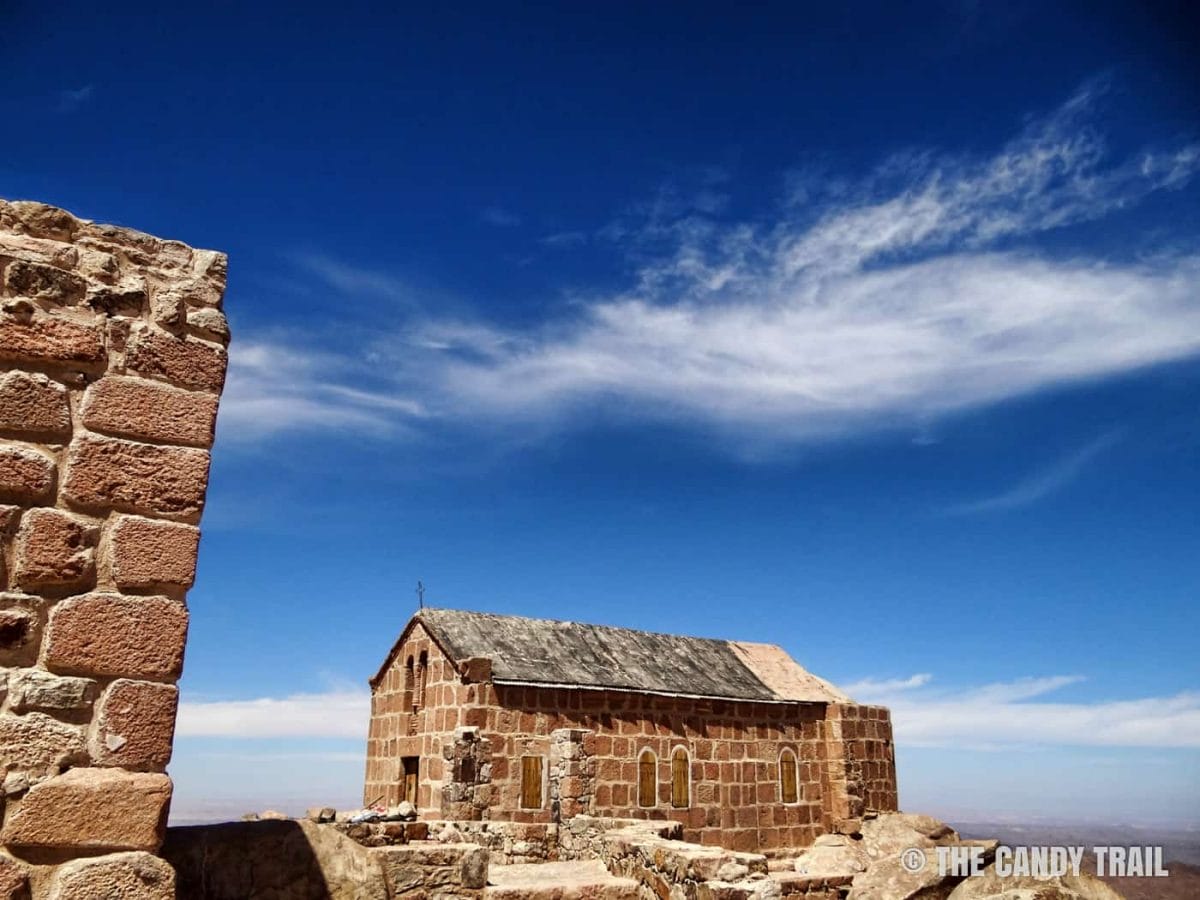 ---
GUIDES are mandatory for climbing Mount Sinai
---
But I didn't use one.
Before you enter the monastery, police will assign guides @ a cost of $20. (Groups have this priced into their tours—but travelers will face this fee, even if you're solo. I expected this.)
However, a Bedouin I'd met the day before saw me walking there—a walk of 3.5 km from Katreen to the monastery. So he gave me a lift. Not only there. But, right thru the checkpoint, and so I avoided this aspect of the Mount Sinai hike. Simply, I wanted to be alone. And I was. (Basically, this guide thing may be for safety, but mostly it's providing employment.)
---
The return hike from Mount Sinai to Katreen
---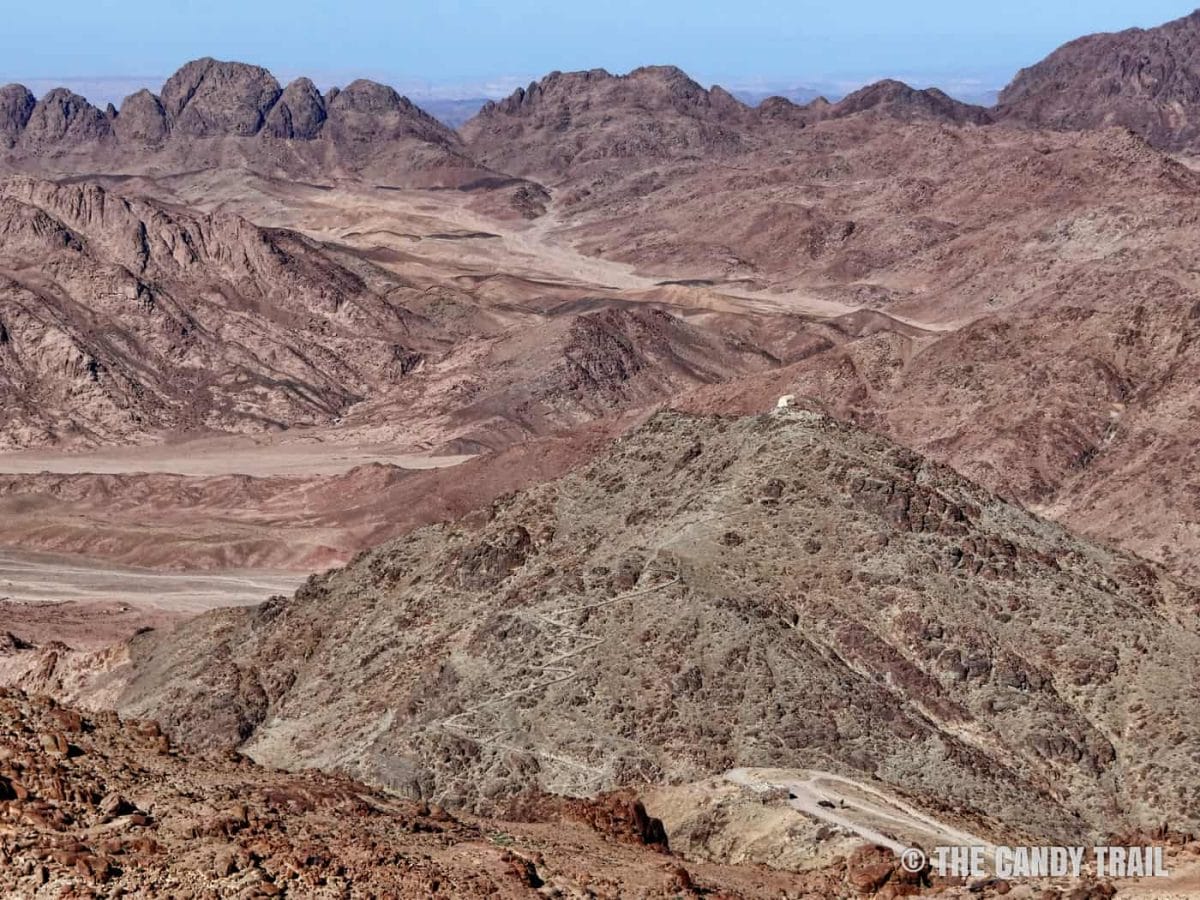 RATHER THAN BACK-TRACK
I went up the direct Steps of Repentance.
BUT came back, just part-way down the camel trail, then turn right and follow a path behind Mount Sinai to get to a route called Wadi 40.
From there, it was a choice of left of right—both to the town of Katreen. Technically, you must also do this route with a guide (and at double the price).
---
Options in Katreen: hotels + transport
---
STAYING IN AL MILGA / KATREEN: there's a range of accommodation from desert camps to hotels. I stayed at Shiek Moussa's Al Milga Bedouin Camp. Decent rooms and facilities at low cost. Fox Camp is cheaper and more basic, but closer to the monastery. And there are others. Take your pick.

TRANSPORT FROM AL MIGLA / KATREEN: the Bedouin Bus to Dahab on Tuesday + Friday @ 11 am; on Wednesday + Sunday to Nuweiba @ 8 am. ALSO there's one daily East Delta bus to Cairo via Suez, departing at 6 am (But the police often stop travelers using this route because of insecurity; I recently talked my way thru the checkpoint).
---
Final Advice for the Mount Sinai Climb
---
I went in early April.
It was a fine, clear, calm day (hot in the morning).
At 2285 meters, however, the weather is not always kind and so if you want to hang-out at the peak -take warm layers, woollen beanie, windbreaker, etc.
ENJOY!
Travels in Egypt – 2013