Buzzing across the Mekong River a chorus of put-put boat engines.
I count nearly 100 saipans dotting the wide waters, puffing smoke as engines struggle upriver, while other boats sit upon the river, people pulling-in fishing nets.
According to locals, it's the best season to fish.
---
VIDEO: Cham fishing village on the Mekong River
From a riverside balcony on the 3rd-floor of my guesthouse, I watch this addictive river scene in the shade of a sweltering day.
Drinking beer.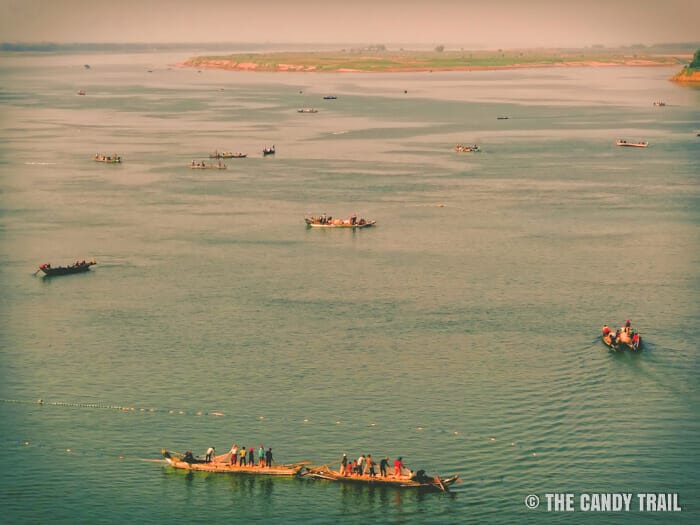 Motoring boats. Nets pulled in. Boats returning to the floating fishing village on the far side of the Mekong.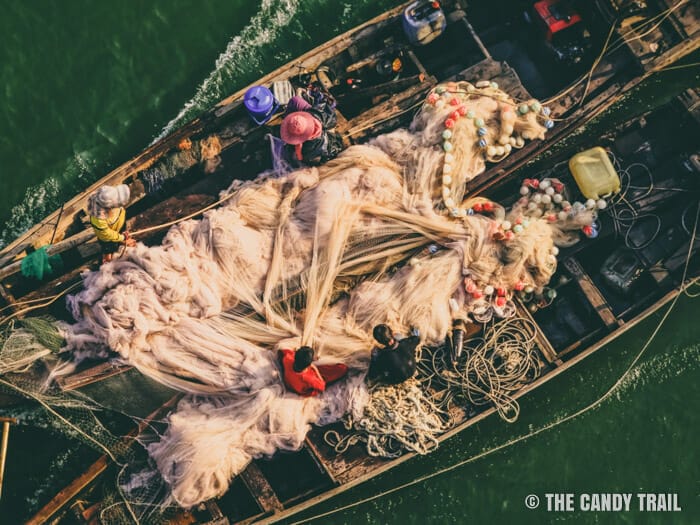 Then again, the spluttering boats go out to cast net and haul.
From sunrise to sunset, this fishing frenzy continues.
I'm watching this in the Mekong riverside city of Kampong Cham – "Port of the Chams".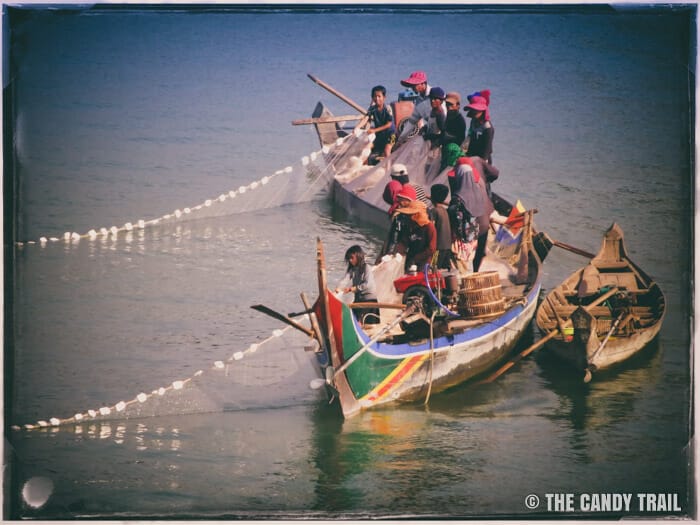 And it is the Chams who are doing most of the fishing.
---
Cham People – Islam in Cambodia
---
Within the majority Khmer population of Cambodia is an ethnic minority called the Chams.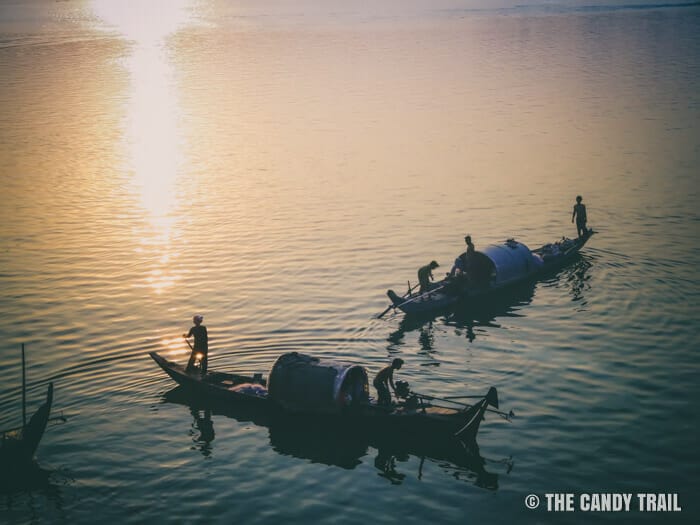 This ethnic group was originally Hindu – as were others 1000+ years ago in Cambodia but later, instead of converting to Buddhism, they turned to Islam.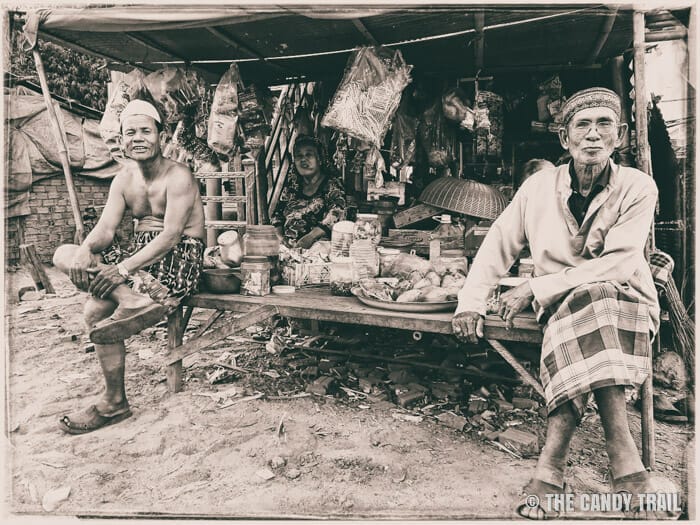 Today Buddhism accounts for 95% of Cambodia's population.
But of the 150,000+ Muslims, roughly 80% belong to the Cham ethnic group.
Some people follow traditional Sunni Islam, while others are Fojihed Muslims who adhere to a Cham interpretation of the religion, including belief of the supernatural and magical powers.
Walking around a Cham settlement on the banks of the Mekong
After an entire afternoon – and the next morning – of watching this panoramic of fishing action, I knew it was time to get my legs working and exercise my way across to the far river bank to visit the settlement from where all this activity stemmed.
It was a hot walk across the mighty Kizuna bridge.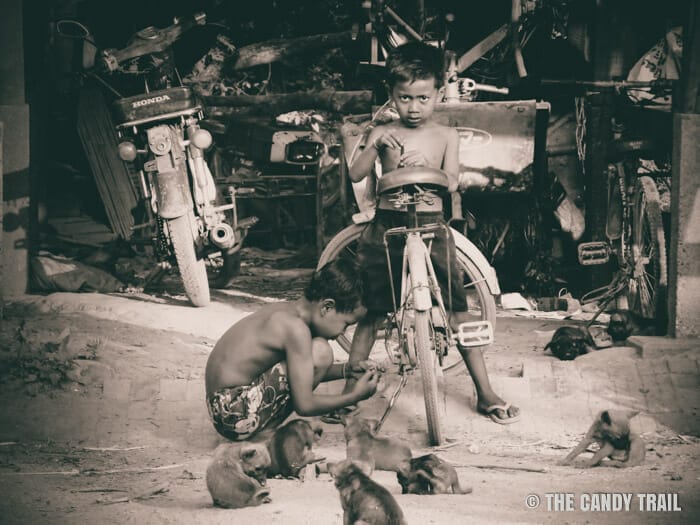 Dusty along the village dirt trails.
Lots of "Hello-Hello"-s.
It surprised locals that a foreigner would bother to visit.
I stopped and took some snaps.
And visited the Rahmah mosque.
Hung-out with crazy kids on the river bank.
And later accepted a ride in a fishing boat back across the river to the city as dusk set over the Mekong.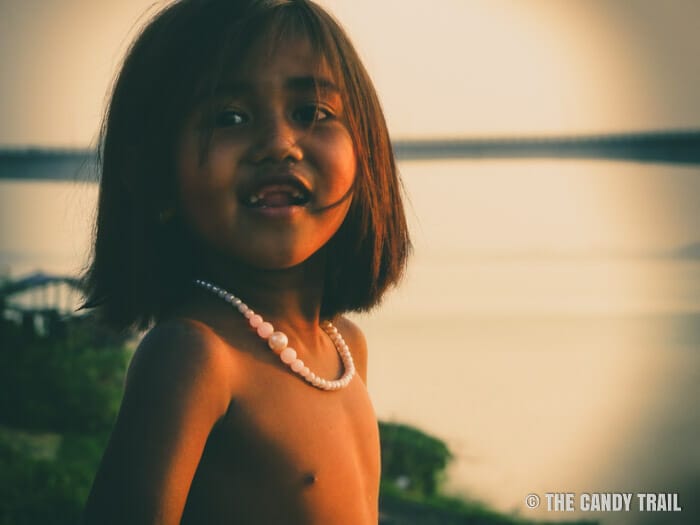 Travels in Cambodia – 2014