The rain cascaded down, bouncing on the rusty iron roofing as tall palms swayed in the breeze.
These past months my journey around India had been hot and dry.
But now in Bangladesh – in Cox's Bazaar, famous for its sandy coast stretching 110 km to the Burmese border, heavy rain had arrived.
(And, it relieved the boredom. There was no nightlife or other travelers here and this was before the advent of the Internet, laptops and ebooks; sometimes I'd read paperbacks, if I could carry enough, but often quiet – dull – evenings were the accepted norm.)
In the late afternoon, I'd wandered into the fresh, drizzling rain to an open-front restaurant, where I enjoyed pawn curry, looking to a bustle of rickshaws and bicycles – bells clanging, coaxing their way through muddy streets of shrouded women and sarong-clad men as the rain intensified.
Back in my room, I ate doughnuts. They were greasy and sugary, filled with jam and a touch of sand. But I munched 3 happily while enjoying the change of weather.
I thought: 'This will keep the mozzies away'.
But it wasn't so.
Bastards! They buzzed outside the net, searching for holes or gaps which I'd not tucked under. (Mosquitoes were permanent residents here – I saw to that hospitality with several permanently splattered across walls.)
My hotel room was a bit of a dump, yet adequate for this young backpacker.
And bonus, it had a bathroom.
The concrete cubicle in the corner served as a shower and toilet.
Spider embroidery meshed the ceiling where the brown paint had blistered and dead insects gathered in corners and slime of unknown origin crept towards where I pissed.
And as I relieved myself, I thought about a prick I'd encountered earlier in Chittagong.
He still pissed me off.
God had created him a true moron, for he'd not gotten it into his head that I wasn't American.
Despite my denials, he always yelled pro-Saddam comments and hissed "Bussh! Bussh!" everytime I passed his street stall outside my hotel.
Now I aimed at the hole-in-the-floor and cursed that stupid little man. Yeah, piss on you sh*t-head!
It was really pissing down, outside, also.
Palm trees swayed in crazy cycles of tormented exercise, held bend over in the arms of the deafening winds, easing upright as gusts subsided then submitting to the gales again. And again.
Night closed in, and a black-out hit shortly after dusk.
I passed the rest of the evening by candle light; wind rushing under the door sent flame-flickering shadows across the room.
The hellish weather outside reminded me of my teenage years in "Windy Wellington" sleeping in an attic room. During a Southerly storm rain smashed on the iron-roof above my bed as whining winds blasted the house.
But in Bangladesh, it was even more furious.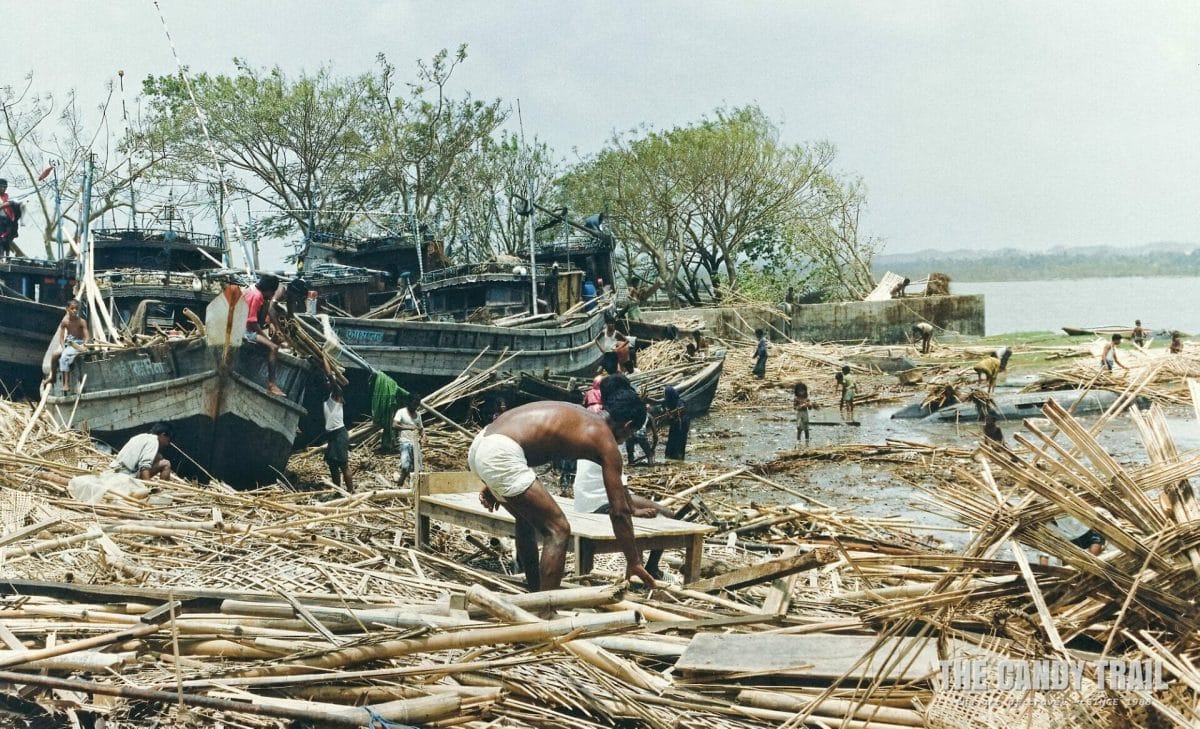 Experiencing a cyclone in Bangladesh
Violence rips the windows open – smashing the wall; shattering glass.
Curtains flapping like frantic ghosts.
Rain, leaves swirling in.
Closing the busted window – but can't secure them, wind's too strong.
Blocking the gap with table turned over and wedged chair.
Windows bashing 'til they cling by a single hinge.
Concrete floor's swampy, full of leaves like a neglected swimming pool.
I shunt my bed away from the window, and lay there, content with the quality of the evening 'entertainment'.
Evil howling winds.
Iron-sheet clattering, smashing, crashing.
Wood beams snapping.
Glass shattering.
Palm trees whipping.
Waves of wind in an ebb and flow – shrieking like jets accelerating.
… It lasts hours.
Admittedly, this is exciting, for awhile.
But around midnight, the swirling fury alarms me.
A vengeful psycho is outside bashing my balcony door. Hard hits. Now it too, is about to break.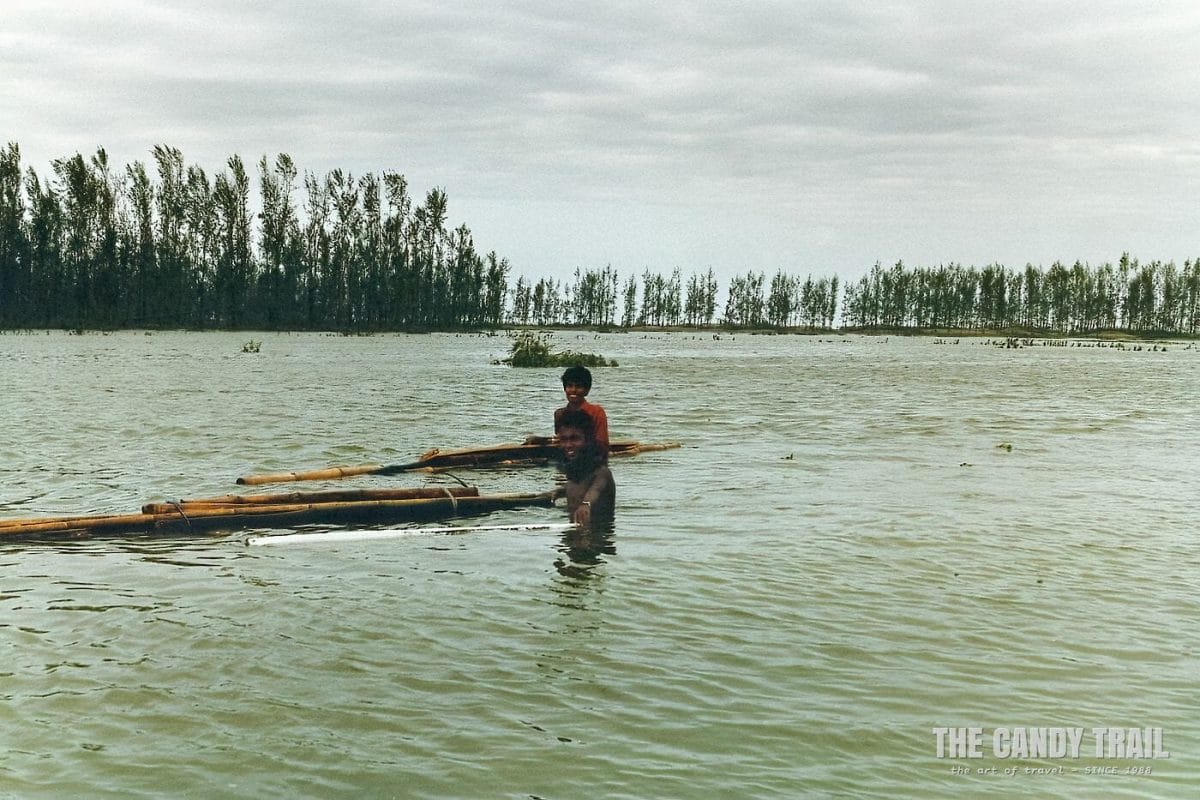 Aftermath of a deadly cyclone
Sometime later, I drift far away to a distant land.
On a sofa having dinner when the TV News anchor announces:
"A cyclone has struck Bangladesh devastating the southern coastal areas. Wind speeds averaging 120 km per hour and peaking at 250 km per hour have been recorded …"
Footage of the devastation flows through my head.
Buildings torn; iron-roofs scattered.
A shack-shop uprooted, thrown down a riverbank.
Broken homes are bamboo trash heaps.
Banana plantations shredded and palms spiked umbrellas.
"… Huge tidal surges have swamped the coastal areas. Early reports indicate that whole communities have been washed away. In the south east of Bangladesh, islands and large areas still remain under water …"
Where houses once stood boys wade chest-deep with beams, their homes reduced to a pile of planks and a chair.
One man says: "400 people live here," thrusting his hand towards the bare, sodden earth.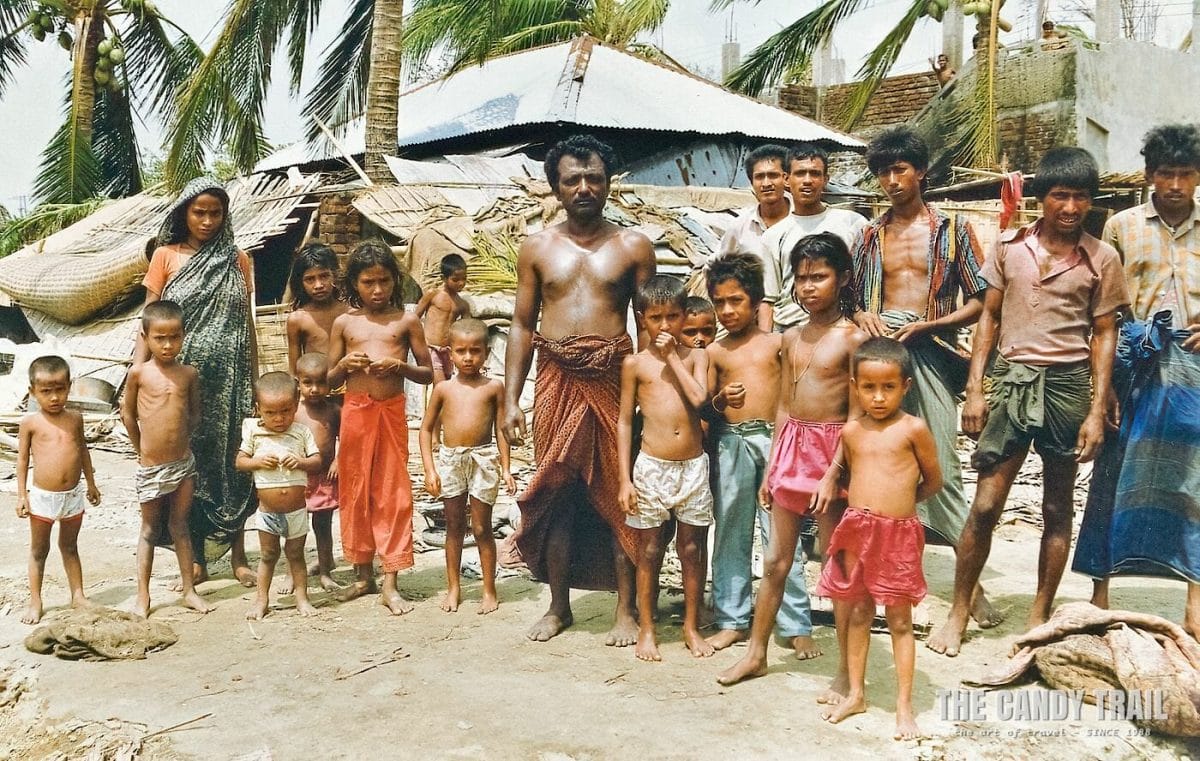 Along the length of the river, fishing trawlers wedged into destroyed houses.
Near the beach, pine trees resemble snapped matches and the idyllic white sands are tense with waves tossing debris.
Two women weep as they and their children search the littered sands, their fingers mining where their home was. I watch them find a pot.
Enough of this depressing stuff – I switch the television channel.
---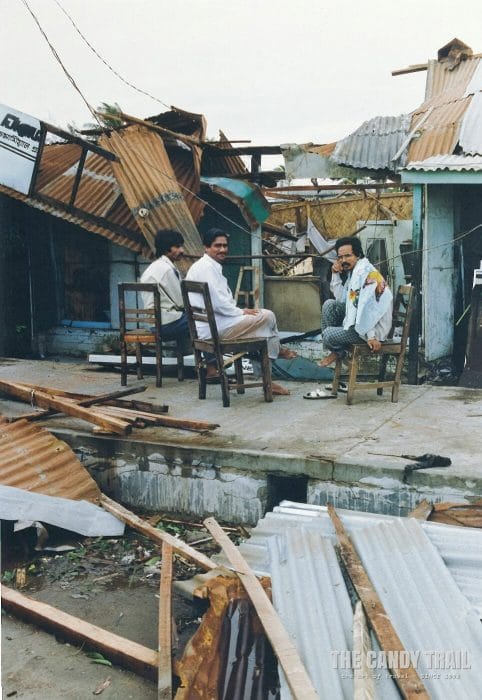 I woke tired and confused.
Looking outside: twisted trees, broken buildings and realized it wasn't a dream.
A gentle morning breeze now caressed Cox's Bazaar as I wandered, teary-eyed, down damaged streets where cows lay stiff and children frightened.
People had been killed in their villages as I'd spend the night in a secure concrete block.
I felt lucky.
But also guilty.
I could leave – I was the privileged outsider passing through (and I did leave within 2 days, once the roads had been cleared).
About a week later in Dhaka, I finally understood the enormity of that storm beyond my window.
A national newspaper reported that the cyclone made 1.7 million people homeless and had left another 139,000 dead.
NOTE: While the facts and experience of this story are 100% honest, I've used artistic freedom as a story-teller when I present 'a dream' as actually conveying what I saw in Cox's Bazaar the next day and the headlines are quoted from a Bangladeshi newspaper. This story was written in 1992 but in editing and publishing it for the first time in 2021, I've tried to retain the original voice of my younger self (age 24 at the time).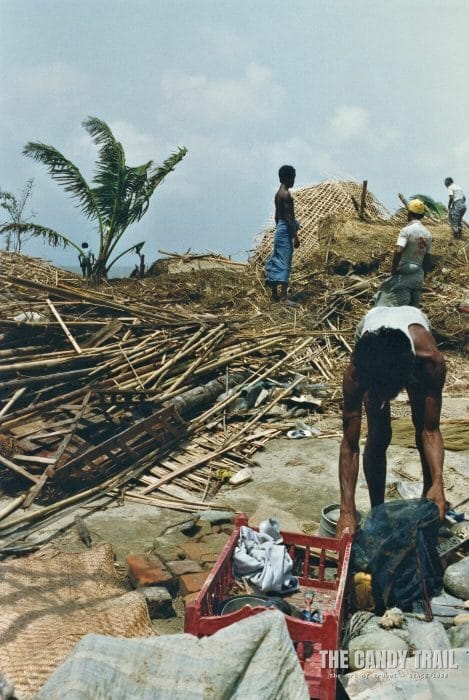 Travels in Bangladesh – 1991
---