With my guide Chinggis – and his horses, we rode into the mountains of Kyrgyzstan.
Climbing thru grasslands and pine forests, edging along peaks and glaciers, winding into deep valleys to find the hidden, high-attitude lake of of Ala Kul.
Go to ADVICE SECTION: Horse trekking the Ala Kul Lake hike
Earlier, we'd set out from Karakol, a town near Lake Issyk Kul, in Eastern Kyrgyzstan, and for an amateur like me (I'd ridden some years ago in Colombia & Mongolia), these 4 days were the most challenging horse trek yet.

My horse, a large and tall 7-year-old male, was a little naughty—always stopping to munch grass or scrub. And sometimes, not so sure-footed in his fatigued-state during the late afternoon of each day.
But mostly, he was reliable.
And I didn't fall off.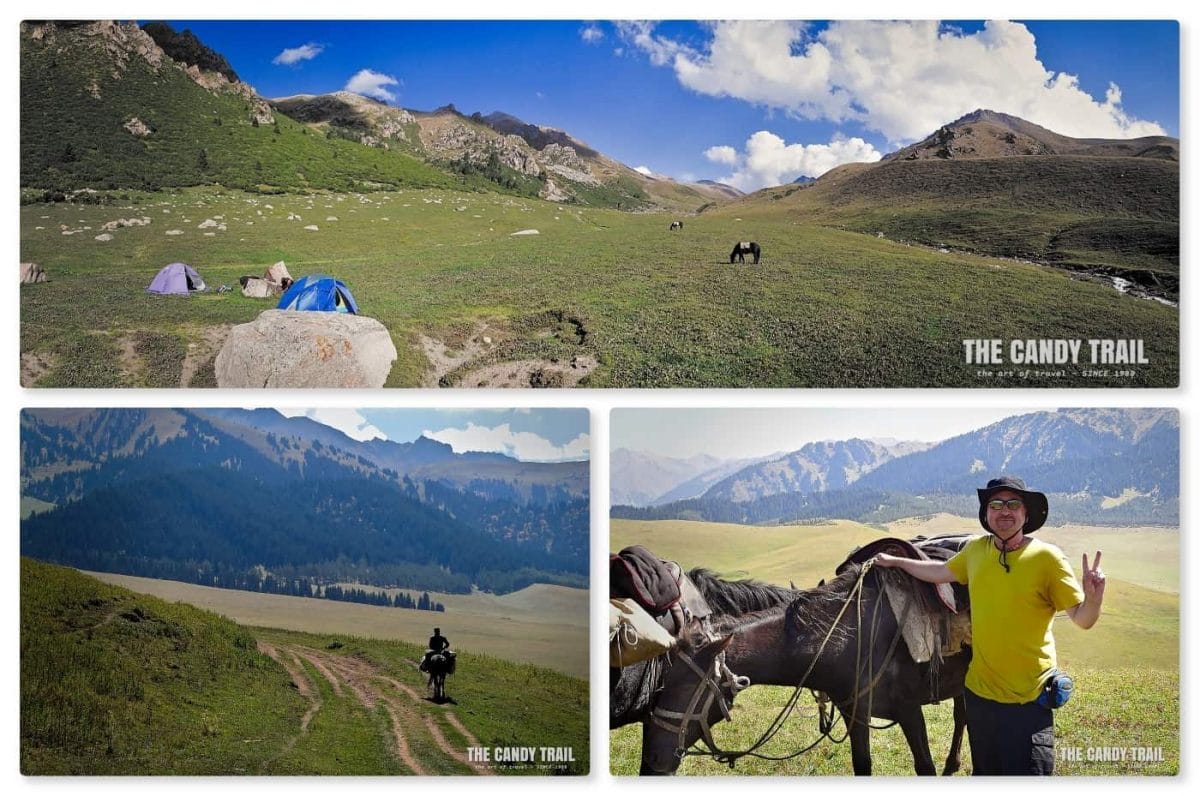 The first day was an easy, hilly climb thru open pasture—avoiding crazed nomad dogs and their packs of roaming horses—and pine forest.
That night, we camped within a grassy valley and watched the sunset over the forested slopes high above the distant waters of Issyk Kul.
Continuing up this valley, the path became steep scree, and then the path was lost.
The winter last year had destroyed the way.
This pass was no longer passable.

We dismounted again and lead the horses. Sliding down some 200 meters of scree and loose boulders to another valley, circling around on a high slope into another valley.
Before plunging down, way down again, to a river valley meadow, where we camped that second night in the hot springs village of Altyn Arashan.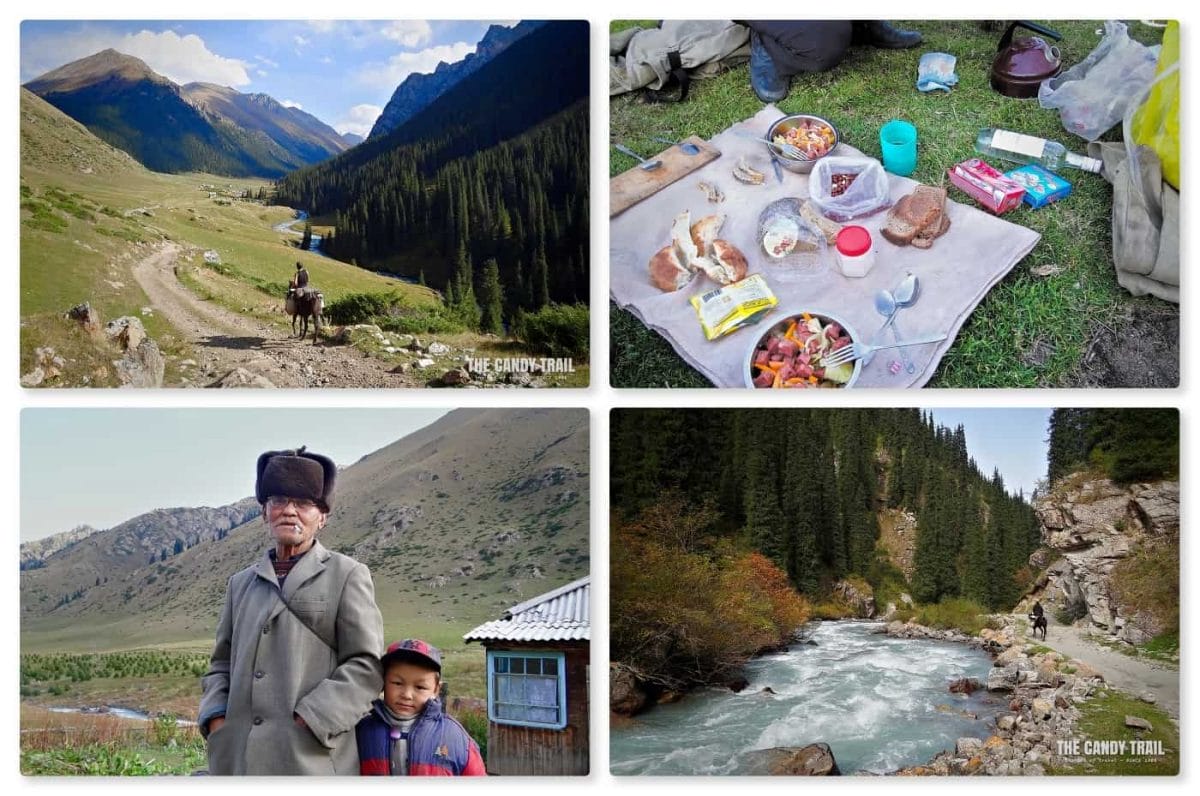 On the third day, we followed a swift river for some hours, climbing thru forest and rocky valleys back towards Ala Kul Lake (from the opposite direction that we'd originally traveled).
Hours later, and within reach of the lake, we left the horses behind.
It was impossible to take them any further as we scrambled up a steep slope of sand and stone – on all fours; dog-like—over the Ala Kul Pass to gaze at the surrounds of snowy peaks and the calm turquoise waters of Lake Ala Kul.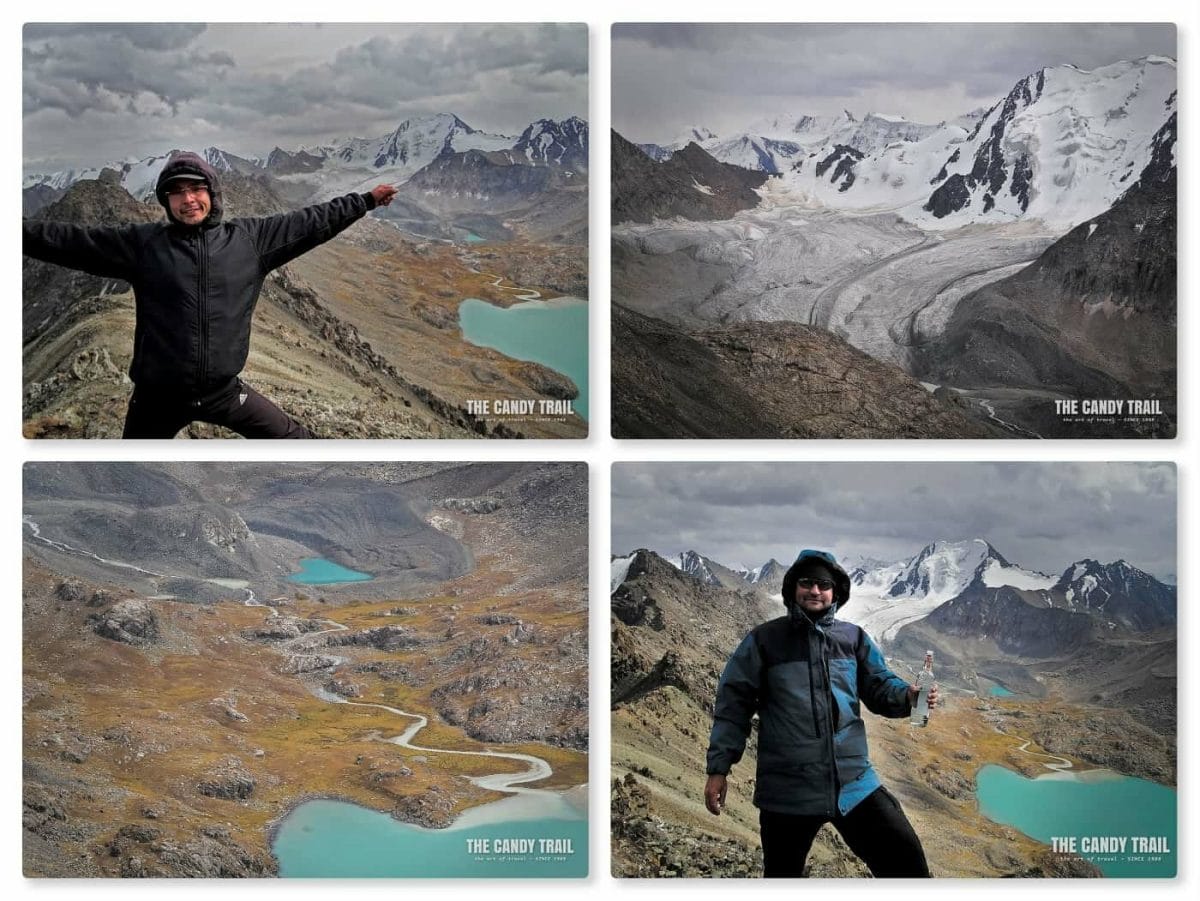 Standing upon the wondrous, scenic saddle of the Ala Kul Pass, at 3860 meters, I opened a bottle of vodka, which we drank with salami, cheese and bread, as freezing winds rushed around.
Made it!!!
Nothing could wipe the grin from my face. Elated.
Ala Kul is at 3500 meters but the highest point is the Pass at nearly 3900 meters.
Distance: 55 +/- km
Best time to do this trek is June to September.
Note: "Kul" in the Kyrgyz language means lake, so the name of the lake is "Ala" but it's referred to as "Ala Kul Lake" by travelers.
---
Travel advice for horse-trekking to Ala Kul in Kyrgyzstan
---
Get a guide and horses thru the local-community-based homestay office. They're helpful and only take a small percentage – as most go to the local guides.
The cost of a horse trek trip to Ala Kul is around $US 35-40 per day, and should include everything.
Horse Trek prices break-down:
You pay his guide fee of $20 per day, including his horse.
Your own horse costs $10-15 per day
Food for both of you at $10-20.
Tent, sleeping bag and mat – these cost a few bucks per day (hired from office).
Park fees (if hiking 250 Som. Doing the route I took by horse, excluded this fee).
Also, you'll want to tip upon the completion of an excellent trip.
Total costs will vary depending on duration and a route.
BUT it will be much cheaper than a pre-organized trip from your country.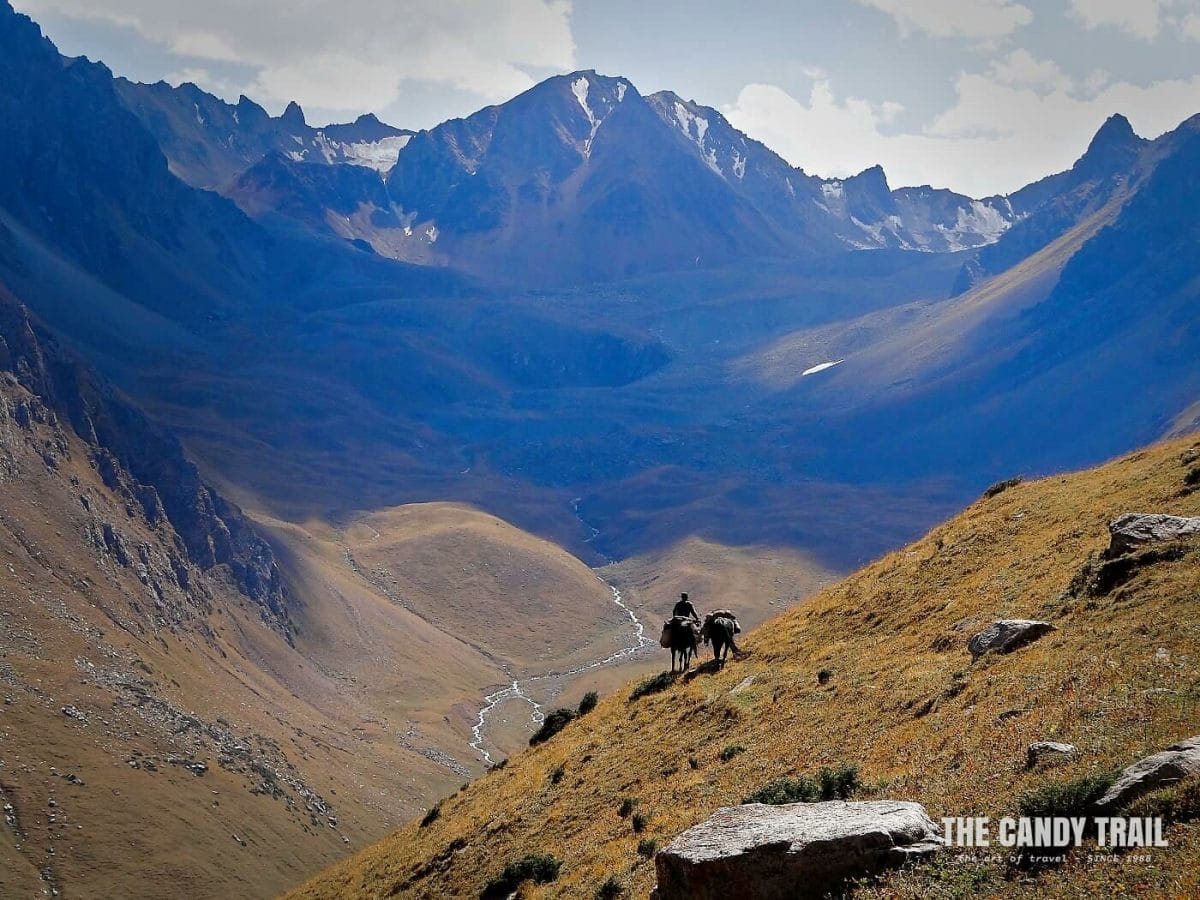 Take food and a cooking kit with you (the guide will have the stuff and usually buy agreed food items at the market at local prices).
But it's also best to bring extras you like, such as extra cheese, snacks, salami, chocolate, vodka, etc.
---
What clothing and gear do you need for the Ala Kul Lake trek?
---
Firstly, obviously mountains mean even in summer you need to carry warm, rain-proof gear such as a fleece jacket with a Gore-Tex outer shell.
Also, a warm hat, gloves, thermals, sun-hat & block is essential.
When using a horse, everything is within saddle bags, so just a day pouch or pack is enough for standby stuff like a camera, water bottle, sunglasses, jacket, etc.
You can get drinking water via clean mountain rivers.
BUT check beforehand, and always carry a few liters.
INFO: (2020) here for the Ala Kul Lake trek by foot.
Travels in Kyrgyzstan – 2011